Overall ranking lists
Similar ranking lists
A soft ground is commonly described as a wet and muddy natural grass pitch. The grass can either be long or short. Due to wet weather conditions, the terrains are usually soft and slippery. Football boot manufacturers have designed boots to work best in this type of surface.
What is a soft ground football boot?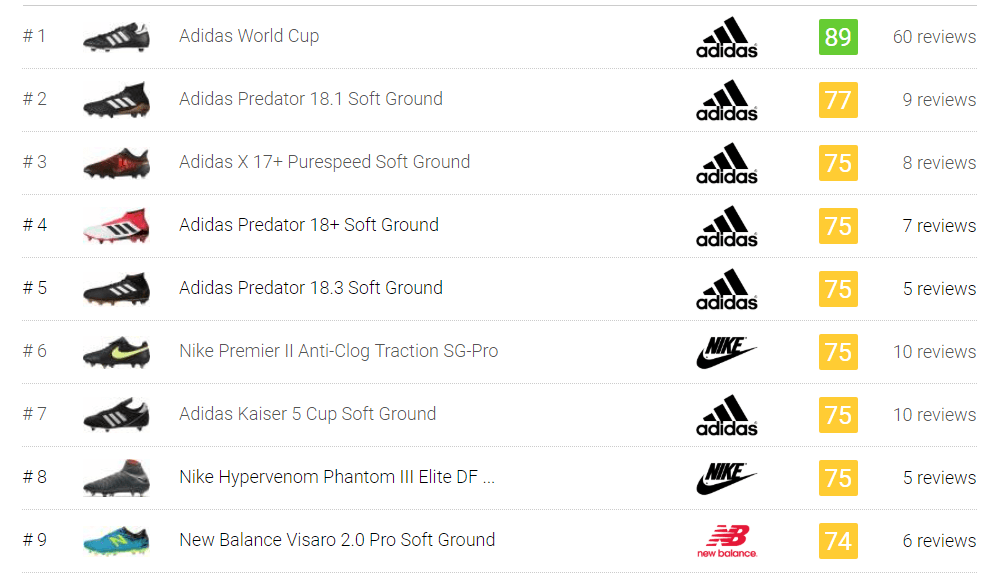 Picking the right kind of football boot for a wet natural surface is crucial to preventing possible injuries. Players are prone to slips or slides when the pitch is muddy. To alleviate this common football dilemma, amateurs and professionals must choose the right boot that would work best on soft ground. The following is your guide in knowing the viable characteristics of soft ground football boot:
A soft ground football boot requires replaceable screw-in studs that can be adjusted depending on how muddy the conditions are. Players can change the stud length depending on the surface type. It can be either be made out of metal or plastic. Plastic screw-in studs are commonly available and are considered to be flexible in both dry and wet weather conditions. Metal, on the other hand, is more durable in comparison to plastic.
A traditional six-stud or eight-stud configuration is required to produce more pressure in each stud. Lesser studs mean greater ground penetration that results to a more aggressive traction needed on a slippery surface. The ideal configuration has four studs on the forefoot and two longer studs on the heel. They are positioned to have wide spaces in between to stop mud from accumulating on the soleplate.
The stud lengths of a soft ground football boot are generally between ½ to ⅗ inches. Unlike firm ground football boots, the studs of a soft ground football boot are much longer. Since the studs are replaceable, players can choose between shorter or longer studs depending on the softness of the ground.
Unlike firm ground football boots and hard ground football boots, soft ground football boots are not ideal for any other types of surfaces except for wet to muddy ground.
Notable features of soft ground football shoes
Several boot manufacturers continuously engineer technologies that can better withstand wet, muddy pitches. These inventions are built to improve performance and enhance safety during play. The following is the list of noteworthy brand features for soft ground football boots and their corresponding purpose:
Nike football boots
Anti-clog - A soleplate technology for soft ground Football boot that is intended to prevent mud accumulation. It is engineered to preserve the boot's lightness. It is made of a polymer material that reacts well to water without impeding traction. The Tiempo Legend VI SG-Pro and Magista Obra SG Pro are two of the soft ground football boots of Nike headlining this feature.
SG-Pro - Nike's SG-Pro soleplate consists of removable aluminum cleats. It is the technology embedded in the soft ground boot version of the Mercurial Superfly V Dynamic Fit. The original studs attached are at 11/13mm in length while the detachable ones are at 13/15mm.
ACC (All Conditions Control) - A technology that is also seen in Nike's firm ground football boots, turf shoes and indoor boots. It is a layer of material coating the upper which provides the boot extra protection from wet and dry conditions. This protective feature is found in the Hypervenom Phantom 3 DF SG-PRO.
Adidas football boots
SprintFrame Soft Ground Outsole - An outsole technology for soft ground Football boot that offers plate stability while being lightweight. Its supportive structure is essential in making quick turns on soft ground. Boots such as the Adidas X 18.1 SG features this extremely light outsole. A firm ground version of this outsole is also found in other Adidas firm ground football boots.
Aluminum Replacement Studs and Stud Key - The studs are made of Aluminum which is known to be more durable than plastic. Its shape is maintained even after several uses. It normally lasts for a long time.
Various lengths and sizes of replacements studs are available. The type of stud to be used depends on how soft the ground is. Stud keys come in handy as a tool to adjust the tightness of the screw-in studs.
Almost all of Adidas soft ground football boots have feature this stud set such as the X 17.3 Soft Ground.
Exchangeable Screw-in Studs with Replacement Studs - The screw-in studs are featured in Adidas World Cup boots, which is a soft ground football boot. The studs are installed in a TPU plate in which the combination of both technologies can produce proper traction on slippery surfaces.
The Replacement studs with receptacles are available in different variations. It comes in sizes that can adapt from slightly soft to extremely muddy surfaces.
Puma football boots
Metal-tipped Conical Studs - A uniquely designed set of metal studs carved with the signature Puma on its conical tip. The studs are installed in a TPU injected outsole known for being lightweight. The studs are installed in the soft ground football boots of Puma including Esito Classico.
Mizuno football boots
Molded Stud Pattern - A mixture of screw-in and molded studs arranged in a pattern that is ideal on all surfaces particularly soft ground. The traction stud pattern can be seen in the Monarcida Neo Mix
Umbro football boots
Pro Stance Stud Configuration - A distinct stud configuration from Umbro composed of a combination of six metal and four Pebax studs. The Pebax outsole is built for flexible support for the foot while the stud combination allows proper traction on wet surfaces. The UX Accuro Pro is a soft ground football boot that has this noteworthy sole technology. It can also be found in other Umbro hard ground football shoes and Umbro firm ground boots.
Football boot studs and accessories for soft ground
Soft Ground Studs
It is crucial to use removable studs on soft muddy surfaces to avoid unwanted slippages. The main reason why it needs to be changeable is the fact that the levels of the softness of the ground call for different types of studs. Due to this, the detachable studs on soft ground football boots come in variants.
It can be classified according to length:
Long Studs - The average length is 4 X 20mm and 8 X 17mm
Short Studs- The average length is 4 x 17mm and 8 x 14mm
It also has variants with the types of stud tips:
Aluminum-tip studs are known for their durable quality. Studs with this tip stay intact for a long time. It is significantly lighter than steel. Its disadvantage is the formation of rust if not properly maintained.
Steel-tip studs are processed through heat-treatment. Just like Aluminum, it is durable and hard due to its intense molding process.
Plastic-tip studs are known for its lightweight and aesthetically appealing quality. It is compatible with both wet and dry conditions. Consequently, it does not develop rust.
Stud Key
It is also known as Stud wrench. It is a small tool used to unscrew the studs from the well or opening. It can also be used to tighten the studs. It comes in variants as well:
Bolt Wave Wrench is made of a polymer that is used to detach and tighten studs with three slots.
Wave Wrench is similar to Bolt Wave but is used for studs with hex or six slots. As the name suggests, the wrench handle is shaped like a wave.
Universal Cleat Wrench is stud key that is used for almost all types of sports shoes that has studs including rugby, baseball, track, and soccer. It is also compatible with several brands including Adidas, Nike and Under Armour.
Stud Key Wrench is also used to screw in and remove studs with three slots just like the Bolt Wave, but its handle is shaped differently, like the letter V.
Stud Receptacles
Receptacles are placed on the stud opening also known as stud well. It contains the metal studs, where the studs are screwed into. The receptacles need to be regularly maintained and replaced, if possible. Old receptacles may cause rusting that leads to over-tightened studs.
Frequently asked questions
Can I use my soft ground football boots on firm ground, hard ground, indoor and turf surfaces?
Using soft ground cleats on these surfaces can cause unlikely injuries to the foot including ankle and knee issues. Metal studs produce a different intensity of grip suitable for soft to very soft surfaces only.
The long studs of soft ground football boots are not ideal for any surface except the soft ground. It repels hard and firm surfaces and will keep you from running smoothly. The stud configuration of a Soft ground football boot becomes unstable in dry surfaces and will possibly cause you to slip.
Do I need to purchase the replacement studs separately from the soft ground football boot?
Soft ground football cleats usually come with metal studs from the box. However, if you need extra studs or studs with different lengths, then it can be purchased straight from the manufacturers or some retailers. Stud keys also come in handy as it helps in adjusting the tightness of the screw-in studs.
What is the difference between firm, hard and soft ground football boots?
Here are differences of the boots based on studs and surface:
Firm ground football shoes – These football boots use moulded studs with 10 to14 studs on average. These can be used on firm natural grass (can be damp or slick)
Soft ground football shoes – These shoes have detachable screw-in studs that can be either metal or plastic. The boots usually have six to eight studs and perform well on soft to muddy natural grass.
Hard ground football shoes – These shoes are best for hard, dry natural grass. These football boots have shorter conical studs. The studs are distributed evenly on the sole - four studs are placed near the toes, four on the heels and four between the arch and the balls of the foot.
Are soft ground Football boots more expensive than firm ground football boots?
The price difference varies with the brands. For Adidas and Puma, there is generally no price difference between the two types while with Nike, there are cases when the soft football ground boot costs more. Nike Magista Obra SG Pro Anti-Clog, for instance, is $10 more than Magista Obra II Firm Ground at regular rates. Technically, soft ground football boots would cost more if expenses for extra studs and stud accessories are included.
How do I put studs in my soft ground football boot?
Ensure that you boot is clean before placing the studs. Use a hard-bristled brush to remove the dirt from the stud plate.
Using a toothbrush, clean the studs. Remove all excess dirt that is lodged in the stud wells by tapping the shoe gently on a hard surface.
Hold the stud by its tip. Screw in the opposite part on the stud opening by turning it in a clockwise direction.
To ensure a snug fit, use a stud key. Insert the key onto the tip of the stud and turn it clockwise tightly. Avoid over-tightening the studs as it may cause damage or difficulty in removing the studs.
After each use, make it a habit of loosening the studs to prevent metal rusting.
How do you fix a stuck metal or plastic stud?
Use a lubricating oil to loosen the stud. Check your studs regularly for wear and tear. Replace the studs immediately once damaged. If possible, check for potential issues with the stud receptacle as well. Replace it if necessary. Using damaged cleats in a match will cause possible injuries.
When is the best time to wear soft ground football boots?
Soft ground football boots are vastly common in the most parts of Europe due to its weather conditions that cause natural grounds to be muddy. Typically, it is best worn during the winter, when rain is most likely to come during a match.
Do Professional players wear soft ground cleats?
Yes, they do. Pro's work with soft ground football boots for the same reason amateur players do- it is designed for wet and muddy grounds. There are cases when even if it is not raining, they still wear soft ground boots. This is when the pitch is watered before the match and therefore, the ground is wet before the game starts. A soft ground boot would do the trick to protect them from possible injuries.
What are the pros and cons of wearing soft ground boots?
Pros:
It is the only boot type ideal for soft to muddy grounds
It produces great traction for damp fields
Soft ground football boots usually have ample foot bed space.
Cons:
It can only be used for soft ground and not for other surfaces.
Due to the metal studs, the boot feels heavy.
It can bring inconvenience when studs go missing, damaged or detached.
The cushioning for soft ground boots are generally lesser.
This shoe has recently been added to RunRepeat. There are still not enough reviews for us to assign it a
Corescore
.
Corescore
A score from 1 to 100 that summarizes opinions from users and experts. The average Corescore is 78.
More...