Overall ranking lists
Skechers categories
Conquer the track and trail with the best Skechers shoes, a brand with over 100, 000 shoe reviews that highlight performance and style in every pair. Its top ratings are not just spot- on, but they also strengthen the brand's claim to fame in the running community. Keep updated about the latest on Skechers performance shoes below.
What should you anticipate from the best Skechers shoes?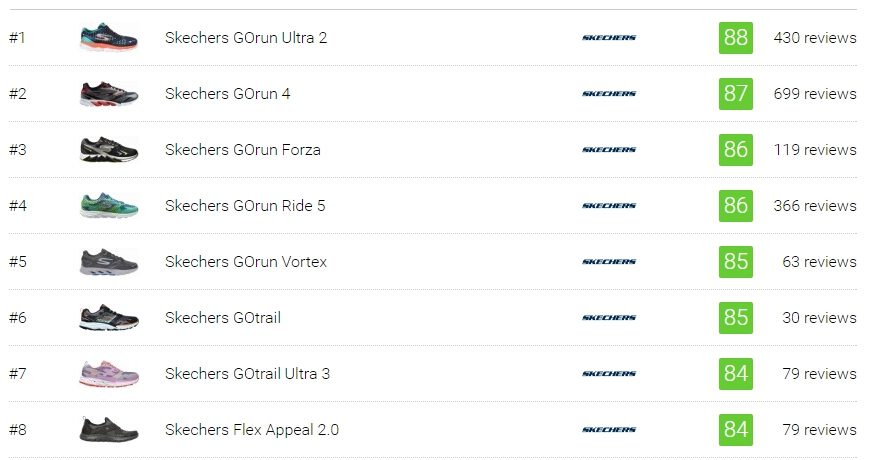 Pronation is normal, yet it could lead to foot fatigue if not treated properly. Over pronation can be solved with a pair of the best Skechers motion control shoes or Skechers stability shoes. For those with high to medium arches, Skechers neutral shoes can help in providing flexibility.
Runners have their own terrain preferences. When it comes to the road, track and gravel, Skechers road shoes provide a combination of comfort, support and shock attenuation features. On the other hand, Skechers trail shoes will keep you comfortable and protected on rugged terrain.
For those who want to join races, you need a light platform that will not hinder a flexible and fast movement. Skechers race shoes are known to be great for competitive running, so investing in a pair will be a wise decision.
Barefoot running is becoming popular, but transitioning should be done slowly to avoid injuries or discomfort. From cushioned platforms, there are Skechers low drop shoes and Skechers minimalist shoes that will allow runners to run low without losing support and cushioning altogether.
Why are the best Skechers running shoes worth investing in?
Popularity. Since it started, Skechers has been known for their range of lifestyle shoes, which expanded to cater fitness and running models for men, women and children. Their performance line may not be as strong as other footwear brands, but they are slowly making a name in the fitness industry with their top-quality shoes and running innovations. Sports authorities also recognize the potential of the best Skechers shoes in track and trail running. In fact, the brand had won running shoe awards in the past, including "Most Innovative Running Shoe" and "Best Buy".
Pricing. Despite being a popular lifestyle brand, Skechers shoes are still great options for running and fitness. In fact, beginners and casual runners look up to the brand's top-notch models for their versatility and fair pricing. You can buy a decent pair for as low as $80-$90. Athletes also invest in the best Skechers shoes for their training and racing needs without going over $150. If you need a great pair for regular running, cross training, speed workouts, racing, performance running and casual wear, do not forget to consider Skechers shoes.
Footwear technologies. Despite being late in joining the running trend, Skechers is able to manufacture great shoe technologies and incorporate them in their performance footwear collection. In fact, their innovations have garnered awards from the sports and health industries. Some of the footwear features that you can expect from the brand's shoe range are the Resalyte midsole compound, M-Strike System, Dupont Delrin Stability Plate, GOimpulse Sensors, Vari-Lock lacing system, Quick Fit Portal, 4-ways Stretch Mesh and the Resagrip outsole among others.
This shoe has recently been added to RunRepeat. There are still not enough reviews for us to assign it a
Corescore
.
Corescore
A score from 1 to 100 that summarizes opinions from users and experts. The average Corescore is 78.
More...