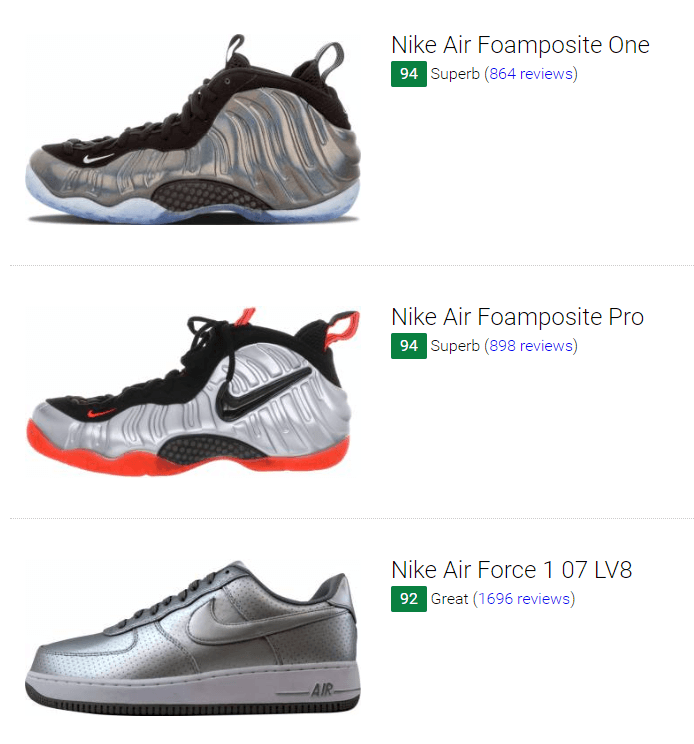 Best Silver Nike Sneakers - September 2019
Nike boasts an astounding amount of iconic sneakers that has become a part of the sporting world and lifestyle fashion. Many sneaker fanatics believed that casual sneakers are all about reputation, and thanks to the brand's world-famous endorsers, it is fair to say that this aspect is never in doubt. From A-list athletes and celebrities, Nike pretty much covered all popular shoe categories. With its four decades of dominance, the brand's intriguing designs and innovations are only going to continue.
Speaking of style, Nike is known to be creative when it comes to color combinations. The color silver is among the most commonly used. With its low-key glam appeal, it is not surprising that many consumers prefer the silver more than gold. Gold looks too flashy when it is compared to silver, aside from the apparent cultural norms associated with these elements. We compile a list of remarkable
Nike sneakers that sport the silver on its silhouette and other relative topics.
Silver versus Grey
Is silver a type of color? The colloquial answer is yes. But if we try to be slightly technical, silver is not recognized as an official color, nor is grey. If one is going to look at the color wheel, there is no silver, grey, black, and white. Why? Because these colors do not show up in the spectrum of light. Instead, they are classified as tones or shades. The word silver primarily defines the element AG in the periodic table of elements and has been utilized for various pieces of jewelry and accessories since ancient times.
Differentiating between silver and grey is easy. The color "silver" has a pearlescent, reflective, or metallic quality while the grey is a matte shade. In short, silver is the luxurious version of grey. Nike has an interesting way of labeling their colorways. The Nike metallic silver shoes, for instance, could be regarded as redundant, as silver by default is metallic by nature.
Nike sneakers in silver for men
Here are a few of the highly-rated silver Nike sneakers that gained notoriety due to its design, comfort, and quality.
Nike Air Max 97 Ultra 17
Colorway Name: Silver Bullet
One of the most popular sub-sneaker lines in the brand's history, the AM97 Ultra 17 is released in a bunch of colorways as to celebrate the 20th anniversary of the Air Max 97. With its signature silhouette and modern materials, this shoe flew off the shelves during the first few days of its availability.
Nike Air Zoom Mariah Flyknit Racer
Colorway Name: Black / Pure Platinum / Dark Grey / Black
Released in 2017, the Nike Mariah Flyknit Racer features two of the brand's trademark tech, the full-length Zoom Air cushioning unit and the Flyknit as its upper. Another prominent detail of the shoe is the rope lacing closure that is attached to Brio cable eyelets.
Nike Air Foamposite Pro "Silver Surfer"
Colorway Name: Metallic Silver/Black-Metallic Silver
The Foamposite was first made famous by former NBA player Anfernee "Penny" Hardaway. Debuted in 1997, the shoe was not viewed as a casual footwear until its re-release years after. Despite having an expensive price tag, the Foamposite remained among the most famous Nike shoes in history.
Nike Roshe Two
Colorway Name: White/White/Metallic Silver
As the second iteration of the popular running-inspired Nike Roshe, this low-top features a breathable upper. According to the reviewers, it is more comfortable than its predecessor. The shoe has a triple-density foam sole that allows for optimal cushioning.
Nike Vandal High Supreme
Colorway Name: Metallic Silver / Red
The Nike Vandal has been around since the 80s during the dawn of basketball shoe popularity. While it doesn't possess the same degree of fanfare as other Nike silhouettes such as the Air Force One among others, it still managed to garner a decent following. This modern version exhibits a revamped textile upper and numerous color schemes.
Nike Air Huarache Premium
Colorway Name: Metallic Silver / Pure Platinum - White
Since 1991, the Air Huarache has become a staple in Nike's arsenal. Originally built for running, the shoe branched into other categories due to its amazing features. This model rejuvenates the classic footwear with modern colorways and design elements inspired by Nike ACG shoes, including heftier laces and speckled midsole.
Nike Flystepper 2K3 PRM
Colorway Name: Black / Metallic Silver
The Flystepper 2K3 PRM is among the contemporary high top shoes by Nike that combines the elements of the Nike NSW Skystepper and Nike Zoom 2K3. Utilizing a faux-alligator skin and rigid synthetic coverings, it pays homage to a New Orleans local culture figure. Most of the color options feature one or two main shades only.
Nike Air Foamposite One
Colorway Name: Hologram Multi-Color / Metallic Silver
Released simultaneously with the Foamposite Pro, it is almost identical except for subtle differences such as the size of the brandings. Its beetle design makes up for a futuristic look that is well ahead of its time when it was first introduced. Over the years, multiple iterations of the Foamposite Pro has been released. For the sneakerheads, it is among the shoes that are worthy to be part of their collection.
Nike Air Max Zero QS
Colorway Name: Metallic Silver / White
Acknowledged as the prototype of the Air Max 1, the Nike Air Max Zero QS bears many similarities to the classic AM1. Despite being three decades late, the shoe looks and feels just like any Air Max sneakers ever released. Available in numerous color options, its modern materials enable it to be worn for many casual occasions.
Silver Nike sneakers for women
Below are a few examples of women's silver Nike shoes that gained great remarks from its wearers.
Nike Air Max Thea
Colorway Name: Metallic Silver
As one of the exclusive women's silver Nike sneakers, it is designed with a refined breathable upper that provides ample comfort and ventilation for women everywhere. Due to the AM Thea's success on the market, subsequent models are released. The AM Thea Flyknit, AM Thea Ultra Flyknit, and AM Thea Premium Flyknit are included in this new sneaker line.
Nike M2K Tekno
Colorway Name: Summit White / Barely Rose / Metallic Silver / Summit White
As among the all-new releases by Nike, the M2K Tekno is available in men's and women's measurements. It has a mix of materials on its upper that offers breathability and comfort. Lightweight foam cushioning is there to deliver support and shock absorption.
Nike Classic Cortez
Colorway Name: White / Metallic Silver
The Cortez has been a part of many people's shoe rack for generations due to its timeless appeal and versatility. Initially meant to be used for running back in the 60s, it is now one of Nike's most famous sneaker collections. Numerous versions and collaborations have been released, and it continues to be among the brand's best-sellers.
Frequently-asked Questions
Where to purchase silver Nike shoes?
Nike's official site is your best bet when shopping for these silver-colored kicks. It has a user-friendly interface that allows filtering shoes by color and category. Major retailers also offer a good variety of these shoes, with some offered at discounted rate.
Which Nike silver sneakers are considered inexpensive?
These sneakers regular cost less than $100:
Nike Air Max Thea - $95
Nike Classic Cortez - $70
Nike Roshe One Premium - $85
Nike Flystepper 2K3 PRM - $90
Nike Vandal High Supreme - $90
Nike Roshe Two - $90
Are silver Nike shoes ideal to be used for everyday activities?
Due to silver's luminous quality and being essentially a shade of white, it is susceptible to stains and other elements that cause discolorations and dirt. As much as possible, try to limit the usage of silver shoes, especially if it will be stepped on dirt and wet surfaces.
What are the commonly-used upper materials on Nike silver kicks?
Mesh, leather, and suede are usually utilized on these Nike sneakers. In fact, these materials are also the most frequently-used on Nike shoes in general.
How to maintain white and silver Nike shoes?
It is a challenge to keep these shoes spic-and-span all the time. Regular cleaning is a must, as a speck of dirt may affect the appearance of the shoe completely. To slow down the oxidation, minimizing the footwear's contact with wet surfaces will definitely help.
What are some examples of black and silver Nike shoes?
These shoes exhibit the color black and silver on its silhouette:
Nike Air Zoom Mariah Flyknit Racer
Nike Air Foamposite Pro
Nike Flystepper 2K3 PRM
Nike Air Max 1 Ultra Moire
Nike Air Max 1 SE Overbranded
Is Air Max the most popular silver Nike sneakers for women?
Considering the number of shoes released, yes. Due to the AM's unisexual appeal, it is not a surprise that many females favor it more than other Nike shoes.
What are some recent releases of shiny silver Nike shoes?
The shoes listed below have a color option that features the reflective properties of silver.
Nike Air Max 97 SE Metallic
Nike Air Max 1 Liquid Silver
Nike Air Foamposite Pro Silver Surfer
Nike Initiator
Nike Lunar Force 1 Mid SP Liquid Metal
What other color names from Nike that looks very similar to silver?
The Metallic Pewter (ex. Nike Foamposite One) and Platinum White (ex. Air Huarache, Nike Roshe One) looks similar to silver due to its metallic appearance.
Which colors blends well with the silver?
Silver is recognized as versatile as it gets, because it is feasible to match with gold, red, black, and many more. Not only for shoes, but for clothes and gadgets as well, the application of the silver color is vast. Thus, it is common to see how it blends with other hues.
10 best silver Nike sneakers
Nike Air Foamposite One
Nike Air Foamposite Pro
Nike Shox R4
Nike Air Max Zero QS
Nike Air Max 720
Nike React Element 55
Nike Flystepper 2K3 PRM
Nike P-6000
Nike Air Vapormax 360
Nike React Element 55 Premium
This shoe has recently been added to RunRepeat. There are still not enough reviews for us to assign it a
CoreScore
.
CoreScore
A score from 1 to 100 that summarizes opinions from users and experts. The average CoreScore is 78.
More...