388 best road running shoes
Updated (April 2018)
Based on 61,150 reviews
Loading please wait...
Why should I choose a road shoe instead of a trail shoe?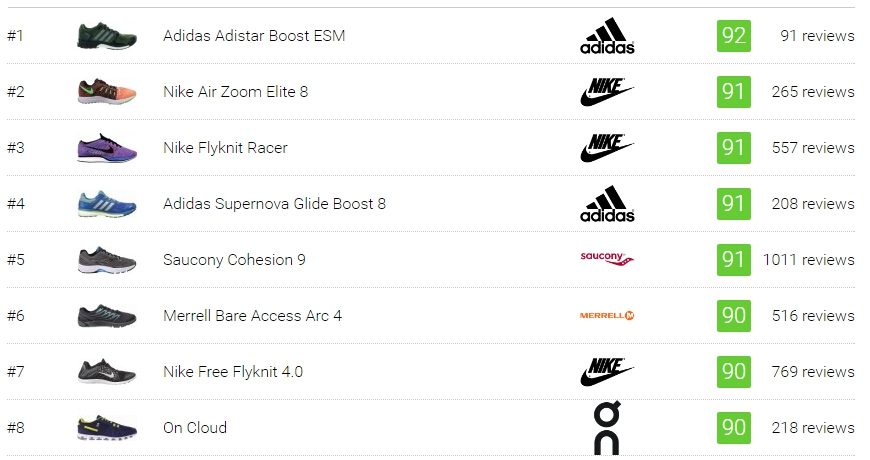 Two categories: At RunRepeat we have two categories: road and trail
Shock-absorbtion: Road shoes are designed to adapt the impact from repetitive strides on hard surfaces
More cushioning: Typically, road shoes have more cushioning than trail shoes
Rarely waterproof: Road shoes are rarely waterproof (some are)
Flat outersoles: Road shoes have flat outersoles with optimum grip for flat surfaces
Great marathon trainers: If you have signed up for a regular marathon, a road shoe is what you need
Great for allround training: Great if you are running on mixed surfaces like roads and forest tracks
What should I look for in my future road shoe?
Arch support. Do you need any pronation support? If you don't need any stability support, choose a neutral shoe. Do you need a little support? Choose a stability shoe. Are you arches collapsing a lot? Choose a motion control shoe. Finally, we list minimalist shoes which doesn't offer any arch support and only very little shock absorption. You can find the best rated in each of those categories on this page.
Weight. If you have signed up for a road race and want to outperform, change to a pair of leightweight road shoes. We have a category called race shoes, which you can explore from this site. If you just need a regular running shoe, find one at +270 grams. It will give you the necessary cushioning.
Heel to toe drop. If you want to explore the more natural running style, but have no prior experience in this field, look for shoes with a drop of 6-10 mm. If you just want a regular shoe, find shoes from 9-18 mm.. Truly minimalist shoes have a drop just around 0 mm (called zero drop). Though start slow.
Choosing the best road running shoe that fits perfectly
Have an extra space for toe splay. Aim for at least a small space in the toe box. The fit should be snug but make sure that your toes can move without rubbing. Laces as well should be snug and not too tight.
Bring your orthotics. If you wear orthotics, it is advisable to bring them along when you buy a road running shoe. This will help you determine the right shoe that fits perfectly for you.
Buy a shoe at the end of the day. It is advisable to try a shoe in the evening where your feet get a bit swollen after the entire day's activities. With this, you can avoid buying a shoe that is too small for you.
Do not assume your size. Make sure to have your feet measured every time you buy a new shoe especially when it is from different brands you never tried before.
This shoe has recently been added to RunRepeat. There are still not enough reviews for us to assign it a
Corescore
.
Corescore
A score from 1 to 100 that summarizes opinions from users and experts. The average Corescore is 78.
More...