In December 2014, Puma announced their collaboration with Rihanna, whose influence in the entertainment and music industries ranks among the best of all time. The female artist is said to be perfect for Puma as Rihanna has cat-like qualities - ready-to-pounce stare, aloof hotness, and feline posture.
Puma inked Rihanna as the brand's ambassador for the women's training category that aims to influence the women in choosing the proper attire when running, during a session at a gym, and post-yoga brunch while looking sexy and fashionable. This shift was in harmony with the goal of the brand to tap the booming market for the women leisure wear.
Later on, she was assigned to be the Creative Director for the Puma Women's line, which reportedly netted her a seven-figure paycheck. This partnership allowed Rihanna to have a chunk of involvement in re-engineering and re-designing classic Puma silhouettes for the modern market.
Puma x Rihanna sneakers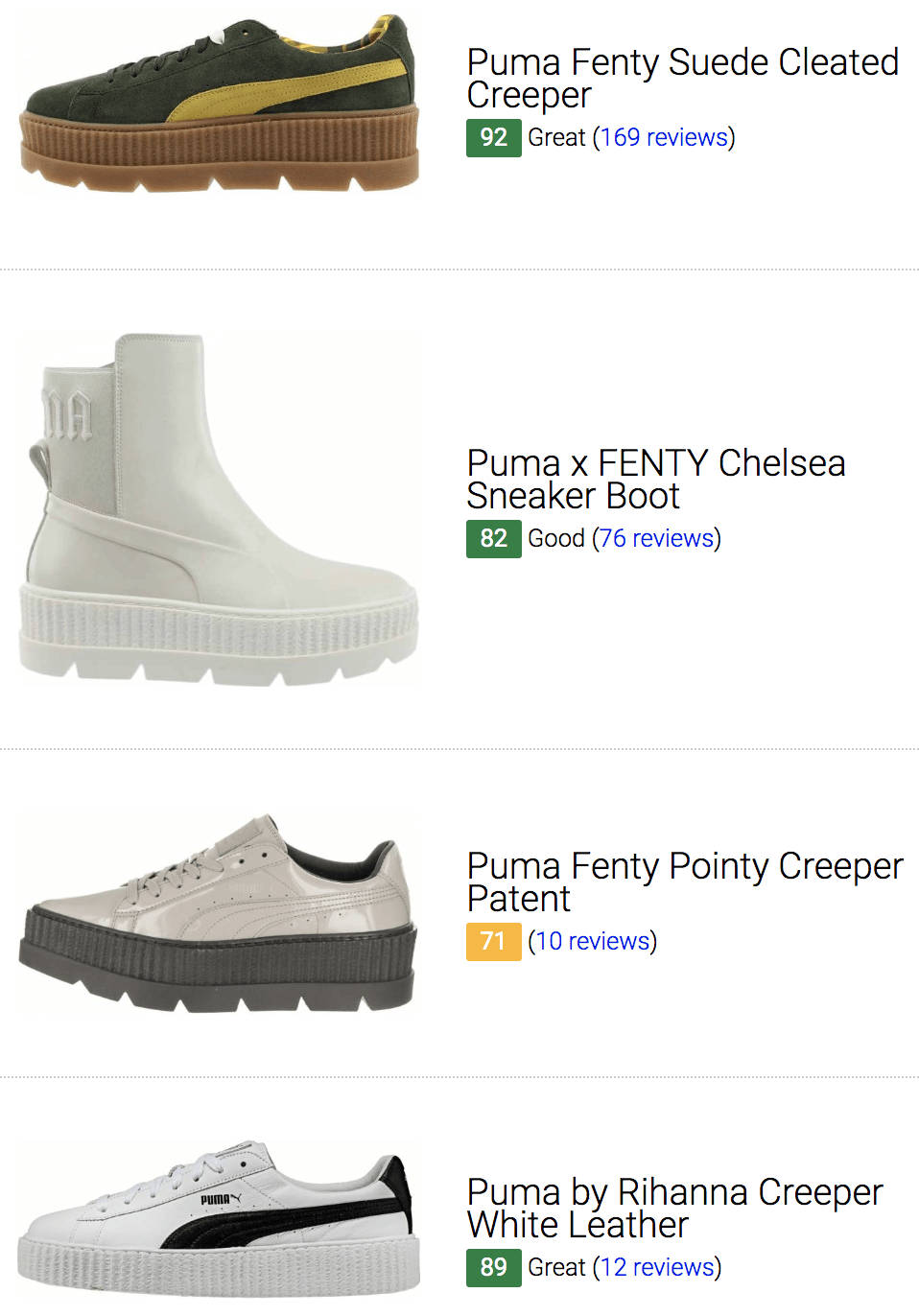 The 'Umbrella' singer has been unstoppable in pitching in her brave and bold shoe design ideas since she joined Puma. People in the team describe RiRi as hands-on in every step, from conceptualizing to launching and she strongly symbolizes the vision of the future of the Puma.
Rihanna sneakers embraced the aesthetics aimed to honor the individuality and self-expression. These kicks almost always depict RiRi's innovative talent, that brought the Puma team a style that is often imitated but never replicated. Here are few of the Puma x Rihanna shoes available in the market:
Puma Fenty Creeper
The Puma Fenty Creeper was the first ever Rihanna sneakers launched under the Puma collaboration in 2015. The Creeper was considered one of the successful releases in the history of sneakers world which was tagged as sold out just after three hours of its pre-sale release online. This model was also seen sported by numerous celebrities such as Cara Delavingne, Gigi Hadid, the Weeknd, Bella Hadid, and Lena Dunham.
These Fenty kicks were initially unveiled in the conventional hues exclusively for the women and later on, the brand reissued this model adding men's sizing in new striking colorways. This addition was launched through video clip campaign with another famous singer and rapper Travis Scott.
Before these Rihanna shoes were introduced, Rihanna was seen donning these chunky kick all throughout 2015 in a variety of colorways. It was recounted that Rihanna asked Mr. Completely, a menswear brand from Los Angeles, for help in designing the Creeper. Mr. Completely has been custom-designing footwear for Rihanna using silhouettes from various brands.
In 2016, the Fenty Creeper was awarded as the Shoe of the Year, jumping over Kanye West's Yeezy. RiRi is the first ever woman recipient of that award, which is a game-changer in a domain dominated by men.
Puma Fenty Pointy Creeper Patent
In 2017, As part of the Rihanna's third season collection, this collaboration conceived low-top kick with more noticeable shiny upper called the Creeper Patent sneaker. The 100% patent leather upper with pointed toe seated atop a solid cleated rubber platform sole to give a modernized reinterpretation of the classic Creeper silhouette.
These Rihanna sneakers echo her bold fashion taste that breaks the fashion rules. It resonates uniqueness and fun while looking tad flirty that will surely make its onlookers drool, and its wearers leave a trendsetting statement wherever they may go.
Puma Fenty Suede Cleated Creeper
These low-top shoes were presented as part of the Fall 2017 Fenty Puma collection. These Rihanna sneakers feature similar to the classic Puma Suede Creeper but with a thicker sole and the cleated rubber material. These iterations have suede upper accented with leather and tonal laces for the added appeal.
This model rounded off the breathtaking collab between the superstar singer and the renowned German sneakers brand. It consistently set a trendsetting style statement while offering a luxurious style and comfort. Literally and figuratively, this sneaker will undoubtedly elevate anyone's everyday casual look.
Puma by Rihanna Creeper Cracked Leather
In 2017, a bolder version of the Puma Creeper debuted in the market called the Cracked Leather version of the Rihanna Creeper that highlights its cracked leather upper. This textured upper boosts the overall character of this footwear that showcases the eclectic flair of Rihanna.
This iteration also displays the classic elements such as Formstrip on the side with the Puma Fenty metallic branding all over the model. With this sneaker, RiRi was able to demonstrate her fondness for the Japanese streetwear culture with this pair's fearless and bold fashion statement.
Puma x Rihanna Basket Creeper
As a follow up to the hugely successful Fenty Creeper, Puma introduced another Rihanna sneaker stirred from the iconic silhouette - the Puma Basket. The Puma x Rihanna Basket Creeper resonates the NYC punk and the rebellious approach of Rihanna to fashion.
This fashion-forward update to the classic Basket silhouette flaunts a patent leather with the double-sized midsole, a typical in the Rihanna shoes collection. It is displayed in monochromatic presentation - from laces down to the Puma branding found on the tongue and the insole. The Fenty Basket Creeper comes with extra laces and arrives in a branded velour bag for keeping.
Puma x Rihanna Suede Creeper
After the success of the Fenty Creeper, RiRi and Puma decided to blend two classic elements that will undoubtedly hoist one's attire. This model displays a look reminiscent of the Punk and Rock culture. The Puma x Rihanna Suede Creeper sported the original profile of the Puma Suede revamped with a chunkier sole and formed fashionable sneakers.
The premium suede upper is offered in various neutral colorways that can be easily matched up with any attire - black, white, and beige. Meanwhile, the serrated edges of its thick sole combine fashion and classic sporty look that received a great reception from the masses.
Puma by Rihanna Creeper White Leather
In 2017, RiRi went back to the basics by introducing the classic Puma Suede silhouette with the celebrated Creeper sole. These two-toned Rihanna sneakers feature the elevated bottom dressed in luxurious leather upper. The brand used the timeless lace closure with Rihanna's golden foil branding on its upper.
While displaying simple design, this kick is a surefire head-turner for its high-quality materials with sharp details such as metallic lace tips, and shiny branding. The thick serrated sole will confidently pop out among the busy crowd.
Puma x Fenty Velvet Creeper
The Puma x Fenty Velvet Creepers were presented in 2016 in three colorways - Cement, Burgundy, and Black. These Rihanna shoes were taken a cue from a classic silhouette from the Puma's archive and tweaked it to add a dash of modern edged.
It features an honest look dressed in plush, and soft glacier velvet upper rested atop a 1.5inch-thick rubber sole. The tonal lace-up fastening system delivers a snug and personalized fit. The brand inserted logo patch on the tongue, side, and on the heel for style and distinction.
Puma x Fenty Creeper Ankle Strap
This model was launched under the Fenty University collection of 2017. The timeless Creeper silhouette was revamped with an ankle strap with bold brandings on the sides. The Ankle Strap iteration can easily tag as one's statement piece with the gritty details and colorways presented in the market.
Just like the other Rihanna sneakers, this model is highlighted with a platform sole with a spectacular style enhanced with plush materials. While providing added style, the lace-up fastening system delivers ample comfort and secure fit. The unique, flirty, and fun Puma by Rihanna Ankle Strap Creeper debuted at a $190 retail price.
Puma x Fenty Bow
Paying homage to Marie Antoinette and the fashion during the 18th century, Puma and Rihanna launched the Puma Bow. This model used the Trinomic silhouette and turned striking for its satin overlays with oversized satin knotted bow on its lacing system.
While considered impractical by few critics, this kick will surely turn any casual everyday attire into an elegant ensemble. The feminine touch of the satin bow is secured with hidden elastic panels on the tongue. To boost the comfort, the brand inserted padding on the collar and tongue for all-day cozy feel.
Puma x Fenty Avid
These mid-top summer-ready Rihanna sneakers arrived in 2018 that features an extraordinary style, entirely echoed the taste of RiRi. It displayed one-of-a-kind silhouette with breathable elements perfect for the warm days. Its part-sneaker and part-sandal design give a bold statement that seized the athleisure trend while staying cozy and lightweight.
The cut-out at the forefoot and the stretchy bungee laces with a sole inspired from the trail kicks provide its wearers superb grip with every stride. With this pair's cool style blended with the athletic details, the Fenty Avid is suitable for wearers looking for an avant-garde kick with essential comfort. These Rihanna sneakers are offered in fun range of custom colors, such as "Puma Black," "Puma White," "Bay," "Cherry Tomato," "Vanilla Ice," and "Limepunch."
Puma x Fenty Trainer
The past sneakers launched by Puma and Rihanna were only updates of the existing silhouettes of the Puma, but the Puma Fenty Trainer was the first ever original design from Rihanna's collection.
These mid-top Rihanna shoes were unveiled in 2017 and deliver a style way beyond the conventional gym footwear. These kicks provide superb comfort in striking colorways - Blackout, Whiteout, and Red Alert. What made these sneakers surely eye-catching is the oversized tongue and heel and low-cut on the ankle bone with lace-less slip-on construction.
To enhance the ventilation, the brand used the Airprene material on the upper with perforations all throughout. And to maximize the comfort, the brand utilized the Puma Ignite foam sole for plush comfort on the underfoot. While considered expensive, this model is worthy to be added in anyone's collection.
Puma x Fenty Trainer Mid
Considered one of the boldest models under the Puma x Fenty collaboration, the Puma x Fenty Trainer Mid displays unique and daring style suitable for avant-garde kick fanatics. This model blended sports and casual kick aesthetics and used high-class materials for functionality and style.
This model is presented in Black, Vanilla Ice, and Evening Blue colorways with bold Puma branding, a common sight in the Puma x Fenty collection. With a price that lies on the semi-expensive range, these Rihanna shoes are highly suggested for buyers searching for stylish, functional yet found within one's means.
Puma x Fenty Trainer Hi
In the same year the Puma Trainer was unveiled, the brand and Rihanna introduced a new spin to the original RiRi trainer silhouette with more daring tooling and bold details. The high-top Puma Fenty Trainer Hi effortlessly fused the casual and athletics look of Rihanna sneakers and came up with a superbly comfortable kick for almost any everyday activities.
These warm days-proof Rihanna sneakers quickly gained popularity for its unique elements such as elastic strings on the medial side for flexibility and to enhance its one-off appeal. The brand offers this in multiple flashy colorways in the market, such as Cypress, Sesame, White, and Black.
Puma x Fenty Trainer High Knee
This knee-level Puma x Fenty kick is undoubtedly a real conversation piece. Inspired by the styles of the university varsity, the high-top upper is made of synthetic combined with a stretchy knitted sock. The thick trainer sole has leather trim to come up with durable, lasting sole.
This model will re-energize one's closet for its on-off elements. The comfort level is superb apt for happenings that need to be on the wearer's feet all day. While considered 'out of this world,' this model can easily adapt to the owner's preferred style; thus, making this a dependable pair to own.
Other Puma x Fenty footwear
Aside from Rihanna shoes, Puma x Fenty collaboration turned popular for its sandals, boots, and slides described as conspicuous and sometimes out-of-this-world style. Summarized here are few Puma x Fenty footwear currently available in the market:
Puma x Fenty Chelsea Sneaker Boot
The Puma x Fenty Chelsea Sneaker Boot was introduced as a part of the University Collection launched in 2018. It displays the modernized Creeper sneaker fused with the Chelsea boot upper offered in several colorways. This fusion resulted in an avant-garde design that will surely keep its wearers feeling warm and dry during the freezing days while remaining voguish.
This kick is also available in men's sizing and inserted with cozy materials and cushy elements. It also has monochromatic hues for sassiness and striking bold details for the attention-grabbing look. With its solid sole, these Rihanna sneakers will surely amplify its wearers' confidence to the brand new height.
Puma x Fenty Rihanna Leather Pointer Toe Racing Booties
This kick displays simple, white leather upper contrasted with neon green typescript on the heel. This model revved-up the pointy-toe fashion injected with a sporty element such as the perforations.
Puma x Fenty Fur Slides
After the Creepers and the Trainers, here comes one of the highly coveted footwear from RiRi's partnership with the Puma. The Rihanna's Fur Slides displays feminine, fun, and fashionable vibe that can be worn with or without socks, by the poolside or strutting around the city pavements.
Puma x Fenty Bow Slides
The Fenty Bow Slides was stirred from the plush days of the Parisian Marie-Antoinette. The classic after-play soccer slide was revamped with an oversized satin bow across the strap and a satin foam backing to enhance the comfort. This kick is undoubtedly a hit to buyers who prefer neck-breaking foot accessories.
Puma Bow Creeper Sandals
The Puma Bow Creeper Sandals also dubbed as the Bandana Sandals is the spin to the classic Creeper silhouette by turning it into an easy-to-slip-on sandal. The wearer's feet are secured with laces and bow details seated atop the chunky Creeper sole. This sandal can be laced all the way up to the ankle for that sexy look.
Puma x Fenty Espadrilles
This footwear will confidently turn any everyday casual look of men and women into cool and remarkable one by its fresh version of the traditional espadrilles. The upper is made of premium suede with clean braided jute midsole and a flexible outsole. To finish the look, the Puma logo is embroidered across the upper.
Puma x Fenty Jelly Slides
The slide that is reminiscent of our childhood. This classic jelly, transparent slip-on footwear upgrades one's attire into fun and funky look. The brand used synthetic materials on the upper up to the midsole to deliver ample comfort and lightness.
Rihanna's fashion ventures
Being considered one of the most fashionable women in the world, Rihanna has teamed up with several well-celebrated names in the fashion industry to showcase her innovative talent. Our team collated Rihanna's fashion foray over the years.
- Rihanna's debuted into the world of fashion in 2011 with the Armani Jeans and Emporio Armani Underwear. This collab features T-shirts, underwear, and several denim items.
- The second drop of this partnership was unveiled a year after.
- She collaborated with the brand River Island and her first collection with the brand was presented during the London Fashion Week in 2013.
- This partnership conceived three more fashion collections, and the last collection was released in November 2013.
- Rihanna was given the Fashion Icon Award by the Council of Fashion Designers of America in 2014.
- Rihanna went on to team up with several fashion brands, such as Balmain, Manolo Blahnik, and Stance.
- She was announced as the Creative Director of the Puma and was tasked to oversee the women's line of the sportswear brand.
- RiRi was introduced as the first-ever black female spokesperson for the luxury brand, Dior. Together, they launched the Secret Garden collection.
- The first ever Rihanna sneakers were introduced in the market. It was the Puma x Fenty Creeper which instantly tagged as sold out after three hours of its initial drop.
- Her first clothing line collection under Puma debuted in the runway n 2016 and received rave reviews from critics all over the fashion domain.
- She also launched her original sneakers design under Puma called the Trainer by Fenty.
- An all-denim sandals and high boots collaboration with Manolo Blahnik was unveiled in the same year.
- RiRi also introduced her "Rihanna" sunglasses line in partnership with Dior.
-The Autumn Collection of the Puma x Fenty was introduced in New York which gained several positive appraisals.
-She started her jewelry line by teaming up with luxury brand Chopard in 2017.
- RiRi launched her "Savage x Fenty" lingerie line during the New York Fashion Week.
Fun facts about Rihanna
Rih is considered one of the biggest pop stars on this planet and currently busy with a slew of gigs and sidelines. Her Bad Girl image led her into an iconic status in this generation. She has been enjoying the fame, fashion, and all in between that comes along with being famous.
Here are few of interesting facts about the "Diamond" singer:
Her full name is Robyn Rihanna Fenty and was born in Barbados. Rihanna is pronounced as Ri-Anna and has an Arabic meaning of "sweet basil."
Rih was an army cadet in a sub-military program in her native homeland Barbados. Shontelle, a singer too, was her drill sergeant during the program.
Rihanna joined a school beauty pageant at 15 and was crowned as Miss Combermere after she performed "Hero" by Mariah Carey.
For Rihanna's pre-show ritual, she takes lozenges, steams her voice, and do her make-up. She also takes a shot that has been diluted with juice or soda water and lime to calm her nerves when her anxiety level is up.
To relax before her performance, the Pon de Play singer go out in the audience incognito and watch the people and the opening acts.
The Gillette company named RiRi as the Celebrity Legs of a Goddess and insured her legs for $1 million.
The Grammy-winning singer is not fond of Chinese, Japanese, Mexican, and even Indian food. She dislikes vegetables and would rather eat fruits and take plenty of water to stay healthy.
Her acting debut was in the film "Battleship" in 2012. RiRi recently joined the star-powered ensemble of the Hollywood film Ocean Eight.
It has been reported that Rihanna had at least 25 known tattoos all over her body and revealed she loves hanging out at the tattoo shops.
At 16, she auditioned for Jay-Z, and he immediately signed her on. Their tandem has been unstoppable since then, and RiRi's first Grammy award for the song "Umbrella" was a collaboration with Jay-Z.
She was the official face of Barbados tourism and 2007 and holds the title as the Ambassador for Culture and Youth.
She has a total of seven wax figurines in the famous Madame Tussauds Wax Museums all around the world. These museums are sited in Hollywood, Las Vegas, Berlin, Washington DC, London, Sydney, and Vienna.
Frequently Asked Questions
What does Fenty mean?
Fenty was used to label the product line of Rihanna, such as the Fenty Beauty and Fenty Puma by Rihanna, as this is the last name of Rihanna. Her full name is Robyn Rihanna Fenty. This revelation was made during the launching of her make-up line in September 2017.
Are Rihanna shoes true to size?
Online shopping can be intimidating for some especially for buyers who have no room for inaccuracies. Most reviewers have shared that the Puma x Fenty silhouettes are generally true to size; thus it is recommended to purchase one's regular shoe size.
However, when purchasing slides, the brand recommended buying a size down as these footwears were created a tad roomy.
Where can we buy Rihanna casual sneakers?
Rihanna sneakers are widely available online and in several physical stores. Several retail stores can be found in different locations around the globe that sell the Rihanna shoes. However, some of these kicks are hard to cop as they are only available in limited quantities.
Meanwhile, aside from Puma's official site, several well-known online retailers sell the Rihanna sneakers, such as Footlocker, Nordstrom, Farfetch, Amazon, and many more.
Are there Rihanna sneakers offered in men's sizing?
Yes, there are several iterations in the Puma x Fenty collab offered in men's sizing. Some models were initially introduced in women's sizing and later on presented in men's sizing, too.
Few of the Rihanna shoes offered in both genders' sizing are Puma Fenty Suede Cleated Creeper, Puma by Rihanna Creeper Cracked Leather, Puma x FENTY Chelsea Sneaker Boot, Puma x Rihanna Basket Creeper, and Puma x Rihanna Suede Creeper.
Meanwhile, some of the women-exclusive Rihanna sneakers are Puma by Rihanna Creeper White Leather, Puma Fenty Trainer Hi, and the Puma Fenty Pointy Creeper Patent.
How much are Rihanna shoes?
These stylish kicks are found in a price range of $120 to $220 depending on the style. Some Rihanna shoes conceived from collaboration with luxury brands can cost as high $1325 to $2325, such as the Manolo Blahnik bejeweled sandals with lucite heels.
What are the other products offered under the Puma x Fenty collection?
Aside from the sneakers, boots, and slides, the Puma x Fenty collection also offers ready-to-wear apparel and accessories for the men and women. Most of the products were deeply inspired by the athleisure intended to blur the line that delineates the genders. This is because Rihanna wanted to give the consumers liberty in choosing their preferred item, regardless of the gender. Few of it are the t-shirts, tank tops, jackets, hoodies, shorts, tracksuits, chockers, caps, and even racing suits.
How did Rihanna start with her passion for footwear?
Rihanna has been obsessed with shoes every since she was a kid. She recalled in one of her interviews that she used to borrow her mom's high heels walking around their home with her mother's scarves.
Her fascination with footwear paid-off eventually which landed her in a lucrative deal with several footwear companies, such as Manolo Blahnik and of course, Puma.
Blahnik and Rihanna first teamed up in May 2016 with a collection called #DenimDesserts. It was a runaway success line which crashed the website of Blahnik due to extraordinary traffic. In November of that same year, a sequel collection was introduced and dubbed it as #Savage. Their third collaboration was launched as "#SoStoned" that highpoints sandals adorned with jewels, unveiled in 2018.
Aside from footwear, how did RiRi start her make-up venture?
In 2013, Rihanna first dipped her hands in the cosmetic industry when she collaborated with MAC, a famous makeup brand. Together, they unveiled the "RiRi hearts MAC." Four years after, she launched her very own makeup brand called "Fenty Beauty."
This particular makeup line includes a wide range of items, such as foundations, highlighters, bronzers, and blush. RiRi's makeup brand has been praised as it was made available suitable for a diverse range of skin colors and it was included in the "The 25 Best Inventions of 2017."
Why did the Freedom United send a protest to Rihanna and Puma?
A fashion brand named Freedom United is impending to sue Puma x Fenty for the usage of the "FU" logo. The Rihanna collab line with the Puma currently launched the Fenty University line for the Spring/Summer 2017 collection.
It has been reported that the Freedom United has been using the initials "FU" in their products and has secured the copyright. It has been known to them that Rihanna was made aware of this yet still she still chose to use the initials on her product line with the Puma. Aside from stopping Puma x Fenty from using the logo, Freedom United also demand a share in the revenue connected with the sales.
Puma and Rihanna's camp sent an answer to the cease and decease letter from the Freedom United by stating that there was no infringement as the FU initial is not unique, the letters are not the same. As of this writing, the Freedom United has not yet dropped the case and seems like they are planning to escalate the matter in filing a lawsuit.
1 best Rihanna sneakers
Puma Fenty Suede Cleated Creeper
This shoe has recently been added to RunRepeat. There are still not enough reviews for us to assign it a
CoreScore
.
CoreScore
A score from 1 to 100 that summarizes opinions from users and experts. The average CoreScore is 78.
More...