Overall ranking lists
Similar ranking lists
When you type in "purple sneakers" on the search bar of your web browser you are probably expecting the Australian band You Am I or the media website for hip and cool indie club music.
Well, we have to break the news to you, none of that will appear on this site. Nonetheless, we can show you something more that is deeply embedded in the back of your mind for quite some time now. You just don't know it yet.
Subconsciously, while typing the phrase "purple sneaker," your brain is already picturing shoes drenched in either lavender or violet hues. Fortunately for you, this is an adequate site for your unconscious inquiries about having unsolicited advice about purple sneakers.
Now that we grabbed your attention let's dive into the gruesome, but rather interesting purple-sneaker details that you honestly didn't expect.
Highest-rated purple sneakers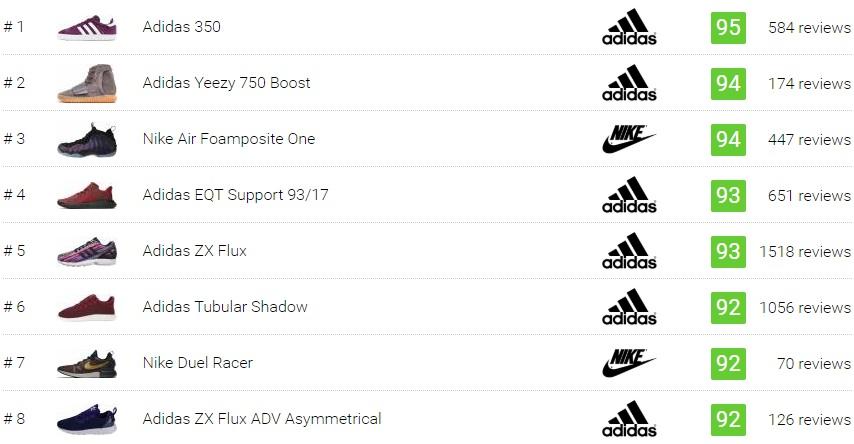 First off, which shoes do qualify as a purple sneaker? Yes, we all know what the color purple looks like, relatively, except maybe for some with colorblindness who often mistake purple with blue and vice versa.
To familiarize us sneaker-mortals to the purple colorway, it would help to look back at some of the purple sneakers under Nike, Puma, Adidas, Reebok, New Balance, Saucony, and many other brands on this site.
The top 10 list of anything is without a doubt the most popular of a certain collection. Ditto for purple sneakers that are considered by customers as the cream of the crop. Here's the list:
The next group of purple sneakers are just a level below the most popular ones. These shoes have their own merits and are, oftentimes, a part of a large number of people's top 10 list. Here's the next 10 of most-sought after purple kicks.
While off of the top 20, these purple sneakers round off the list of one of the most heavily-sought colorways when it comes to sneakers. These sneakers come from different brands and evidently display the kind of aesthetic flair and comfort that are hallmarks of this in-demand colorway.
Adidas Suciu ADV. It is imperative for skateboarders to wear high-performing kicks to be able to execute tricks and grinds. In line with this, it would be practical for skate pros like Mark Suciu to flaunt their self-designed sneaks because you know, advertising. The purple Adidas Suciu ADV comes in very rarely; it only appears on specific retailers for once in a blue moon or this case, a purple moon perhaps.
Nike Air Max 1 Ultra Flyknit. Nike took their pioneer Air model and made it airier. We're not talking about the air bubble here. We're talking about Nike redesigning it into a lighter silhouette called the Ultra and then giving it a breathable knit upper then finishing it in Grand Purple with team red accents. One cannot get any more air than that.
Adidas Climacool 1. The innovative cooling idea of Adidas way back in 2002 was too breezy for folks during that time. More than a decade after, as their sneaker preference matured, these uncool folks realized their mistake and embraced the design with open arms. As more and more consumers gave in with the Climacool fad, more and more colorways were produced including one with Shock Purple accents.
Nike SB Check Solarsoft Canvas. Boys are not the only privileged ones to rock a board. Girls have their own volition of riding the streets which were made possible by adding a purple sneaker into the Nike SB franchise. The subdued violet colorway of the Nike SB Check Solarsoft Canvas combines ivory with Grand Purple to amplify a feminine glare.
Adidas Superstar 80s. When speaking of coveted and well-known footwear, Adidas Superstar 80s would most likely end up on that list. Selling profitably for a few decades now, the Run DMC-kicks skyrocketed the Adidas brand to the top of the sneaker foodchain. It is only reasonable for it to be repeatedly collaborated and redesigned into numerous colorways. One of the standout designs released was The City Pack which includes a purple suede sneaker or the Night Flash colorway featuring Tokyo as its place of inspiration.
Nike Darwin. As we all know, evolution comes in gradually for every living thing which revolves around the principle of survival. Nike, after years of extensive research and development, survived sales struggles by providing unrelenting technologies like the Flywire and Huarache. Adopting to current lifestyle trends, the Nike Darwin upped the scales a notch by showcasing several techniques in a minimalist shoe. It even delivered a chromatophoric maneuver when it was released in a purple colorway.
Nike Lunar Force 1 Duckboot. Burgundy is adding a dash of purple into a red template. The resulting color would side more on the purplish spectrum. The Nike Lunar Force 1 Duckboot utilized this tinge which made it more ready for fall and winter.
Adidas Campus. Vintage Adidas apparel would not get away with the trend of staining itself purple especially one with a suede upper. The Adidas Campus, which comes from a basketball ancestor called the Adidas Tournament, turns out to be the perfect canvas for a violet make-over.
Adidas Gazelle. As mentioned in the post above, Adidas classics maintains its relevance to current times by manipulating its colorways which is sometimes uncalled for. But in the case of the Gazelle, it almost seems that every template in the color wheel can be chosen to accentuate its style. Since 1966, its expansive legacy also gave it the chance to be consistently re-released into numerous color designs including several in the purple colorway.
Nike Tanjun. It was a surprise that this underdog sneaker would turn out to be 2017's top-selling silhouette given that it's a mom's option for footwear. But behind its questionable fame lies a supremely comfortable and blendable sneaker even if its dyed in purple.
Other notable purple sneakers
One might ask the question: why aren't the other brands featured? Well, that was just the tip of the iceberg. Found below are some of the iconic purple sneakers from footwear companies not mentioned above.
Collaborations
Icons and significant beings help boost the sales of sneakers even if it is ridiculously uncalled for. Most of these collaborations under the purple umbrella are notable for bearing the violet pigment while some just want to experiment on the taste of its appeal.
Vans Sunset Fade Pack. Vans had colluded with perky fashion designer Aya Kawasaki and Japanese-based retailer Charlotte Sibuya to release their "Peach Soda" colorway set to hit the streets of Japan.
The hue transitions from purple on the toe cap to orange then yellow at the heel area.
For those who melted while seeing the beach-inspired sneaker, the California sports brand made up for it by introducing it in the U.S. as the Sunset Fade Pack instilled in the Authentic and Slip-On models.
Supreme x Vans Sk8-Mid Pro Eat Me. In the late summer of 2015, Vans and long-time friend Supreme released an "Eat Me" collection which featured the skate brand giant's eccentric model, the Sk8-Mid Pro.
Three colorways were featured, and one comes in purple.
The words

"Eat

me" are scattered all over the canvas part wrapping the ankle while suede overlays cover up the toe and heel counter.
The cross-state relationship of Concepts and Vans heralded one of the classic iterations on the skatewear producer's archives.
One of the fortunate classics to be given a make-over was the Vans Sk8-Hi which was spearheaded by the brand's innovative minds called the Vans Syndicate.
The purple sneaker was packed with premium details starting from the croc-embossed leather paneling and an unorthodox zip-up style on the tongue.
Concepts x New Balance 990v2 Tyrian. The proximity between New Balance and Concepts bore a fruit that would scream royalty all over its silhouette.
Giving the 990v2 a glimpse of sophistication, the two had revamped the sneaker with purple suede uppers which were inspired by the ancient way of extracting the violet dye.
Tyrian Purple was said to be obtained by processing snail shells during historical times thus explaining the spiral design on the shoe box's cover.
Cam'ron x Reebok Ventilator Supreme Purple Haze. It took more than a decade before hip-hop artist Cam'ron realized the full potential of one of his albums.
Sticking up to its name is a purple sneaker inspired by the artist's Purple Haze album from 2004.
The Reebok Ventilator Purple Haze features three shades of violet in a suede and leather upper which is complemented by a pink interior lining.
The limited edition purple sneaker also comes with Cam'ron's face at heel part of the footbed which is a highly unlikely position for a face to be stepped on.
Size? X Asics Gel Lyte III Iris. For the anniversary celebration of the Asics Gel Lyte III, Size? introduced a startling silhouette called the "Iris" which boasts a colorway in three shades of purple.
Sneakers that are tonal would usually represent a homogenous mix of colors, but in the case of the Iris, the color seems to darken as it approaches the laces.
Yellow accents complete the look which was pulled out from the image of an iris flower.
Kith x Nike Maestro II High Purple. Pippen basketball sneakers must have a taste of reinvention from time to time to honor the superstar's legacy of groundbreaking success.
One of the fortunate models was the Nike Maestro II which was even designed by the iconic NYC-born designer Ronnie Fieg himself.
The Kith x Nike Maestro II showcases eminence by dripping itself with purple blood from top to bottom.
Honorable mentions
Some purple sneakers don't need a formal introduction for them to be recognized with class and dignity. Some of them had brought out their slice of fame by just being remarkable.
Nike Special Field Air Force 1 Court Purple. Nothing can get any more purple than this. With a silhouette that is almost as high as a winter boot, coloring it in purple is enough for one to handle. Nike introduced their version of violet in the title

"Court

Purple" which was also utilized in two other shoes in this collection. The purple SF AF-1 displays the same shade of violet from its laces to its sole.
Nike Air Force 270 QS Court Purple. Yes, we were mistaken about mentioning three iterations under the Court Purple franchise. Last, but not the least, was the Nike Air Force 270 QS to be added to the already coveted collection of purple sneakers from Nike. It deviates from the pack by having a white midsole with a black Air-sole unit which really gives dimension to the overall image of the sneaks.
Reebok Question Mid Ghost Of Christmas Future. Inspired by Charles Dicken's

"A

Christmas Carol," the Reebok Question Mid comes in a purple colorway that had presumably hit the closets of Iverson fans. The sneaker comes in different tints of violet starting with a lavender-ish Hexalite midsole followed by a dark purple suede overlay. Red accents are used to complete the A Christmas Carol look which runs through the whole interior.
Adidas Kareem Abdul-Jabbar Low Lakers Colorway. Having won five championship rings with the Lakers made him eligible for a sneaker revamp. The Kareem Abdul-Jabbar shoe was Adidas' way of saying thank you for the legend's contribution to the basketball zeitgeist which flourishes in a dominant purple upper.
FAQS
Contemplating about purple sneakers would surely catalyze a lot of questions. Found below are some of the most common questions that circulate the web involving purple sneakers.
How do you style purple sneakers?
Always remember the general rule that when your outfit contains a certain color, your shoes can be any shade of that color too. Take note that the purple pigment would mostly apply to girls as they are known to pull off that color better (like Minka Kelly) but other guys have the talent to do so.
For those who aim for a more laid-back approach, one can style themselves with purple sneakers partnered with simple clothing like chinos and white long sleeves for men. Muted colors of apparel would somehow coincide with brightly colored shoes like that in a purple shade.
Where to buy casual purple kicks?
A lot of global brands produce a tremendous amount of color iterations for one of their top grossing shoes. For example, the Adidas Superstar can be found in numerous designs and tints which includes one in purple. Online sneaker stores like Amazon, Zappos, and the brand's official website are the best places to look for these because rummaging through physical stores for purple sneakers is such an arduous task to accomplish.
Does the color purple affect the relative price of a sneaker?
For most of the times, no. A running notion that purple resembles sophistication and royalty does not apply to the dye itself. It technically relies on the nature of the materials used which dictates the price of a sneaker and not the color purple. Suede and leather bound materials are usually more costly than canvas ones.
What does the color purple signify?
When it comes to clothing, the purple hue implies class, prosperity, and spirituality. It is usually associated with the ancient times where the only people who can wrap themselves in purple are the ones under royalty. The explanation behind this is because the violet dye was difficult to acquire during those times and rich and powerful people use it to convey a message of authority. Extracting it requires a lengthy process involving snail shells which would be named Tyrian Purple.
What are examples of purple Nike sneakers?
If you got ahead of yourself and scrolled aggressively to the bottom of this page, you missed 100% of all the top purple Nike shoes. It is a good idea to go back but in any case that your finger is already "tired" from scouring the web, we can list down the best purple Nike's below:
Nike Air Max 97 Ultra 17
Nike Air Foamposite One
Nike Tanjun Premium
Nike Air Max Motion LW SE
Nike Classic Cortez Premium
Nike Duel Racer
Nike Air Max 1 Ultra Flyknit
Nike SB Check Solarsoft Canvas
Nike Darwin
Nike Lunar Force 1 Duckboot
15 best purple sneakers
UGG Cali Sneaker Low
Nike Air Foamposite One
Supra Stacks Vulc II
Nike Manoadome
Nike SB Bruin Premium SE
Vans Style 112 Mid Pro
Adidas Yeezy 750 Boost
Nike Duel Racer
Converse Chuck Taylor All Star High Top
Nike FL-Rue
Nike Air Force 1 07 LV8
Nike Air Max 1 Premium
Nike Flyknit Trainer
New Balance Suede 247
Adidas City Cup
This shoe has recently been added to RunRepeat. There are still not enough reviews for us to assign it a
CoreScore
.
CoreScore
A score from 1 to 100 that summarizes opinions from users and experts. The average CoreScore is 78.
More...