Regular running exercises provide amazing physical benefits like improving the cardiovascular system and bone density and maintaining a healthy weight. Trail running activities provide more advantages due to the involvement of uneven terrain and other unexpected challenges. However, trail runners may run the risk of overworking their legs and muscles that may lead to injuries if they are not physically prepared or not wearing proper trail running gear. This is the reason why choosing a pair of running shoes requires a lot of considerations because if the running shoe lacks support, durability, grip or comfort, the runner will surely struggle.
Puma is a well-known brand for providing functional running shoes that work for both road and trail runs. In order to provide quality footwear with superb flexibility and durability, Puma continuously improves its shoe technologies and materials.
Technologies commonly featured in Puma trail running shoes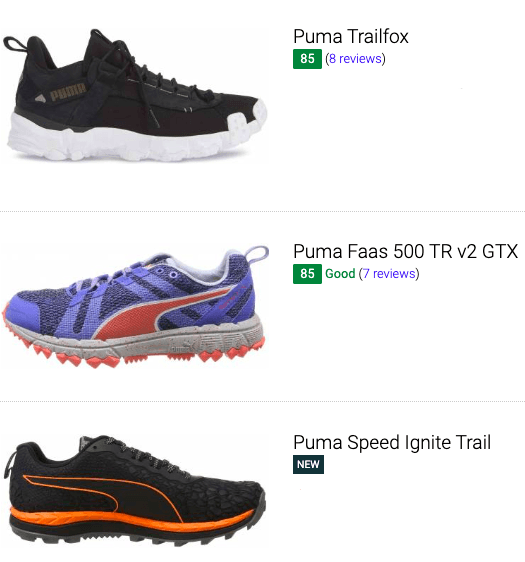 Puma is using several methods and technologies to ensure that their shoes will effectively support and enhance the users' running performance. Below are some of the technologies and methods commonly featured in their trail running shoes.
FaasFoam - Puma trail running shoes usually utilize FaasFoam technology. This type of foam midsole is more lightweight, durable and responsive. The foam also increases the shoe's step-in comfort and provides a springier feel.
Thermoplastic Urethane Protection Plates - Several Puma Trail Running shoes contain Thermoplastic Urethane Protection or TPU plates. This material helps prevent stone bruising and links the rearfoot and forefoot areas for a more supportive and natural ride.
EverGrip rubber outsoles - Puma's EverGrip rubber outsole is designed to offer protection in high-wear areas. This aggressive outsole is a combination of high abrasion-resistant rubber and multi-directional lugs, providing unparalleled traction in wet conditions and durability to stand the test of time.
Ortholite sockliners - Puma trail running shoes include OrthoLite insoles that provide a cool layer of protective cushioning to the midsole. This component is made up of a lightweight foam that conforms to the foot's movement and instantly returns to its original shape. It also provides additional protection against static build-up and effectively prevents blisters and other unwanted foot conditions.
Strobel-lasted construction - Puma enhances trail running shoes flexibility by using the Strobel lasting construction. Strobel technique requires the shoe upper material to be stitched to a fabric bottom, creating a sock using a Strobel machine. This lasting technique produces more durable, lightweight and flexible trail running shoes.
This technique is comparable to running shoes from the Altra brand. It is featured in some of their trail and road running shoes like Altra Torin 3.0 and Altra Olympus 3.5.
What to expect from Puma trail running shoes
Breathability - A trail running shoe must have effective ventilation and moisture management system. The latest Puma trail running shoe models feature perforated mesh upper or breathable fabric that keeps the airflow intact inside the shoe.
Support - Running on an uneven surface requires having responsive and supportive shoes. Puma trail running shoes are designed to provide adequate support to prevent muscle strains and other injuries. Numerous runners have testified about the Puma trail running shoes great arch support and responsiveness.
Comfort - Puma trail running shoe's outsole and midsole sections interact with each other to keep the runner's foot comfortable and well supported throughout the running session. Puma combined the cell cushioning technology with foam beds and ignite foam to provide a dryer and cooler environment for the foot.
Durability - Puma is known for providing durable trail running shoes that stand out. The company ensures that all their shoes are high performance and constructed to be durable to withstand wear and tear. Puma is also using advanced methods and technologies to make sure they are providing easy-to-clean and low maintenance trail running shoes.
Frequently asked questions
What makes Puma trail running shoes stand out?
There are some important factors that differentiate Puma trail running shoes from other brands. One important factor is the company's proven record of creating incredibly high-performance running shoes using advanced technologies. Puma focuses on providing safe, functional, and comfortable trail running shoes.
Another important factor that Puma prioritizes is the constant improvement and upgrade of its methods and technologies. The company has introduced purpose-specific features and appealing elements that set their trail running shoes apart from other brands
Are Puma trail running shoes only for athletes and runners?
Puma manufactures a line of shoes that are intended for multiple purposes and general wear. Puma running shoes are actually intended to work for both road and trail runs, though it is important to understand the type of shoe features that work for your activity to ensure a comfortable walking or running experience.
How to clean Puma trail running shoes?
The type of fabric used in the Puma trail running shoe will determine how to clean them properly. That is why it is important to check the care instructions included on the tag or shoe package to ensure longevity.
Here are some cleaning tips that will help preserve the Puma trail running shoes.
If the running shoe upper is made out of nylon or canvas, do not use harsh detergents, soap or bleach when cleaning the shoe. Scrub the upper using a soft damp cloth with a mild soap.
For a synthetic made running shoe, soft damp cloth or soft bristle brush can be used for scrubbing the upper.
If the running shoe upper has leather overlays, do not immerse it in water and just wash it over with a soft damp cloth.
Do not wash the trail running shoe in a washing machine.
2 best Puma trail running shoes
Puma Trailfox
Puma Ignite Limitless Initiate
This shoe has recently been added to RunRepeat. There are still not enough reviews for us to assign it a
CoreScore
.
CoreScore
A score from 1 to 100 that summarizes opinions from users and experts. The average CoreScore is 78.
More...