Collection - Puma Classics Sneakers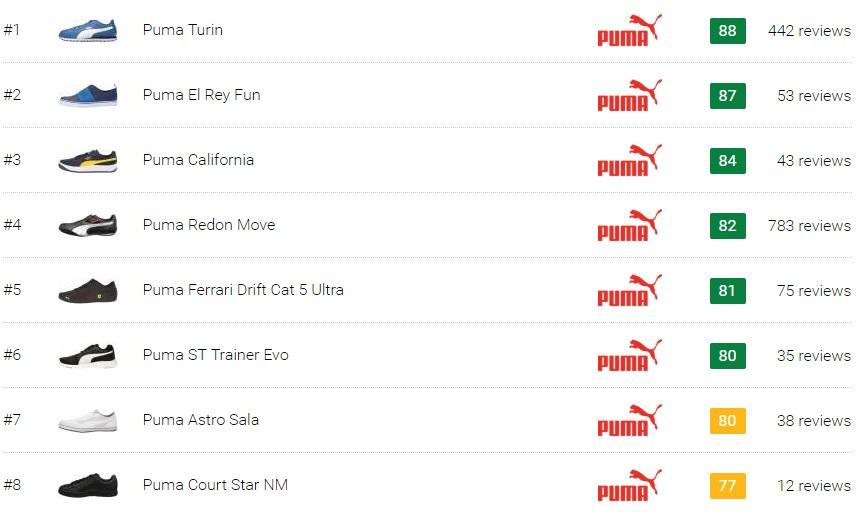 Long before sneaker culture boomed and evolved into its present state, Puma had already established a name for itself in the athletic footwear industry.
Interestingly, the German sports brand shares a controversial piece of history with Adidas as it was founded out of a feud between brothers Rudi and Adolf Dassler. Together, they formed the Gebrüder Dassler Schuhfabrik or Dassler Brothers Shoe Factory, with Adolf designing the shoes and Rudi marketing them. But in 1948, they had a falling out and had to split the company. Adolf formed Adidas, while Rudi created Puma.
With 70 years on and counting, Puma remains to be a brand that continuously makes such strong impact in the whole community of sneaker enthusiasts, collectors, and casual wearers as well as in different subcultures. There may have already been innumerable men's Puma sneakers and women's Puma sneakers that released in that span of time, but the famous Jumping Cat logo still shows no sign of going downhill anytime soon. A myriad of colorways like red, blue, black, white, pink, purple, beige, gold, green, brown, silver, and yellow are currently offered for different Puma sneakers.
Puma sneakers are classified into two categories – Lifestyle and Sports. Under the Lifestyle category is a collection that focuses on the brand's timeless classic silhouettes that have shared, in their own ways, a crucial part in shaping Puma into becoming a pillar of the sneaker industry that it is today.
Puma Classics Origins and Characteristics
The Puma Classics Collection is comprised of nonpareil and renowned silhouettes from the German sneaker brand giant. These sneakers are usually Puma's best of the best shoe models that have made such strong influence in sports or fashion (or both!) industries as well as various subcultures throughout their history. Collectively coined as "classics," they typically have these general characteristics:
Puma Classics sneakers were initially designed as performance shoes for a particular sport, but with their popularity, versatility, and style, they eventually transitioned into being lifestyle sneakers. The Suede, Clyde, Basket, and Breaker models were originally basketball shoes. The Court and California models are inspired by tennis, while the Turin is a soccer-inspired model.
Because of their athletic origins that root back to decades ago, most Puma Classics sneakers have a retro style. They are indeed classic, timeless, and the kind of footwear that never goes out of style.
Most of these sneakers have a low-top profile, but there are still a few that follows a mid-top or high-top constructions.
Sneakers in the Puma Classics collection, particularly recent releases, are upgraded versions of classic Puma shoes. Some of them are almost entirely identical to their respective core models, with just a minor design tweak or change of materials.
Fit and Sizing of Puma Classics Shoes
Like any other classic sneakers from brands like Adidas, Keds, New Balance, Nike, Reebok, Vans, or Converse, Puma Classics sneakers vary in fit and sizing depending on the shoe model, construction, and materials or technologies used.
Most Puma Classics sneakers are made in men's and women's sizing. Some models are also offered in kid's sizing. Men's sizes range from US 4 to 14. Women's sizes, on the other hand, range from US 3 to 13. Both offer half sizes up to 11.5, and all are in Medium or Standard width.
Some Puma Classics sneakers are built as unisex models in men's sizing, including but not limited to the Puma California, Puma California East LA, Puma Suede Classic Pincord, and Puma Suede Classic MIJ. For this kind of Puma kicks, women are advised to order 1.5 sizes down from their usual size.
There are classic Puma shoes like the Suede and Basket that often get upgraded into modernized women's exclusive versions. Some examples are the Puma Suede Bow and the Puma Basket Heart Patent.
Generally, the fit of footwear is dictated by its materials and overall construction. Puma Classics sneakers are no exception to this. Some information on this aspect of Puma Classics sneakers fit and sizing are listed below:
Those based on basketball shoe silhouette feature sufficient reinforcements throughout the upper, hence allowing wearers the needed hold and support.
Running-inspired Puma Classics shoes, on the other hand, are typically constructed minimally and with lightweight materials hence allow plenty of foot movement.
Pricing Guide for Puma Classics
Aside from their timeless and versatile aesthetics, one reason as to why Puma Classics sneakers are a crowd favorite is their affordable price point. A pair can easily be availed for as low as $55 – or even cheaper when discounted. Regular Classics could go as high as $100 to $120, depending on materials and technologies or release type.
Collaborative Puma Classics sneakers, or those shoes that released as designed in partnership with artists, designers, or retail shops, are usually priced higher than regular sneaker models because of the following reasons:
Collaborative Puma Classics shoes are typically released in limited quantities, which drive higher prices.
Renowned designers or celebrities that took part in the design of these Puma Classics sneakers add value to such products. This is also one reason why this kind of releases gives some sort of a "hype" or a sense of exclusivity for the buyers.
Some collaborative Puma Classics sneakers utilize upgraded materials in premium or superior quality than those used in their core shoe models. Hence, a higher price and better quality.
Collaborative Puma Classics shoes are the kind of shoes that instantly make a great addition to a sneakerhead's sneaker collection.
Popular Sneaker Models from Puma Classics Collection
Puma Suede
One Puma shoe that defines the brand is the Suede. With 50 years on in production, its presence has been consistently strong since it initially released in 1968 as a low-top hoop shoe. Considered a revolutionary model at that time, it was the first basketball shoe to utilize suede as its upper material instead of leather and canvas which were the usual choice back then.
Because of its on-point yet versatile style and impressive performance, the Suede was able to get out of the basketball scenery and expand its presence into the skate community and hip-hop culture. Today, the Puma Suede is marketed as a lifestyle sneaker model with countless iterations for both men and women.
Although all current Suede variations and collaborations are collated into a separate "Puma Suede" collection, some of them are still included as part of the Puma Classics sneakers collection. Listed below are some of the best Puma Suede Classic Variations:
Puma Suede Bow
Puma Suede Classic Citi
Puma Suede Classic Mid
Puma Suede Platform
Puma Suede Classic Embossed
Puma Suede Classic Kurim
Puma Suede Bow
The Puma Suede Bow is a women's exclusive modern iteration of the classic Suede silhouette. Listed below are its noteworthy features and some useful information:
In this version, the timeless profile of the Puma Suede is updated with a prominent bow at the heel.
The bow comes in tonal color as the upper but in a shiny and soft satin material for added oomph and feminine touch.
The laces also received an upgrade. Instead of the usual flat cotton laces, these Puma Classics shoes use tonal elastic ones.
Some released colorways of these Puma Classics sneakers include "Island Paradise" which can be a great addition to anyone's collection of blue sneakers. The "Marshmallow" colorway is perfect for those wanting a subtle or muted colorway with its nude colored upper. Other colorways include "Black," "Shell Pink," "Elephant Skin/ Silver Cloud," and "Puma Black/ Iron Gate."
Puma Suede Classic Citi
This version of the Puma Suede is inspired by the hustle and bustle of city living. It released in urban colors and only differ from the original Suede by its gum rubber outsole and metal aglets. These Puma Classics sneakers come in men's sizing from US 4 to 14 in Standard width. It retails for $70.
Puma Suede Classic Mid
The Puma Suede Classic Mid, as the name suggests, is a mid-top variation of the iconic silhouette. It is one of the most popular Suede variations and has had its fair share of released colorways, upgraded versions, and collaborations throughout the years. Some of these are the following:
Puma Suede Classic Mid Quilt
Puma Suede Classic Mid "Bluebird" and "Pomegranate"
mita sneakers x Puma Suede Mid "The List"
UNDFTD Tokyo x Magforlia x mita x Puma Japan Suede Mid
Puma Suede Classic Mid "Washed"
Puma Japan Suede Mid "Animal Pack"
Puma Suede Platform
Released in Summer 2016 is another women's Puma sneaker model based on the timeless silhouette of the Suede. These Puma Classics sneakers are dubbed officially as the Puma Suede Platform, all thanks to the elevated platform sole that does not only add a statement to the shoe's already fashion-approved aesthetic, but also an added height and support for the ladies.
Following the Suede's low-top construction, the Suede Platform's cupsole platform sole took inspiration from Puma and Rihanna's Fenty Creepers that drove the fashion world by storm when it released in 2015. Like the Suede, this modern-day version also gave birth to various iterations such as the following:
Puma Suede Classic Embossed
The concept of "old meets new" smoothly applies to these Puma Classics sneakers. In this contemporary version, the timeless silhouette of the Suede received a subtle upgrade by transforming the leather Formstrip of the OG version into an embossed one for a fresh look that still stays true to the Suede's athletic heritage.
Puma Suede Classic Kurim
Recently released Puma Suede Classic Kurim is another addition to the long list of Puma Classics shoes. Another modern upgrade to the Suede, this version transformed the Formstrip into its rubberized form for an up-to-date look. Highlighting such updated feature, even more, is the tonal rubber sole unit and the entirely tonal suede upper.
Puma Basket
Released in 1971, the Puma Basket followed a classic Suede basketball shoe tooling. It features an all-leather low-top construction with an adjustable lace-up closure. It was merely just the leather counterpart of the other iconic Puma Classics sneakers - the Puma Suede Classic. Because of its sturdy leather upper, it quickly became a favorite winter hoop shoe among the Suede supporters.
Popular Puma Basket Classic Versions:
Basket Bow
Basket 90680
Basket Classic Gum Deluxe
Puma Basket Bow
Like its Suede counterpart, the Puma Basket Bow is a women's Puma low-top. Below are some details about the shoe:
Released in September 2018, these Puma Classics sneakers feature an added chic bow detail at the heel.
It initially released in four colorways such as "Classic Puma White/ Puma Black," "Puma white/ Winsome Orchid," "Whisper White/ Puma Aged Silver," and "Puma Black."
Other colorways released soon after including "Blue Flower" and "Pearl."
This modern rendition of the Puma Basket features elastic laces in lieu of traditional flat cotton material.
Puma Basket 90680
These Puma Classics sneakers are a modified version of the original Puma Basket shoe. Considered a reissue of the Basket version that launched in 1971, the Puma Basket 90680 flaunts the following features:
The uppers of these retro Puma Classics shoes are made of durable leather material.
The tongue, toe vamp, and Formstrip are made of suede.
On the side panel is a Puma Basket branding in gold foil text. Additional Puma branding is on the tongue.
Puma Basket Classic Gum Deluxe
This rendition of the iconic Basket is an epitome of the fusion between classic and luxury. It is constructed with a full leather upper in a low-top construction and a lace-up closure system. Giving off a retro vibe is the gum rubber outsole with ribbed toe bumper for added protection.
Colorways available for these Puma Classics sneakers:
Basket Classic Gum Deluxe "Puma Black/ Metallic Gold"
Basket Classic Gum Deluxe "Puma White/ Metallic Gold"
Other popular Puma Basket variations:
Puma Breaker
Unlike the Suede and the Basket, the Puma Breaker Leather can be considered as a "newcomer" as Puma only introduced it in 2017with the help of Big Sean. Although relatively new, the Breaker's silhouette is based on classic court style with a bold look. It drew inspiration from the punk scene counterculture of New York and London during the '80s.
Popular Puma Breaker Variations:
Puma Breaker Knit
Puma Breaker Suede Gum
Puma Breaker Mesh
Puma Breaker Knit
The Knit version is one of the few ones that introduced the Breaker into the sneaker culture. Debuting in "Unfaded" and "Sunfaded" colorways in 2017 for $150, the Puma Breaker Knit exhibits the following features:
These Puma Classics sneakers are made of an entirely knitted sock-like upper, which gives the shoe a slip-on construction for easy wearing and snug fit.
The side panels are constructed with premium nubuck material for added support.
There is a hidden lacing system for a secure and comfortable fit.
The rubber sole is slightly elevated.
Puma Breaker Suede Gum
Joining the collection of basketball-inspired Puma sneakers is the Puma Breaker Suede Gum. Also based on the classic Suede tooling, it features a suede upper that sits atop a thick and textured gum rubber sole for that Breaker's signature bold look. It is available in men's sizing from US 4 to 14 in Medium width.
Puma Breaker Mesh
One addition to the long list of slip-on Puma sneakers is this Mesh version of the Breaker silhouette. Its upper is predominantly made of mesh material in a sock-like bootie and slip-on construction. The side panels are of suede for added reinforcement and support. Also featured are adjustable rounded laces for a secure fit.
Below is a list of Breaker Mesh renditions:
Breaker Mesh Q2
Breaker Mesh FOF (Fight or Flight)
Puma Roma
The Roma is one of Puma's first few running shoes that initially released in 1968. These Puma Classics sneakers are infused with features suited for sprints, hurdles, and other track and field activities. Like other Puma Classics sneakers, the Roma holds a distinct look given by its classic signature details. It flaunts a T-toe overlay, gold stamp callouts, Puma Jumping Cat logo on the heel, and gum rubber outsole.
In 2008, Puma re-issued this classic silhouette through the "White/ Team Royal" colorway. The shoe features a clean leather upper with signature Formstrip reinforcement to the sides in suede material and original Puma gold sticker of authenticity from 1968. It dropped along with three other colorways that gave tribute to the Italia 68 football team.
To date, several Puma Roma iterations have been released under the Puma Classics collection, including the following:
Puma Roma Basic
Puma Roma Summer
Puma Roma Gents
Puma Roma Retro Sports
Puma Roma Basic
Available for both men and women, the Puma Roma Basic flaunts a retro athletic vibe that roots back to the '60s. Its myriad of colorways features varying upper material including leather, nubuck, synthetic, or canvas. It also features an EVA midsole for cushioned support, lace-up closure for a secure fit, and a rubber outsole with special tread pattern for superb traction.
Puma Roma Summer
One of the recent iterations of the running-inspired Roma silhouette is the Roma Summer. Shadowing the profile of the Roma, this edition exhibits a lighter, cushier, and more breathable features fit for the summer. These Puma Classics shoes have the following features:
All-over textile upper with suede T-toe overlays and Puma Formstrip for added support
EVA midsole for cushioned comfort
Durable rubber outsole for traction
Puma Roma Gents
Another addition to a collection of retro Puma sneakers is the Puma Roma Gents. Taking a cue from the vintage look and original form of the '60s classic, this Roma rendition added a touch of luxe and sophistication by incorporating nubuck leather all throughout the upper. The substantial build of the shoe also comes with a prominent gum rubber toe cap for impact protection and a gum rubber outsole for superb traction.
The Puma Roma Gents first released on April 13, 2017, in two colorways: "Red/Black" and "Black/Yellow."
Puma Roma Retro Sports
Also included in the vast collection of low-top Puma sneakers is a retro release of the classic Roma shoes. Dubbed officially as the Puma Roma Retro, it features a lightweight synthetic upper with inner orthopedic arch support and cushioned midsole. Among the released colorways of these Puma Classics sneakers are the "Peacoat/ Red/ Puma White" and "Brown/ Iron Gate/ White."
Puma Clyde
One vital part of the Puma legacy is the Clyde shoe. It was basketball icon Walt "Clyde" Frazier's signature basketball shoe that Puma specifically designed for him in 1973. It is the lighter and broader version of the Puma Suede with a Clyde branding on lateral sides.
Today, the Puma Clyde shoes remain an iconic classic and, in fact, part of the Puma Classics sneakers collection. Below are some of its modern-day renditions that caught the eyes of sneakerheads and loyal Puma followers:
Puma Clyde from the Archive
Puma Clyde Rubber Toe Leather
Puma Clyde Venice
Puma Clyde from the Archive
Retailing for $75, this recent rendition of the timeless Clyde shoe surely gives any Puma follower some sense of excitement and a must-have attitude. As the name suggests, these Puma Classics sneakers are straight from the archive and follow the original '70s hoop shoe designed by no other than Walt "Clyde" Frazier.
Signature details of these Puma Classics shoes:
The Clyde from the Archive exhibits an all-over suede upper presented in a color-blocked design.
Featured for added protection is a textured rubber midsole.
The lace-up closure in flat cotton laces allows a snug and adjustable fit.
These Puma Classics sneakers are made in men's sizing in Medium width.
Puma Clyde Rubber Toe Leather
Combining classic looks with modern materials is not entirely a new thing in sneaker releases, but somehow this rendition of the hoop-inspired classic Clyde managed to stand out from the crowd. The Clyde Rubber Toe Leather is not your ordinary kind of modern sneaker. It has this athletic yet sophisticated aesthetic that you can easily strut from day to night.
Signature features of these Puma Classics sneakers:
A durable leather material dominates the upper for that premium look.
On the toe is a prominent rubber reinforcement inspired by skate shoes for that street-ready vibe.
Puma Clyde Venice
In 2018, the Clyde has received a premium makeover through the Puma Clyde Venice sneakers. This version is the luxe suede modern interpretation of the iconic basketball-turned-lifestyle shoe. It released in men's sizing for $80 a pair.
Signature features of these Puma Classics shoes:
The upper is made of luxe suede material in fresh, California-inspired colors.
The adjustable cotton laces are tonal.
On the lateral heel area is debossed palm tree detailing.
The heel features a multicolored pixelated pattern instead of Puma's Jumping Cat logo.
Some Collaborative Sneakers from the Puma Classics Collection
One crucial part of sneaker culture is sneaker collaborations. Sneaker brands often collaborate with renowned designers, artists, celebrities, popular sneaker retail shops, or other fashion brands in creating a whole new look for their classic sneaker models. These partnerships result in special releases that, more often than not, create hype or buzz in the sneaker community.
Puma Classics sneakers, of course, are no exception to this. Because of their classic and timeless heritage, these products frequent subject collaborative projects. Below are just some examples of Puma's recent collaborations involving the classics:
Puma x Ferrari
Puma and Ferrari have been working together since 2005 in producing a wide array of products that reflect bold style, power, and success. Below is a list of some of their sneaker collaborations:
Puma x Ferrari Classic Suede (Puma SF Suede 50)
These red Puma sneakers are released in commemoration of the Suede's 50th anniversary. First made available on June 7, 2018, via select retailers, the SF Suede 50 immediately sold out. It features a red suede upper with an F-1 inspired carbon fiber black Formstrip and Modena yellow Ferrari branding on the heel.
Puma Ferrari Changer Ignite
These Puma Classics shoes are motorsport-inspired. It flaunts a mesh upper with caging at the laces, IGNITE foam sockliner for responsive comfort, and rubber outsole for grip. Finishing the look of the Puma Ferrari Changer Ignite is a Ferrari Shield logo at lateral side heel.
Puma Ferrari Roma
Also referred to as the Puma Scuderia Ferrari Roma, these collaborative Puma Classics sneakers are released in several colorways in men's sizing. The upper is made of leather with a sufficiently padded tongue for comfort. Also featured are a leather Formstrip and a Ferrari branding at lateral side heel.
Puma x BAPE
BAPE (A Bathing Ape) is a Japanese streetwear brand founded in 1993. It produces clothing and accessories for men, women, and kids. The brand is also known for several noteworthy collaborations with sneaker brands for highly-anticipated sneaker releases. Below are some of BAPE's collabs with Puma Classics sneakers:
Puma x BAPE Blaze of Glory
This collaborative sneaker fuses the classic profile of the BOG with BAPE's contemporary design. A great addition to anyone's collection of white sneakers, this shoe features a leather upper with mesh underlays, EVA midsole, and Puma's Trinomic technology. The Puma x BAPE Blaze of Glory released on December 12, 2015, along with other Puma silhouettes such as Disc Blaze and R698. One common signature feature of these shoes is BAPE's ape head camouflage print detailing.
Other Puma Classics Sneakers Collaboration:
Puma x MCM Classic Suede
Puma x Shantell Martin
Puma x BTS
Puma x Big Sean
Commonly Asked Questions
Are Puma sneakers in the Classics collection more expensive than regular ones?
As discussed above, Puma Classics sneakers are generally budget-friendly. A pair costs about $55 to $120, depending on the materials or technologies utilized. Collaborative Puma Classics sneakers, on the other hand, are priced slightly higher than their regular versions.
How do Puma Classics shoes fit?
Guide on Puma Classics sneakers' fit and sizing are also discussed above. Like any other sneaker, these shoes vary in fit and sizing depending on the material, built, and shoe model. Keep in mind, however, that user reviews and our Fit and Sizing section in individual sneaker review pages provide a general idea on how a specific Puma Classics sneakers fit.
Is the Puma Classics collection limited to old Puma models?
No. The Puma Classics collection also includes recently released Puma silhouettes that drew inspirations from one or more classic Puma models from the '60s, '70s, '80s, or '90s era. Examples include the Puma El Rey and Puma Redon Move.
Also, most releases are new Puma sneaker models that are based on Puma classic silhouettes like the Suede, Basket, Turin, Roma, California, and Clyde, among many others.
Some of these Puma Classics sneakers feature latest footwear technologies. What are these technologies?
Unlike modern sneaker models, Puma Classics sneakers are not heavily infused with top-of-the-line technologies as these shoes often stick to their classic heritage. Though, there are still some upgraded versions of the Classics and collaborative releases that incorporate the following technologies from Puma:
IGNITE foam – a midsole technology made of polyurethane (PU) foam instead of EVA. It helps in impact protection while providing excellent energy return.
IMEVA foam cushioning– Otherwise known as Injection Molded EVA; gives a lightweight and comfortable ride.
evoKNIT – upper technology that offers a lightweight and form-fitting comfort.
Are this kind of Puma shoes available in women's sizing?
Although most Puma Classics sneakers are designed as unisex models in men's sizing, women's sizing is also made available for some silhouettes, such as:
Puma Cali Emboss
Puma x BTS Basket Patent
Puma x BTS Turin
Puma California Exotic
Puma Suede Bow Varsity
Puma Suede Classic Street 2
Puma Suede Classic Chain
Puma California East LA
Puma Suede Heart Antartica
Which Classics are built with mid-top and high-top construction?
The majority of Puma Classics sneakers have a low-top profile. Listed below are those that follow mid-top and high-top constructions:
Mid-top Puma Classics sneakers:
Puma x POGGY Suede Classic
High-top Puma Classics sneakers:
What is the proper way to clean my Puma Classics sneakers? Cleaning Puma sneakers, including those in the Classics collection, depends on their materials. Below is a quick cleaning guide:
Do not use bleach or other harsh cleaning
Leather Puma Classics sneakers should be cleaned by using a soft cloth dampened with mild soap and cold water.
Same goes for those that utilize canvas or nylon. Gently scrub the shoe using a dampened soft cloth. Air dry only.
For synthetic leather, nubuck, and suede: Use a soft brush and other suitable cleaning materials like a suede cleaner (or mild soap for synthetic leather).
15 best Puma Classics sneakers
Puma Thunder Spectra
Puma Whirlwind Classic
Puma Turin
Puma Icra Trainer SD
Puma Astro Sala
Puma x XO Parallel
Puma Redon Move
Puma ST Trainer Evo
Puma Turin II
Puma Court Star NM
Puma Easy Rider
Puma Thunder Desert
Puma Ren Boot
Puma Ren Boot NBK
Puma Pacer Next Net
This shoe has recently been added to RunRepeat. There are still not enough reviews for us to assign it a
CoreScore
.
CoreScore
A score from 1 to 100 that summarizes opinions from users and experts. The average CoreScore is 78.
More...