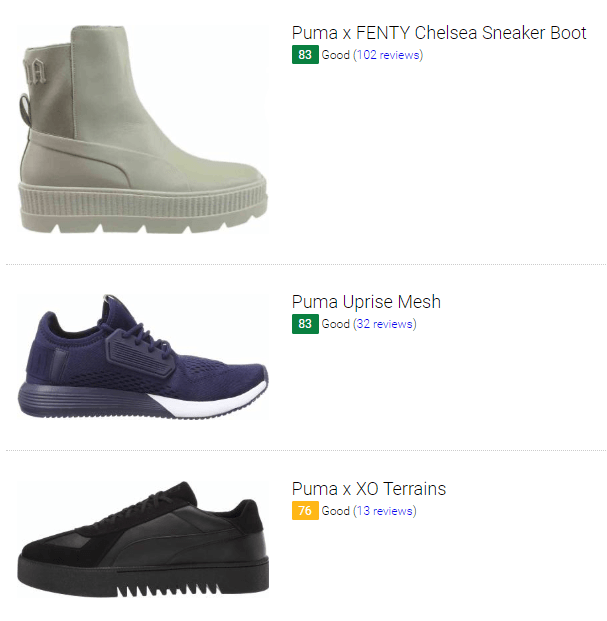 Best Puma Casual Sneakers - September 2019
Rudi Dassler and his brother Adolph established the Gebruder-Dassler Schuhfabrik, a shoe company, during the early 1900s. But after a couple of decades, the brothers had a falling out, which led Rudolph to create his footwear company, Puma. Taking advantage of his vast knowledge in shoe-making thanks to years of experience, Puma didn't struggle with identity and quality regarding its products.
The first shoe released by Puma is a soccer footwear called the Atom. Soon after, due to the positive remarks gained by the brand, athletes started sporting Puma shoes in major athletic events. One example is Josef Barthel, who wore a pair of Puma's while competing in the 1500m and winning the Gold medal during the 1952 Olympics. The brand's signature design detail, the Formstripe is first seen in 1956 while the Cat logo was first used in 1968.
During its first two decades, Puma is mostly known for soccer cleats and running shoes. But when it got the NBA Hall of Famer Walt "Clyde" Frazier to design his own iteration of the Puma Suede, called the Puma Clyde, it was then that the brand rose to further prominence. He was the first basketball player to have a signature shoe.
Today, the brand is among the most popular athletic labels in the world. Puma offers an extensive collection of shoes, clothing, and accessories. It continues to make strides not only in its performance footwear releases but in the casual category as well. We compile a list of highly-rated Puma casual sneakers and other relative topics.
Outstanding Puma casual shoes
Below are a few of the greatest and latest casual Puma sneakers. Please note that all the size range and price mentioned may not be perpetually accurate.
Exceptional Puma Men's casual sneakers
Here is a short list of popular Puma casual shoes for men.
1. Puma Astro Sala
Regular Price: $55
Size Range: 4 to 14
Notable Color Schemes: Iron Gate – Puma White, Burnt Olive – Puma White, and Puma Black – Puma White
The Astro Sala's design elements are based on the game that Puma has mostly invested its products with - soccer. Inspired by the silhouette of indoor soccer cleats, this footwear's slim construction became one of its most recognized aspects. Its blend of mesh and suede fabrics upper grants lightweight feel and optimal breathability.
Cushioning is guaranteed for the Puma Astro Sala because of its cushioned foam insole, collar, and tongue. These paddings allow enhanced comfort and impact protection. Puma Cat brandings are visible on the heel and tongue, and the trademark Formstrip are at the sides. The Astro Sala is one of the inexpensive Puma men's casual sneakers that are versatile enough to be worn for everyday activities to semi-formal occasions.
2. Puma GV Special+
Regular Price: $70
Size Range: 7 to 14
Notable Color Schemes: Puma White – Puma White, Puma White – Puma Black, and Puma Black – Puma Black
Originally released in the 80s, the GV Special is recognized as the signature footwear of tennis superstar Guillermo Vilas. He was playing the sport during the 70s up to the 80s. Due to its unassuming design, the popularity of the shoe branched into lifestyle fashion. Inevitably, subsequent versions followed. The GV Special's elements remain consistent for most of its iterations with its leather upper, padded collar, and toe box perforations.
The Puma logo is placed at the tongue while the sneaker line's label and the Formstrip are at the sides. Staying true to its retro design, the GV Special didn't utilize any latest techs. A revamped version of this classic model is the Puma GV Special+, which has a slimmer profile compared to the original.
3. Puma Bridger
Regular Price: $55
Size Range: 7 to 14
Notable Color Schemes: Elephant Skin – Elephant, Peacoat – Peacoat – Pomegranate, and Puma Black – Puma White - Asphalt
An all-new skate-inspired silhouette from Puma, the Bridger features a mix of classic canvas and synthetic leather overlays. Its gum-colored midsole is very reminiscent of the iconic skater sneaker Vans Old Skool. Because of its affordable price tag, modest design, and quality of materials, the Puma Bridger has been well-received by the wearers. Subsequent models include the Puma Bridget Cat and Puma Bridger SD.
4. Puma Turin II
Regular Price: $55
Size Range: 7 to 14
Notable Color Schemes: Puma White – High Risk Red, Puma White – Winsome Orchid, and Puma White – Puma Black
The second iteration of the Turin features the same materials with the first one, with its soft synthetic leather upper and a supportive and reliable EVA midsole. This sports-inspired silhouette has given the wearers a sleek and on-trend look. With subtle improvements to the original, the Turin II offers a bit more style and comfort. According to the wearers, it is light and surprisingly durable. It also has an inexpensive price tag.
5. Puma Roma Anniversario
Regular Price: $70
Size Range: 7 to 13
Notable Color Schemes: Puma White - Puma Red, Peacoat – Puma White, Puma Black – Spectra Yellow, and Puma Black – High Risk Red
One of the oldest models that the brand has ever introduced, the Puma Roma is released in 1968 and intended to be a running shoe. Its construction was intricately designed for sporting events such as hurdles, marathon, and track and field among others. A mix of padded nylon and suede are the make-up of its upper. The running shoe was re-issued in the 2000s, built with better arch support and padded tongue for additional comfort.
Because of its modest appearance, the brand categorized it to be used casually. As Puma celebrates the King soccer boot and Roma sneaker's legacy, a hybrid iteration of these shoes called the Puma Roma Anniversario is released. This casual sneaker features the Puma King's leather upper while the stitched front section takes from the Puma Roma's trademark tooling.
6. Puma Pacer Next Net
Regular Price: $70
Size Range: 7 to 14
Notable Color Schemes: Elep. Skin – E. Skin / Puma White, Puma Black – Puma Black – Puma Black, and Whi White – Whi White – Whi White
Among the follow-ups to the Pacer Next is the Puma Pacer Next Net, along with the Pacer Next Cage Knit, Pacer Next Cage Knit Premium, and Pacer Next Cage. The Pacer Next Net has a low-top profile that combined with a soft and breathable mesh upper that provides ample wiggle room. Its net-inspired overlays are there to deliver the necessary midfoot support. Interior comfort is due to the SoftFoam insoles and the paddings on the collar and tongue. It also has a durable, rugged outsole that offers optimum traction.
7. Puma Thunder Desert
Regular Price: $120
Size Range: 8 to 14
Notable Color Schemes: B White – G Violet – P White and Black – Puma Black - Black
The Puma Thunder Desert belongs to the recently-introduced Puma Thunder collection. This footwear bears significant design similarities to its siblings, with the exception of the color options and tooling. Noticeably, the Thunder Desert lacks vivid colors and metallic accents on its suede upper and leather overlays.
Following the trend of bulky construction, this shoe provides style and versatility due to its unassuming color tones. Many personalities with a large following on photo-sharing app Instagram have rocked the Puma Thunder Desert. Its thicker-than-normal IMEVA midsole provides cushioning while adding a comfortable feel.
8. Puma Tsugi Jun Pace
Regular Price: $130
Size Range: 4 to 13
Notable Color Scheme: Puma White / Pale Lime Yellow
Puma released a new sports-inspired lifestyle sneaker in 2017. Inspired by Japanese architecture, the Tsugi Shinsei features a modern silhouette. A bit of trivia, Tsugi and Shinsei are Japanese words that mean "next" and "rebirth" respectively. Conceptualized by Heiko Desens and his team of Puma designers, the Tsugi Shinsei's contemporary aesthetic is consists of sock-like knitted upper and a unique lace closure.
The Puma Tsugi Jun is one of the follow-ups to the Tsugi Shinsei, which effectively confirms that it becomes a sneaker line. A version of the Tsugi Jun is the Tsugi Jun Pace. The design of this shoe is similar to the features of the original Tsugi Jun, except its two-toned knitted textile upper.
Popular Puma Women's casual sneakers
Below are some highly-rated Puma casual shoes made for women.
1. Puma Basket Crush Emboss Heart
Regular Price: $70
Size Range: 5.5 to 11
Notable Color Schemes: Ouma Black – Puma Team Gold, Pale Pink – Hibiscus, and Puma White – Puma Silver
Most of the wearers are enamored by the feminine design of the Puma Basket Crush Emboss Heart. The most compelling design element of this shoe is the embossed heart-shaped detail at the top when the pair is placed together. Its upper is made from premium leather that is complemented by a rubber outsole. The regular lace closure is shaped asymmetrically to give space to the embossed heart outline. For brandings, the metallic Puma Cat emblem is placed at the heel while the Formstrip on the lateral sides gives a distinct but familiar vibe.
2. Puma Adela
Regular Price: $65
Size Range: 5.5 to 11
Notable Color Schemes: Fair Aqua – Fair Aqua, Peach Bud – Peach Bud, and Magenta Haze – Magenta Haze
One of the latest training-inspired casual shoe released by Puma is the Adela. The Puma Adele exhibits a soft mesh upper with synthetic leather overlays that are decorated by a metallic heel piece and a silhouette that can be identified as feminine.
Designed for lightweight and smooth performance, this low-top can be utilized for casual activities or while doing gym workouts. Due to its SoftFoam+ sockliner, the Adela delivers long-lasting comfort and flexible fit. Metallic heel accent. It has a striking lacing structure with its eyelets that have webbing details. For its midsole, the EVA is there to offer comfort and cushioning.
3. Puma Vikky Ribbon Patent
Regular Price: $60
Size Range: 6 to 11
Notable Color Schemes: Puma White – Puma White, Puma Black – Puma Black, and Pomegranate – Pomegranate
The basketball-inspired silhouette of the Puma Vikky is built for style and function. Its attention-catching chunky satin bow closure provides a degree of glam. With its prominently feminine details, women everywhere enjoyed the stylish vibe of this low-top. Its interior features a soft foam liner that contributes to comfort and cushioning. Debossed Puma Formstrip is on the lateral sides while the Puma Wordmark logo is situated on the vamp.
4. Puma Evo Cat Sock Lace Monaco
Regular Price: $110
Size Range: 6 to 10
Notable Color Schemes: Gray Violet – Mahogany Rose – White and Lavender – Mahogany Rose - White
Puma joined the Formula 1 Race event held in Monaco in the form of Puma Evo Cat Sock Lace Monaco. This specially-made footwear is labeled as the "ultimate sleek lifestyle" running-inspired shoe. It features a sock-like upper that gives a seamless foot-hugging capability. Due to this type of upper, it allows optimal comfort and breathability with a customizable design. Marketed as "Lace it your Way," the low-top's lacing closure gives the wearers freedom on how to they want it to be. Hassle-free entry is guaranteed because of the slip-on construction.
5. Puma Platform Trace Block
Regular Price: $90
Size Range: 5.5 to 10
Notable Color Scheme: Winetasting / Flame
The premium suede upper of the Platform Trace Block by Puma pays homage to the timeless Puma Suede Platform. This model's midsole is thicker than average, which is an on-going trend for many of the modern women's sneakers. Its collar is designed to be lightly padded, as to provide additional comfort. Minimizing the ankle slippage is possible due to the leather lining on the interior. A few perforations on the lateral sides and other areas offer a bit of ventilation.
6. Puma Suede Galaxy
Regular Price: $80
Size Range: 5.5 to 11
Notable Color Schemes: Pale Pink – Puma Silver and Gray Violet – Puma Silver
Among the recent iteration of the ever-popular Suede, this Puma women's sneaker is low-key stylish. The unassuming colorways allow the shoe to blend well with many casual dresses. With its versatile design and inexpensive price tag, the Puma Suede Galaxy is worthy to be included in every women's shoe rack.
7. Puma Cali Emboss
Regular Price: $80
Size Range: 6 to 10
Notable Color Scheme: Cream Tan – Cream Tan
During the '80s, among the brand's bestsellers is the Puma California. Aiming to please the older fans and to gain new ones, Puma re-issued the classic sneaker in various forms. Among them is the women's exclusive Puma Cali Emboss. Giving a fresh look to the vintage footwear is the premium leather upper that features an embossed snakeskin texture. Thanks to the nondescript colorway, wearers will have no issues incorporating it with their casual get-ups.
8. Puma Dare AC
Regular Price: $60
Size Range: 5.5 to 11
Notable Color Schemes: Winsome Orchid – Orchid, Puma Black – Puma Silver, and Gray Violet – Shell Pink
As one of the recent Puma shoes, the Puma Dare AC is a training-inspired silhouette that gives a modern vibe because of its design. The sock-like upper construction combined with elastic strap guarantees foot security and seamless fit. It features the brand's trademark SoftFoam sockliner that allows enhanced cushioning and comfort. The rubber pods on the outsole offer ample traction.
Puma Casual Shoes x Collaboration
Puma x Pepsi
For more than a century, the popular soda brand Pepsi has been right in the middle of influencing culture through entertainment. Numerous partnerships with some of the most significant figures in music have made Pepsi inextricably connected with pop culture for several decades. Among its latest collaborations is with Puma. There are plenty of Puma products that are graced with the iconic Pepsi brandings. Here are a few of the shoes under the Puma x Pepsi collection.
Puma x Pepsi Suede Classic
Puma x Pepsi Basket
Puma x Pepsi Basket II
Puma x Pepsi RS-0
Puma x Transformers
Started out as a series of children's toys, the Transformers franchise has been around for more 30 years. It later spawned comic books, video games, and cartoons. Eventually, it found its way into movie success, by earning hundreds of millions of dollars for every installment. Continuing to established its mainstream presence, Transformers partnered with Puma to enticed the fans of the franchise with sleek collaborative products. Below are the shoes of the Puma x Transformers collection.
RS – X x Transformers Optimus Prime
RS – X x Transformers Bumbleblee
Puma x Hot Wheels
Toy car company Hot Wheels is recognized worldwide as one of the revered brands of its respective industry. Its vast collection of die-cast cars and customizable racing tracks has been a part of many generations of kids and adults alike. Recently, Puma and Hot Wheels teamed up to honor the cultural impact of its products via its limited edition collaborative shoes and clothing. Below is a couple of footwear under this collaboration.
Puma x Hot Wheels RS-X Toys Camaro
Puma x Hot Wheels RS-X Toys Bone Shaker
Puma x Hot Wheels RS-X Toys 16
Puma x Sankuanz
Among the most popular street fashion labels in China, Sankuanz gained notoriety via its disruptive and unconventional concept approach to its products. Aiming to continue this trend, Puma and the clothing brand released a collection of shoes and various clothing to complement each other's innovative prowess. Here are the shoes so far under this collaborative collection.
Thunder Sankuanz
RS-X Sankuanz
Cell Endura Sankuanz
Cali Sankuanz
Frequently Asked Questions about Puma casual sneakers
Where to purchase casual Puma shoes?
Puma direct shops and retailer outlets are available in many parts of the world, so looking for Puma casual kicks is not going to be a hassle. Also worth taking a glimpse is its official website and popular online retailers as it is the easiest way to check the shoes' availability, color options, and price.
What are some of the most popular casual Puma sneakers?
While not initially categorized as casual, the iconic footwear Puma Suede and its famous variation Clyde have spawned countless re-issues, collaboration, color schemes, and limited edition shoes. In recent years, the partnership between Rihanna and Puma has proven to be a successful venture. Every shoe released under the Fenty Collection by Puma is flying off the shelves within a short amount of time.
Which Puma women's casual sneakers are regarded as versatile?
According to the reviews made by the wearers, the Puma Cali Emboss, Puma Capri Metallic, and Puma Smash v2 Leather are a few examples. Its unassuming colors and modest designs allow these shoes to blend gracefully with a variety of casual attire.
What are some examples of inexpensive Puma casual shoes for men and women?
Below are a few Puma casual kicks that cost $70 regular price or less.
Men's:
Puma Astro Sala
Puma GV Special+
Puma Bridger
Puma Roma Anniversario
Puma Pacer Next Net
Women's:
Puma Basket Crush Emboss Heart
Puma Adela
Puma Vikky Ribbon Patent
Puma Dare
What is the price range of Puma women's platform casual sneakers?
Prices for Puma platform shoes for women start at $60 up to $160. Discounted offers are also available at certain times.
Do Puma casual shoes fit true to size?
Many recommend ordering their own regular measurement when purchasing Puma casual shoes. However, it wouldn't hurt to be aware of Puma's return policy just in case.
Could Puma casual sneakers be cleaned in the washer?
Absolutely not. Not just for Puma, but most brands warned wearers of not using the washer when cleaning sneakers. Not only it would possibly cause irreversible damage, but it will not also do a good job of washing the shoes. The most common and cheap effective method of cleaning Puma kicks is the use of old toothbrush dipped in a detergent solution.
Are casual Puma sneakers environment-friendly?
According to an article in 2012, Puma has made an effort to minimize ecological damage. At that time, Puma's executive chairman Jochen Zeitz declared that the company is looking for alternatives to replace the leather material. Zeits mentioned that leather processing is Puma's largest contributor to its environmental footprint. Fast-forward to today, several of the brand's shoe offerings are made of recycled materials. One example is an iteration of the Puma Classic Suede. Its sole is made from rice husk while the upper is consists of synthetic Ultrasuede.
Which Puma casual sneakers are popularly known as Dad shoes?
The Thunder sneaker line features a couple of well-known Dad shoes. These shoes are the Puma Thunder Spectra and Puma Thunder Desert.
2 best Puma casual sneakers
Puma x XO Terrains
Puma Breaker Mesh
This shoe has recently been added to RunRepeat. There are still not enough reviews for us to assign it a
CoreScore
.
CoreScore
A score from 1 to 100 that summarizes opinions from users and experts. The average CoreScore is 78.
More...