What to expect from the best Propet walking shoes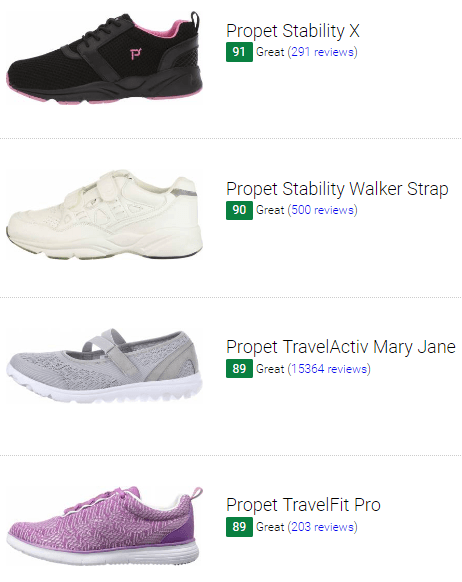 Best Propet walking shoes for women - May 2019
Propet specializes in footwear for people with hard-to-fit feet or those in need of special care. Propet walking shoes come in various widths and sizes and use materials that provide support but also promote natural foot expansion and movements.
Upper
Propet walking shoes come in different styles, especially for women. Men can choose between laced or double-strapped trainers, while women have the same options along with several doll-shoe styles. The company uses different top materials like soft leather, suede, jersey knit, mesh, and stretchy textile which provide wearers different levels of support. Leather and suede are not stretchy and are suited for people who want to feel that their feet are contained adequately inside the footwear. Models with mesh, jersey knit, and stretchy textile do not have much hold as they have a little 'give' to accommodate foot issues like corns or hammertoes and keep the toes free from discomfort.
Midsole
The most common compound used for Propet walking shoes is ethylene-vinyl acetate (EVA) foam. This material is lightweight and constructed to be durable. It aims to reduce the impact felt by the foot from each step taken. In some models, there are one or two removable insoles that add volume under the foot for better comfort, fit, and support.
Outsole
Some Propet walking shoes utilize the midsole for the outsole with rubber pods protecting the heel and toe sections. For other models, the underside uses a full-length rubber with flex grooves that help with the natural foot bending. Rubber also provides traction on most types of surfaces.
Special features found in Propet walking shoes
Dri-Lex
This fabric lines the insole of some Propet walking shoes. It has antimicrobial properties that allow it to thwart malodor from forming. It also helps wick moisture away from the foot.
OrthoLite
This lightweight insole features an open-cell design that promotes aeration to keep the foot fresh and dry. Despite its thinness, it provides a comfortable footbed that also helps with shock absorption.
Double insoles
A unique feature in some pairs of Propet walking shoes is the double insoles. These models use two separate insoles that aim to provide extra volume under the foot. One or both layers can be taken out for a customized fit or to achieve a truly wide walking shoe experience or to accommodate the use of custom orthotics. Usually, the top insole is the OrthoLite foam while the other insert is made of memory foam.
History
Propet USA, Inc. has been designing and manufacturing walking shoes for men and women since 1985. Since then, the company has made it its mission to provide consumers with hard-to-fit feet or feet in need of special care with the best footwear for their specific needs. Its line of footwear includes athletic, casual, feather lite, slip-resistant, voyager, executive, washable, and waterproof shoes, and also sandals and boots.
Frequently asked questions
Are all Propet shoes made for diabetics?
No, not all Propet walking shoes are made to accommodate the needs of people with diabetes. Those intended for people with diabetes are marked with the A5500 code. These trainers are constructed with a roomy toe box that provides space for the toes to spread and a sole unit that delivers adequate support and cushioning. The upper can be made from leather, suede, or textile but they are usually seamless, so there are no pressure points that could irritate the foot. These shoes are also constructed to accommodate custom orthotics. In addition, the cost of this footwear is covered for people with severe diabetes under the Therapeutic Shoe Bill.
Are Propet walking shoes offered in wide widths?
Propet walking shoes cater to people with various foot shapes. For men, it can be obtained in D - Medium, 3E - X- Wide, and 5E - X-Wide. As for women, they can choose from 2A - Narrow, B - Medium, D - Wide, 2E - X-Wide, and 4E - X-Wide.
How to find the right size and fit?
Like other trainers, Propet walking shoes come in different lengths, but unlike other brands, they also offer them in varied widths. The availability of these width profiles can easily confuse anyone, especially those who aren't aware that their feet may not fall under the standard medium category. To find the correct size, first, you need to measure your feet.
While barefoot, stand up and step on a blank piece of paper. Trace the outline of your foot, using a pen, pencil or marker, one foot at a time.
Then take a measuring tape or a ruler and measure the distance between the longest toe and the heel.
Now compare your measurement to the brand's size chart to get your proper shoe size.
As for the width, measure the widest part of the foot, which is usually in the ball section.
The width is dependent on your shoe size. For example, if you are a men's US size 7 with a width of 3.8 inches, you may be considered a wide; but if you are a size 8 with the same width, then you might fall under the medium category.
However, some people do not rely on numbers and measurements as brands may use different measurement tables. If you are a part of this group, the best course of action is to know the return policy of the online shop before hitting that buy button. If you can return and refund shoes at no extra cost, then you can purchase multiple sizes at once and just send back the ones that don't fit right.
Remember! Walking shoes should fit perfectly the moment you put them on. Do not settle for ill-fitting footwear in the hopes that breaking them in will make them fit better or feel more comfortable to wear. In most of these cases, the shoes end up collecting dust or just being given away.
How much do Propet walking shoes cost?
Typically, Propet walking shoes cost about $60 to $100, depending on the materials used in them. Here at RunRepeat, we scour multiple online retailers for the best offers so you won't have to. Just click on a pair to see the latest price offerings from various sites. You will see offers for as low as $35. There's also an option to compare multiple models to see features and prices at a glance.
Can Propet walking shoes be customized?
No, Propet does not offer customization of its trainers in terms of altering the physical appearance. However, if you want walking shoes that can accommodate custom orthotics, be sure to check out trainers with removable or double insoles. The inserts can be quickly removed and replaced with your desired insole.
Can you use Propet walking shoes for running or working out?
There's no stopping you if you want to use your Propet walking shoes for running or exercising, especially if you feel comfortable in them, but they may deteriorate early. However, if you want to get the best out of your fitness regimen, it would be wise to wear the appropriate footwear. Dedicated running shoes are created with forward movement and shock absorption in mind. As for workout shoes, they are equipped with special elements that keep the foot steady and protected during grueling workouts.
When to replace Propet walking shoes?
The average lifespan of walking shoes is about 3 to 6 months or about 500 miles of foot travel. It should be noted that if the trainers are used every day for long periods and in rough conditions, it might need to be replaced even sooner. Owners of Propet walking shoes should routinely inspect them for signs of wear and tear on the upper and the bottom of the sole unit and if the midsole has lost its ability to attenuate shock.
How to clean Propet walking shoes?
The easiest way to clean Propet walking shoes, regardless of the top material, is by wiping them down using a damp clean cloth or brushing off the dirt. If there is any stubborn dirt, a brush, cloth or sponge dipped in a warm soapy solution can be used to scrub the filth away. Follow it up with a wipe-down using a clean, damp cloth or sponge. Air dry the trainers and do not use direct heat sources.
Remember! Do not machine wash unless otherwise is stated by the manufacturer.
Are there Propet walking shoes for overpronation?
Yes, the Propet Life Walker Strap is a walking shoe designed to prevent overpronation. The upper is made of full-grain leather that holds its structure, keeping the foot supported. There's a built-in contoured heel stabilizer that keeps the rearfoot steady during the heel-to-toe transition. It features an ethylene-vinyl acetate (EVA) foam midsole and a removable insole for shock absorption. It has a raised middle portion that supports the arch and prevents the foot from excessively rolling inwards. As for the outsole, it is crafted from rubber which is durable and provides adequate traction on most surfaces.
10 best Propet walking shoes
Propet Stability X
Propet Stability Walker Strap
Propet Life Walker Strap
Propet Connelly Strap
Propet Village Walker
Propet TravelFit Strap
Propet TravelFit
Propet Stability Walker
Propet Connelly
Propet Warner
This shoe has recently been added to RunRepeat. There are still not enough reviews for us to assign it a
CoreScore
.
CoreScore
A score from 1 to 100 that summarizes opinions from users and experts. The average CoreScore is 78.
More...