Both Girls and Boys Can Wear Pink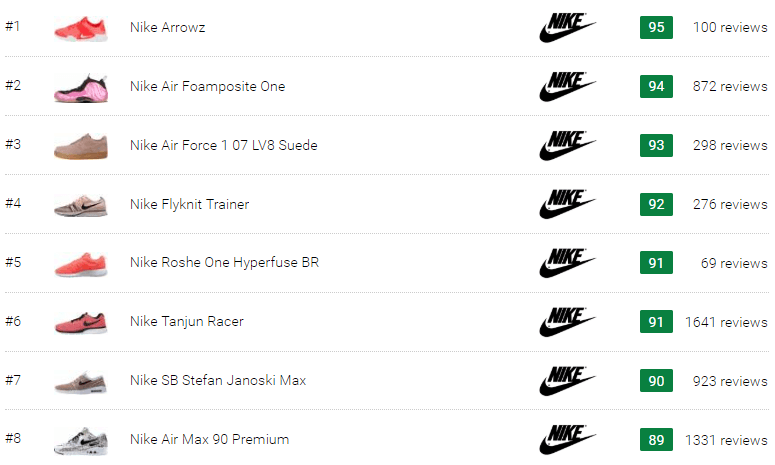 A popular misconception in many circles today is that the color pink is just for girls. But did you know that pink used to be the color of choice for boys back then? In the late 19th century and early 20th century, pink was seen as the boy version of manly red. Blue was considered daintier and more suited for girls—at least in Europe—because it was closely associated with the outfit of the Virgin Mary.
Unisex clothing came briefly into fad in the 60s and 70s, but by the 80s, people wanted more "appropriate" colors for each of the two sexes. This was largely caused by manufacturers pushing that "pink is for girls, blue is for boys" fad when they realized parents were more likely to buy a whole new set of baby items and outfits for their little girl after having a Junior.
So there you have it. The 'pink is for girls and blue is for boys' thing was only because of commercialism. If you're still hesitant about buying a sneaker in pink or in any other color because of gender, don't be. Sneakers are gloriously universal, and anyone can wear any shade they want. After all, why limit yourself to a few colors when you can have every hue you want?
All Pink Nike Shoes
This colorway is for people who think that when you go pink, you better go all the way. The Nikes featured below are all in pink right down to the soles.
Nike SF Air Force 1 Mid (Pink/Red) - A 2017 update of the famous military-inspired Air Force 1, these kicks sport a mid-cut profile and the original high-top's buckled cross straps and ballistic nylon and leather uppers. However, the sneakers also feature new additions such as rear zipper openings and heel tabs. Perfect for mall-going and hanging out with your buddies.
Nike Air Force 1 07 LV8 Suede (Red Stardust) - Although the colorway is named Red Stardust, the shade is so light it might as well be pink. The pale hue covers everything from the uppers and soles to the laces and linings. Only a minuscule white underlay on the Swoosh logos and the red AF-1 label on the back keep the sneakers from being tonal all the way.
Another awesome version of the classic Air Force 1s, these kicks are clad in rich suede which can add an extra oomph to any ensemble. These shoes carry the same silhouette and time-tested comfort as their predecessor but now come with a more luxe feel.
Nike Roshe One Hyperfuse BR (Pink Blast) - Hot pink Nike shoes are just that—hot. These brilliantly colored sneakers are not to be looked down on. Although extremely fashionable, the shoes are also tough as nails with their durable Hyperfuse construction. The shoes are also light, have excellent ventilation, and provide unceasing comfort.
Nike Air Huarache Ultra Breathe (All Pink) - Descending from the line of one of the comfiest sneakers by the Nike brand, Air Huarache Ultra Breathe sneakers still provide that excellent comfort the Huarache collection is known for. These shoes offer feet-hugging fit, lightweight cushioning, and maximum ventilation.
Pink and White Nike Shoes
For times when you need a clean and fresh colorway on your feet, pink and white is the way to go.
Nike Air Huarache (Sport Fuschia/White/Gum Yellow) - These hot pink Nike shoes will immediately capture anyone's attention. One of Nike's most classic performance shoes of all time, the Air Huarache delivers foot-hugging feel and impeccable comfort courtesy of the thick Phylon soles and Air-Sole units.
A deep pink hue covers most of the uppers while white midsoles and heel counter overlays provide a balance against all that rosy shade.
Nike Dualtone Racer (Dusty Pink) - Cheaper than their predecessor, the Flyknit Racer, nevertheless these kicks are comfortable, lightweight, and versatile. Unlike their ancestor though, the Dualtone Racer sneakers are adapted to lifestyle use because of their mesh uppers and wider midsoles.
The Dusty Pink colorway features light pink uppers with paler pink Swoosh logos and darker toned heel counters and tabs. The 3M reflective detailing can be seen on the pull tabs. White midsoles and black outsoles complete the look.
Nike Air Max 90 Premium (Pink Glaze) - Function and style combine seamlessly in the AM90 Premium. These kicks are surprisingly lightweight yet can provide all-day comfort for people who stay on their feet for extended periods of time.
The pink treatment has been applied all over the uppers of these sneakers for a tonal look. The contrast comes in the form of the differently textured overlays surrounding the shoes.
Pink and Grey Nike Shoes
This colorway is suited for times when you need a bit of drama along with that delicate pink.
Nike Flyknit Trainer (Pink Flash, White-Dark Grey) - The stylish Flyknit Trainer is comfortable and unbelievably light, these pink and grey Nike shoes are sure to be wardrobe staples for gym goers. Bright pink covers the knit uppers with hints of grey at the toe boxes and ankles. The laces and heel tabs are done solely in grey while solid grey details run around the midsoles.
NikeLab Air Max 1 Pinnacle (Arctic Pink) - These track and street icons offer that irresistible combination of excellent traction, comfort, and lightweight cushioning. Done up with a sleeker profile, the Air Max 1 Pinnacle still retains the DNA of one of sneaker world's most popular and beloved silhouettes.
This fresh colorway features pink laces, Swoosh logos, and perforated toe boxes. Beige overlays cover the vamp while grey decorates the heel counters.
Pink and Blue Nike Shoes
Pink and blue shades have a chill look about them.
Nike Tanjun Racer (Blue, Pink) - Coming from the Japanese word. "Tanjun" which means "simplicity," these sneakers ooze a straightforward, back-to-basics style. The blue mesh uppers are simply adorned by bright pink Swoosh logos, Flywire cables, and collars. The sleeker Tanjun Racer and more lightweight than its predecessor, the Tanjun.
Nike Flyknit Air Max 2016 (Blue Glow/Pink Blast) - With Air Max tech that's even more flexible than previous Air Max Flyknit releases, the Flyknit Air Max 2016 provides a more balanced ride. The Flyknit uppers adjust to the contours of the feet, delivering a sock-like wearing comfort.
These pink and blue Nike shoes feature mainly bright blue uppers with cotton-candy pink accents throughout. A combination of pink and blue also adorn the midsoles while the black laces provide a balance between all the glowy colors.
Pink and Yellow Nike Shoes
When you need to stand out, pink and yellow may be the best option.
Nike Air Max 270 (Neon Pink) - A combination of the Air Max 93 and the Air Max 180, the new Nike AM270 is the first in the Air Max collection to feature heel Air units geared explicitly for the lifestyle user.
This particular colorway of the silhouette debuted in the early part of 2018 and is perhaps the most eye-catching one. Neon pink shades splash the Swoosh logos and part of the soles while highlighter yellow hues grace the bubble soles and the 270 logos on the tongues.
Pink and Green Nike Shoes
Pink and green spell fun and boundless energy.
Nike Internationalist (Peat Moss/Olive Flak/Digital Pink) - Initially introduced as running shoes, the Internationalist sneakers from Nike are now beautiful lifestyle shoes with an array of eye-catching colorways. The shoes retained that retro feel with the mix of suede, nylon, and mesh for the uppers.
This edition features uppers of mostly green ranging from peat to olive. Pink hues cover the Nike logos on the tongues, plastic overlay on the heels, and part of the midsoles.
Nike Air Max 97 (South Beach) - These pink and green Nike shoes show the two shades running across white-based uppers for a clean and summery look. The green full-length visible Air units provide superior cushioning as well as providing a striking look to the sneakers. Thick outsoles add enhanced cushioning and impact absorption, making these shoes the epitome of performance and fashion.
Pink and Black Nike Shoes
Pink and black spells daring or edgy.
Nike SB Bruin Premium SE (Prism Pink/Black-White) - These pink and black Nike shoes not only look vintage-cool but they are actually excellent skating footwear. The sneakers are quite flexible and provide great board feel. The nubuck uppers and leather heel patches are designed to give skateboarders the durability they need to carry out every trick on the board there is.
The shoes are dressed in a beautiful dusty pink hue with black Swoosh logos providing a startling contrast. Standard laces come in the same pinkish hue.
Nike Air Foamposite One (Polarized Pink) - Penny Hardaway's signature shoes have come a long way from their 1997 debut. These futuristic-looking sneakers mold to the user's feet, provide shock-responsive cushioning, durable grip, and a sock-like feel.
Although available in a wide variety of shades, the compelling combination of dark pink and black makes this colorway stand out. The translucent pink soles somewhat soften the bold look but enhance its appeal.
Pink and a Hodgepodge of other Colors
ACRONYM x Nike Air Presto Mid (Racer Pink/Black/Photo Blue/White) - For tech wear fans the world over, the Acronym x Nike Air Presto Mid is a remarkable take on the sock shoe that amazed the world in the year 2000—the Presto. The leather hits, dual heel zippers, and extended ankle collars all combine to deliver a striking cutting-edge look.
This colorway features a combination of pink and blue on the uppers, black and white lace cages and toe caps, and a volt color with the ACRONYM logo running across the vamp.
Nike Foamposite Pro Premium (Elephant Print or Wolf Grey/Black-Hyper Pink) - The iconic silhouette got the elephant print treatment with this colorway. Black and white prints cover most of the uppers while grey and white patterns grace the bottom part of the shoes. The fluorescent pink soles and tongue tag accents pay homage to Breast Cancer Awareness Month while nicely rounding off the shoes.
Comme des Garcons x Nike Air Max 180 (Laser Pink/Solar Red-Black) - Another winner from the Air Max line, the Air Max 180 got a fantastic new look by Japanese label Comme des Garcons in the first quarter of 2018. Known for their streetwear style, the brand has outfitted the Nike Air Max 180 in a daring mix of vivid pink and red with black to tie all of the colors together.
FAQ
Q: I'm not sure what shade of pink will fit me. Any suggestions?
A: It depends on how you want to be seen. Do you feel energetic or wish to project a really confident or sporty vibe? Go with bright pinks. If you're feeling calm, restful or carefree, light pink sneakers will do the trick.
Q: Where should I go to buy pink Nike sneakers?
A: RunRepeat has tie-ups with several known and legit vendors selling your favorite brand sneakers. Click the 'Sneakers' button at the uppermost part of this page, tick off the box for Nike (at the left part of the page), and search for the model you want in the search results that will pop up.
Clicking on the shoe model from the list will take you to a page with collated reviews for that silhouette. If you like what you've read so far, then please click on the offers for that shoe (they'll show up on the same page), and it should take you to our partner retailers.
Q: Are Nike sneakers true to size?
A: The fit varies from model to model. Many run true to size, but there are some that do fit smaller or larger. To get a feel for the sizing of a particular model, our user reviews might help.
Q: How does Nike sneaker sizing compare to other brands? I'm a first-time Nike user.
A: Brand size charts sometimes differ. For example, Nike sizing is smaller when compared to Asics or Saucony. A 25 cm measurement is equivalent to a size 7.5 in Nike but will be a 7 for Saucony and a 6.5 for Asics. When buying Nike for the first time, refer to the corresponding centimeter measurement of your regular brand and look for its equivalent in the Nike charts.
Q: How do I wear my all pink Nike sneakers?
A: Tonal sneakers are actually the easiest to match with clothing. Below are some examples of what outfits to wear based on the occasion,
Casual chic - These are for days when you don't want to dress up much but still want to look fashion-forward.
Men - An olive bomber jacket and trousers topped off with a pink long-sleeved shirt will look so put together when matched with light or dusty pink Nike sneakers. Make sure to choose a low-top profile for this.
Women - Put on slim fitting blue jeans, a black turtleneck, and black leather jacket. Top off with an oversized tote bag in patent leather. Your all-pink Nike sneakers will provide a nice pop of color against the neutral shades.
Sporty - For gym days when you have need of functional clothing, try these tips:
Men - A classic pairing of a white short-sleeved shirt and grey shorts will look great with pink kicks. The ensemble also gives off a relaxed and summery appeal.
Women - Wear short black leggings and a black training jacket, preferably one with neon hits (neon green or blue works well with pink).
Q: Can you give suggestions on how to wear the other pink colorways?
A: Pink sneakers with a classic vibe can usually be paired with smart casual ensembles. Just stay away from sneakers with neon or metallic colors mixed in for those not-so-casual occasions. Shoes with suede, leather, or nubuck materials can be dressed up while canvas, mesh, Foamposites, and Flyknits are strictly casual.
Keep to soft, neutral colors for casual Fridays at work and use the sneakers with bold hues for sport or lifestyle outings.
Q: How do I choose which sneaker silhouette best fits my needs?
A: Determine where you want to wear these kicks. Do you want them purely as leisure wear or do they need to have a function for sports such as skating? For skateboarding, choose skate-specific shoes which are built to withstand the rigors of the game or are constructed to provide flexibility for the wearer.
Q: What else should I look for when choosing which sneaker model to purchase?
A: These are some questions to ask yourself when buying a new pair of shoes:
Fit - Do you have narrow, regular, or wide feet?
Cushioning - How much cushioning do you need? Do you prefer board feel (if you skate) over shock absorption? Will you be on your feet much?
Support - Would you like sneakers that are slightly flat or would shoes with better arch support suit you more? Do you want lots of ankle support or free movement?
Material - Will you be wearing your shoes for work or will it be strictly leisure? Is the weather in your state often rainy or is it sunny?
Our collected user reviews will help you decide if the particular sneaker silhouette you are eyeing meets all of your needs. Reviewers often comment on the comfort, support, cushioning, and fit of the shoes.
Q: Does the cut of a shoe or material play a part on how I will use it?
A: Yes. People who need lots of ankle support find that high-cut sneakers work best for them while those who play sports such as tennis—which require lots of fast turns and movements—prefer low-tops. Mid-cut sneakers offer a bit of both the advantages of the other cuts.
Q: Is material all that important?
A: Again, yes. Mesh sneakers are well-ventilated, but they also get the user's feet wet in rainy weather. Suede and nubuck look plush and premium, but they can be hard to clean off. Leather sneakers are more expensive but can be used for smarter occasions and are sturdier too. Canvas is lighter and cheaper but less robust than leather fabrics. It all boils down to how you want to use the shoes and where.
15 best pink Nike sneakers
Nike Air Foamposite One
Nike Air Force 1 07 LV8 Suede
Nike Flyknit Trainer
Nike Air Max 97 Plus
Nike Tanjun Racer
Nike SB Zoom Stefan Janoski
Nike SB Stefan Janoski Max
Nike SB Blazer Vapor
Nike Air Huarache Premium
Nike Air Huarache
Nike SF Air Force 1 Mid
Nike Zoom Mercurial Flyknit
Nike Air Max 90 Premium
Nike Flystepper 2K3 PRM
Nike Air Max 270 Flyknit
This shoe has recently been added to RunRepeat. There are still not enough reviews for us to assign it a
CoreScore
.
CoreScore
A score from 1 to 100 that summarizes opinions from users and experts. The average CoreScore is 78.
More...