Pharell Williams Adidas Sneakers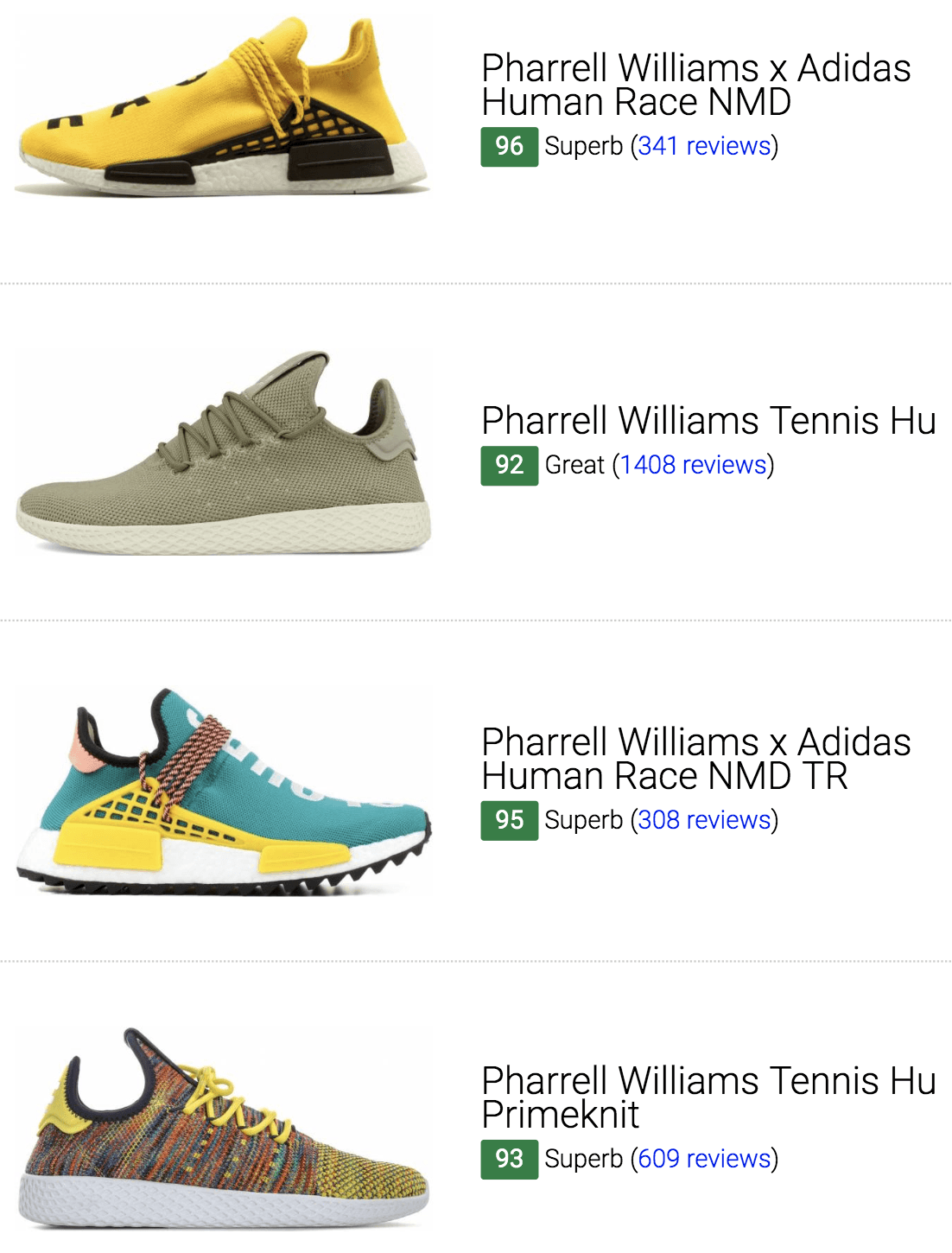 Pharrell Williams is a performance artist, singer, rapper, record producer, songwriter, and last but not least, fashion designer. Whew. That's quite an achievement. So if you were to collaborate with such a brilliantly creative talent, you'd expect nothing less than the best, of course. And the best is precisely what Pharell delivered and continues to deliver for Adidas.
Pharell Williams' Adidas sneakers are some of the coolest and most unique we've seen in a while. And for an industry that has seen everything from air bubbles at the heels (Nike Air Max) and self-lacing shoes (Nike HyperAdapt) to futuristic 3D printed footwear (Adidas 4D Futurecraft), this is saying something. Which pretty much explains the mass hysteria over his collections.
Adidas x Pharrell Williams Hu NMD Shoes
In 2014, Pharrell signed a long-term partnership contract with Adidas. His Hu line—which stands for "Human Ultimatum," also represents the word "hue" which includes people of every skin color—launched two years later to much fanfare and acclaim. Also called the Human Race collection, the sneakers in this line featured low-cut profiles, Primeknit uppers, and the celebrated Boost cushioning.
The debut of the NMD Hu line on July 22 saw a yellow model with one-piece uppers, TPU cages that acted as a lacing system, and the words "Human" and "Race" in black bold script running down the length of each shoe. The first release of the new silhouette was in limited quantities only, but a second bigger one was scheduled the month after.
Other colorways:
1. First release - For September 2016, Pharrell Williams' "Human Race" collection released shoes in five new colorways with different "Human Race" callouts each. These include:
Light Blue - This was modeled by Pharrell during Kanye West's Roosevelt Island event. The Yeezy Season 4. Right sneaker reads "Human" while the left one says "Being."
Tangerine - These are a deeper yellow than the first release. One shoe features the word "Hue" while the other says "Man."
Red - A university red colorway, these sneakers feature a white stitching of "Hu" on one shoe and the words "Race" on the other.
Black - These Pharrell Williams NMD shoes feature matte black uppers and, in the same hue, the words "Human" and "Species."
Green - Probably the most different in the batch, the kelly green model sports the word "Hu" inside a triangle.
2. Friends and Family Release - In February 2017, a model was released in very limited quantities, but not to the public. It was only a Friends and Family edition. The shoes featured Chinese characters in white lettering over shock pink uppers. The latest average sale price for these highly collectible Pharrell Williams NMD shoes now amount to $5,000, but they have gone for much higher than this.
3. Respira Friends and Family Release - Another Friends and Family exclusive came out in December of 2017. The very limited release had purple uppers and khaki details. The Spanish word, "Respira," is embroidered on the right shoe.
Adidas x Pharrell Williams Hu NMD Trail Shoes
Although sported by Pharrell Williams as early as August of 2017, these kicks launched formally in November of that year. Sporting much of the same features as the NMD Human Race collection, these kicks were nevertheless different because of the new grippy outsoles attached underneath the Boost cushioning for enhanced trail functionality.
1. NMD Hu Trail Launch - Pharrell Williams' Human Race NMD Trail shoes were first released on November 4 at Complex Con in Longbeach, California in extremely limited quantities. Dressed all in black, these sneakers featured text in reflective silver that reads "Y.O.U." on one shoe and "N.E.R.D." on the other.
This version was launched to celebrate the N.E.R.D. (made up of Pharrell Williams, Shay Haley, and Chad Hugo) band's return to music. The silhouette was so in demand that a few sizes were selling for almost $10,000.
2. BBC Exclusive - November 11, 2017 was a busy day for Pharrell and his Hu shoes. It's the day that the Billionaire Boys Club chapter stores released a colorway exclusive to them and the same date when Pharrell's Hiking Pack came out.
Cotton Candy - This subdued colorway is a gentle mix of pinks, blues, and super-soft greys. This is one of the rarest NMDs. The shoes feature the words "Cuerpo" and "Terre" which translate to "body" and "earth."
3. Hiking Pack - Still on November 11, 2017, four other colorways of Pharrell Williams' NMD Trail shoes debuted as part of the Hiking Pack
Core Black - Black mixed with white draws the eye in this core black colorway. White laces and lace cage systems complete the look.
Noble Ink - A grand mix of reds, blues, and yellows for the knit uppers give these sneakers a vibrant look. Yellow lace cages and the words "Body" and "Earth" written on the uppers top off the look.
Turquoise - Solid turquoise uppers are balanced by striped laces and yellow cage systems in this striking colorway which also contains the words "Clouds" and "Moon."
Pale Nude - The nude shade of this colorway's uppers are perfectly complemented by the speckled blue laces, black trim, and orange cage system. "Breathe" and "Walk" are written in black on the knit uppers.
4. Holi Blank Canvas Collection - To commemorate the Indian festival of Holi—which is known for celebrating humanity, equality, and joy—Adidas and Pharrell Williams launched the Hu Holi Blank Canvas Collection. The collection was released on the 23rd of February and included an Adidas NMD Hu, Tennis Hu, Stan Smith, and a knitted top.
All-White - These all-white Pharrell Williams Human Race shoes are sumptuously clean and fresh. The sneakers feature serrated outsoles, striped laces, and the word "World" printed on top.
5. Holi Festival Pack - If the Hu Holi BC collection was done all in white, then the Holi Festival is in direct contrast to the former. Done up in more colorful varieties that are more in line with the celebration of the festival, these stylish sneakers hit the stores last March 16, 2018.
Chalk Coral/Flash Green-Lab Purple - Dressed up in uppers of a mostly coral hue with splashes of green and purple mixed in, these Pharrell Williams NMD shoes scream "fun!" Green laces, purple lace cages, and coral outsoles guarantee head-turns.
Core Black/Deepest Purple-Core Black - Beautiful black uppers harmonize completely with the deep purple laces, lace cages, and serrated outsoles.
Pink Glow/Flash Green-Lab Purple - White and pink uppers are accompanied with complementing lace cages in marbled pastel hues.
6. China Exclusive - This May 12-release collection is largely inspired by the Yin and Yang and the four nature elements. In customary Hu NMD fashion, each shoe has a theme embroidered on it with the right sneaker depicting the English word and its Chinese equivalent displayed on the right. Each colorway, with the exception of the gold one, features plain white outsoles and lace cages.
Green (Youth)
Red (Passion)
Blue (Peace)
Gold (Happy) - Although each colorway has a limited number of copies, this gold sneaker is a Friends and Family pair with only 300 units available for purchase. Metallic gold lace cages and gold-speckled outsoles round off the luxe look.
7. Homecoming Edition - As resale prices of the first N.E.R.D. colorway went up through the roof, it was only fitting that another N.E.R.D. edition came out. To celebrate the band's performance at the music festival in Virginia Beach, the Homecoming colorway was released. The sneakers featured white knit uppers with red and blue details and neon green pops of colors.
8. Solar Hu Pack - On August 18 of 2018, three NMD Hu Trail shoes came out along with two Tennis Hu silhouettes in a collection called the Solar Hu. Adidas' NMD Trail shoes sported a new outsole design, wildly colorful African tribal details, and binary code-style texts.
Black/Core Black/Red - The shoes in this colorway sported red soles, black laces and caging systems, and uppers that are a mix of yellow and black. The texts on top of the shoes read "Empower" and "Inspire."
Light Pink/Core Black/Bright Blue - A cool combination of pink and black for the uppers are complemented by a bright blue lacing cage system and yellow outsoles. Green heel tabs add a nice contrasting pop of color. The shoes feature the words "Mother" and "Land."
Hi-Res Aqua/Core Black/Black - Teal and black uppers are brought to vivid life by brilliant orange outsoles and laces and purple lace cages. The texts on top read "Miele" and Mbele" which are Swahili words for "forever forward."
9. Inspiration Pack - Continuing the seemingly endless array of releases of Pharrell Williams' Human Race shoes, the Inspiration Pack was launched on November 10 of 2018. The collection has whimsical color schemes and encouraging words printed on the uppers in Chinese characters.
Clear Sky/Core Black/Bold Orange - Light blue Primeknit uppers are enhanced by yellow laces and outsoles while black lace cages provide a startling contrast.
Core Black/Clear Blue/College Orange - All black uppers are set off by blue lace cages and vivid orange laces and outsoles.
Power Blue/Light Pink/Orange - Electric blue uppers are given further emphasis by pink lace cages and orange outsoles. Black laces provide the perfect balance to tie all the colors together.
White/Green - Fresh white uppers are given life by the black lace cages and emerald green laces.
Adidas x Pharrell Williams Tennis Hu
Not your usual NMD offering, this collection did away with the Boost technology and instead introduced new midsole units with a diamond cutout pattern. The shoes are influenced by that best-selling Adidas silhouette of all time—the Stan Smith—but without the leather materials. The low-cut shoes made use of the NMD profile but removed the caging system and instead used a continuous stitch for the laces.
1. The Debut - The Pharrell Williams Adidas Tennis Hu line launched on May 6 of 2017 in a colorway reminiscent of the OG Stan Smith. The white tennis shoes featured hints of green on the lace attachments and heel tabs. Chinese foot pressure point maps also decorate the green insoles.
2. July 27, 2017 Release - Due to the success of the Tennis Hu's debut, Adidas and Pharrell followed it up with four new more colorful editions.
Light blue - This colorway sports a tonal blue shade all throughout, from the uppers to the soles.
Multi-color - A pleasing mixture of yellow, reds, and some blues result in eye-catching uppers that are balanced by white soles.
Teal - Brilliant teal uppers are enhanced by colorful laces and bright yellow lacing supports. Marbled soles top off the look.
Tan - Pink and orange marbled soles nicely round off the tan uppers and striped aces of this colorway.
3. Icons Pack - The master's touch hasn't waned and in fact, has continued to grow with the release of six new colorways on August 8, 2017 for the Tennis Hu collection. Dubbed the "Icons Pack," this collection of Pharrell Williams' tennis shoes includes three pastels with tonal shades and three white-based colorways.
Mint Green
Light Blue
Pink
Whites - These three whites contain heel counters and tongue tags in contrasting colors of dark grey, burnt sienna, or light grey.
4. Blank Canvas Collection - Released in the first quarter of 2018, this collection was intended to celebrate the wildly colorful Hindu Holi festival. However, in stark contrast to the festival, the silhouettes in this pack are all in white.
5. Solar Hu Pack - Two Tennis Hu colorways came out on August of 2018, along with three new NMD shades. The Tennis Hu silhouettes also became known as the Adidas Tennis Hu v2 because of the new lacing system composed of leather and suede overlays, which differentiate them from the original release.
Black/Cloud White-Core Black - Mostly yellow uppers are interspersed with bits of black and white for a vibrant impression. Yellow and grey lace systems, white laces, and black heel tabs complete the look.
Scarlet/Cloud White/Core Black - Prominently red uppers arrest the eye while black tabs, white laces, and red and grey overlays keep the look clean.
Other Adidas x Pharrell Williams Collaborations
The partnership between Adidas and Pharrell Williams, which began in 2012, has only gotten stronger in the ensuing years. But, did you know that aside from his Tennis, NMD, and Trail Hu shoes, he also collaborated with Adidas on other models? Below are some of them:
Solar Glide Hu - The Adidas x Pharrell Williams collaboration did not stop at lifestyle sneakers and accessories. These running shoes are geared for performance and are meant for the relaunch of the Solar Boost range.
Pharrell Williams x Adidas Superstar Supercolor Pack - Pharrell Williams injected new and vibrant life into the 70s classic, the Superstar. Released in 2015, the collection featured a ridiculous amount of colorways—50! Different shades of green, blue, red, and yellows abound along with black.
Pharrell Williams x Adidas Stan Smith Small Polka Dot - In 2014, during Pharrell's first year with Adidas, he immediately set to work and produced these beauties. Pharrell placed small, red polka dots on the uppers as a fun twist to an old classic.
Pharrell Williams x Adidas Crazy BYW LVL - Adidas' funky BYW (Boost You Wear) line just got funkier when Pharrell put his own unique spin on the silhouette. Multi-patterned Primeknit sock-like uppers contain the word, "Ambition" on the vamps.
Pharrell Williams x Adidas Elastic Slip-On - For the summer of 2016, the Adidas Originals line along with Pharrell introduced a collection of footwear and accessories called the "Pink Beach." Inspired by island culture and the Stan Smith silhouette, the Elastic Slip-On featured white stretchable uppers and green nubuck heel counters.
Chanel x Adidas x Pharrell Williams Hu NMD - Pharrell, Adidas, and known French retailer Chanel dropped highly exclusive sneakers on November 22, 2017. Only 500 pairs were sold at a party in the Paris store of Colette. The shoes retailed for $1,180, but resale value had already reached the $10,000 mark.
Trivia
Did you know that back in November 30, 2017, Adidas offered an instant Boost collection for $7,000? The entire collection contained 40 shoes across the brand including running, soccer, Originals, basketball, and exclusives. It also featured two Pharrell Williams NMD Human Race colorways. Unsurprisingly, the collection got snapped up within five minutes.
Pharrell Williams' nickname in high school was Skateboard P. Sneaker sites occasionally refer to him using this nickname.
He met his N.E.R.D. co-band member Chad Hugo in seventh grade at band camp.
FAQ
Q: When were Adidas x Pharrell Williams shoes first released?
A: Pharrell Williams signed up with Adidas in 2014, and he's been releasing his designs every few months since then. The years 2017 and 2018 had him being extra prolific in collections and colorways launched.
Q: Suggestion on where to buy Pharrell Williams Adidas shoes?
A: Here at RunRepeat. We've got dozens of partner stores where you can buy Pharrell's collab shoes. Just search for the particular model you like on this website, and you'll see offers for that particular shoe from our partner vendors. Click on an offer, and you're on your way to becoming the proud new owner of Skateboard P's designs.
Q: How do I choose which Pharrell Williams shoes would best fit my needs, aside from the design?
A: Please check our compilation of reviews on each particular shoe model. We've got lots. Each RunRepeat article contains valuable information on fit, sizing, comfort, and more. Just put the name of the shoe you want on the search bar, and the site will show you detailed information on that silhouette.
Q: How do Adidas shoes fit?
A: It really depends on the silhouette. Some models run big, some are perfectly standard, while some can be small. Our user reviews might help you get a better feel for the correct sizing of each model for you.
Q: I don't usually wear Adidas shoes. Is the sizing the same as other brands?
A: Brands sometimes differ when it comes to sizing too. To make sure you get the right fit, check the centimeter section of the brand's size chart. For example, a shoe size with 25 cms is equivalent to a 7 for both Puma and Adidas but will be a 7.5 for Nike.
Q: How do I wear my Pharrell Williams NMD shoes?
A: With a lot of panache. No, seriously. Pharrell's shoes project a lot of the designer's vivacity and zest for life. Don't be afraid of color. Embrace it and wear the shoes with as much confidence as you can muster. Your confidence will see you through whether you're wearing a suit or just a plain tee and shorts with these kicks.
Women - A cute black skirt and colorful blouse ensemble will be thoroughly enhanced when paired with any Pharrell Williams NMD colorway.
Men - Skateboard P. manages to look super cool in just joggers and a long-sleeved shirt because the kicks give the outfit that much needed definition.
Note: Do remember when choosing very colorful outfits, to have one color tie all of the shades in your outfit together, from your clothes to your shoes.
Q: Suggestions please on how to style my Adidas x Pharrell NMD Trail shoes?
A: These kicks are the very definition of form and function. Choose one or two color/s that you see in your sneakers and get a shirt and a hoodie in that/those color/s for a carefully balanced look. Match with khaki pants and a hiking jacket, and you're all set for your trek.
Q: Any style tips for me when wearing the Adidas x Pharrell Williams Tennis Hu?
A: The Tennis Hu kicks are slightly more versatile than the other Human Race shoes which make styling them up or down easier.
Smart casual chic:
Women - Try styling these low-top sneakers with a short skirt, a crisp white collared shirt, and a long blazer with a pretty print.
Men - Put on a tee, a suit, and these shoes.
Casual fashion:
Women - A short ruffled skirt, a long-sleeved shirt with a cute print, and these sneakers should look good on you.
Men - Ripped jeans, your favorite shirt, a plaid button-down shirt, and these kicks.
Q: How do I clean my Pharrell Williams sneakers?
A: Some users suggest using hydrophobic sprays on your Primeknit kicks to help keep dirt off them and maintain white shoes as white. In case they don't work or you are unable to get your hands on them, just follow the steps below to keep your sneakers looking new:
Brush off as much dirt off the shoes as you can with an old toothbrush.
Mix a small amount of mild detergent with cool water.
Dip a soft cloth into the soapy mixture and gently scrub at your shoe. Repeat as needed.
Rinse your cloth and go over the shoes again to remove any soapy residue.
Air dry.
Be careful not to snag the cloth on the shoes' knit fabric.
Q: Can you suggest tips on how I can make my Pharrell Williams Adidas shoes last?
A: Never store your shoes wet. Always air dry first. Also, keep them away from the sun (when storing) and away from harsh chemicals such as bleach. Take care to use your shoes in rotation to let each pair breathe.
3 best Pharrell Williams sneakers
Adidas Crazy BYW LVL x Pharrell Williams
Pharrell Williams Tennis Hu
Pharrell Williams x BYW CNY
This shoe has recently been added to RunRepeat. There are still not enough reviews for us to assign it a
CoreScore
.
CoreScore
A score from 1 to 100 that summarizes opinions from users and experts. The average CoreScore is 78.
More...