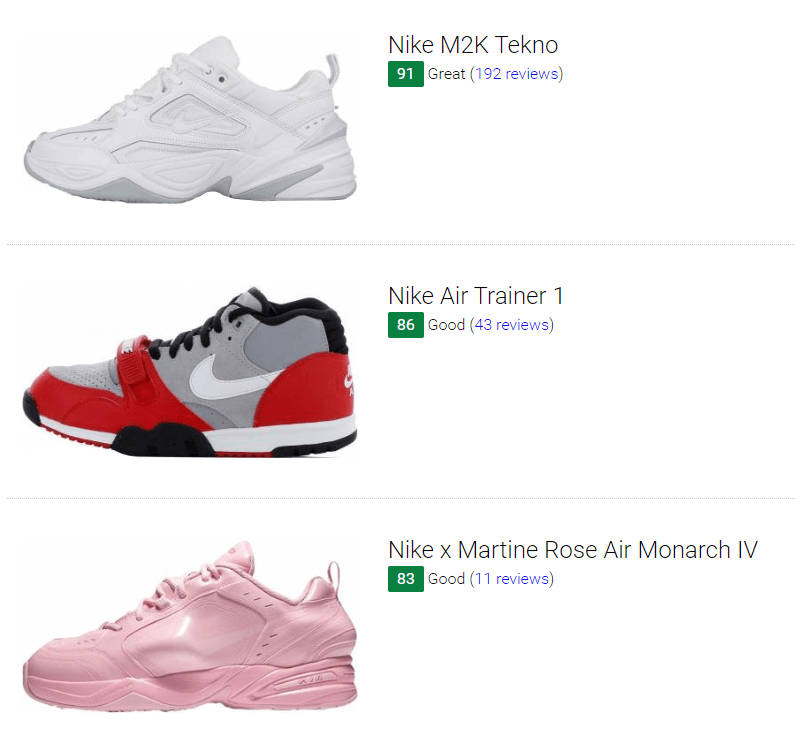 Best Nike Training Sneakers - September 2019
Footwear giant Nike is known all over the world for its athletic and lifestyle kicks. Anywhere one may go, one may see the iconic Swoosh logo, perhaps accompanied by the equally legendary slogan "Just Do It." It's no wonder that the label is trusted for its shoes, having been able to provide quality and style for many years.
When it comes to Nike training sneakers, the brand delivers using a combination of athletic and performance innovation along with a high dose of style. The brand's training and training-inspired models not only make the wearer feel great but look great as well. Functions for support, cushioning, and comfort are all there at the same time.
Best Nike training shoes
Nike has a wide array of training kicks, with different styles and features. Below are several of the top-ranked training sneakers from Nike, categorized accordingly for men and women.
Men's Nike training shoes
Men's Nike training shoes are designed for endurance and support. Read on to find out more about each model's features, size availability, price, and design history.
1. Nike Air Trainer 1
In 1986, controversial pro tennis player John McEnroe wore the prototype of the Air Trainer 1 out on the court. He had asked Nike for performance footwear options, and the company sent him a batch of kicks to choose from. The Air Trainer 1 immediately got his attention, and he went on to win two tournaments wearing the prototype.
A year later, Nike officially released the shoe, featuring the iconic midfoot adjustable strap that would soon be copied by many cross-training kicks. These Nike training sneakers from the men's section became popular among sports enthusiasts and athletes, who were able to do multiple sports with just a single shoe. Since then, sneakerheads have loved the retro releases of this legendary model.
Synthetic leather material makes up the upper of the shoe, while its perforated vamp delivers ventilation.
This model comes in an all-black colorway as well as its OG Chlorophyll color.
It is an affordably priced sneaker with a price of $110.
Men's sizes 8.5-10 are offered for this shoe. It fits true to size.
2. Nike Air Trainer Mid SOA
Nike released the Savages of Air or SOA pack in 2018, which include the Nike Air Trainer 1. Also part of the collection is the Air Trainer Mid SOA, which pays tribute to the year the original Air Trainer was first released – 1987. This can be seen in the "87" mark found on the heel.
Other notable features are the signature forefoot strap and the AIR branding found on the ankle overlay. Likewise, there are perforations throughout the toe box and sides for breathability. The Swoosh logo is made up of white and black leather to emphasize the iconic logo.
Leather and textile materials are used on the upper of these training sneakers from Nike.
It comes in a retro black/blue colorway.
It fits as expected.
3. Nike Metcon Repper DSX
The Nike Metcon Repper DSX was released in February 2017. It's built with neutral arch support and is primarily geared for use in Crossfit activities. As part of a series of training kicks called Metcons, these relatively new Nike training shoes were structured with the same innovative vision.
This time, jumping and running movements were the primary considerations for the sneaker's design. It's all in the name of the model: DSX stands for "Distance. Stamina. Cross-training." The insole is made up of EVA material, providing support for modern weightlifting, jogging, and other activities with a high level of impact.
Mesh material is used on the upper for a breathable and flexible feel. There are also synthetic overlays and Flywire cables for durability and an excellent fit.
Other notable shoes from the Metcon series include the Nike Metcon 4, Nike Free x Metcon, Nike Metcon 3, Nike Metcon DSX Flyknit, and the Nike Metcon DSX Flyknit 2.
At $99.95, these kicks offer value for the money.
It's true to size and is available in both men's and women's sizes. However, a few users mentioned that it has a narrow fit.
4. Nike Free TR V8
Made as dependable footwear for rigorous and high-impact exercises, the Free TR V8 from Nike delivers a high-performing build with plenty of styles. Like the other kicks in the Nike Free series, this model is geared towards flexibility and natural movement. The medial and lateral sides have TPU reinforcement that is incorporated with the lace-up system, offering locked-in support.
One other notable training shoe from the series is the Nike Free Train Versatility.
It has an affordable price tag of $100.
These Nike training sneakers are in men's sizes, ranging from 6-15. Some buyers thought the fit was too tight, while others added they had to go a size up.
5. Nike Reax 8 TR
An upgraded shoe from the Reax TR series, the Nike Reax 8 TR is built for different types of workout routines. Wearers can choose between two design options that have different proportions when it comes to the mesh and synthetic leather materials. Perforations and mesh patches offer additional ventilation.
On the midsole is the one-of-a-kind Reax heel unit that offers excellent cushioning and shock absorption.
It's priced at $84.99, making it budget-friendly.
These Nike training shoes are in men's sizes 7-15. According to several purchasers, the fit was too tight.
6. Nike Retaliation TR
Made for gym workouts, the Nike Retaliation TR features innovative technologies from Nike. One of the most notable features is the use of Flywire material, which is a thin cable that is incorporated with the eyelets for a snug fit. It also has a mesh upper for excellent breathability along with a soft and snug feel.
This shoe's dual-density foam midsole delivers stability along with cushioning and protection against foot injury.
At $74.99, these kicks are easy on the pocket.
It's offered in men's sizes 7-14 and generally fits true to size.
7. Nike Varsity Complete Trainer
Made as an everyday workout shoe, the Varsity Complete Trainer from the Swoosh delivers excellent support for a variety of movements, especially during rigorous sessions. Its mesh upper is designed to keep the air circulation going throughout the foot chamber. With its flexible design, the foot can move freely.
The sewn midfoot webbing that is integrated with the lace-up system helps to lock down the foot and improve lateral support.
These training sneakers from Nike have a relatively low price of $70.
Sizes are in men's 6-15. It generally fits as expected.
8. Nike Zoom Train Complete
With support, cushioning, stability, and comfort, the Nike Zoom Train Complete checks all the boxes on what makes a cross-training shoe excellent. Hence, its name is well-suited. These Nike training shoes in the men's category have a low-cut and smooth design. Its look is enhanced by the snug mesh upper, edgy synthetic overlays, and innovative Flywire cable construction.
Another popular variation of this model is the Nike Zoom Train Command.
It's sold at an affordable price point.
Men's sizes are available for these kicks. Some reviewers found the fit to be too tight, especially around the forefoot region.
9. Nike Flex Control
Lightweight and flexible, the aptly named Flex Control was built as a reliable cross-training footwear. The upper was made with a breathable mesh material that offers ventilation while the synthetic overlays add durability. Additionally, it delivers efficient shock absorption to prevent leg, foot or knee injury. The outsole provides a high level of traction through its rubber pod design.
Its midsole is made up of injected foam that offers an ultra-comfortable experience underfoot.
Men can cop these kicks at a budget-friendly price.
Sizes are offered for men, available in medium and extra wide options for the width.
Nike training shoes for women
Ladies need reliable footwear to perform their active daily endeavors, such as going to the gym. They also need to look stylish and chic. The following are some of the best Nike training sneakers in women's sizes.
1. Nike Air Zoom Fearless Flyknit
The Nike Fearless Flyknit utilizes the brand's Air technology in the midsole, enabling the shoe to provide a supportive and responsive cushioning. Along with the springy underfoot feel, the model also features Nike's Flyknit material. It is a breathable and lightweight material that is durable enough for support.
In addition, this shoe uses Flywire cables to replace the stitched-in structures and overlays to make it more lightweight.
It has an affordable price of $139.99.
Women's sizes from 6-12 were released for this model, with a true-to-size fit.
2. Nike In-Season TR7
Over the years, Nike has released many models for fitness enthusiasts, stylish individuals, and athletes. One of the Nike training sneakers from the women's category that has managed to balance sporty features with aesthetics is the Nike In-Season TR7. It has a smooth appeal that can be paired with a lot of casual and athleisure clothes. The structure, meanwhile, is built to withstand rigorous workouts.
The shoe is an update to the In-Season TR6 but retains such features as the dual-density midsole, ventilated mesh upper, and the pod design on the rubber outsole.
This kick is easy on the wallet at $74.99.
Sizes 6-12 for the ladies are offered. A few commenters found the shoe to either be too narrow or too wide, so it's best to recheck the fit.
3. Nike Flex TR 8
The Nike Flex TR 8 was made for women who enjoy high-intensity workouts. It is an ultra-lightweight model that packs a punch when it comes to the support and stability needed for grueling activities. It has a closed-hole mesh fabric upper that improves lateral support and Nike Flex technology on the underside for a flexible feel.
Other notable training shoes from the Flex series are the Nike Flex Supreme TR6, Nike Flex Trainer 7, Nike Flex Supreme TR 5, and the Nike Flex Adapt TR.
At $70, these kicks are relatively cheap.
Women's 5-12 are available for the size, with options for both medium and wide widths. In general, it has a true-to-size fit.
4. Nike Free Transform Flyknit
Responsive and supportive, the Nike Free Transform Flyknit was designed to endure different intensive studio and gym activities. Wrapping the foot snugly and securely is the Flyknit upper material. Also, the Flywire cables of these Nike training sneakers offer extra support on the ankle and sides.
The dual-injected structure of the Phylite foam midsole delivers flexible and lightweight cushioning. Meanwhile, the outsole has an auxetic Tri-star design that expands and bends with the wearer's every step. The rubber pods also provide traction and durability on the heel and forefoot areas.
A few other popular training models from the series include the Nike Free Connect, Nike Free TR 7, and the Nike Free TR Flyknit 3.
It's reasonably priced at $109.99.
These kicks are designed specifically for the ladies, with women's sizes available.
A lot of reviewers were frustrated with the inconsistent sizing as some found it too large while others found it small.
5. Nike Air Bella TR
Engineered for women, the Air Bella TR accommodates ladies' feet during such activities as cardio exercises, short-distance running, and fitness classes. It has an Air Max unit on the midsole that delivers lightweight cushioning and shock absorption. On the upper is a combination of mesh material and synthetic overlays to offer full support while at the same time giving a soft and flexible feel.
The outsole has multi-directional flex grooves that support all kinds of foot motions.
At $80, this kick offers bang for the buck.
Sizes 5-12 are offered for these Nike women's training sneakers. It fits as expected in general.
Frequently Asked Questions
What are the best uses for Nike training kicks?
Training sneakers from Nike are built to provide support, cushioning, and stability for a variety of activities. They are suitable for gym workouts, exercises, mild weightlifting, jogging, and other similar or related activities. Basically, training shoes provide the support needed for such movements as jumping, breaking, stopping, cutting, and changing direction swiftly.
Besides, when comparing Nike training shoes vs. running shoes, it's important to note that training kicks are heavier, although they have better lateral support along with a lighter tread. As such, they would not be very suitable for running. Running footwear would do a much better job at protecting the feet from ground impact.
What are the advantages of wearing Nike training models?
As a major footwear brand, Nike offers a lot of options when it comes to training models. There are different styles, prices, and specifications to fit an individual's preferences. Aside from that, the company is known for providing a high level of quality in its kicks, especially when it comes to innovative features for support and comfort. New Nike training shoes are well-known for being very technologically advanced.
How can one find the proper fit for Nike training footwear?
Nike training kicks are usually available in men's or women's sizes, or both. Men's sizes range from 6-15 while women's sizes are available from sizes 5-12. Although they generally run true to size, it's best to check the reviews of a specific model to find out if it runs large, small, narrow or wide.
What is the price range of training shoes from Nike?
Training shoes from Nike range from budget-friendly up to slightly expensive when it comes to the price. Such options as the Nike Varsity Complete Trainer and the Nike Flex TR 8 are sold at a cheap price of $70. Budget-friendly footwear has a price range of up to $90.
Meanwhile, higher priced Nike training sneakers that are still within the affordable range have retail prices of $91 up to $120. This includes the Nike Free TR V8, which has a price tag of $100. Lastly, slightly expensive models are sold at $121-$149, which consists of the Nike Air Zoom Fearless Flyknit, which has a retail price of $139.99.
Are training kicks from Nike durable?
Nike training models are generally viewed as durable, especially as the brand is committed to making high-quality kicks when it comes to performance and style. To ensure that the shoe will last, check the materials and specific features. Finally, read the reviews written by users, which will have a lot of relevant information when it comes to the durability of the sneaker.
What clothes should one pair with Nike training sneakers?
Training footwear has an athletic vibe, which makes them highly suitable for pairing with athleisure wear. Such shoes are also stylish enough that they can transition into casual use, which is why they go well with casual outfits. Some more style pointers can be found below.
For the ladies, such pieces as leggings, joggers, and shorts paired with tank tops, t-shirts, sweatshirts, polo shirts or hoodies will match well with the sporty yet laid-back flair of Nike women's training sneakers.
Casual pieces such as skirts, dresses, shorts, and jeans can bring out the stylish edge of the shoes. T-shirts or pullovers can complete the footwear's chic look.
Men can wear their training shoes with shorts or joggers along with t-shirts or sweatshirts for a sporty appeal.
For a more casual look, men can pair the kicks with jeans, pants or shorts along with a t-shirt, button-down or pullover.
Are training models from Nike suitable for everyday wear?
Due to the comfort and support that they offer, Nike training sneakers are often worn by people in their day-to-day activities, whether they hit the gym or not. They balance a sporty and stylish appeal, which means that they can be versatile and can transition between activities.
What are the things to consider when choosing training footwear from Nike?
There are several things to keep in mind when it comes to choosing Nike training shoes. A lot of the models are made specifically for a particular activity and would thus suit that activity the most. Here are several things to consider.
Think about the activity that you will use the sneaker for. Is it for gym workouts? CrossFit? Weightlifting? Look at the description of the shoes to make sure that they are recommended for such an activity.
When comparing Nike training shoes vs. running shoes, take note that the two have specific functionalities. This is why they are very different from each other when it comes to features for support and protection.
With any footwear, there's always the price to consider. No doubt there's already a price range in mind when one is looking for kicks. Look for the models within that range to narrow down the choices.
The fit and sizing of the shoes will come into play. Some models are available only in women's or men's sizes. However, some men's kicks can also be worn by women, and vice versa.
Read reviews to find out if the sneaker performs well and has a lot of useful features. That way, one can be sure that it's worth the money.
Where to buy Nike training shoes?
There is a wide range of places where one can buy training shoes from Nike. Online, there are a lot of footwear retailers that carry the brand's kicks. Nike also has online stores set in different countries, with some price-offs and discounts available just like other web marketplaces as Zappos and Amazon. The brand has many retail stores and outlets all over the world. Additionally, department stores and both big and small footwear chains could also have Nike's training shoes.
What are the proper steps to follow in taking care of training kicks from Nike?
Just like any other pair of kicks, Nike training sneakers must be taken proper care of for it to last longer. Here are some tips to follow when it comes to cleaning and maintaining one's shoes.
When cleaning canvas or mesh training shoes, brush the material gently with a soap and water solution. Remove any remaining solvent by using a piece of cloth. Air dry once cleaning is done.
Suede sneakers must only be brushed with suede or bristle brush. Using water or any type of mixture is discouraged.
Leather uppers have to be applied with leather polish.
Machine washing or drying is not recommended as it could damage the material or shape.
Wear pairs of shoes on alternate days so that they will not get easily worn out.
Make sure to air out the kicks first before storing them in the closet.
2 best Nike training sneakers
Nike M2K Tekno
Nike M2K Tekno SP
This shoe has recently been added to RunRepeat. There are still not enough reviews for us to assign it a
CoreScore
.
CoreScore
A score from 1 to 100 that summarizes opinions from users and experts. The average CoreScore is 78.
More...