Nike Skate Sneakers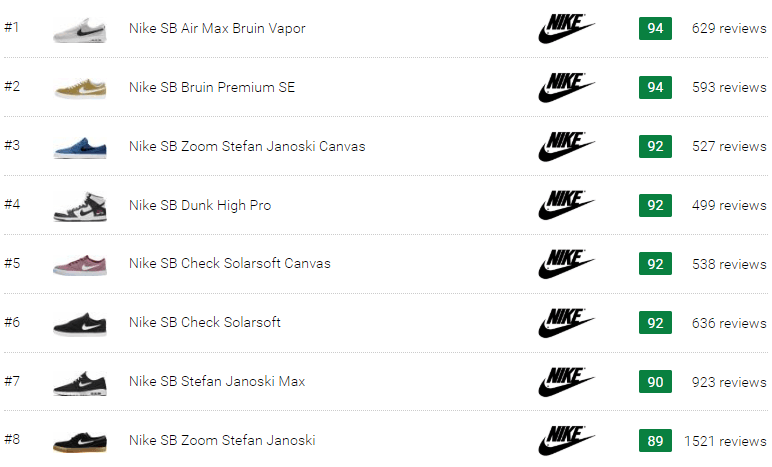 Skate-specific shoes are no longer confined to skate meccas and skate parks since some of these have already inched their way and have become part of today's mainstream fashion. It's almost impossible not to bump into a stranger nowadays clad with either a pair of Vans, DC Shoes, New Balance Numeric, Etnies, and Airwalk in any major city globally.
The loud clamor over skate wear led these brands, including Nike, to produce skate-inspired sneakers that put a high value on style aside from supportive features fitted for the radical sport. Whether you're a die-hard skater, new to the sport, or interested in skate-looking lifestyle sneakers, you might discover a pair, or two, or strings of designs that would suit your needs via the Nike SB (short for skateboarding) category. This Swoosh segment is home to some of the interesting varieties of skate sneakers that you can rock with your skateboards or sport with your daily lifestyle wear like your usual Nike casual kicks.
We have amassed some of the highly favored Nike skate shoes which are mostly infused with skate techs and garbed with fashion-forward styling. Some of these are inspired by influential pro skaters from Nike SB, namely Paul Rodriguez, Stefan Janoski, Eric Koston, Cory Kennedy, and Ishod Wair.
Popular Nike Skate shoes offered in women's, men's sizes
Nike SB Zoom Stefan Janoski
The Stefan Janoski kicks are the most recognizable Nike shoes in the skate scene just as the Air Max's and Air Zooms are the top dogs in the running world. The Nike SB Zoom Stefan Janoski, for instance, is one of the Nike skate shoes that people turn to when honing their kickflips, ollies, and ramp tricks. They rock these with their graphic tees, unbuttoned polos and ripped jeans or laidback Thrasher outfits on certain days they feel like parking their skateboards. You can grab a pair of these in men's sizes from 4 to 14 US and women's sizes from 5 to 12 US.
Other tidbits about these dope Nike skateboard shoes:
minimal styling and lightweight
offer reliable grip for excellent board feel and kickflips
durable enough that could last a year or so
long-enduring vulcanized sole
colors are from white, black, and pink plus different grades of blue, brown, and grey
retailed at a wallet-friendly rate of $95
Other variations are
Nike SB Zoom Stefan Janoski Canvas Premium, $85
Nike SB Zoom Stefan Janoski Leather, $90
Nike SB Zoom Stefan Janoski OG, $85
Nike SB Zoom Stefan Janoski Premium High Tape, $85
Nike SB Zoom Stefan Janoski Slip-On, $75
Nike SB Stefan Janoski Max
Of the signature skate shoes devised by Nike with its team of elite skaters, the Stefan Janoski Max skateboarding sneakers receive the most bet from those who spend a majority of their time perfecting their flips and spins, slides and grinds. This sole marvel at skate parks combines the best facets of the original SB Stefan Janoski and the Nike Air Max 1. This all-wear worker offers all-day comfort with a good mix of midsole cushioning and outsole flexibility that's offered in men's sizes from 4 to 14 US and women's from 3 to 12 US.
Other reasons why these Nike skate shoes are amazing:
draped with a breathable mesh upper, resembling the Roshe Ones
Nike Air-Sole bubble on the heel cushions the feet from blows
Free outsole grants optimum freedom of movement
obtainable with a knockout retail cost of $110
Nike SB Paul Rodriguez 9
The expertise of Paul Rodriguez in this rebel sport was translated through his signature kick, the Nike SB Paul Rodriguez Zoom Low. Twelve years later, this pro mover issued the 9th version of the Nike SB Paul Rodriguez with an improved cut. The mix of mesh and suede on the updated, well-engineered model contributes to its breathability and lightness. This P-Rod rad sneaker does not weigh less in technologies which can be picked up in men's sizes from 8 to 12 and in women's from 9.5 to 13.5 US.
Additional key points on this Nike skate shoes in women's and men's sizing:
available in undemanding shades of black and red
hexagonal Zoom Air bags in the heel for bounciness
lightweight Pylon midsole for responsive impact absorption
low to the ground sole for good board control
a smart buy with its $80 tag
Other notable Paul Rodriguez collaboration sneakers are
Nike SB Paul Rodriguez 9 CS, made of cupsole and supportive Flywire cables, retailed at $90
Nike SB Zoom Paul Rodriguez Ten, enhanced by the Zoom Air unit in the heel, traded at $85
Nike SB Check Solarsoft Canvas
Are you scouring for your next skate-centric Nike shoe that's supportive enough to keep you stable as you pull those daring street stunts and at the same time give you that cool vibe when you're off your board? Then the Nike SB Check Solarsoft Canvas might be the one the suits your needs. Its simple rig made of long-enduring canvas is just a preface to its fat content which is detailed below. This is one of those Nike skate shoes available in women's sizes, specifically from 5.5 to 12 US. Men's sizes are from 4 to 14 US.
A checklist of some of its ace elements:
pig suede upper that's pliable and hard-wearing
spongy and thickened heel for a heightened level of support
dual density Solarsoft insole that's firmer on the rear side for added protection
moderately padded collar
has metal grommets that protect the laces from fraying quickly
Hyperfeel tech-integrated vulcanized sole
offered in earth tones and light-colored design options
retailed at a wallet-friendly rate of $65
Other Nike skateboarding shoes obtainable in men's sizing are
Nike SB Stefan Janoski Hyperfeel, $100
Nike SB Stefan Hyperfeel XT, $100
Nike SB Blazer Vapor, $85
Nike SB Blazer Premium SE, $85
Highly-rated Nike Skate shoes in men's sizing
Nike SB Dunk Low
Some of today's Nike skate sneakers took design cues from old-school ball shoes, like the Nike skate-inspired Dunk Low. It resembles the look of the late-1990s high-top Nike Dunk Low but with a wholly slashed down collar height. Boasting with a skate-inspired, badass form, this low-top kick encourages you to get bold and fearless by pairing this up with wide legged pants or pocket-loaded cargo shorts. Sizes are from 4.5 to 12 US. Wide-footed wearers are advised to size up in half.
Other rad details about this Nike SB Dunk sneaker:
has a distinctly padded tongue and cushy collar
Nike Zoom Air tech in the inner sole shields the feet from impact
a steal for its $65 retail cost
comes in popular colorways like the Nike SB Dunk Low "Pigeon" with stout-bodied bird logo on the rear side; "Diamond" finished off with glossy metallic Swoosh; and "Denim" inspired by the blue jeans
another variation is the Nike SB Dunk Low TRD priced at $90
Nike SB Dunk Low Pro
Some serious skaters globally have made buddies with the Nike SB Dunk Low Pros which are whipped up in tons of versions. What they liked most about these skate-centric Nike shoes are the narrow toe boxes that aide during complicated flip tricks and the available versatile colors that can be merged pretty well with lots of casual wear. These sneakers fairly run true to size and readily obtainable in men's sizes from 4 to 15 US.
Some of the sick features about these professional Nike skate sneakers:
classy upper done in premium leather and suede
mesh-lined tongue grants breathability preventing blisters from quickly building up
memory padded collar secures the foot and ankle during kickflips
its removable insole has Zoom Air that delivers optimum impact absorption
best-selling SB Dunk Low Pro designs are in denim, military camo, white, black-gum, yellow, and red
sold at a budget-friendly price tag of $100
Nike SB Dunk Low Pro Ishod Wair
Adding to the growing menu of Nike SB Dunk sneakers is the signature shoe of top-ranked skater and 2013 Thrasher of the Year Ishod Wair. Skate die-hards who are swooned by the jaw-dropping backyard pool tricks and giant rail stunts of this tech dog follow his trails by perfecting those gravity-defying flips while wearing the highly-durable Nike SB Dunk Low Pro Ishod Wair. The colors on Wair's signature Dunk Lows are a reflection of his personality. The dark grey/university red/white/black colorway is inspired by Wair's penchant for European sports cars. These Nike skate sneakers in men's sizing are available from 7.5 to 14 US.
Quick facts about these Nike skate shoes crafted in men's sizing:
geared up with a responsive cushioning
inner sole utilizes the Nike Zoom Air tech for that cushy feel
has a powerful grip
very affordable at $90 pair
its grey/perfect pink colorway is the cleanest in the SB Dunk line up
Nike SB Dunk Low Pro Ishod Wair "Mismatch" colorway looks like lemon and lime together where the left shoe has green detailing and the opposite pair has yellow hits
Nike SB Dunk High Pro
Resembling the iconic Air Jordan 1 but fitted for skateboarding is the high-top Nike SB Dunk High Pro. These full-leather titans are head turners, splashed with a decent blend of colors on the upper down to the sole. The most common shades of these SB Dunk High Pro kicks are "University Red/White" and "Obsidian/White." Some who betted their hard-earned $130 on a pair of these had nothing but praises about their form and function. These skate-specific Nike shoes go well with printed shirts and work pants or hoodies and track pants. Sizes for these men's Nike skate shoes extend from 4 to 15 US.
Niceties about these high-top Nike skate sneakers:
suede and double stitched upper for long-lasting performance
mesh tongue and perforated vamp for breathability
pull tab grants for a hassle-free ankle up
Phylon midsole keeps its weight down
generously padded collar
Zoom Air insole for excellent cushioning
excellent boardfeel
reasonably retailed at $125
Other variations of this high-top sneaker are
boot-like, winterized Nike SB Dunk Hi Pro Bota valued at $105
stylish, Flyknit-infused Nike SB Dunk High Elite rated at $125
Nike SB Air Max Bruin Vapor
The chic SB Air Max Bruin Vapor appeared in a traditional 1970s basketball style but crafted in a lightweight format for that carefree comfort feel. Sliding in an out of this shoe isn't time-consuming with its slip-on setup. Its buttery suede aesthetics made in a chic fusion of colors straightaway give a plush vibe to almost any casual garb, from jeans, khakis, cargos, jogger pants, and shorts. It yields to practically any activity you have for the day as its style isn't only confined to skateboarding. Sizes are from 4 to 13 US.
Added information about these versatile Nike skate sneakers in men's sizing:
flexible leather upper
laser-cut perforated side walls for breathability
visible Air-Sole unit offers remarkable cushioning on the heel
Phylon-injected midsole contributes to its lightness
can be bought for a song for $100
Nike SB Stefan Janoski Max L
The Nike SB Stefan Janoski Max L carries the same boat-shoe inspired DNA of the SB Stefan Janoski in an all-suede casing that's ready for a repeated beating, scoring and fraying. Although this rad kick is all set for the extreme sport, it is also prepared to boost your casual garb with its classy exterior that comes in safe tonal options of black, grey, blue, brown, and green. Its shape easily yields to any slim or straight-styled pants that you can wear in the office or school before hitting the pavements at the end of the day with your reliable boards. It is offered in men's sizes from 4 to 14 US.
Extra snippets on this running-inspired skate shoe:
woven mesh tongue for enhanced ventilation
visible Air-Sole bladder buffers the feet from impact
horizontal and vertical grooves on the Free outsole delivers flexibility
quite pricey at $130 but loaded with premium detailing
Other SB Stefan Janoski collaborative iterations are
Nike SB Eric Koston Huarache
Innovation led Nike to merge two of its known breakthroughs, the Air Huarache design and the Lunarlon technology, into a skate-specific mold, the Nike SB Eric Koston Huarache. Though this Nike collaborative piece doesn't bear the chunky sole makeup akin to the running-inspired Huarache products, it has kept the iconic heel-to-midfoot caging intact. The Koston Huarache sizes are from 6 to 13 US.
Notable niceties on this Nike Air Huarache-inspired skate shoe:
durable, seamless suede upper
rubber-made Huarache heel strap for rear side stability
removable Lunarlon sockliner for optimum comfort
accessible at a reasonable rate of $110
Nike SB Koston Hypervulc
Trendy and functional Nike skateboarding sneakers that can be quickly tossed with just about any length and width of pants are hard to pass up, such as the Nike SB Koston Hypervulcs. These are crafted with practical and stylish forms that support you well for a protracted time, whether you use them for rounds of kickflips, spins, and slides or for during casual workdays and out-of-town weekend trips. These comfy Nike skate shoes are offered at a true-to-size fit and in men's sizes from 4 to 14 US.
Additional information on these men's designed Nike skate shoes:
hidden elastic gusset anchors the tongue for a natural, secured fit
padded mesh tongue
Hyperfeel technology offers custom comfort, lockdown fit, and desirable responsiveness
vulcanized sole delivers superb board contact and flexibility
can be seized at a cajoling price tag of $75.
Nike SB Nyjah Free
Pro skater Nyjah Huston teamed up with the Swoosh brand in offering a fearless, running-inspired skate sneaker, the Nike SB Nyjah Free that combines elements of the Nike Free Run and the Nike Air Presto. This first signature by Nyjah bends towards minimalist styling which fuses a neoprene foot-hugging inner sleeve and a flexible yet durable rubber exterior. You can snag a pair from 4 to 14 US.
Some of the explosive details about these Nike skate sneakers in men's sizes:
internal Flywire system for support and secure fit
360-degree grip for a heightened skating experience
Auxetic outsole design for enriched traction
mesh-lined OrthoLite insole keeps the shoe fresh
obtainable at a wallet-friendly cost of $95
Nike SB Zoom All Court CK
Are you in search of clean, comfy, and style versatile Nike skate sneakers that guarantee to keep your toes safe from constant bumps, blows, and hammering? Then the basic design of the Nike SB Zoom All Court CK that's obtainable in hip shades may be the ideal one for you. You can mix and match this kick with several outdoor and skate wear. This low-top sneaker runs in men's sizes from 5 to 13 US.
Added details on this $80 Cory Kennedy collaboration sneaker:
reinforced, protruded toe cap
Zoom Air tech compresses and expands effectively for enhanced comfort
rubber outsole in a herringbone pattern for improved traction
Nike SB Bruin Hyperfeel
The simple low-top, lace-up guise of the SB Bruin Hyperfeel appeared like your ordinary casual shoe but loaded with Nike's breakthrough feature as implied by its name. Beneath its tough suede membrane is an internal reinforcement that secures, cushions, and supports the feet with a great lockdown fit. You can go and rock this Nike Skateboarding foot gear with tees, polos, hoodies, or wool jackets and your favorite ripped jeans or pocket-heavy cargos on casual weekdays and laidback weekends. It is catered in men's sizes from 4 to 14 US.
Weighty details about this low-top Nike skate shoe:
Hyperfeel tech delivers interconnected cushioning, lockdown fit, and outsole flexibility
internal gusset for improved tightness
lowered heel counter for an optimal range of foot motion
exceptional board feel
herringbone outsole pattern for multi-directional grip
offered in multiple colorways
a good deal for $90 a pair
Frequently Asked Questions
1. What are the cheaply priced Nike skate shoes?
Nike skate shoes are generally affordable. Below are some of the cheaply-quoted Nike skate shoes which are crafted with remarkable comfort and nifty designs:
2. How do I know if I got the perfect fit for my chosen Nike SB shoe?
One of the indicators suggesting you picked the best fit of skate-specific Nike shoes is that there's no pain or discomfort on your toes and heel when you use it repeatedly. About width, it shouldn't be too loose or tight that snugness can be adjusted using the lacing feature. Ideally, your skate shoe should have little to zero heel lift to prevent the back of your feet from slipping out of the shoe during board or ramp tricks.
3. How do I get the appropriate women's sizes if the Nike skate sneaker is available in men's sizes?
Nike skate sneakers offered in men's sizes should not discourage women buyers from seizing a pair they like. They may choose from the Nike skate sneakers in men's lineup and go down a size and a half to obtain the corresponding men's sizing. For instance, if a lady buyer has an 8.5-foot length, her equivalent size in men is 7.
4. What are the best cushioning features in Nike skate shoes?
Lunarlon – a removable sockliner that's typically added into vulcanized Nike skate sneakers, which is thicker on the heel or rear side for impact absorption and thinner at the front for enhanced board feel
Solarsoft Foam Sockliner – a dual-density foam that offers supportive cushioning, which has little thickness at the forefoot for superior board feel; tends to be firm at first but becomes more pliable through constant usage
Zoom Air – a midsole cushioning system that uses pressurized air and securely stretched tinsel fibers that take up the impact and snap back quickly for improved speed
Air-Sole – another midsole cushioning technology that utilizes pressurized air in tough-wearing membrane
Auxetic – a midsole technology commonly seen in Nike running-inspired and training-inspired sneakers that contracts an expands upon impact
Free outsole – a pliable outsole that contracts and expands with the feet in motion giving the feet a better contact to the ground
5. What are the common technologies integrated into some of the best Nike skate shoes?
Hyperfeel – a technology that grants natural foot motion with the use of minimal cushioning layers in the insole for an increased board feel
Flywire – heavy-duty strands which are strategically hidden and plotted on the upper for support, fit, comfort, and flexibility
6. How to distinguish vulcanized soled Nike skate sneakers from cupsoled ones?
Vulcanized sole
heated in high temperature which makes the rubber sole soft and pliable
reinforced by foxing tape at the front
grants amazing traction and board feel
extremely flexible
easy to break in
requires good inlay sole for added cushioning
resembles the customary casual sneakers
Cupsoled
not baked or heated in high temperature which makes the rubber sole appear dense and hard
perimeter has stitching
offers enhanced shock absorption
normally have heel support
ordinarily hard-wearing
doesn't have sufficient board feel
designed for aerial skating
7. Nike SB products talk about insole, midsole, and outsole. How do they vary in form and function?
Insole – also called inlay sole, sockliner, or footbed which are typically made of foam for additional cushioning; removable ones usually grant room for custom orthotics
Midsole – the cushioning unit between the insole and outsole that buffers the feet from impact, such as EVA foam or lightweight Phylon, which may be infused with extra techs like Zoom Air and Air-Sole
Outsole – the bottom part of the shoe that's designed with different tread patterns and can influence board feel and traction
8. What are the commonly used upper materials in skate shoes by Nike?
The upper is a vital feature in every skate-centric or skate-inspired sneaker as it serves as shield or protection for the feet against sudden blows. Below are the typical materials used in Nike skate sneakers:
Canvas – This thin, light, and airy textile is not as durable as leather or suede, but it keeps the feet ventilated, and ideal for casual cruising on the board.
Suede – This is widely used by many skate brands aside from Nike, like Vans, DC Shoes, Etnies, and Airwalk as it is very durable. It also grants impressive
Leather – The full-grain leather is the most hard-wearing material, but it doesn't afford the best flick or grip.
9. Where can I purchase Nike SB shoes?
You may purchase Nike skate sneakers from Nike outlets globally and through the Swoosh brand's partner retailers online. You may also choose from the different Nike NB collections posted on this site, particularly the Nike SB, Nike SB Stefan Janoski, Nike SB Dunk, and Nike SB Blazer. RunRepeat also contains detailed information about the comfort, style, fit and sizing of various skate-inspired sneakers which might be helpful in your next purchase of Nike skate shoe.
10. Are there any mid-top Nike SB shoes available in the market?
Nike SB Stefan Janoski Max Mid, $130
Nike SB Blazer Premium SE, $85
Nike SB Blazer Mid XT, $90
Nike SB Blazer Mid, $85
15 best Nike skate sneakers
Nike SB Air Max Bruin Vapor
Nike SB Bruin Premium SE
Nike SB Zoom Stefan Janoski Canvas
Nike SB Dunk High Pro
Nike SB Air Force II Low
Nike SB Check Solarsoft
Nike SB Blazer Zoom Low
Nike SB Dunk Low TRD
Nike SB Zoom Stefan Janoski
Nike SB Stefan Janoski Max
Nike SB Blazer Vapor
Nike SB Zoom Stefan Janoski Canvas Premium
Nike SB Zoom Stefan Janoski OG
Nike SB Zoom Stefan Janoski Slip-On
Nike SB Dunk High Pro QS
This shoe has recently been added to RunRepeat. There are still not enough reviews for us to assign it a
CoreScore
.
CoreScore
A score from 1 to 100 that summarizes opinions from users and experts. The average CoreScore is 78.
More...