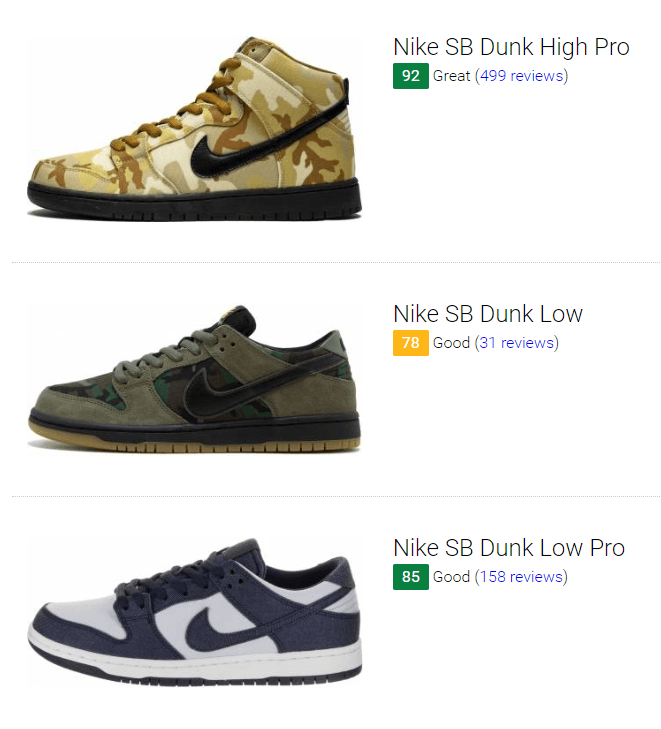 Best Nike SB Dunk Sneakers - August 2019
For a sneaker that is a legend under the Nike SB line, one might wonder, why is its name Dunk? Well, not many know but it used to be marketed as a basketball shoe. Designed by one of the most masterful Nike talents, this Peter Moore creation ultimately gained popularity because of its build and technology that has an uncanny similarity with the Jordan 1 and Terminator. One of its stand out features is that it comes in a wide array of colorways. During its release, it was marketed with a tagline "Be True to Your School." College kids treated the Dunks as a must-have as it is an unfailing commodity to exhibit school spirit.
Not long after, it captured the finicky taste of skaters and became a mainstream item on skate spots. The low price, comfortable, durable, and epic board feel of Nike basketball sneakers appealed the skate society. While this is a win for Nike, it also painted another picture, that the SB line is on a downhill and no matter how ironic it is, skateboarders prefer Nike sneakers that are not on the SB line.
Compared to its rivals like Vans, Etnies, and DC which started their own legacies on the extreme sport, Nike tells a different story when it launched the Nike SB line. In 2001, after two failed attempts, a revitalization of the SB line was put into place. The relaunch of the all-new Dunk went hand in hand with the revival and the third attempt of the subbrand. It may seem like an obvious move, but what do you know, it made sense, and it made such a massive impact on the SB line.
Sneakerheads were fast to catch the scene. The plethora of materials, colors, and design released in limited quantities, instead of being widely available benefitted the shoe.
Nike SB Dunk Old vs. New
Being the new face of the line, Nike knew that some changes need to be made. Now under a Nike sub-brand, the Dunk faced a makeover to be a more qualified model for skating. Here are some of the few changes we can see:
Fat tongue
Because of how aggressive all the movements of skateboarding takes, the protection is a bonus that is highly appreciated. Many appreciated this tweak that it eventually became synonymous to the shoe.
Icons wore them
Consumers are intelligent nowadays, and they know that there shoes that are only made for the show. The improved Dunks were unique because when it was launched, legendary skaters wore them for practice and competition.
Grip
Because the movements needed for lay-ups are different from ollies, nollies, and alley-oops, certain features need to be tweaked, such as the grip and traction. The added fine lines and grooves are well-loved by many because it allowed them to do a stellar performance and have a better board feel.
Padded
Protection is a necessity for all skateboarding sneakers, and Nike was able to address that with the revamped model. What makes these stand out though is the fact that it retains its sleek profile unlike it rivals that sport a chunkier look. This profile contributes to its street-friendly style and doubles as a casual sneaker.
Technology improved
Shifting from basketball to skateboarding allowed Nike to inject a technology that would better all their skateboarding tricks. The Pro model, which is created to improve all the skateboarding tricks utilizes a Zoom Air unit cushioning system for a smoother ride.
More colorways, more fun
Since its release in 1972, the Nike Dunks garnered a reputation of being released in multifarious colorways, and now that it is a part of the skateboarding community, its legacy continues.
Collaboration
Because of how versatile the silhouettes of these sneakers are, it doesn't matter if its the High, Low, or Mid, but everything became an excellent piece for collaborators to work as a canvas.
Think inside the Box?
Whatever Nike model you're acquiring, all that ever existed before was the orange box. When Dunks became resurrected by the beginning of the millennium, the packaging became an element that sealed all the goodness of the shoe. As an integral part of preserving the freshness of the sneaker, the box was something that was kept, especially by the sneakerheads. The Nike SB Dunk comes from a particular era which can be reflected in the color of the box. Here we run down some of the most iconic shoes per box color:
Orange Box (March 2002 - December 2002)
The revival of the line was not huge in quantity. In fact, it was the opposite. Everything was thoroughly strategized and was only available in limited numbers. Just select skate shops carried them which sends a message of a specialized piece for skaters and rarity for sneakerheads.
Some of the shoes released in this era:
Nike SB Dunk Low Pro "Danny Supas"
Nike SB Dunk Low " Zoo York"
Nike SB Dunk Low Pro "Alphanumeric Pro Bs"
Silver Box (January 2003 - September 2004)
Because they are making a name for themselves not just another piece from Nike, the Dunk knew that one way to get their products be noticable is to have an eye-catching color. It also made it stand out and became the start of the sneaker collecting and box collecting phase. The silver box is sturdier and has more detail than the others, the wrapping paper and the pixelated font are just some of the features that were put into it.
Some of the shoes released in this era:
Nike SB Dunk Low Pro "Futura"
Nike SB Dunk High Pro "Supreme"
Pink Era (September 2004 - December 2005)
Many sneakerheads claim that this is the best so far. Quite a number would think that the brand was able to find its voice during this time and it reflected much on its releases. It was also during this era, in 2004, where Nike signed their first signature line to Paul Rodriguez, one of the most well-known and coolest skaters in history.
Some of shoes released in this era:
Nike SB Dunk Low Pro "Diamond" or "Tiffany"
Nike SB Dunk Low Pro "Pigeon"
Nike SB Dunk High Pro "Be True to Your School" series
Nike SB Dunk High Pro "U.N.K.L.E."
Black Box (February 2006 - September 2007)
Before the Netflix series became popular, Nike SB first came up with the Black Box. If the previous era pushed the boundaries, this era is described as throwing out the rule book. Focusing on the preference of sneaker collectors than skaters, most of the releases during this time were thematic and collaboration pieces.
Some of the shoes released in this era:
Nike SB Blazer Supreme Red
Nike SB Dunk "SBTG"
Nike SB Dunk High "Send Help"
Gold Box (October 2007 - March 2009)
Quite the opposite of what was done during the Black Box era, the Gold Box housed few partnerships. There is one, however, which kind of broke all the sneakerhead minds when it was shown as a teaser- the What the Dunk colorway, which presumably is a work of a counterfeiter. A mish-mash of all the high profile models ever created, there could never be a more apt name for it.
Some of the shoes released in this era:
Concepts x Nike SB Dunk Low Pro "Lobster"
SB What the Dunk, Supreme x Nike SB Air Trainer TW 2
Blue Box (April 2009 - June 2012)
From here, you can already see that there's no strict and specific timeline being followed for each. This one is probably the longest, but unfortunately many would describe it as lackluster. Blame it on the trend, but minimalist and basic sneakers were prominent during this time that the rowdy colorways simply didn't appeal many. Changes like the reduced fat tongue and the removal of the Nike SB Dunk Mid strap were things that many didn't appreciate.
Stefan Janoski, following P.Rod, somehow saved the era and released a very simple looking Dunk. The combination of what seemingly looks like a Vans Era and a Sperry, albeit looking rather simplistic, was something very unique for the line.
Some of the shoes released in this era:
Nike SB Dunk High "Skunk"
Nike SB Dunk Low "Space Jam"
Nike SB Dunk High "Skunk"
Taped Box (July 2012 - November 2013)
By now you can already see how experimental the line can be. Each era may connote to something, and for the Taped Box, they tried to broaden their reach and extend their availability to more sports and lifestyle store. The higher production did not entice sneakerheads and many found this strategy a bust. There were some that can be considered notable but look at each phase; this duration can be improved.
Some of the shoes released in this era
Supreme x Nike SB Dunk Low Pro - 10th Anniversary
Nike SB Dunk High Premium "Send Help 2"
Concepts x Nike SB Dunk High Premium "When Pigs Fly"
Teal Box (December 2013 - Present)
After the short-lived Taped Box era, Nike proved that it wasn't necessarily going downhill. Like the color inspiration of the box that paid tribute to one of the most successful colorways, this era released high top version of its trophy models. The Teal Box continues to experiment on one of its strongest features, the design and the artistry that is injected on many hyped up pieces. So, expect that there will be a lot in store for us.
Some of the shoes released in this era:
Nike SB Dunk Hi "Cork"
Nike SB Dunk High Pro "Black Sheep"
Nike SB Dunk High Premium "De La Soul"
Fun Facts about Nike SB Dunk Low
The launch of these started personal as a colorway pays tribute to a certain Nike SB rider. The four versions - Gino Iannucci, Reese Forbes, Danny Supa, and Richard Mulder, started the era of collaborations in the sneaker world.
Though we have seen the elephant print in many of the Nike sneakers, the Nike Dunk Low Tiffany Supreme was the first item to sport the iconic elephant print that next to Jordan sneakers, a huge thing during this time.
In 1985, the Dunk was released in various colorways to induce college spirit. In 1998, reissued the original colorways and it served as the first retro release, which many remarked as the best quality materials placed on a classic style. A couple of years after, particularly in 2003, it was again reissued.
Many couldn't believe at the teaser because it looks like the work of a child. It turns out, the What The Dunk colorway became one of the most popular models, and it combines a bizarre amount of 31 different SB Dunk models and places it in one.
One of the most notable releases is the Nike SB Dunk Low Paris, which was only released in time for the White Dunk: Evolution of an Icon art event. The pattern was created by the French painter of Expressionism Bernard Buffet. Only 202 items are launched and no two pieces are alike.
The Danny Supas is one of the first colorways ever released for the SB line. It represents the colors of Danny's hometown which explains why it looks like an extension of the New York Knicks.
The Reese Forbes Denim is one of the most profitable shoes released. It was unique during the time because denim was a material that wasn't used much on sneakers.
The Heineken colorway, one of the most popular ones ever released, was not in collaboration with the beer brand but a mere inspiration of it. The same goes with the Jedi colorway.
Frequently Asked Questions
Is the Nike Dunk Low SB true to size?
Like the general opinion of how Nike sneakers fit, the SB Dunk Low is not any different. Based on the feedback of innumerable purchasers, these sneakers feel a bit snug, especially for those with wide feet. Sizing half or one size up is necessary in order to get that exemplary fit.
I'm confused about what to buy! Should I go for the Hi, Low or Mid?
There are different factors that you can consider when it comes to shoe construction. After all, if you always find yourself in jeans, this might not be a huge matter. Just like the type of structure, each has its highs and lows. But we're not ones to make jokes. Here's the serious deal with each:
It is probably the most versatile one style-wise. The freedom in the ankles that it provides also is a feature that can be enjoyed for this construction. The cheaper price tag too, compared to its other versions is something that can't be denied too.
Its design might have a distinction, but when it comes to features, they come quite close. The added support on the ankles comes in useful.
Are all SB Dunks expensive?
No. Looking at the price range of these sneakers, you could see that they are generally affordable. The cheapest ones are actually the OG model, which is quite budget-friendly at only $65.
If so, what is the price range of these sneakers?
We have to say that this sneaker line is one of the broadest out there and this is because of the high resale value. When we say high, we mean just one of the most expensive sneakers out there. Some of the most expensive ones that we have on our list are the Wu-Tang Dunk High, which costs $15,000 and the very limited edition Futura collab piece called the Nike Dunk SB High "FLOM" from 2005 which peaks at $17,250. Some of most popular items like the Nike Dunk Low Pro SB Pigeon is approximately priced at a whopping $6,000, and the Nike SB "What the Dunk" costs $6,325 at FightClub.com. Sneaker fans need not worry that all the pieces included in this line aren't wallet-friendly. In fact, we're quite convinced that the Dunks are made for everyone. A basic Nike SB Dunk Low shoe costs only $65, which is considered a cheap shoe, not only for the Dunk line but in comparison to other sneaker brands and skate-inspired shoes as well. You can also find Nike SB Dunk Low for sale if you want to score epic finds.
What is the difference between the Pro, Elite, and Premium from the regular ones?
If you are new to the Nike Dunk community, it can be quite confusing to know the difference between each one. The Pro version is probably the most confusing because it looks exactly as the OG model. However, when you dig deeper, you can see that the Zoom Air unit separates them. Both of which applies on the Nike SB Dunk Low Pro and the Nike SB Dunk High Pro. Both of which sport the technology which is absent on the OG model.
For the Nike SB Dunk High Elite, the party happens beyond the ankles because of Flyknit collar. The Zoom Air technology is also a feature that cannot be denied is a stunning addition to the product. Of course, everything is balanced out by the legendary Jordan-esque look, which only maintains the pristine reputation of this shoe.
The Nike Dunk High Premium SB and the Nike Dunk Low Premium SB are great upgrades to the norm, hence, its name. Cop this if you desire the finer things in life or craving for an upgrade.
Can I wear SB Dunk sneakers even if I'm not a professional skater?
Of course! If being branded as a poseur is one of your worries, we have to claim that there the SB Dunk is one of the most popular models released by the brand even if it's under a specific line. Frank Ocean, Chris Brown, and Tyga, all of which are celebrities which we are certain that are not professional skaters but seen wearing the Dunks.
I heard the Dunk is on-trend! Can you suggest ways of styling them?
Dubbed as the There are different ways to style them. Read on to get some ideas:
You can take inspiration from the very laid back skater style by wearing it with shorts, shirt, and baseball caps. High socks are also very welcome and a great way to make your outfit more interesting.
Pants are also a safe option when styling the Jordan look-a-like. If you want to highlight the colorway of the shoe, folding the pants should do the trick.
If you're feeling a bit bold, you can copy Jeremy Lin's style from his GQ magazine feature by wearing your sneakers with a plaid suit.
If you have a loud-colored pair, you can wear a colorful top, probably a floral button down, which is en vogue to balance the ensembles.
Are these sneakers exclusive for men? Can the ladies also wear them?
The great thing about these sneakers is that they are created for everyone, including the girls. Yes, we can see that many guys wear them but there's also ladies that we've seen rock them. Some of the celebrities that we have seen wearing them are Meghan Fox, Kelly Rowland, and Lala Anthony.
Where can I buy Nike Dunks? Do I need to go to select skate shops?
General releases are pretty much widely available whether on lifestyle stores and skate shops. Aside from brick and mortar stores, websites like Nike, Fight Club and Footlocker. Those limited released ones are probably harder to score but for sure there are still some floating around the market. Some skills and connections are probably what you will need to cop one.
What are the most popular Dunk shoes created?
Aside from the shoes mentioned above, these are the newly released shoes from this line that we are sure that are going to get hype:
Black Sheep x Nike SB Dunk High "Black Hornet"
Girls Don't Cry x Nike SB Dunk Low
Nike SB Dunk Low "Panda Pigeon"
Concepts x Nike SB Dunk Low "Green Lobster"
Concepts x Nike SB Dunk Low "Purple Lobster"
4 best Nike SB Dunk sneakers
Nike SB Dunk High Pro
Nike SB Dunk High Pro QS
Nike SB Dunk Low Pro
Nike SB Dunk High Elite
This shoe has recently been added to RunRepeat. There are still not enough reviews for us to assign it a
CoreScore
.
CoreScore
A score from 1 to 100 that summarizes opinions from users and experts. The average CoreScore is 78.
More...