If you've ever worn sneakers, then you know these are one of the best man-made inventions ever. They're comfortable, stylish, and you can wear them with anything and even, anywhere. (Ever heard of the bride and groom who wore sneaks on their wedding day? Just so.) And one of the most well-known brands out there is Nike.
Nike has been a significant player in the sneaker market since 1964. They've pioneered several shoe techs ranging from the waffle sole and Air cushioning to the Flyknit and FlyWire. They are responsible for churning out hundreds of designs with several becoming classics for the way they defined an era. One of these classics is the Nike Internationalist.
A Cool, Brief History of the Internationalist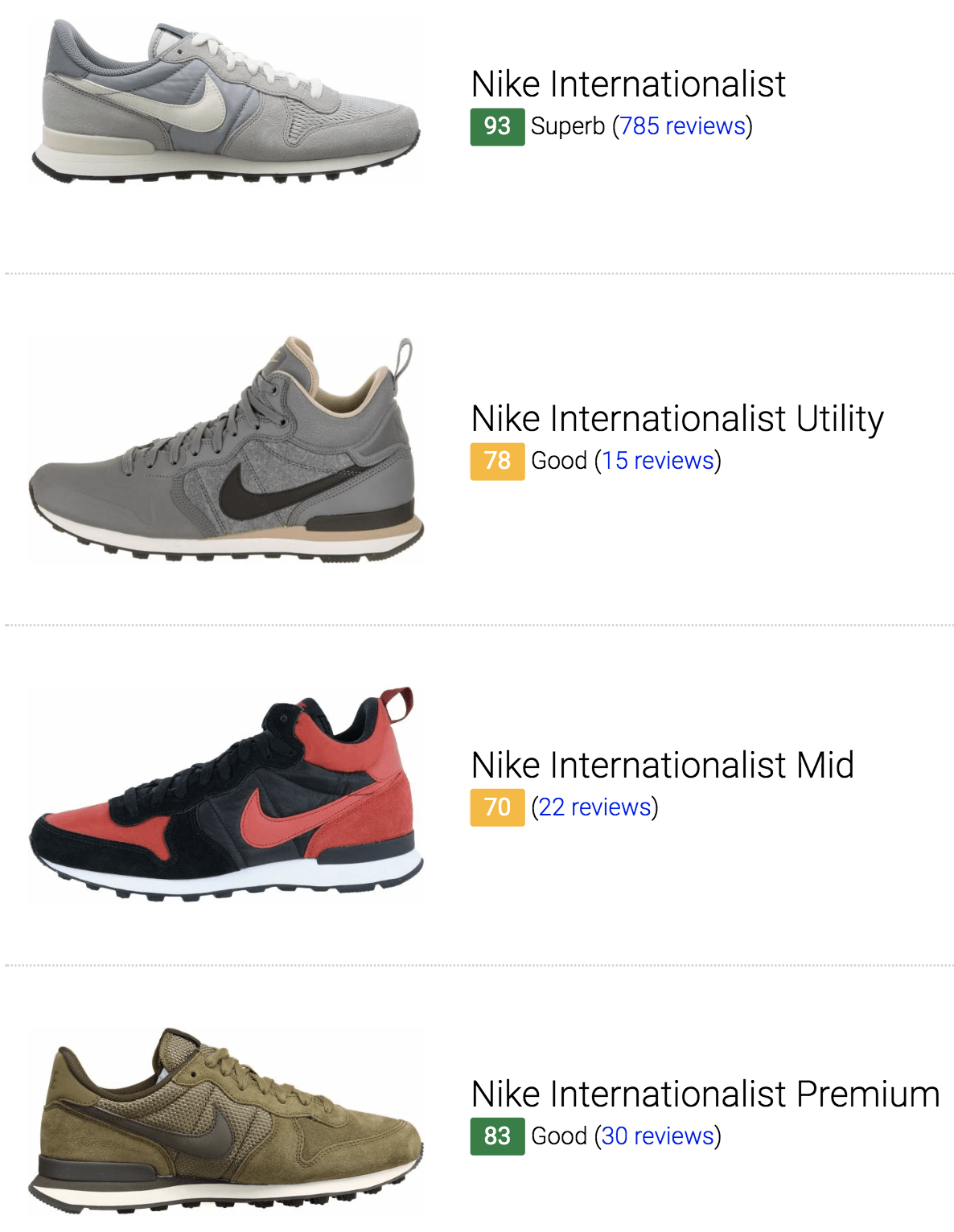 Nike Internationalist sneakers were released in 1982 during the New York City Marathon and defined an era of distance running footwear. They are considered to be the brand's unofficial follow-up to that cult classic, the Vortex. Marathon legend, Alberto Salazar, one of the developers of the model, sported the sneakers in the race and, incredibly, bagged top prize.
During the week of the marathon, Nike also released its first ever TV commercial. This and Alberto's smash triumph at the race combined to ensure the success of this footwear model.
The make: The original Nike Internationalist sneakers had thick EVA midsoles, PermaFoam inserts that adjust to the shape of the feet, waffle outsoles that provide stability and traction whether on the road or on the trail and notched heel counters for eliminating pressure on the user's lower Achilles. The shoes were curve-lasted and featured a Variable Lacing Width System to give users the perfect fit.
Performance: The Internationalist model was well-received by serious runners for being light and incredibly tough as nails and having a solid tread. The sneakers were often lauded for being comfortable, even when worn on tough trails.
Vintage Ad: These kicks were released under the tagline, "Give em Hell." They were marketed as comfortable footwear that can take anything you throw at it. The shoes captured a big slice of the running market that was focused on dedicated runners who thought nothing of doing 75 to 100 miles a week, in varying ground and weather conditions.
Trivia: Brian Johnson (portrayed by actor Anthony Michael Hall), aka high school nerd in the Breakfast Club, wore a pair of these kicks in that famous 1985 teen movie.
The comeback of Nike Internationalist shoes
In 2014, the brand gave the Nike Internationalist shoes a much-awaited and deserved trip out of the archives to celebrate its 30th year. Staying true to the original, the brand kept the suede, mesh, and nylon fabric combinations but added a few changes to make the shoes more comfortable and durable, such as injected Phylon midsoles and updated waffle sole treads.
Colorways and Style Guides: Below are some colorways of Nike Internationalist sneakers and some tips on how to wear them. Aside from these, the kicks are also part of NikeiD which means buyers can personalize their shoe colors according to their taste.
Tartan - These beauties were launched in September of 2018 as part of the "Tartan Pack." A tartan textile mix of blue, yellow, black, red, and green cover the tongues, quarters, and toe boxes while sedate black covers the rest of the sneakers to provide a striking contrast. Get the perfect look by matching these kicks with skinny jeans, a black V-neck shirt, and a black bomber jacket. Add a structured bag for a bit of contrast.
Spring Garden - This colorway was released in April of 2017. Along with the Internationalist, this pack also contained the Air Max 90, Juvenate, and Roshe Two. A realistic graphic print of flowers covers the quarters and toe boxes of these sneakers on top of a black base.
Oil Grey/Summit White/Gum Light Brown/Mink Brown - Beautifully dark and somewhat staid, the brown splashes on the Swoosh and heel tabs give these black sneakers the right amount of 'pop.' Perfect to pair with fitted jeans with rolled-up hems, a classic white shirt, and a stylish cotton jacket.
Particle Beige/Smokey Mauve/Black/Summit White - This colorway on your Nike Internationalist sneakers artfully combines beige and mauve for a wonderfully feminine look. Wear with an A-line dress and a denim jacket on the shoulders.
Light Silver/Mica Green/Gum Light Brown/Summit White - This icy color combination of mica green and silver provides the perfect accessory to white capri pants. Top with a long-sleeved shirt in any shade of green.
Summit White/Obsidian/White/New Slate - This shade combination has a nice understated casual feel. It's the perfect colorway to pair with chinos, a shirt, and a grey cardigan.
Beach/Summit White/Gum Light Brown/Wheat Gold - The warm and sunny hues of this colorway make it ideal for summer getaways. Women can style this with shorts and a knotted shirt for a carefree and laidback look. Men, meanwhile, would look good with this paired with a button-up shirt and chino shorts.
White/White/Gum Light - White is far from boring when you're wearing Nike Internationalist sneakers on your feet. Dress up these kicks with navy chinos and a white cotton shirt. A leather biker jacket would give your outfit just the right amount of edge.
Black/Anthracite/Sail/Summit White - Black pants, blue jeans, light-colored chinos, and any shade of top would benefit from a dose of Nike Internationalist sneakers in a classic pairing of black and white.
Wolf Grey-Sail - Understated cool defines these low-top kicks. Grey is just as versatile as black, and this case is no exception. Wear these grey Nike sneakers with a simple white tee, ripped denim, and a brown suede jacket thrown on top. For women who want to go the extra feminine route, put on a grey shift dress and go monochrome all the way.
Nike Internationalist sneakers: other versions of the silhouette
Classics never go out of style, and this is especially true for the Internationalist. The low-top Nike kicks' retro look, eye-catching style, and comfortable feel ensure the success of the model for years to come. While the original version was re-released in 2014, other versions of the model have also come out.
Nike Internationalist EM (Engineered Mesh)
This model was introduced by the brand in the Spring of 2016. Taking on the original runner's profile, the Internationalist Engineered Mesh had Wolf6 slits all throughout the uppers and perforated mesh to provide maximum ventilation. The shoe has an unmistakable sporty look with vibrant splashes of color gracing the heel tabs and counters.
Some Colorways:
White/White - Blue Lagoon - Ghost Green - This white and blue rendering of the popular silhouette features cool colors set on clean white midsoles and black outsoles. Bright touches of ghost green on the tabs and counters add a lively counterpoint. This colorway on your Nike Internationalist sneakers would look good when paired with ripped black jeans and a fitted sweater.
Black/Black - Pink Blast - Laser Orange - These black Nike Internationalist sneakers give off a definite retro feel with the vivid orange touches on the heels. Pair up with black leggings and a flowy top for a cool athleisure look.
Concord/Concord - Chalk Blue - Black - The hints of bright green on the heels of these kicks are the perfect pop to what would otherwise be simple blue sneakers. They will do wonders in sprucing up a boyish outfit of black pants with rolled up hems and an untucked shirt. Another everyday outfit that would do well with these shoes is a pinstriped shirt and skinny blue jeans.
Nike Internationalist FO QS (French Open Quickstrike)
Nike Internationalist sneakers made a comeback with a more court-inspired look. Coming from the French Open Pack, the Internationalist FO QS boasts of nylon, suede, and mesh uppers with striped insoles and a navy leather lining.
Some Colorways:
White/ Midnight Navy - Pine Green - Hints of navy give these kicks' clean white uppers a splash of color. This particular colorway is ideal for lazy Sunday afternoons or walks along the beach. Take these white Nike sneakers, your favorite chinos, a striped tee, grey cardigan and you're good to go.
Navy/ White-Red - Tonal leather panels of blue and touches of white and red combine for an interesting and eye-catching color mix. Take a white dress shirt, a navy midi skirt, and these low-top shoes for a slightly glammed-up everyday casual style.
Nike Internationalist Jacquard Winter
Giving the Internationalist a winter-ready look, these classic kicks come wrapped in debossed metallic jacquard uppers and are available in many striking shades. The cold season has never looked so good.
Some Colorways:
Metallic Silver - These flashy Nike Internationalist sneakers give off a street-ready vibe that will serve you in good stead no matter where you take them. Get your ripped black jeans out, these kicks, a cropped shirt, and a warm two-tone jacket of silver and black for a totally rad outfit that's perfect for music festivals and concerts.
Metallic Dark Sea/Midnight Turquoise - Washed Teal - Dark turquoise and a splash of teal color make these kicks stand out from the crowd. Dress up your skinny blue jeans with these Nike Internationalist sneakers plus a fitted white shirt and a black leather jacket.
Metallic Hematite/Black/Dark Grey - Metallic sneakers punctuate even the simplest outfit. Get your favorite blouse and denim skirt and pair them with these shoes for a rocking ensemble. You can also do it French street-style by donning a tee and a pleated midi skirt for a sporty, feminine vibe.
Metallic Mahogany/Night Maroon - Hot, hot, hot. The vivid metallic hue of this colorway is a guaranteed eye-catcher. Break necks and attract double-takes when you don your Nike shoes in this shade. Pants, jeans, skirts, shorts, and dresses will all benefit from a splash of color from these kicks.
Nike Internationalist Luxe
In the Spring of 2016, a luxe version of your favorite Nike Internationalist sneakers came out. Still maintaining the slim profile and light tread of the original version, this new silhouette sports a more elegant style. The colors have been toned down and perforated quarters have been added. New cork insoles, as well as supple leather and suede uppers, perfectly round off these minimalist kicks.
Colorway:
Phantom/Sail/Light Bone - These are destined to be a classic. The different tones of off-white on these shoes guarantee they will be one of your casual wardrobe staples. For lounging around or on a day trip around town, match these low-tops with a camel knit top and ripped blue jeans. Trade the blue jeans for white cigarette trousers and add on a beige overcoat for a more stylish look.
Nike Internationalist Mid
Receiving an upgrade in the sneakers' 30th year, the Internationalist not only sported a more comfortable feel, but it was also given a new mid-cut profile of the Nike Internationalist. Staying true to its origins, however, the shoes were given the same brilliant color combinations the silhouette was known for.
Some Colorways:
Varsity Red/Varsity Red-Black-White - These red Nike sneakers channel a classic colorway of Mike's first signature shoes, the Air Jordan 1s. Wear the mid-top shoes with a boldly-striped white and black top and black skinny Accessorize with a red jacket for a more pulled-together look.
Wolf Grey/Black-Dark Grey - Grey Nike sneakers, your favorite denim, and a two-tone button down shirt would look good on any day out.
Varsity Royal/Black-White - Just like the ubiquitous blue jeans, blue sneakers are just as versatile and easy to style. Pair these babies with blue leggings or pants, a grey long-sleeved top, and a knit scarf.
Escape - Released in December of 2014, the Escape Pack (includes the models Air Max 1, Air Max 90, and Air Max 95) are an updated version of Nike's 1988 'Escape Collection." These Nike Internationalist sneakers are known for their beautiful, luminescent oil-finished leather uppers. Wear with a simple tee and jeans to keep the focus on your shoes.
Nike Internationalist Mid Royal
This premium take on the beloved classic sees a slimmed down and mid-cut profile with deconstructed uppers, laser-etched panels on the Vachetta Tan ankle collars, and allover premium suede. Released on November of 2016, these luxe Nike Internationalist sneakers will make your winters anything but dreary.
Some Colorways:
Midnight Navy/Midnight Navy-Summit White - These navy Nike Internationalist sneakers will add a touch of luxury to an otherwise casual outfit. Wear these with black chinos, a white shirt, and navy bomber jacket for an upgraded everyday look. Or, pair with ripped jeans, a cute grey top, and a brown overcoat.
Sandtrap/Sandtrap-Summit White - This off-white color looks excellent no matter what season you wear it in. Match a fitted white top (with 3/4 sleeves) with mauve pants and these kicks for a cool fall look. Or, pair with a pretty off-shoulder top and denim pants for a sexy summery
Black/Black-Summit White -Vachetta Tan -Black is sexy and nothing says sexy chic more than these premium mid-tops. You can wear these with a suit, with a denim skirt and a tee, or with a tunic dress and denim jacket. Whichever way you wear these shoes, know that you'll be turning heads.
Nike Internationalist Mid QS (Quickstrike)
These Nike Internationalist sneakers sport all-new full leather uppers and clean hues in a mid-cut silhouette.
Some Colorways:
Reflective Pack (Bronze, Cargo Khaki, Game Royal, Red Clay) - Consisting of four colorways, this Pack represents the changing colors you see during autumn. The uppers' reflective earth tones (3M) provide visibility during the lengthening nights. The vivid tones of these mid-top shoes are the perfect accompaniment to your activewear outfits. Wear with joggers, a tee, and a colorful exercise jacket.
Ekiden Pack (Dark Ash and Anthracite) - These Quickstrike offerings come with woodgrain-inspired aesthetics done in honor of Japan's Hakone Ekiden race. Composed of two colorways, the pack contains one color-blocked model of red and browns and another of more subdued greys. Wear the grey with black leggings and a color-blocked jacket. The Dark Ash version, meanwhile, looks great when paired with outfits of subdued hues.
Nike Internationalist Premium
This premium version of the Internationalist, which first came out in 2016, is made from supple suede with colorways mostly featuring tonal shades. Some feature perf details all over, some on the toeboxes only, while others have none at all.
Some Colorways:
Perf Pack (Pink, Beige, Mint) - Nike Internationalist sneakers from this pack contain perf details all throughout the toe boxes and quarters of the shoes while featuring tongues trimmed with canvas. Displaying tonal hues of either soft pink, beige, or green, these kicks are excellent in helping you get an effortless chic kind of look. Match with jeans, chunky open cardigans, and a white collared shirt. A flowy dress would also benefit from these pink Nike shoes for a bit of casual vibe
Phantom White - Done up in tonal colors of white, these have the clean and sophisticated look of sneakers that would be perfect for the hot season. Perf details feature on the toe boxes while the sneakers sit on gum soles. Get that perfect summery look by matching these babies with beige or white pants, a striped shirt, and a jacket in the same shade as your bottoms.
Wolf Grey - Composed of monotone grey suede uppers and slightly darkened tongues, these low-top kicks can carry you through casual to smart occasions effortlessly. Pair with grey skinnies and a casual tee for trips around town or match with a grey suit and a white shirt for a less casual setting.
Nike Internationalist Premium SE
These dope kicks carry a color-blocked design in a mix of nylon and textile.
Some colorways:
Black/White - With black toeboxes and vamps, and white quarters and heels, these eye-catching Nike Internationalist sneakers are fire. Pair with dark jeans, a white blouse, and an open front ruched blazer for a low-key casual sophisticated style. Men can style these shoes with dark trousers, a button-down white shirt, and a nice standout belt.
Black/Anthracite - With black covering the front and a dark grey hue for the back, these kicks are sure to blend with any outfit you choose. To achieve a casual chic look, pair with grey trousers and a long-sleeved cotton shirt. Jeans in any color plus a windbreaker in a vivid shade would also look extremely cool.
Black/Green - Olive and black Nike Internationalist sneakers anyone? Take these kicks, a white tee, black pants, and an army green jacket to create the perfect weekend outfit. You can also don an all-navy outfit of jeans, knit top, and duffle coat. Add a hot woman/man to the mix and that weekend is sure to be a blast.
Nike Internationalist LT17
The retro runner silhouette gets a beautiful makeover with leather/suede/textile uppers and a splash of mesh thrown in. An "Internationalist LT17" print runs vertically from the top of the heel tab to the heel counter.
Some Colorways:
Binary Blue - For a stylish lounge outfit, put on these navy kicks and add white cotton pants and an ombre shirt in dark blue hues to the mix.
Black - Black looks good on anything and if it's these Nike Internationalist sneakers we're talking about, then that goes double. Women can rock the all-black look by wearing these with slim-fit jeans and a figure-hugging top in the same hue. A beige structured bag will add some nice contrast to your ensemble. Men, meanwhile, can go the all-black route as well by matching these beauts with slim dark chinos, a sleek shirt, and a leather jacket.
Nike Internationalist Mid Utility
A winter's edition of your favorite Nike Internationalist sneakers comes in the form of the Internationalist Mid Utility. These ruggedly handsome shoes feature a mid-top height, round laces, and an excellent weather-proof coating on the uppers. NSW's 2016 release gives us another great sneakerboot option.
Colorways:
Olive Flak/Black - Grove Green - These green Nike sneakers are great for kicking around in the cold weather. Make sure to keep stylish during the cold season by pairing these with olive pants, a black shirt/blouse, and a brown leather jacket. A scarf in the same shade as your top would complete the look.
Triple Black - Who can resist shoes in triple black? These kicks have the perfect amount of cool and edgy. Mix with ripped black jeans and a rust-colored shirt for hanging out at the park with your friends. Add a black denim jacket/coat for colder weather.
Collaborations
For most shoe companies, collaborations are a must. These not only drive up sales but also open up the brand to creative input from people who are otherwise not part of their usual design process. Many memorable shoe designs have come from these collabs, and the really excellent ones have stayed in the consumers' collective consciousness for years. Nike Internationalist sneakers are not a stranger to collaboration and have managed to produce a couple of unforgettable kicks.
Pendleton x Nike Internationalist
In 2016, Pendleton Woolen Mills opened up its archives and collaborated with Nike for a shoe interpretation of one of its signature woolen prints. The collection (which included collabs with the Air Max 90 and Air Max 1 as well) had the graphic on a majority of the Internationalist's uppers except for the eyestays, heel tabs, and the Swoosh. A flash of blue on the midsoles break the dark theme, and black sole units tie the whole thing together.
Style 'em: Break the monotony of wearing tonal or colorblocked sneakers and wear these instead. Put on a bright-hued blazer, blue jeans, and a fun sweater and accessorize with these kicks.
Liberty London x Nike Internationalist
Liberty London is a West End London department store that is known for its graphics and floral prints. For Nike's SS2014 collection, a collaboration with the retail store resulted in a bold urban look that transformed the Internationalist into a patchwork of three famous Liberty prints: the Anoosha, Crown, and Lora. Rugged rope-style laces give these Nike Internationalist sneakers a rugged look.
A bit of background on the prints: The prints come from Liberty's fabric designs. The Anoosha was a 1930's graphic featuring bell flowers and blossoms. The Crown is composed of paisley block prints dating from the late 19th to early 20th century. The Lora comes from a 1970's "Willow" pattern version by William Morris.
Style 'em: Add a bit of fun to your everyday getup by pairing these cool graphic sneakers with a graphic or statement tee, blue jeans, and a blue cardigan. These shoes would also look cool with any of your summer ensemble including shorts.
FAQs
Q: How do the Nike Internationalist shoes fit?
A: Nike Internationalist sneakers generally run true to size with a narrow to medium fit. The shoes have a slim profile that would look good on any type of feet.
Q: How about comfort?
A: Majority of reviewers deem these shoes as comfortable with average to good arch support and excellent cushioning. The sneakers also have an aerodynamic shape which boosts its lightweight feel.
Q: What can you say about these sneakers' traction?
A: Nike Internationalist sneakers were created to be used in different ground conditions by serious runners. Although now used primarily as fashion kicks rather than running shoes, they still retain that good traction that they were known for.
Q: What is the difference between the low-top and mid-top Nike Internationalist sneakers? Which is better?
A: The cut determines the freedom of movement. A pair of low-tops would enable your ankle to move more freely than mid-tops but they also offer less support than the mid-tops do. And both styles are excellent, neither is better than the other. It all boils down to which cut suits your needs more.
Q: Are the Nike Internationalist shoes versatile?
A: Definitely. Nike Internationalist sneakers go well with most anything. It depends on the color/design, really, but most go with different types of clothing, so these are guaranteed to be wardrobe staples. They're easy to pair with shorts, dresses, jeans, and chinos. Just remember that generally, the more vivid the color of the shoes, the more toned down the outfit should be. And vice versa. But of course, there are always exceptions, and if you can pull it off, why not?
Q: Can I wear the Nike Internationalist under all weather conditions?
A: No. Some of these kicks are covered mainly in suede. That won't do during rainy or wintry conditions. The Nike International Mid Utility should be fine to wear under any weather condition but for the rest, it depends on the season. You also have to figure in the color of the sneakers. White and off-white kicks are no-nos during wet and wintry seasons except if you can be sure to keep them absolutely dry and safe.
Q: Can I use these for running?
A: Yes, although these aren't really performance sneakers so don't expect too much. Many reviewers have found these shoes did well when used for some running since they were originally built for this purpose. However, your Nike Internationalist sneakers are more geared towards fashion use and if you're a dedicated runner, you might be served more by choosing a modern running shoe.
Q: How do I make my Nike Internationalist sneakers last?
A: If you can brush or clean off your shoes after every use, your shoes will thank you. This can be time-consuming however so just keeping your sneakers aired out should be fine unless they're really soiled. Try to alternate the shoes you wear too so each pair can breathe.
Q: How do I clean my Nike Internationalist shoes off?
A: The material of the sneakers determine how you clean it. Shoes made of canvas or mesh can be washed and left to dry. Suede can be cleaned with a soft brush. There's also a special cleaner just for the fabric. Leather can be wiped with a damp cloth and a soft brush.
Q: How do I store these?
A: Make sure your shoes are thoroughly dried before storing away. Keep them away from direct sunlight, preferably, and it helps if you put in a bit of baking soda in your shoes' storage box. Not only does the baking soda draw away excess moisture, it also keeps the sneakers smelling fresh.
3 best Nike Internationalist sneakers
Nike Internationalist
Nike Internationalist Utility
Nike Internationalist Mid
This shoe has recently been added to RunRepeat. There are still not enough reviews for us to assign it a
CoreScore
.
CoreScore
A score from 1 to 100 that summarizes opinions from users and experts. The average CoreScore is 78.
More...