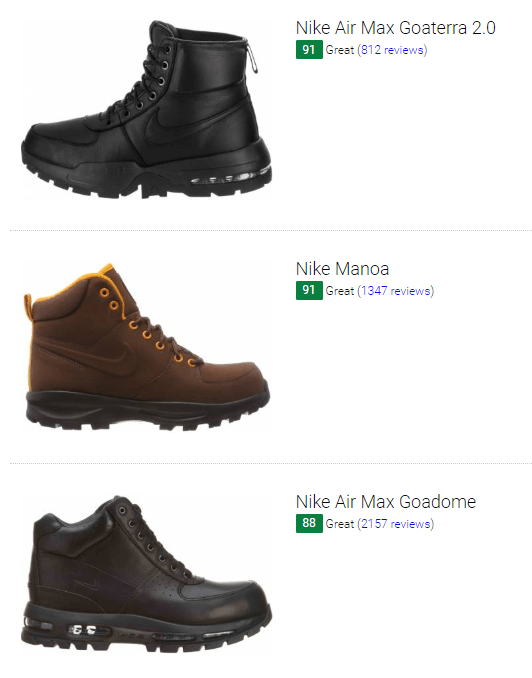 Best Nike Hiking Sneakers - September 2019
It takes one to be one of the most recognized brands globally. The Swoosh, without a doubt, needs no introduction. Instantly, seeing the logo would give all consumers a brief knowledge about its product offerings. There are many strategies that the brand executed to stay at the top consistently.
One of which is the continuous product innovation and catering and foreseeing the consumer needs without losing its fashion identity. Over the years we have seen Nike come up with different styles, technologies, colorways, and collaborations. These tactics keep the market excited, especially on its footwear products.
Because fashion is all about experimentation, sneakers nowadays come in a hullabaloo that it can be tough to categorize and place a label on each shoe. Inspiration sparks different designers. Not all trainers branded as tennis shoes will primarily be for tennis. Same goes with basketball, running, and even hiking.
What is the difference between hiking shoes and hiking-inspired sneakers?
Hiking, as an activity, may look simple to most, but the demands for its footwear comes exorbitantly. The uneven terrain, long-distance walks, and land condition are all factored in. When looking at RunRepeat's category alone, it is divided into four-- hiking sandals, hiking boots, hiking shoes, and mountaineering boots. It only shows that there are different purposes for each because of the various state that each hiker goes through.
Hiking-fashioned footwear bears the looks without the level of demand. After all, it is stylish and a perfect piece to strut on the streets.
Why should I get a hiking-inspired shoe instead of a regular lifestyle sneaker?
Hiking sneakers, in general, seems to be always under the radar, an underdog of the sneaker categories perhaps. Comparing it to the Air Jordan 1, Cortez or Court Royale, shoes released by Nike that are basketball, running, and tennis-inspired respectively, it seems that hiking doesn't have a long list to boot. It doesn't mean though that they are anything less than the other sports.
They are geared towards the outdoors and for aggressive wear.
Some hiking-styled sneakers are waterproof and winterized.
Comfort is always kept on the priority list.
There's a great mix of retro and modern, which means that style is an essential factor.
Based on trend reports of 2019, hiking boots will be the next best thing. Shall we say, move over dad shoes?
What are the most popular hiking-influenced shoes?
They may not be the most popular in terms of sneakers, but some excellent ones are worth mentioning. Here are some of the best on our list:
Nike ACG Dog Mountain
Who said that all Nike hiking shoes are built for serious action? The Nike ACG breaks that stereotype by exploring vibrant and playful patterns and hues. The men behind the brand, Tinker Hatfield who is the mind and Aaron Cooper who executed the design, confessed that injecting playfulness was its primary purpose.
To leave a unique and eye-catching imprint while on the road, these Nike hiking ACG shoes are equipped with reverse branding imprint on the outsole.
The beautiful tones of the ACG Dog Mountain were drawn from Oregon's Columbia Gorge spring flowers.
The composition of the laces is also well-thought of. It came from a rope and constructed in a way that it is laced tightly.
The originally launched shoe was clad in an aqua-dominated upper with accents of purple. Later on, black and white options were released, both bearing rich color accents to be consistent with its playfulness concept.
Nike Air Max Goadome
Winter is definitely on with the Nike Air Max Goadome. But hold on into that, let us rephrase that and say that these are your rain, shine, and everything in between shoe. Similar to the omnipresent Timberland yellow boot, the Goadome is coated with a full-grain leather upper that comes in handy because of its moisture-wicking properties. Sported with the classic advancement ACG, these sneaker boots are ready to undertake different urban conditions. The combination of the plush full-length Air-Sole combined with aggressive patterned outsole is like a yin-yang blend.
Ten years after the initial release, the brand launched a Nike hiking shoe version for women.
The woman-specific kicks bear a carabiner-designed buckle and crossing strap similar to the Air Raid basketball shoe.
The high-cut construction provides extra protection and support.
Nike SFB 6 Leather
Nothing will help you gear up in style than the SFB 6 Leather from Nike. Bringing the Special Filed Boot in fashion, these sneaker boots is a testament that this category, despite having more seasoned rivals, continues to grow in numbers. Other versions of the SFB 6 is available including a Premium, NSW, and Pendleton collaboration.
Nubuck leather, a weather-resistant material, is placed on the toe box, heel quarter and eyestay.
The aggressive and robust sole has strategically placed lugs that deliver a dependable grip on icy areas.
The tongue and the 6" ankle collar are padded for superior comfort.
The memory foam sockliner and natural motion midsole provide comfort and flexibility.
Nike Air Humara 17
Even on hiking shoes, Nike likes to dig into the archives. The Nike Air Humara 17 is a revival of a '90s runner. Peter Hogg, the main man behind the shoe, took it as a refreshing transition from designing aircraft. Like the other off-road shoes he created, we can expect that this will have similar tooling.
The Nike Air Humara has a similar vibe as the one released in 1998.
Despite having a classic retro feel, many find it stylish because of the dad shoe trend.
A Supreme x Nike Air Humara was launched in 2017. There are four versions available, three of which come in neon and another in an all-black profile.
A Nike Air Humara 17 QS version is available. QS is defined as Quickstrike, relatively rare sneakers but more accessible than the Hyperstrike.
Nike Air Wild
The sneaker boot collection is quite a newcomer but as part of the footwear giant's product line, know that it is something that you should sleep on. An '80 ACG model inspires the Air Wild. Its thick outsole is a great reminder of its outdoorsy background. However, Nike injected some flair for making it a superior piece for the streets.
The mudguard sports reflective elements which comes in handy for low-light situations.
A trail runner inspired its aggressive and razor-like tread.
Though these sneakers come in a low-top construction, there is mid-cut and high-cut silhouettes as well.
An injected unit midsole provides a lightweight cushioning system for the Nike Air Wild.
The upper of the Nike Air Wild is composed of a neoprene material with a bootie build, making it a lightweight shoe.
Frequently Asked Questions
What is the Nike ACG and what does it do?
Defined as All Conditions Gear, the Nike ACG is the God-given advancement that suits the outdoorsmen best. Released in 1989, the ACG is meant to protect and perform whatever the weather condition is.
Aside from footwear, the success of the technology was also used on other items of clothing. In 2014, NikeLab rereleased an improved version which comes in footwear, outerwear, and accessories. This time, the ACG combines different materials like the Nike Dri-FIT, Nike Tech Fleece, and Nike Flyknit.
Most of the selection is exclusive for men. Can women still avail of a pair?
Admittedly, there is not a lot of options that are exclusive to women when it comes to hiking shoes. No need to worry, you can get your women's sizing by just going 1.5 sizes down. For example, if you wear a women's 7, you can just refer to men's 6.5.
How can girls fashion rugged-looking sneakers?
More aggressive looking footwear is more associated with masculinity. But what is great about these is that it is not limiting and the women can also wear it without losing their style. For whatever colorway or type of construction you have, here are some ways to style these:
During summer, you can wear your shoes with shorts or denim shirt over a tank top, cropped sweater, or a flowy blouse.
For a fresh out of the gym look, wearing it with a dri-fit shirt and leggings is a surefire way of achieving it.
Sneaker boots can be styled by tucking it in with loose pants or skinny jeans and a basic shirt.
Is there an easy way of cleaning my hiking shoes without ruining its material?
What is excellent about hiking-influenced footwear is that they're not high-maintenance and there's no need to treat them differently than other regular shoes.
For everyday maintenance, a simple dry brushing routine is necessary to remove dirt. An old toothbrush or a soft-bristled brush will do.
Make a mild cleaning solution by mixing a mild detergent and water.
Remove the laces using the solution and air dry it after.
Using a toothbrush or a soft brush, clean each portion of the shoe making sure that every nook and cranny is cleaned.
Blot the shoe to make sure that excess water is gotten. Air dry it after.
Make sure that you don't machine wash your shoes. It can ruin the shape, material, and color.
How do Nike hiking sneakers fit?
Even though Nike has a general pattern of how their shoe goes, there are other factors like the material and cushioning system that could affect how it fits. Based on the public feedback of Nike users, they said that compared to Adidas and Reebok, it fits quite small.
It is best to go to a brick-or-mortar store to test out the kicks, but if purchasing online is more your flair, the brand website has a size chart to determine your measurement.
Are Nike hiking sneakers waterproof?
Not all sneakers made by the brand repel water. There are some Nike waterproof hiking shoes like the Nike Air Max Goadome and Lupinek Flyknit Low that come useful because of its moisture-wicking upper, but not all are created with that feature. Nonetheless, you can protect your shoes by making it repel water by applying a waterproof spray, beeswax, or colorless candle on it.
Aren't hiking-inspired sneakers hard to style?
Not necessarily. Nike still produced sneakers that are versatile enough to be worn for both the trail and on the streets. Yes, they may be quite the opposite of tennis shoes, but it doesn't mean that they are less stylish. The hiking-inspired boots that we have are made stylish for lifestyle, and some are even following fashion trends.
If so, how do you style it?
Hiking sneakers from Nike come from varying shapes and sizes that it can be hard to have a general recommendation on how to style it. If what you have is a low-top construction, it is great to pair it with khaki shorts and a windbreaker to channel your inner hiker. Nonetheless, for a quick date night change, you can also wear your shoes with jeans and a nice dress shirt.
High top silhouettes look great when tucked under skinny jeans. It not only spotlights each detail of the shoe but makes your overall look unique without trying too hard. If business-casual is the call of the occasion, a no-fail pair up would be your trusty boot, dark-washed jeans, and a dress jacket.
Can I use my hiking-inspired shoe for trekking?
You can wear any footwear technically speaking. The thing is, you can't expect that these types of footwear will meet all the demands that you have when you're on a rocky trail. Yes, hiking-driven shoes are built-in with extra features, but that doesn't mean that they are full-on trekking shoes. We suggest that for certain types of activities, wear a shoe that is appropriate for it.
Is it possible to wear my hiking-styled sneakers during the summer?
There are athletic and sports-influenced shoes that are indeed not made for summer because of its winterized upper. We would recommend to avoid it during the hot season. Nonetheless, not all hiking shoes are made for the winter. You can look for mesh or Flyknit uppers to help increase the breathability of your footwear.
5 best Nike hiking sneakers
Nike ACG Dog Mountain
Nike Air Humara 17 Premium
Nike Lupinek Flyknit Low
Nike Air Terra Humara 18
Nike Air Humara 17 QS
This shoe has recently been added to RunRepeat. There are still not enough reviews for us to assign it a
CoreScore
.
CoreScore
A score from 1 to 100 that summarizes opinions from users and experts. The average CoreScore is 78.
More...