As one of the undisputed giants of the football world, Nike continues to dominate the soccer market with each new release. With a flair for innovation and strong ties within the football populace, the brand has etched itself into the football pantheon and continues to be a relevant player in the football world.
History of Nike football boots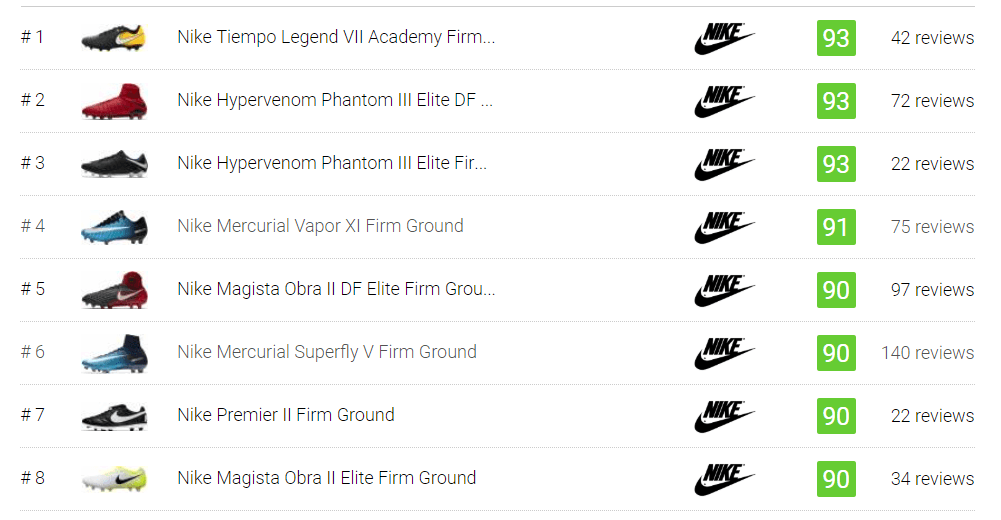 One of the biggest football brands, Nike, didn't reach success overnight. Initially failing in the release of their first football shoe in 1971, the brand named after the Greek goddess of victory did not achieve coveted fame (and fortune) in football shoe history until the first Tiempos came out in 1994.
To keep the momentum going after the Tiempos' success, Nike tapped into top football teams and eventually, Brazil's Football Federation (CBF) in 1996. In doing this, the brand made good with the belief that they can only truly understand football when seen through the eyes of Brazilians. Choosing Cristiano Ronaldo as their muse, Nike designed a boot embodying the celebrated player. The Mercurial is a Nike football boot that matches Ronaldo's explosive style and was released in 1998. This line remains relevant today with the newest release in 2016.
Over the years the brand created strong ties with top football teams worldwide to carve their place in the soccer market.
Fast forward to 2013; the Nike Hypervenom line was announced showcasing the brand's NikeSkin technology. Specially created to bring about a barefoot feel for players, the line was launched in collaboration with Neymar Jr. and Wayne Rooney. With the ever-increasing speed of the game, Nike collaborated with these professionals to keep up.
Mid-cut boots were also pioneered by 'the Swoosh' in 2014. Showcased in the Magista and Mercurial Superfly models, they were combined with the Nike Flyknit uppers. Considered as groundbreaking, Flyknit offers a lightweight, seamless, snug-fitting feel.
Until today, the company has become a trailblazer in the football world and continues to be one of the top organizations that people flock to for high performing soccer boots.
Nike football boots according to surface
Nike football boots are classified according to court types that they are best suited in. The categories include:
Notable technologies used in Nike football boots for men and women
Dynamic Flyknit - Aiming to create an 'as one' feel in their boots, the brand designed a Dynamic Flyknit construction which hugs the entire foot resulting in a one-piece design. Additionally, the Dynamic Fit collar (commonly featured in their mid-cut models) and Flywire cables (incorporated into the cleats' laces) are designed to create a more secure foot lockdown.
All Control Condition Technology - The All Control Conditions (ACC) technology is also a popular one. Mostly found in Nike's high-end boot models, ACC allows for maximum ball control even in wet conditions.
Heel Lock System - Concerning grip technology, Nike developed a Heel Lock System which is an internal mechanism designed to hold down the foot while providing comfort through cushioning.
Anti-Clog Traction Technology - For the outsole, the Anti-Clog Traction technology prevents mud from accumulating on the shoe. This technology ensures that the boot remains lightweight throughout the game while optimizing traction.
Finite Element Analysis - With all the innovations introduced by the brand, you'd think that they've run out of ideas; this couldn't be further from the truth. Nike's latest and greatest is the use of Finite Element Analysis. This technology is utilized by designers to tweak stud geometry and configuration virtually and test boot performance. After which, the design is made into a reality with the use of a 3D printing technology.
Nike football boots continue to be ahead of the curve as they are released each season as they feature innovative technologies. It's exciting to see what the brand comes up next!
Factors to consider when buying football boots from Nike
There are several factors that one can take into account when purchasing Nike cleats. These factors include:
Comfort. The number one factor to consider when buying Nike football boots or (any football shoe for that matter) is comfort. The brand strives to provide comfort for every boot release. Nike does this by incorporating quality uppers and integrating a good cushioning system into their soccer cleats.
Technologies. No stranger to innovation, Dynamic Flyknit is one of the brand's most recognizable technologies. Designed to wrap around the user's foot, this type of construction brings about a featherweight, sock-like fit, and feel. Other than knit, Nike football boot also uses other premium materials including kangaroo leather, synthetics to enhance a cleat's fit.
Cut. Another factor to consider when choosing Nike football boots is the cut. The brand offers two types of tops which are elaborated below.

Low-top soccer shoes are meant for skill players. These types Nike football boots allow for a broader range of motion in the foot. Although with this freedom comes to a greater risk for injury as there's no support in the ankle area as players move.
High-top soccer shoes are designed to create more support for the whole foot as well as in the ankle area. By minimizing the foot's range of motion, this top prevents players from twisting an ankle when making a wrong step.

Surface. Depending on the type of court that you're playing on, Nike has developed soleplates that optimize performance for each specific court. Categorizing their cleats into Nike firm ground soccer cleats (FG); Nike soft ground soccer cleats (SF), Nike Turf shoes (TF), Indoor Court (IC) football shoes and Street (ST) shoes, the soleplate for each model brings about the needed traction for the specific court it's been designed for. Additionally, advanced technologies like Finite Element Analysis, as well as 3D printing has been used in the construction of their outsoles.
Ball Control. Nike took a keen interest in ball control for their cleats. To ensure optimum boot performance regardless of weather, the brand incorporated the All Conditions Control technology (also known as ACC) into most of their uppers. This piece of technology creates consistent friction on the boot even in wet environments.
Price. Depending on your budget, there are several high performing cleats that the brand offers from every price grade. Options range from high-end boots worn by the pros to mid-tier boots that bring the best of both worlds - price and quality. There are also options for beginners who are still starting out in the sport.
Nike football boots vs. other brands
Innovation is without a doubt one of Nike's biggest strengths. 'The swoosh' has created a niche for making high performing cleats for the outdoors. The knack for coming up with ingenious and well-thought-out products (with some even years before being released) has set the company apart from the competition.
Perhaps Nike's biggest competitor is the 'three stripes'. Always in close competition, both brands have their strengths in cleat construction. Adidas, mainly, is known for their lightweight boots. Coming up with the Hybridtouch, which is lighter than natural leather and the brand's version of ACC, is one of Adidas' more recent breakthroughs to maintain competitiveness.
Although Nike offers a wide range of choices when it comes to indoor soccer shoes, another strong competitor is Puma. The German-owned company provides a list of good quality cleats as well. Using their Speedcell technology, Puma's outsoles are designed for aggressiveness while maintaining stability, control, and affordability.
Several other brands offer quality cleats on the market, but Nike is without question one that belongs to football royalty.
Frequently asked questions
What's the best Nike football boot for beginners?
The Nike Premier is a frequent feature among site list rankings for the best Nike football boots for beginners. Keeping it classic both in looks and in construction, this boot has a full kangaroo leather upper which is well known for its great feel and touch. Designed to withstand the test of time, this high performing model is a steal with a price below $100. It's no surprise that the Nike Premier is a favorite as it ties both quality and price into a neat little package.
Which Nike football boot is best for what positions?
While there are several factors that should be taken into account in Nike football boot selection, it certainly helps to consider the different playing styles to enhance player performance. Nike has an array of football cleats that are a good fit for each player depending on their position on the field. Below is a rough estimation of the best boot option for each:
How do you break-in a newly purchased Nike football boot?
Taking as long as a few days to several weeks, breaking in new pair soccer cleats is crucial before a match. The goal is to make the cleats as comfortable on feet to last the next 90 minutes of its first game. One technique is to wear them during several practice sessions or jogging to loosen them and create a snug fit. Another technique is to soak the pair with warm water while wearing them for about 20 minutes. After which, allow them to dry on feet.
This shoe has recently been added to RunRepeat. There are still not enough reviews for us to assign it a
Corescore
.
Corescore
A score from 1 to 100 that summarizes opinions from users and experts. The average Corescore is 78.
More...