Nike Casual Sneakers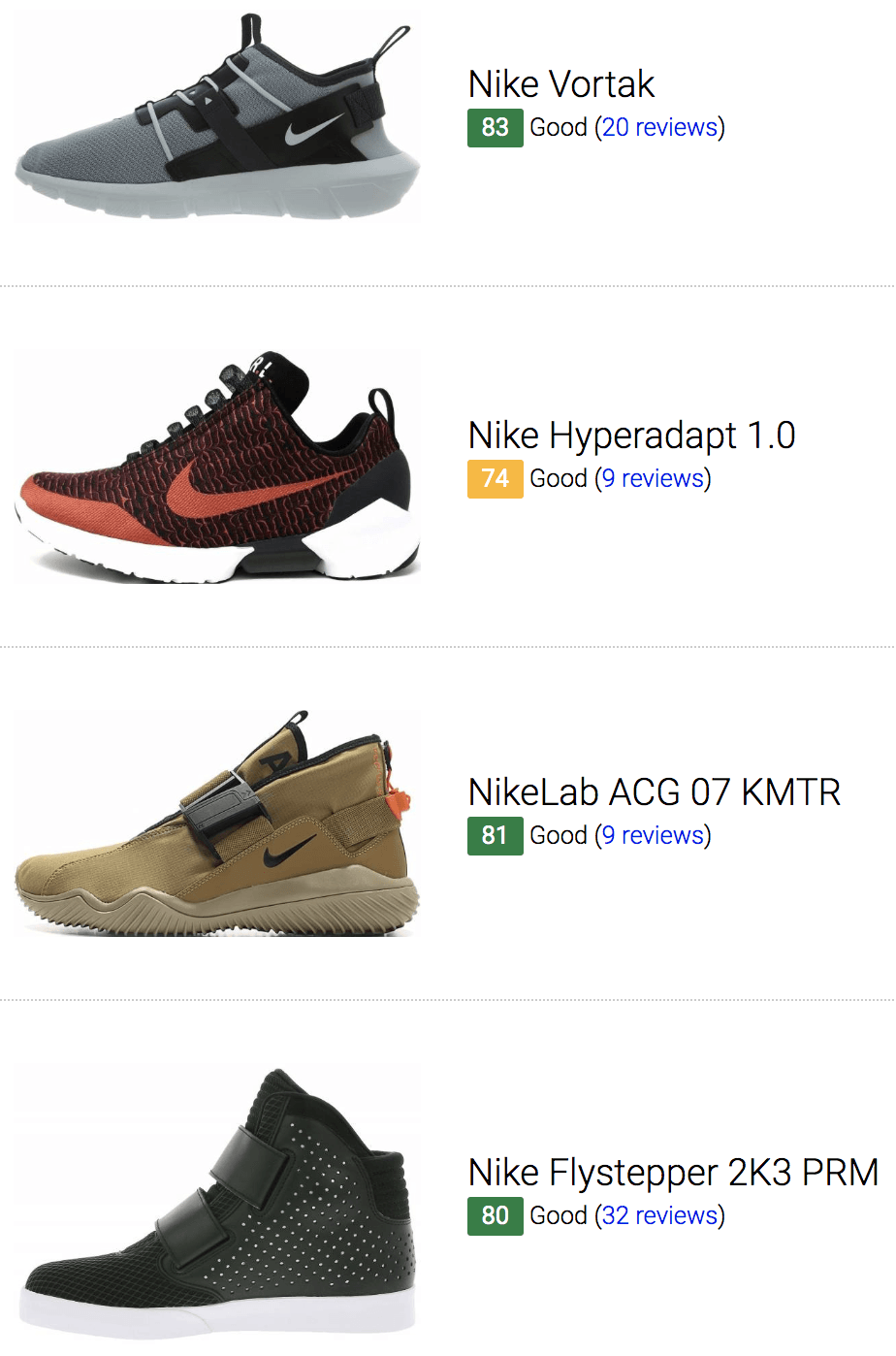 We all know that for the longest time, Nike has dominated the sneakers world. However, because sneakers evolved and became separated into performance and casual, it seems that Nike experienced a little bit of struggle in the athleisure department compared to its rivals like Under Armour, Adidas, and Skechers.
But that doesn't mean that Nike casual shoes are completely forgettable. In fact, they're still on the map and a top brand in mind when it comes to stylish and street-ready kicks. Here, we dig a little deeper and run down some of the basics of Nike casual sneakers.
Popular Nike casual shoes – Men
Nike Cortez
Before Forrest Gump, the Nike Cortez was already a popular item given that it is the creation of Nike co-founder Bill Bowerman. Even though it was created as a performance shoe, it eventually transitioned in the casual scene which the general market still finds an all-time favorite.
Facts about the Cortez:
These Nike casual sneakers already celebrated its 45 years of existence last 2017.
A women's version of these sneakers were once existent and was called the Cortez Seniorita.
These sneakers were born at Asics.
Nike Shox Gravity
The Nike Shox Gravity shows that there is really something about Nike and their exposed midsole. This casual Shox Gravity has pillar-like midsole which not only is the shoe's technology but a stellar feature to boost its style. Talk about hitting two birds with one stone!
Facts about the Shox Gravity:
The concept of these sneakers was thought of in 1984, but it was only in 2000 when it was released.
Its popularity eventually died down after several versions were released but were revived in 2018 as a casual shoe.
The latest collection dropped in 15 colorways.
Nike Roshe One
Much like how its name sounds, the Roshe comes from a Japanese inspiration from Zen master "Roshi." The primary purpose of these Nike casual sneakers is to come up with versatile footwear that can be used to do anything from walking, traveling, running, and everything in between.
Facts about the Roshe One:
The former name of this Nike casual shoe was Roshe Run.
Four years after it was launched, it remains to be included at the Top 10 sneakers based on dollar sales.
Several iterations spurted from this model, including the Nike Roshe Two, Nike Roshe LD 1000, Nike Roshe One Premium, and Nike Roshe One Waffle Racer.
Nike Flight Bonafide
The Nike Flight Bonafide captures both the sock-like and ugly shoe trends. From afar, these look like something straight off an alien's feet because of its futuristic look. It pushed Nike's design into a different height, but we're quite sure that fashionistas will love these.
Facts about the Flight Bonafide:
A stand-out feature of these Nike casual sneakers is the Flyknit upper which hugs the fit without it feeling cramped up.
The midsole houses Nike's well-known technology, the Zoom Air.
Nike Lunar Force 1 Duckboot Low
Like chemists, Nike decided to combine two of their most sought-after sneakers, the Air Force and the technology of the Lunarlon. This fusion brought the Lunar Force 1 which was released in 2012. Because of the continuous demands of the market, the brand also strived to release different renditions to cater to these needs. The Lunar Force 1 Duckboot Low from Nike, introduced in 2015, is a result of this.
Facts about the Lunar Force 1 Duckboot Low:
This sneaker was created as to overcome any conditions stylishly.
These Nike men's casual sneakers are duck boot-inspired with a rubber toe for durability and protection.
The WaterShield lining and water-repellant coating on the upper make it possible to wear it on any weather without worrying.
Popular Nike casual shoes for women
Nike Air Zoom Mariah Flyknit Racer
While its name is such a mouthful, the Air Zoom Mariah Flyknit Racer holds a straightforward and simple design that is on-trend and versatile. Although it is made famous by football star Cristiano Ronaldo, these Nike casual sneakers are also highly appreciated by the female market because of its sophisticated construction.
Facts about the Air Zoom Mariah Flyknit Racer:
It is inspired by several models from the Sock Racer, Air Mariah, and Flyknit Racer.
It houses several technologies like the Zoom Air cushioning and Flyknit upper.
For a sneaker that is technologically-advanced, it is reasonably-priced for $150.
Nike Air Max 270
The Nike Air Max has been one of the standout silhouettes of Nike as it is inspired by two other Air Maxes—the 93 and 180. It makes it one of the upcoming versions that are posed to be as iconic as its design influences.
Facts about the Air Max 270:
Sneakerheads also refer to this model as the AM270.
These sneakers feature the largest unit of heel Air for an ultra-responsive cushioning system.
Nike Dualtone Racer
Giving in with the demands of the market is the Flyknit Racer. Nike answers the demands of sneaker fans with a lifestyle version of the Flyknit Racer, which is embodied in the Dualtone Racer.
Facts about the Dualtone Racer:
Similar to the characteristics of the Flyknit, these casual Nike shoes also have breathable and lightweight uppers.
Because it is built for casual wear, the midsole of this low-top number is wider than most performance shoes.
Nike Tanjun
After the unbeaten run of the Roshe Run, it seems that Nike is not yet done taking cues from the Japanese. The unisex Tanjun is composed of a breathable mesh upper designed with an eye-catching Swoosh logo on the side.
Facts about the Tanjun:
Tanjun when translated to Japanese means "simplicity," which is mainly the theme of these Nike casual sneakers.
While there are neutral colorways available, there are also vibrant colored versions of these shoes.
Collaborations for Nike Casual sneakers
Nike Air Yeezy
We all know the rapper's long-running relationship and several Yeezy shoes with Adidas. But before that, Kanye West delved into partnerships with several shoe brands, including Nike. The Nike Air Yeezy took two years in the making which caused a lot of hype that fans camp on the outside of the store. It retailed for $215, but resell value became as high as $250,000.
The Air Yeezy is Nike's first collab piece released that is not in collaboration with an athlete.
Three colorways were released for this edition—Net/Tan, Zen Gray, and Black.
These casual shoes are infused with Nike technologies like Air Unit and borrow the Air Jordan 3's midsole.
Nike Air Force 1 Low NBA Pack
The Air Force 1 is one of Nike's most prominent sneaker designs, given that it is design inspiration was taken from the US president's plane. Infused with technologies that are apt for an on-court game like Nike Air and Zoom Air, these sneakers became a prominent on-court piece.
The Nike Air Force 1 NBA Pack is in commemoration with the AF1's 25th year.
An oversized Swoosh logo is clad on the side which makes this Nike casual shoe standout.
It features a premium leather upper which offers durability and adds to the sleek look of the shoe.
Nike Air More Uptempo Supreme
American skateboarding shop Supreme, notorious for its overhyped pieces, partnered with Nike in giving a new life on the classic 90's kicks, Air More Uptempo. These sneakers came with a $190 price tag, but just as other Supreme products, we all know that its re-sell value went off the charts.
This shoe model is nicknamed "Suptempo."
Supreme replaced the word "Air" to "Supreme" for this casual Nike shoe rendition.
These casual Nike sneakers come in three colorways—red/white, metallic gold, and black.
NikeLab x Acronym Air Presto Mid
Initially released in 2000, the Air Presto Mid was marketed as a t-shirt for one's foot. Fusing this design with a German-based luxury apparel company, Acronym, these classic sneaker gets a futuristic appeal that suits fashionistas.
Just like the Air Presto Mid, the sizes of these sneakers are similar to t-shirts, which starts from XXXS to XL.
Colorways included in this model is tonal Bamboo/Black, Medium Olive/Dust Black, and Volt/Hot Lava.
Frequently Asked Questions
1. Where can I buy casual Nike shoes?
Nike is pretty much widely available everywhere in the US. Besides Nike stores, there are also retail sneaker shops that carry the brand. To help you, Nike.com has a store locator to see the nearest one near you.
Thanks to technology too, users can avail of Nike sneakers at the comforts of their home. Many websites also carry the brand. RunRepeat.com, aside from the many different brands that it features, also offers Nike shoes. Simply click sneakers then Nike to choose the design that suits your palette.
2. How to wear Nike casual sneakers to work?
No judgment here if you want to wear your sneakers to wear. We understand you. There's ultimately nothing wrong if your goal is to make your feet still comfortable after a day of work. There are ways to style your favorite pair and look sharp to work. Here are some of our suggestions:
Choose a design that is sleek and sharp.
All black shoes can also mimic the look of your work boot. Some of the examples you can look for are the Nike Air Max Axis, Nike SFB 6 Leather, and Nike Air Force 1 Mid.
Pair your Nike's with a button down and a dark washed jeans.
You can take it up a notch by putting a blazer or a coat.
3. Can I wear my Nike sneakers on formal occasions?
This may be breaking fashion rules, but we're already in the day and age where anything is possible. This isn't an out-of-this-world idea. In fact, you can actually do your own Google search and see celebrities on formal events rocking their Nike sneakers. Here are some of the celeb sightings of stars in their suit and Nikes:
In 2013, Ed Sheeran paired his black Nike trainers with a shiny black suit on the Brit Awards.
Rapper Jay-Z also spotted rocking a pair of DJ Clark Kent x Nike Air Force 1 Low "Got That White" with a maroon suit.
Jeremy Lin, on a GQ Magazine shoot, wore his Nike Dunk High with a tailored plaid suit.
Actor Jerry Ferrera, a.k.a. Turtle on hit show Entourage, paired his Nike SC Dunk Low on a traditional black coat and tie.
4. What can I wear casual with white Nike sneakers?
Because of its neutral colorway that is quite similar to canvas, white kicks are one of the most versatile footwear out there. Wearing them casually is as easy as 1-2-3, and you can basically do it without overthinking it.
Jeans, ideally light-washed and shorts, are the go-to pieces to make any look more casual. To make it a step closer to the minimalist look, pair it with a basic shirt. Choose from crew neck or V-neck.
5. What are the price points of Nike shoes?
Because Nike offers a wide range of products, it comes with different price points. Most of those included on sneakers priced $100 and below are usually low-tops. These are a few mid-tops and high-tops included though. Some of the affordably priced sneakers are the Nike Waffle Racer '17, Nike Tanjun Chukka, and Nike Payaa Premium.
Mid-priced Nike sneakers fall on the $100-$150 range. Because it comes in a higher price range, users can expect that these have more advanced technologies and more premium materials. Examples from this line include: Nike Mayfly Woven QS, Nike Air Max 1 LHM, Nike Air Presto Premium
The Premium sneakers fall on the $150 and above.
6. Can I customize my Nike casual sneakers?
Yes. Nike has a program called the iD which allows users to personalize their kicks. It is a pretty extensive customization process, wherein the base, laces, tongue, and even the Swoosh can all be altered. There's also a wide variety of colors to choose from, which is why those who want to avail of this program can really have a pair that is 100% unique.
7. Do you have tips for me to get the right size and fit?
We all know the importance of an accurately fitted shoe, and this doesn't only apply for performance footwear. Here we tell you steps on you can do a precise measurement of your feet. Before proceeding on that, though, is we suggest that you wear socks when doing these. Moreover, it is highly recommended to fit and measure your feet in the afternoon when it is already swelled up.
Stand straight against a hard surface or wall while stepping on a blank piece of paper.
Ask someone to mark your heel-to-toe measurement. Do this several times if necessary.
Do this on your other foot as well because your left and right feet do not always measure the same.
Using a ruler, measure the length of your foot. Both in inches or centimeters will do.
Refer to the sizing chart of the brand website to see what the size you should get for your Nike sneakers.
8. How do I clean and make my Nike casual sneakers fresh again?
Keeping your kicks fresh and clean is not only for sanitary purposes but to prolong its life. Below are some tips that you can try:
Brush the dirt out without wetting the shoe or the brush. You can do this regularly, and you don't need a special brush for this. An old toothbrush should do the trick.
Rub a mixture of water and laundry detergent on the whole shoe. A soft cloth or a brush should reach and clean every crevice of your shoe.
The soap mixture can also clean your laces. Make sure to remove them before washing your shoe.
Wash and blot the shoe and then proceed to air drying it.
9. Are they ways for me to check if the shoe I bought is authentic?
Because it is one of the most-selling brands in the footwear industry, it is understandable why it is also highly counterfeited. Here we enumerate the things that you can check to help you get the real one or to help you see if the one you have is the real deal:
Only buy from authorized retailers like the brand website, RunRepeat, Nordstrom, or Zappos.
Right off the bat, the packaging will tell you if your pair it's authentic. Boxed not labeled and tagged correctly makes it a questionable sneaker.
Research on how your shoe looks. Most likely, the model of your shoe is on the internet, where you can compare its style.
The craftsmanship of the shoe should be impeccable, no loose stitching or overlapping colors.
The tongue should display information on the shoe, which should all match on those presented on the box.
The pattern on the outsole should be crafted seamlessly, meaning it should be uniform and evenly spaced.
Unless secondhand or on clearance, your Nike casual sneakers shouldn't be at extremely low prices.
10. Can you suggest the best Nike casual shoes in the market?
Best is entirely subjective as Nike casual sneakers, despite being a category on its own, can still be further subcategorized in a myriad of ways— the type of construction, color, style, technology, etc. If you don't exactly know what to get, we suggest you look at RunRepeat's CoreScore ranking to see what the experts and reviewers think is the best sneaker in the market.
6 best Nike casual sneakers
Nike Manoadome
Nike Vortak
Nike GTS 16 TXT
Nike Hakata
Nike Flystepper 2K3 PRM
Nike Air Scream LWP
This shoe has recently been added to RunRepeat. There are still not enough reviews for us to assign it a
CoreScore
.
CoreScore
A score from 1 to 100 that summarizes opinions from users and experts. The average CoreScore is 78.
More...