Nike Basketball Sneakers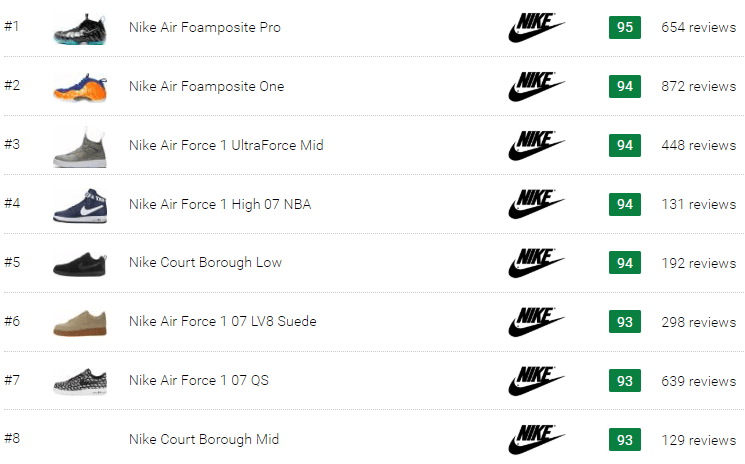 A powerhouse in the sneaker industry, Nike has been at the top of its game for the last few decades. From apparel to footwear to many sports specific lines, Nike is definitely a household name.
The Nike Basketball line is one of Nike's most famous line ever, and it really comes as no surprise. Aside from the apparel sold, Nike basketball sneakers are probably the lines most sellable product and boy are there are a ton of different Nike basketball shoes around!
Let's dive right into what Nike has to offer regarding basketball and footwear.
Top basketball shoes from Nike
Over the years, Nike has released a significant number of basketball shoes. Some of them have shot up to instant fame for its exceptional quality and performance while some, well, have stayed at the bottom of the list as flops.
But let's not focus on the flops. Instead, here are some of the basketball shoes from Nike that are topping the list of sneakers to cop for the court.
Nike Air Max Audacity 2016
Comfy high-tops that make you feel like you're walking on air is what that Nike Air Max Audacity 2016 is all about. In terms of style and design, these Nike basketball sneakers are killer both on and off the court. Here's some more information about the kicks to make you more excited about it:
The upper is composed of a foam-backed synthetic mesh.
There is a combination of Phylon and Air Max in the sneaker.
A multi-directional traction pattern can be observed on the rubber outsole.
A big Swoosh is also evident on the midfoot of the sneaker.
Nike LeBron 15
The Nike LeBron 15 wows with the integration of a number of Nike sneaker tech to make it an overall great pair of Nike basketball shoes. It's great to play hoops in, wherein being aggressive and dominant on the court is the main thing for you. Read on to know more about these LeBron kicks:
It uses a hybrid mix of the Zoom and Air Max technologies on the midsole.
It also has a one-bootie construction with the upper made of BattleKnit.
There is a Nike Swoosh on the external part of the TPU heel counter.
An embossed "LeBron" logo can also be seen in the midfoot section.
Nike LeBron Soldier 12
Affordability while being made of premium materials is something that the Nike LeBron Soldier 12 can proudly boast. It's also been praised for its versatility and stylishness. Comfy and flexible, these basketball shoes from Nike make for a great addition to any sneakerhead and basketball fanatic's closet. Curious to know more? Read on:
The sneaker has great cushioning thanks to the Zoom Air units as well as the Phylon carrier.
With a circular-knit textile upper, comfort is guaranteed.
It also has a multi-directional traction pattern making it great for getting the right footwork.
The sneaker is available on NikeID.
Nike Zoom Kobe 5
Considered to be a part of one of the most significant models of Kobe Bryant's line, the Nike Zoom Kobe 5 is a favorite shoe for both the bball court and the streets. It was created in 2010 by Eric Avar and Matthew Nurse. Learn more about the kicks below:
The upper is made of Skinwire.
The tongue of the shoe has the Nike Torch Technology.
Meanwhile, the midsole has a combo of both Zoom Air and Phylon foam.
Both sides of the shoe have the Nike swoosh and an embossed Kobe logo on the tongue.
Nike Hyperdunk 2014
At a high price point, the Nike Hyperdunk 2014 is still a pair of kicks that are very much worth the price it is sold at. It's been said that the shoes give an outstanding performance on the court and are pretty popular Nike basketball shoes for women, too. Here are some more facts about it to get you hyped:
It has an Hyperfuse upper as well as Lunarlon foam, and Flywire technology.
This pair of Nike basketball sneakers has geometric shapes and open mesh areas on the upper.
It holds an ankle-protecting design.
The outsole has a pressure-mapped herringbone pattern.
Nike Air Flightposite
Another pair of basketball shoes from Nike that is a crowd favorite, these Nike Air Flightposite are the retro versions of its 1999 counterpart. It's such a nice shoe to wear that many actually also wear these Nike Air basketball sneakers as lifestyle kicks, too. For now, the shoes are a bit pricey but here are some more things to know about the Flightposite:
The upper is mostly dominated by Foamposite.
The PU midsole and insole of the shoes are very comfortable.
A Zoom Air unit can also be observed on the sneaker.
It was first retro-ed in 2003, then in 2008. It came back again in 2013 and now, in 2018.
Nike Air Max CB34
A favorite to add to a sneakerhead's collection, the Nike Air Max CB34 is a pair of Nike basketball sneakers that satisfies the basketball fan in you. It's got good quality to it along with an excellent design and a perfect fit. It definitely brings back the 90s for the old school kids and those who want to, in turn, experience what the 90s were all about shoe-wise. Here are some things about the Air Max CB34 that surely wows:
It has a full-length Air Max midsole that is very visible.
A grippy rubber outsole can also be found on these men's Nike basketball sneakers.
You can notice that the sneaker has a tooth-like design to it.
You can also see on the lateral panel an embossed "CB34" logo.
Nike Air Precision II
Wearing these kicks on the court allows you good movement with spectacular precision. Whatever the player's position may be, the Nike Air Precision II will surely enhance performance. More info on it can be read below:
The upper is made of a breathable mesh.
There is a thick Phylon midsole on these Nike basketball sneakers for better performance.
An encapsulated Air unit on the heel makes it lightweight.
The sneaker's name is evident on the tongue.
On the lateral and medial panels, you can also see the infamous Nike Swoosh.
Nike KD 6
Another great addition to the line, the 6th KD model a great basketball shoe that makes it purely delightful to wear on the court and out on the street. Nike has come a long way to create a shoe of such superiority and craft. Learn more about what the 6 signature shoe from Kevin Durant has below:
The heel has Max Air while the forefoot has Zoom on it.
The KD 6 also comes in a variety of colorways that are bright and customizable.
Nike branding and KD branding can be observed all over the kicks.
It's also good to take not the sneaker has a uniquely ribbed midfoot.
Aesthetically, the shoe is also very appealing.
Nike Kobe 11 Elite Low
A great performer of a sneaker, the Nike Kobe 11 Elite Low has a lot of excellent sneaker technology implemented into it. Fans of Kobe Bryant will surely have no problem copping a pair despite the steep price that the sneaker has, especially since these were the last signature shoe model from the great Kobe Bryant before retiring. If you aren't convinced enough, maybe these selling points listed below will:
This pair of Nike basketball sneakers has the Zoom technology in it.
The upper is made of Flyknit.
On the midsole, the Lunarlon tech is incorporated.
It is also a mid-top shoe.
On the tongue, Kobe's logo is clearly displayed.
Nike Kyrie Flytrap
Compared to other Nike basketball shoes, the Nike Kyrie Flytrap are definitely cheap Nike basketball sneakers. These are also the first shoes to come out from Kyrie Irving's budget line. The Flytrap name pays homage to the man's birthplace in Australia. Read more about the Kyrie Flytrap here:
A woven and breathable mesh make up the upper of the shoe.
The midsole has been curved to add to the stability factor of the Kyrie Flytrap.
The forefoot also has the Zoom Air cushioning.
It has been likened to the Nike Kyrie 4 but in a more toned down fashion.
Zigzag accents on the Nike logo represent the teeth of the Venus Flytrap.
Nike LeBron 13 Elite
With "Elite" attached to its name, the Nike LeBron 13 Elite definitely rises up to the occasion to live up to it. It takes after the original, the LeBron 13 but still manages to have its own style and flair so that it still becomes something entirely its own. Read on to know more:
This version of the original tones down the flashiness of the OG.
The upper is made of mesh, and Kurim rubber cage reinforces it.
It has a traditional lacing system that has been upped by the strong Flywire cables made available.
The attached tongue has the lion emblem on it and the King's signature right below.
Nike Zoom Evidence II
Considered to be a pair of budget Nike basketball sneakers, the Nike Zoom Evidence II has some similarities to some of the Kobe Bryant shoes. But these low-top shoes still manage to delight and give a solid performance on and off the court. More information on the sneakers can be found after this:
There are triangular traction patterns on the outsole.
A Zoom Air unit on the Phylon midsole that slightly bulges out can be observed on the forefoot.
It has an engineered mesh upper.
Embossed on the medial and lateral sides of these Nike basketball sneakers is a large Nike Swoosh.
Nike Zoom Shift
Perfect for cruising the basketball court or for simply strutting your stuff on the down low, the Shift from Nike is a great choice pair of shoes to buy and own. Many have pointed out that it is stylish and comfy, which are big factors on why many people get it. If you want more info on the Nike Zoom Shift, you can continue reading below:
The lightweight mesh upper is what makes the Zoom Shift light on the feet, enhancing your speed.
Again, this pair also has a Phylon foam midsole with a Zoom Air unit on the forefoot.
Padded footbeds make it very comfy to wear.
Pull-loops on the heel and tongue allow it to be easily wearable.
List of Nike men's basketball shoes
The fact can't be denied; the world of Nike and basketball is mostly male-dominated. With basketball footwear and apparel for men coming out left and right, it does seem logical that many would go crazy over these releases, especially with basketball shoes.
Here are a few more Nike men's basketball shoes that will surely have you ballin' in no time.
Nike LeBron Soldier 9
This pair of Nike men's basketball shoes is excellent for those who want to be a beast when it comes to performance. It's pretty great to have in rotation for the basketball player and can also be great for the lifestyle aspect of things. The shoes are crafted for King James himself which makes it a very coveted pair of sneakers. Here are some things and important points to take note of:
There are innovative straps on the Nike LeBron Soldier 9 along with Nike Flywire.
The decoupled rubber outsole has hexagonally-shaped traction pods on it.
On the midfoot strap, you can observe the King James logo.
On the lateral wall of the LeBron Soldier 9 is the large Swoosh.
Nike Air Max Infuriate Low
Quality yet still within budget? Yes, that's what the Nike Air Max Infuriate Low is all about! Nike has made sure that these Nike Air basketball shoes still holds fantastic quality and can outperform any expensive shoe on the market. Best at being an all-around sneaker here is some more information about the kicks:
Lightweight cushioning is possible with the Air Max in the heel.
A Phylon foam midsole offers excellent support.
The mesh upper has screen-printed graphics on it.
There is a large Swoosh logo on the tongue.
Nike KD 4
The KD 4 cements itself in the hearts of Kevin Durant's fans as a reminder of his glory days back in time with the Oklahoma City Thunders. Along with that, playing in these Nike men's basketball shoes is also possible as the KD 4 still puts up a good performance on the court. Get to know more about the KD 4 below:
The Nike KD 4 was designed by Leo Chang.
Hyperfuse side panels make the shoe breathable and lightweight at the same time.
On the midfoot is an Adaptive Fit Velcro strap for additional support.
The sneaker has very personal elements to It such as:

KD's grandma, aunt, and mother's names can be seen on the forefoot.
The name "BIG CHUCKY" on the heel is the nickname Charles Craig, Kevin Durant's first basketball coach.
Nike LeBron 15 Low
The Nike basketball shoe that does best when worn by centers is the LeBron 15 Low Top which can really assist well when it comes to up one's game. That goes for both on the basketball court and on the streets. It's a sneaker that many can appreciate. Here are more reasons why:
This pair of Nike basketball sneakers was released on March 31, 2018.
The LeBron 15 Low has a Battleknit upper.
It has a Zoom Air unit found at the forefoot and at the heel, an Air Max unit.
A translucent rubber compound makes up the outsole.
You can't miss the 3D reptile-effect that can be seen on the side panels.
Nike Kobe A.D. NXT
These basketball kicks from Nike gain some recognition in the sneaker industry and amongst basketball enthusiasts and sneakerheads alike for the fact that the Black Mamba himself had a hand in designing the Nike Kobe A.D. NXT. It looks excellent and styles excellent, and many clamor to get their hands on these. Here's a bit more information on it:
The A.D. NXT has a full-length Lunarlon midsole.
A full Zoom unit can also be seen through the translucent rubber outsole.
The overall design of this pair of Nike basketball sneakers is rooted in being minimalistic.
There are many details to the Nike Kobe A.D. NXT such as a Swoosh printed on the sides of the midsole.
The history of Nike basketball shoes
When it comes to basketball shoes, Nike basketball shoes have done a whole lot to the history of basketball all in all. It all started in 1973 when the company released the Bruin and the Blazer. These were to be the brand's first basketball sneakers. Both shoes were made of leather, and it paved the way for Nike to become a legacy in the world of basketball.
After that, Nike went full force, and in 1982, it released the Air Force 1, a sneaker worn by basketball greats such as Michael Cooper, Calvin, Natt, Jamal Wilkes, and more. This outcome led to the Nike Basketball division of the brand to gain massive popularity. Another year to remember in 1985, the year that Michael Jordan's Air Jordan line debuted.
All through the 90s, Nike basketball shoes dominated the market it was in, and it can all be attributed to Nike's drive to always be innovative. This is something that the brand has carried on to this day, the Nike basketball sneakers out on the market just as innovative as it is enticing.
Frequently Asked Questions
When did Nike start making basketball kicks?
Nike began making its basketball kicks in 1973. You can read more about the history of Nike's basketball sneakers above.
What are the best Nike basketball sneakers for 2018?
The best Nike basketball shoes for the year 2018 has been narrowed down. Sneakerheads, basketball fanatics, as well as experts and professional basketball players have all agreed that the best bball shoe for the year is the Nike LeBron 16.
Which Nike basketball sneaker is the best seller?
As for the brand's best selling basketball sneakers, we've narrowed it down to the top 3 best selling. The shoes that make it onto the list include the LeBron 16, the Nike Zoom KD 11, and the Kyrie 4.
Where can one buy Nike basketball shoes?
Nike basketball sneakers are widely available in almost every corner of the world. To get your hands on a pair, just visit any Nike store that you see. These stores will usually have basketball shoes in stock and a section dedicated to it. Sneaker retail stores will also most likely have these shoes in stock as well sports shops.
Where can one get Nike basketball sneakers online?
For many who don't have the time to go out and find the nearest Nike store in their vicinity, opting to shop for kicks online is a good alternative. The official Nike website is your best bet to getting a variety of choices. But other online retail stores dedicated to selling shoes will also have basketball sneakers in stock.
How can one avoid buying counterfeit or fake Nike basketball sneakers?
Fake Nike sneakers, especially basketball ones, have been on the rise despite the efforts of the brand to quash such counterfeit products. To avoid buying such fake products, simply make sure you are buying from a reputable seller such as the official Nike store or an authorized Nike dealer. For those who are buying online, it's a good idea to buy from Nike.com.
Any site online that sells the sneaker at low prices or offer early sneaker releases should be approached with caution at least.
What can be paired with Nike basketball sneakers?
Her are some outfits and clothing pieces that go very well with basketball shoes from Nike:
Joggers
Gym/Sweat shorts
Skinny Jeans
Chinos
Sweatshirts
Hoodies
Bomber jackets
Plain tees
What is the price range of basketball shoes from Nike?
It's a really varied price range with some shoes selling for $75 and others going all the way up to $200 for a pair. Most Nike basketball sneakers will cost around $110 to $150.
How do you keep basketball sneakers clean?
To keep Nike kicks and Nike basketball sneakers clean, we highly recommend you follow the cleaning guide and method below:
Always use a soft bristled brush with a mild detergent.
Use a detergent that is free of dye to avoid staining your shoes.
Spot scrub the dirty parts and bits of your sneaker with a brush and the mild solution you've made.
Use a damp cloth to wipe clean dirty bits and the soapy part.
Air dry sneakers for 24 hours minimum.
Never:
Never put the basketball shoes out in the sun to dry.
Never use a washing machine to clean sneakers.
Never use a dryer to dry them as well.
15 best Nike basketball sneakers
Nike Air Force 1 07 LV8 JDI
Nike Air Foamposite One
Nike Air Force 1 UltraForce Mid
Nike Air Force 1 07 LV8 Suede
Nike Air Force 1 07 QS
Nike Air Shake Ndestrukt
Nike FL-Rue
Nike Air Force 1 07 LV8
Nike Court Borough Low
Nike Air Force 1 07 Mid
Nike Lunar Force 1 Flyknit Workboot
Nike Air Force 1 Low
Nike Court Borough Mid
Nike Air Pippen
Nike Air Force 1 Low Retro
This shoe has recently been added to RunRepeat. There are still not enough reviews for us to assign it a
CoreScore
.
CoreScore
A score from 1 to 100 that summarizes opinions from users and experts. The average CoreScore is 78.
More...