12 best Newton running shoes
Based on 304 reviews - Updated Sep 2018
The privately held company, Newton, is only a new player in the running industry, but it is quickly rising up the ranks with its running technologies that amaze both casual runners and professional athletes. Known for their natural running shoe selection, the brand continues its success after being turned down to license with top shoe brands, like Saucony, Nike and Adidas. This athletic shoe brand is now a constant presence in the running community and particularly favored by neutral pronators and those who are pursuing barefoot running. Some of their shoes have garnered awards, great reviews and high ratings over the past few years of its existence, including the Newton Distance, Newton Energy NR, Newton Fate, Newton Gravity and Newton Motion among others.
Newton Running Shoes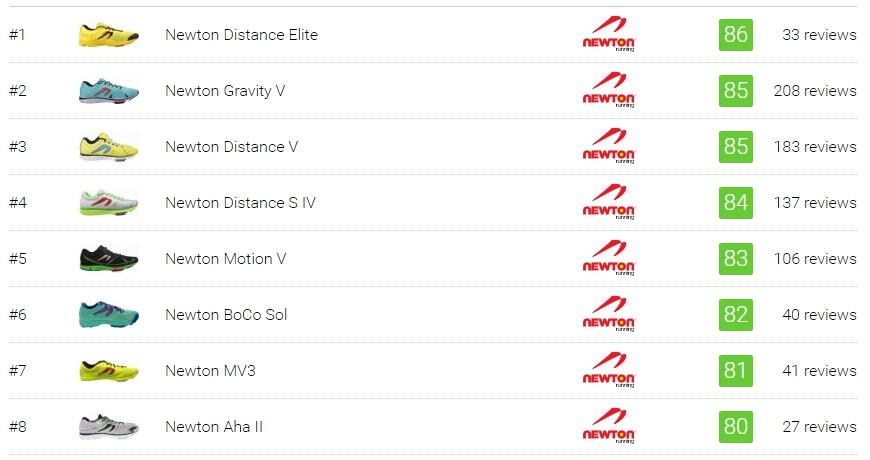 Since it is a niche brand, reading reviews about it will help you determine if it is a great brand for you. However, the men's and women's Newton running shoes are best judged after trying them on. Currently with 14 international patents under its belt, Newton is not stopping in designing and developing better platforms to serve the needs of the running community. Each pair is manufactured with performance and comfort in mind, but does not compromise on the natural foot motion, which is a signature in every shoe construction. Whether you want to hit the road or just seek the thrilling trail, Newton running shoes will keep you steady and stable on your feet.
Garnering awards and mentions in over 100, 000 shoe reviews, it is not surprising that Newton shoes have found a way in the performance collections of casual and professional runners. Despite being a young brand, Newton proved to be a rising star with its state-of-the-art technologies and innovative features. For more information about the brand, read reviews about the best Newton shoes.
Why do you need to buy Newton running shoes?
A natural running movement can be improved with the right kind of shoes. If you want to maximize the ground contact on your soles, Newton low drop shoes will not disappoint. However, if you need a minimal structure that is lightweight and flexible, the collection of Newton minimalist shoes can improve your natural range dynamics.
Racing is not for everybody; however, if you do want to pursue competitive running, the range of Newton race shoes available will thrill you. Each pair has racing- specific features to improve your speed on the trail or track
Neutral pronators (medium arches) and supinators (high arches) will surely handle the trail and track well with Newton neutral shoes. For over pronators, their need for pronation control and stability will be satisfied with the top- notch collection of Newton stability shoes and Newton motion control shoes.
There are two types of runners: those who stick to the road and those who want to explore the rugged wild. If you belong to the former, you need to invest in Newton road shoes because they can provide comfort, shock attenuation and responsiveness. Runners who are more of the latter will enjoy their pair of Newton trail shoes for their traction, waterproof features, debris protection and comfort on uneven ground.
Why are runners crazy about the best Newton shoes?
Pricing. The brand, Newton Running, has captured the hearts of minimalist runners anywhere, which is why their shoes are selling fast despite expensive pricing. Newton shoes do not go below a $100 price tag. In fact, the cost of some shoes could go as high as $180. Casual runners might not be keen to invest in a Newton pair, unless they are serious in pursuing a natural running movement. As for barefoot fans, the best Newton shoes have already had a place in their running shoe collections.
Shoe technologies. Despite being a young brand, Newton Running incorporates some of the best footwear tech into their award- winning shoes. Some of the best Newton shoes are built with top-quality features and innovations, like the Action/ Reaction Technology, SHARC outsole, ETC Sockliner and Point of Power (P.O.P.) technology among others.
Popularity. The Newton Running shoe brand is already becoming a rising star in the shoe industry, given that runners are already leaning towards a natural running movement. The brand's shoe collections are developed and manufactured with comfort and performance in mind, so you can expect top- quality platforms that could service any runner, from newbies to professionals. With its popularity rising, the best Newton shoes are raking in awards from various running authorities, like Runner's World, Outside Magazine and Competitor. Some of their accolades include "Product of the Year", "Triathlon Award" and the "Run Shoe of the Year".
This shoe has recently been added to RunRepeat. There are still not enough reviews for us to assign it a
Corescore
.
Corescore
A score from 1 to 100 that summarizes opinions from users and experts. The average Corescore is 78.
More...