Overall ranking lists
New Balance ranking lists
Indoor ranking lists
If bold is what you are looking for, look no further than the New Balance soccer cleats. Their collection of soccer cleats shows a range of vibrant colorways, outlandish designs and cutting-edge technologies that are sure to paint the pitch with eye-catching hues and remarkable style. Their vast selection of New Balance indoor soccer cleats is nothing short of stylish and innovative, as it showcases the brand's unique design perspective that players and shoe enthusiasts alike are sure to love.
A short history of New Balance indoor soccer cleats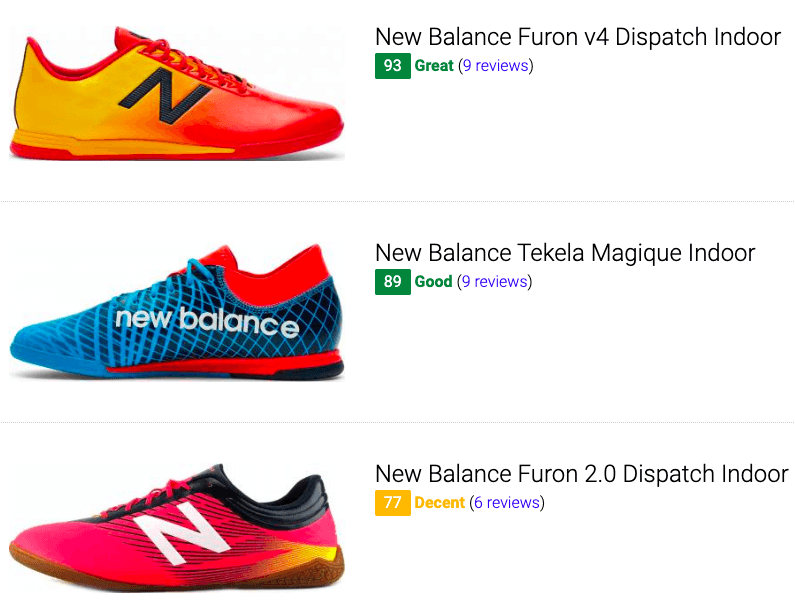 The story of New Balance dates back to 1906 when British immigrant William J. Riley founded the "New Balance Arch Support Company." The company's original vision was to create arch supports alongside other shoe accessories that helped improve shoe fit, particularly for the workforce. In fact, its first ever product was a flexible arch support that was engineered with three support points to offer enhanced shoe comfort and balance.
For a shoe manufacturing company as massive as New Balance, it may come as a surprising fact that the company did not begin making shoes until 30 years later. They started off producing sneakers. However, marketing was still mainly focused towards the workforce and arch supports.
Another big turn-around happened in the 1960s when the brand shifted their focus to creating athletic sneakers. This change led to the release of the "Trackster," the first ever running shoe designed with a ripple sole and varying widths. It wasn't long until the brand rose to popularity as it produced shoes with its own brand of comfort, style, and performance.
New Balance decided to enter the soccer scene in 2015. At the time, it was already a worldwide brand for athletes all over the world. As the company debuted its first range of soccer cleats, it showcased a new set of cleats infused with the company's expert knowledge on running and shoe design. The Boston-based footwear maker also carried with it a new soccer tagline that prompted players to "make chances" or "take chances."
Over the few years of its arrival to the soccer world, New Balance has indeed proven that it can run with the long-time and well-reputed brands like Nike, Adidas, and Puma. The company's keen eye on design, with special attention to player-specific data, has allowed them to create soccer cleats not only impress with looks but with performance, as well.
Anatomy of New Balance indoor soccer cleats
In the world of trainers, New Balance is no less than a household name. For decades, it has become one of the most popular footwear brands all over the world. As the brand literally sets foot on the soccer pitch, it brings its innovative designs that are well evident in the soccer cleat collections.
The New Balance indoor soccer cleat offerings display that unique flavor that the brand brings in their footwear. Here is a closer look at what makes up the standard New Balance indoor soccer cleat.
The outsole
The base of the typical New Balance indoor soccer cleat consists of a gum rubber outsole specifically engineered for indoor s. This type of sole unit features distinct patterns that help deliver the needed grip to perform with intensity on hard, indoor surfaces. Some designs, like those of Audazo soccer cleats, also incorporate the use of a TPU (thermoplastic polyurethane) compound to add durability without losing the lightweight feel.
The upper
As for the upper, the brand has utilized various materials for their New Balance indoor soccer cleats. Premium models like the Audazo 2.0 Pro ID use a natural leather upper. Meanwhile, other models like the Furon 3 Dispatch ID feature a synthetic PU (polyurethane) material. In more recent releases, the brand has also incorporated mesh into its upper construction.
One notable upper technology that the brand employs is the Ariaprene. Ariaprene is a high-tech, ultra-durable synthetic and hypoallergenic rubber with a foam core. Introduced first in the earlier versions of the Visaro, it helps create a breathable mesh upper that conforms tightly and comfortably to the foot. Moreover, its earth-friendly features help the brand achieve its core sustainability goals.
The midsole
The brand highlights a couple of cushioning systems for its New Balance indoor soccer cleats. One is the Fresh Foam EVA (Ethylene Vinyl Acetate) midsole that can be seen in indoor soccer cleats from the Audazo and Furon collection. This in-sock provides ultra-cushioning and comfort to ensure that players feel supported and have the freedom of movement to dominate the game.
Another midsole technology is the REVlite. This underfoot lining offers additional cushioning and shock-absorbing benefits to help players control the ball under high-pressure situations. This cushioning system also helps ease the pressure from the feet, so wearers can endure longer hours on the indoor pitch.
New Balance Indoor soccer cleats collection
More than just eye-candy, New Balance indoor soccer cleats impress not only with stylish design but also with excellent performance on the indoor playground. Currently, New Balance has released three cleat collections that showcase a range of New Balance indoor soccer cleats to match the need of every player.
Audazo indoor soccer cleats
The Audazo line is said to be a range of indoor soccer cleats designed for players who fearlessly "Run the Game." This cleat collection best suits players who think on their feet and play with the confidence and attitude to back up their skills. The highlight of this indoor release is the graphic print detail across its upper, showcasing how New Balance employs splashed paint effect in key areas.
When it comes to its tech specs, the Audazo definitely meets the demands of the small-sided game. Indoor cleats from this collection feature the brand's signature Fresh Foam in-sock that cushions and provides comfort. This layer offers support that gives players the freedom of movement to execute their game-winning moves. They also employ the REVlite underfoot that reinforces cushioning while offering shock-absorbing features.
Another cool feature of the Audazo range are the transparent panels seen on the sides and through the tongue. The mesh material that lines the upper offers breathability while enhancing fit. Moreover, this New Balance indoor soccer cleat collection also holds the signature New Balance shape through the forefoot.
Notable cleats from this collection include the flagship Audazo Pro IN and its successor, the Audazo 2.0 Pro IN.
Furon indoor soccer cleats
The Furon lineup has been created for players who aren't afraid to "take chances." Its design best fits players who love the high-impact, high-speed game. Compared to other indoor cleat models, this range comes with a stiffer soleplate that works to increase energy return and acceleration on the hard indoor court. It also utilizes a stud design created for straight-line speed.
To further enhance speed, the Furon indoor soccer cleat collection merges synthetic material with breathable mesh for the upper of its models. It also features a "fit cage" that offers support for the feet. Similar to the Audazo range, cleats from this collection also feature the REVlite cushioning for the insole.
Notable cleats from this collection include the Furon 2.0 Dispatch IN and the Furon 3.0 Dispatch IN.
Visaro indoor soccer cleats
New Balance says that it has created the Visaro line for those players who "make chances." That does not necessarily mean a position-specific creation, but rather a more philosophy-specific one.
Among the features of this soccer line is the Ariaprene upper that showcases differing textures meant to enhance ball manipulation. New Balance indoor soccer cleats from this collection also utilize a flexible soleplate that keeps players low to the ground. They also have a "medial pivot zone" that further adds flexibility, so wearers can execute quick cuts.
For cushioning, this range employs the Fresh Foam cushioning that was initially made popular in New Balance running shoes. This added detail minimizes foot pressure, enhancing comfort.
Notable cleats from this collection include the Visaro Control IC and the Visaro 2.0 Control IC.
Choosing the right New Balance indoor soccer cleat
Many would probably agree that picking out a soccer cleat that meets your needs is easier said than done. The truth is, selecting from a countless number of cleat designs can be quite tasking if not confusing. That is why it would greatly help if you had a guide to help you pick out the most suitable New Balance indoor soccer cleat that best meets your needs as an athlete.
Here are steps that will help walk you through finding the right indoor soccer cleat.
Know what you are looking for.
Since you've already determined the type of surface you are playing on, the next step is to figure out what you are looking for in you New Balance indoor soccer cleat.
If you are looking for speed, you should be keen on two key areas, i.e., weight and traction. Quick players will always be quick but having the right cleat on can make a significant difference during moments when you need to run past opponents. You can check out New Balance indoor soccer cleats from the Furon collection.
If you are looking for power, then you will need a soccer cleat that is sturdy and flexible. The New Balance indoor soccer cleat that you should look for is one that is solid and allows your foot to bend naturally.
If you are looking for comfort, that can be a bit tricky since comfort can be a very individual term. Then again, the standard is to look for New Balance indoor soccer cleats that have a soft, often leather upper. The Audazo line showcases a good lineup of indoor cleats with leather and soft synthetic uppers. Look for a New Balance indoor cleats with REVlite midsole and a Pro bank insert for added support during cutting movements.
If you are looking for control, you should pay particular attention to a cleat's friction, grip, and connection with the ball. You will want to go for New Balance indoor soccer cleats that have control elements.
Consider the weight.
One should never undermine the importance of a soccer cleat's weight. Cleats that weigh less have a tendency to make you feel faster and more on your toes. On the other hand, those that are heavier feel more solid and protective. In the end, it will all be a matter of preference since both ends of the scale offer their own advantages. One of the lightweight New Balance Indoor soccer cleats is the Furon 3.0 Dispatch Indoor.
Determine the material you want.
As mentioned earlier, New Balance indoor soccer cleats are engineered with different types of materials. Each type of material offers their own advantage to the wearer.
Leather. This is typically the most comfortable upper material. It offers a snug, form-fitting wrap around the foot. It also facilitates excellent ball touch that would give wearers a second-skin type of feeling when handling the ball. Kangaroo leather is the most premium class of leather, but calf leather also proves to be a great soft and more durable alternative.
Synthetic. With the evolution of shoe technology and design, synthetic uppers are also becoming more common. Compared to leather, this material is significantly more durable, thinner, and lighter. Some variants are even developed to mimic the softness of leather with less water intake.
Knitted. Made as a weave of synthetic threads, knit is said to be the upper material of the cleats of the future. It offers a sock-like and supportive fit sans the distractions.
Frequently Asked Questions
How can I take care and preserve the life of my New Balance indoor soccer cleats?
Every soccer cleat is an investment that would entail our care and concern. When it comes to getting the most out of your New Balance indoor soccer cleats, here are a few tips you might want to follow:
Remember to air dry your indoor soccer cleats after every practice or game. Not only will this practice minimize the odor and bacteria, but it also helps keep you New Balance indoor soccer cleats in top condition.
When cleaning leather soccer cleats, use a special leather oil that helps prevent bacteria that is the culprit of unpleasant odors.
You may use some disinfectant sprays to neutralize the odor by killing the bacteria inside you indoor cleat. Note, however, that this option is only a temporary relief.
When drying your New Balance indoor soccer cleat, avoid exposing them to heat. Instead, stuff your shoes with dry newspapers that can help absorb excess water from your shoe.
Store your New Balance indoor soccer cleats properly. Keep them in a dry, well-ventilated place away from direct sunlight. Also, avoid leaving them wrapped in plastic bags since this type of storage can create a moist environment for your soccer cleat.
Wash your indoor soccer cleats with cold water and use a soft-bristled brush to remove excess dirt.
What are the budget-friendly options coming from the selection of New Balance indoor soccer cleats?
New Balance is a brand known for its top-quality products. When it comes to their indoor soccer cleat selections, they provide players with a lot of options at a rather reasonable price point. Here are three New Balance indoor soccer cleats that are priced under a hundred dollars but still perform exceptionally on the playground.
Audazo 2.0 Pro Indoor - This New Balance indoor soccer cleat wears a light synthetic leather upper that gives optimum ball control and feel. It also utilizes a high abrasion toe cap and heel counter that offers superior durability that can take the beating of a tough indoor game. For its midsole, this indoor cleat features the Fresh Foam EVA that provides the needed cushioning of the foot. Meanwhile, its outsole is made of transparent TPU with an engineered nylon chassis. This sole unit efficiently delivers the needed traction in order to move with ease on hard, indoor surfaces.
Furon 3.0 Dispatch Indoor - Featuring a redesigned straight last, this New Balance indoor soccer cleat offers superior fit and comfort for its wearer. Its upper is made of synthetic PU that employs a textured surface to enhance ball control. Compared to its predecessor, this soccer cleat sports an all-new rubber indoor sole that provides reliable grip and traction.
Visaro 2 Control Indoor - Set with a textured PU upper, this New Balance indoor soccer cleat offers a snug and durable fit alongside an enhanced feel of the ball. It also features an EVA footbed that provides underfoot padding and comfort. For its outsole, this indoor cleat wears a rubber molded sole unit that delivers multi-directional traction and acceleration on polished indoor surfaces.
How can I tell the difference between New Balance indoor soccer cleats and turf soccer cleats?
Upon hearing the word "trainers", players understand this to refer to both indoor and turf soccer cleats. As much as brands release almost identically-looking turf and indoor models, it is wise to know the difference between these two cleat types.
Turf soccer cleats usually sport an extremely durable rubber outsole. Its distinction is evident in its sole unit, since it features small rubber nubs that work to improve traction on hard, natural fields and artificial turf.
In comparison, indoor soccer cleats typically wear a gum rubber flat outsole. However, instead of elevated bumps, their outsole utilizes patterns that help deliver the necessary grip on indoor facilities like indoor s and gyms. These soccer cleats also work very well when worn for leisure and street wear since it has a lower profile fit and it looks like a lightweight sneaker.
1 best New Balance indoor soccer cleats
New Balance Tekela Magique Indoor
This shoe has recently been added to RunRepeat. There are still not enough reviews for us to assign it a
CoreScore
.
CoreScore
A score from 1 to 100 that summarizes opinions from users and experts. The average CoreScore is 78.
More...