Overall ranking lists
New Balance categories
New Balance has made significant contributions to the footwear industry. Slowly paving their way into the football market, the brand made strides considering their late association in the field in 2015. Although the brand has cemented their place in the other shoe markets especially in running shoes, they are slowly establishing their footing in the football arena.
History of New Balance football boots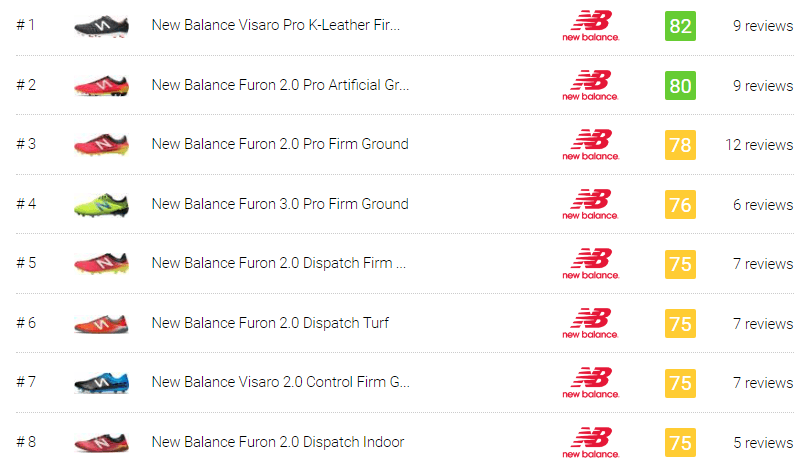 The New Balance brand was founded on a single concept in mind - arch supports. Starting in 1906, the company since then has expanded their product line and has become one of the most respected shoemakers in recent history.
It is quite curious how the founder, William Riley, got his idea about arch supports; it was by observing chickens. Opting and aptly naming his company 'New Balance', Riley noted how a chicken's three toes created a perfect balance. With this idea in mind, he incorporated a three-prong design in his arch supports. The company created a niche market for people on their feet during long periods of time (mainly police officers and firefighters).
Although known in smaller markets for their quality products, New Balance did not reach a wider audience until they released their first running shoe, the 'Trackster' in the 60s. Being the first athletic shoe with ripple-sole design, the Trackster made waves among runners across the nation and eventually among track stars.
Armed with quality products, New Balance refused to sponsor teams and heavily relied on word-of-mouth and trusting that people would choose their products based on quality alone. Eventually, the company grew more, and in 1970, an opportune moment came for the 'Trackster' (as well as the brand) when it exploded hand in hand with the flourishing jogging scene in Boston.
Since then, the brand has risen to be one of the top and the most trusted shoemakers worldwide.
Although New Balance is mostly known for their contributions in the running market, it was in the early 2000s that the brand made its initial mark in the soccer market through their affiliate company, Warrior Sports. New Balance seeing the promising success of their soccer cleats under the Warrior brand, decided that it's time to open their doors to a wider audience and expand their product line.
Using New Balance's reputation in shoe-making, the brand's football boot models were officially unveiled in 2015. Straying away from tradition, the company partnered with celebrated soccer athletes including Aaron Ramsey, Adnan Januzaj, Vincent Kompany and Jesus Navas (to name a few) to market their cleats.
With the late start, it's quite obvious that the brand has a long way ahead of them with giants in the industry with the likes of Nike and Adidas; but the brand already has a game plan on hand - taking a different approach by developing football boots focusing on two types of players. So far, the brand has released two silos, namely the Visaro and the Furon.
New Balance football boot silos
Taking a different approach from other football brands, New Balance created football boots according to a player's mindset on the pitch. The brand is backed by much research as well as years of experience in developing New Balance running shoes - the brand released the Furon and Visaro silos. Here's a breakdown of what each has to offer on the pitch:
New Balance Furon: Taker of Chances
Described to be the ideal football boot for 'destructive players,' the Furon is designed for pacing and finishing. Bringing with it a lightweight construction and feel, the Furon gives way to more freedom in movement as well as quick transitions during fast play. This cleat caters to a more forward-facing game and aimed at players looking to score and win the game.
When the first Furon model was released in 2015, the feedback was generally good - regarding fit, comfort as well as durability. The brand has come a long way with their newest release in 2017. Staying strong with their third-generation release, the Furon silo is here to stay.
New Balance Visaro: Maker of Chances
Furon's another half is the Visaro. Designed for the creative playmakers in mind; athletes with the likes of Aaron Ramsey, Samir Nasri, and Vincent Kompany are just some of the stars that sport the Visaro on the pitch. Dubbed as the go-to football boot for chance-makers in the court, has a different construction from the Furon.
The Visaro brings with it a snug and comfortable fit. The first model released featured an 'Ariaprene upper' which gave players consistent control wherever the ball lands on the boot. The latest release from this silo has been the New Balance Visaro 2.0.
New Balance football shoes according to surface
Football boots are categorized according to court types. New Balance football boots are no exception. Different football boot categories are as follows:
Notable features of New Balance football boots
It is quite understandable that the number of New Balance football boots are not as numerous as other brands. This is because they are relatively new to the football market. But this fact has not hindered the company from producing quality football boots and come up with technologies/ features unique to the brand.
Wider Width - One of the most notable features of a New Balance boots is the availability of wider cleats Starting with the 'Trackster,' New Balance did not forget about its roots when they decided to release soccer boots that have a broader fit. Models with a wide fit belong to the 2E or EE size creating a wider soleplate.
Fantom Fit Technology - A technology initially from the brand's running shoe line, Fantom Fit has also been incorporated into the brand's soccer shoe models. A combination of synthetic and mesh, it's no surprise why New Balance chose this tech for their football line as it brings a lightweight and breathable feel to the shoe.
Fresh Foam - Fresh Foam is another technology that was adapted from the brand's sneaker line. Using EVA (which is a common among football boots), this cushioning system provides comfort and a more responsive feel to the shoe.
REVlite - A midsole technology, REVlite is also one of the company's tried-and-true techniques in shoe construction. It is a foam-based material that gives way to durability and optimal responsiveness equivalent to foams that are 30% heavier than it is. This technology has been featured in the New Balance Audazo Indoor.
Undoubtedly, New Balance ruled the running industry with their quality shoes and innovative football boot designs. Now, they're trying to do the same thing on the soccer world. Utilizing their know-how from developing running shoes, the brand is sure to make their mark in the soccer field in the coming years.
What are the things to consider when buying a football boot from New Balance?
Buying new football boots can be quite tricky. So, there are several things that one should keep in mind when purchasing a pair of New Balance Football boots (or football boots from other brands like Adidas, Nike, Puma, and Umbro.). Below are a few things to look out for when having to choose a new football boot:
Materials
The material used in the boot construction can profoundly influence a soccer cleat's comfort as well as fit. Starting with the uppers, different brands utilize various elements for their boots.
While New Balance mainly utilizes synthetics and leather for their uppers, it's also good to know what other materials are available in the market.
A tried and tested favorite among football players and professional athletes; leather is considered a premium material used in the boots' upper. There are several types of leather, but the most revered is Kangaroo leather because of its breathability and fit. Although there are a lot of upsides to leather, it is important to note that there are downsides to using this material, too. One, they are not waterproof and, second, they can be quite expensive.
Synthetic Leather. In the effort to recreate the feel of natural leather while remaining waterproof, football companies are now developing synthetic leather. Although coming close to natural leather concerning fit, companies are not there yet in mimicking the ball touch of natural leather.
There are several upsides in using synthetics - it's lightweight, durable, and relatively inexpensive. However, it can affect performance as they are not as comfortable as leathers.
Mostly found in running shoes, mesh is a new trend that's gaining momentum in soccer cleats. While it brings a lightweight feel, it can be quite inconvenient on the pitch when it soaks up moisture which consequently lets it carry more weight.
New to the market, knit brings with it a unique feel to the ball. Because this material is highly textured, it also provides good ball control.
Size
In an effort to be more inclusive and to appeal to a broader market, New Balance released wider-fitting cleats. Allocating a wider space for the soleplate, the brand released wide fit models which are under the 2E or EE range.
Cut
New Balance mainly offers low top football boots. With a collar that lies below the ankle area, this type of cut gives the player more freedom of movement.
Although it's not part of New Balance's offering, another type of cut available for football boots is mid top. Extending up to the ankle, this collar type aims to create stability and support.
Fit
Another important factor to consider is fit. Although what it boils down to is personal preference, a good fit normally involves a material that hugs around the foot while maintaining comfort and breathability. Ample space should also be available between the toes and the upper while providing a secure foot lock-down.
Frequently asked questions
Is New Balance similar to Warrior Sports?
Warrior Sports is a company under the New Balance brand. Initially, it was Warrior Sports released football boots. Seeing Warrior's initial success in the soccer market as promising, New Balance decided that it's time to expand and reach out to a broader market. In 2015, New Balance officially announced their decision to join the soccer industry.
Regarding product, this is where the two brands differ. While Warrior Sports relied on interesting boot tech names, New Balance took a different approach and kept things simple with the release of their two silos.
What football boot fits which position on the pitch?
One's playing style is a significant factor in choosing the perfect boot. A good place to start is matching your boot to your position on the field; the boot that one chooses should complement the skills that are needed in performing that position.
A football boot with great traction is ideal for this position as well as a good strike zone which can accommodate back-passes and kick-outs.
For this position, a football boot that can take a beating is necessary. Defenders stand in a tough position so, cleats that provide decent protection, power and stability is a must.
Comfort and control are key for midfielders. Players need to last for 90 minutes running up and down the pitch hence, comfort is essential. Additionally, control is necessary and even more so when a player is on the offensive set.
Football boots that are best for wingers should be lightweight and can adapt to quick direction changes.
A football boot that optimizes power and a lightweight feel is the perfect match for players in the forward position.
This shoe has recently been added to RunRepeat. There are still not enough reviews for us to assign it a
Corescore
.
Corescore
A score from 1 to 100 that summarizes opinions from users and experts. The average Corescore is 78.
More...