An Overview of Native Shoes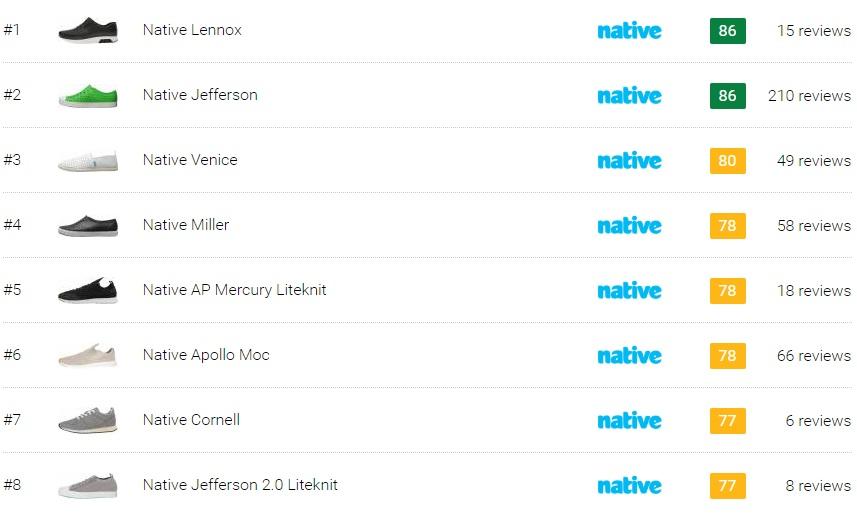 Native Shoes: How It Started
A relative newcomer to the field of shoemaking, Native Shoes has quickly gained for itself a lucrative slice of the market dominated by giants such as Nike and Adidas. Founded by Canadian Damian van zyll de Jong in 2009, the concept for the British Columbia-based footwear company started two years prior. Although an avid sneaker collector himself, Damian had no real experience in making shoes but wanted to create a whole line of footwear with injection-molded EVA soles.
Damian spent a year in China learning about the manufacturing process before starting his company. In 2011, just two years after the brand was established, it could already be found in 30 countries. By 2018, the brand has gained dedicated followers everywhere from the U.S. to Southeast Asia and is sold in more than 1,000 retailer accounts in the U.S. including Undefeated, Amazon, and Nordstrom.
What Sets Them Apart
Native Sneakers use the tagline, "Keep It Lite." Not only does the company work on the idea that its footwear should feel light on your feet, but the brand also wants to simplify your day by giving you perfectly-styled, easy-to-wear shoes without too many embellishments.
Native Sneakers are also known for creating completely EVA-molded units. Since these shoes are made of closed-cell foam, nothing can penetrate the skin which makes their shoes anti-microbial. (No more need to fear stinky-smelling shoes!) Not only that, this cool brand can inject scents into their shoes through their innovative manufacturing process. Cherry, banana, or strawberry scent anyone?
Making a Difference
The brand has recently introduced The Remix Project which is about collecting old and worn-out Native sneakers, recycling them, and turning them into something super helpful for the community. Your used kicks might be turned into insulation, playground flooring, and more. Their goal is to get 10k shoes turned in by the end of December this year to create a whole playground.
Beast-Free
Native sneakers are certified as vegan. The beast-free label means that the brand does not use any part of an animal to create these beautiful kicks that you love. The company has also been given a PETA Approved Vegan certification.
The Sneakers: Cuts, Styles and Colorways
Native sneakers are designed to be easy-to-wear, and suitable for everybody. From slip-ons/low-tops to high-tops and playful to staid, the brand has everything you could want for any occasion.
They can be divided into three types as most casual kicks. Low-tops, mid-tops, and high-tops. What are these?
Low-Tops
These shoes' collars barely reach the ankles. They're excellent for allowing quick movements such as twists and turns. Examples below:
AP Mercury Liteknit - Meticulous woven patterns of interlocking fabrics make up the AP Mercury Liteknit's uppers. Using Native's own fabric tech, the LiteKnit, the sneakers are just as the name suggests—lightweight with a painstakingly put-together weave that harkens back to the past. The shoes sit atop SuperFoam insoles.
These shoes will put a bounce to any person's step with their sleek profile, cool tonal shades, and charming speckled laces.
Colorways: Available in Jiffy Black, Regatta Blue, Mist Grey, Sherbert Blue, Sunny Green, Shell White, and Taro Purple.
Style Guide: These are perfect kicks for hanging out with friends. Women can don these sneakers in any colorway with a knotted tee and ripped white jeans. Men can put on a plain white tee and trousers with rolled up bottoms. Brown or orange pants can look good with the grey and white shades while blue or white bottoms will look good with any of the colorways.
Native AP Moc - These fresh low-top Native sneakers sport MicroFiber uppers, Superbuck gussets, and EVA outsoles making them weigh an incredible six ounces only per shoe. Perforated detailing on the forefoot provides added breathability.
Colorways: Monochromatic is the name of the game with these kicks. Available in plenty of hues to choose from including Dublin Grey, Jiffy Black, Regatta Blue, Almond Beige, Torch Red, Sunset Orange, and White.
Style Guide: Combining style and functionality effectively, these cool shoes can take you from errand running to casual Fridays. Women, be bold and pair these shoes with a nude sheath dress and a pretty jacket. Men, wear it smart casual-like by putting on a long-sleeved button-up shirt and trousers.
Native Cornell CT - These are Native's first shoes to sport its Beast-Free ultrasuede fabric. The toeboxes sport perforations to maximize airflow while ultralite rubber soles perfect and stabilize each stride.
Colorways: The Cornell CT is available in two colorways—Sky Blue CT and Shell White CT. Dual-colored midsoles add an interesting contrast to the monochromatic hue of the uppers.
Style Guide: These sporty Native sneakers would look really good with your everyday casual outfits. Men can match these with joggers and plain tees. Women can opt for a tee and a short denim skirt or yoga pants with mesh panels.
Native Jefferson - These smashing low-tops combine the best features of Native sneakers. The shoes are odor-resistant, hand-washable, shock-absorbent, and as always, Beast-Free. Injection molded EVA construction keeps the weight light along with perforation details all throughout the shoes.
Colorways: Fans of this model will have lots of colors to choose from with 16 shades of plain and contrast colors in the collection along with print and marbled designs. Different shades of blue, pink, green, and more await.
Style Guide: These sunny shoes are the ideal footwear for the summer season or a trip to the beach. You could do worse than pair these with bright shorts, a cute shirt, and floppy straw hat.
Native Jericho - The Jericho is an ideal model in the Native stable of EVA ancestry. With a construction made from injection-molded EVA and rubber rand and incorporating some of the best Native features—odor resistanct, hand washability, and excellent shock absorbency—these Native sneakers are bound to be a classic.
Colorways: These stylish exclusive for women's kicks are available in five colors namely, Milk Pink, Lavender, Pigeon Grey, Surfer Blue, and Shell White.
Style Guide: These shoes will help you look good while being perfectly functional. Take a trip downtown in these pretty kicks with a pastel sweater, matching pants, and a cream coat. We're sure you're bound to get some admiring looks your way.
Native Lennox - The Lennox is an urban silhouette that takes its cues from classic running shoes. Made with a dual density EVA and constructed with three-part injection molded EVA, these kicks are sure to make each stride you make as smooth as the last.
Colorways: These unisex sneakers come in five shades with the heel part of the soles matching the color of the uppers. Available in Mist Grey, Jiffy Black, Pigeon Grey, Regatta Blue, and Shell White/Bone White/Pigeon Grey.
Style Guide: Keep it casual and cool with these styling kicks from Native. Women might want to pair these shoes with dark blue capris and an olive button-up olive shirt with ¾ sleeves. Black culottes and a sleeveless top in the same color would also do the trick. Meanwhile, men could don these plus slim pants in a light-colored hue and a camouflage shirt.
Native Venice - These slip-on Native shoes are plain magic. They feature fiber uppers that provide a flexible fit, removable foam insoles, and EVA outsoles that keep you feeling like you are walking on clouds.
Colorways: This model comes in two colors—Shell White and Jiffy Black—although there are also print treatments available.
Style Guide: Take a walk in the park with these babies and prepare to break necks. A long-sleeved checkered button-up shirt with folded sleeves and casual slim pants in black are your perfect go-tos for a lazy Saturday afternoon look. A cute short cotton jumpsuit would also be an excellent match.
Native Miller - These low-top beauties feature the classic perforation details that Native sneakers are known for. The shoes are also odor-resistant, lightweight, and hand-washable.
Colorways: Print treatments and three solid colorways are available for this model. Pigeon Grey, Regatta Blue, and Jiffy Black uppers sit on contrasting white soles.
Style Guide: Girls, get a fun, everyday look by pairing these kicks with a long, brightly-colored sleeveless top and khaki shorts. Another comfy ensemble is a midi skirt with a white blouse. Men can go the tonal blue route by pairing any colorway of these shoes with dark blue jeans, a light brown button-up shirt, and a denim jacket.
Native Miles Denim Print - The Miles silhouette is the slip-on brother of the popular Native Miller. This time though, the Miles has been given a denim construction and eye-catching graphic prints of bold and striking hues. The shoes have a streamlined profile perfect for on-the-go adventurers. EVA cupsoles with painted pipings nicely round off these kicks.
Colorways: Vivid prints available for these men's Native shoes and women's Native shoes are as follows: Rainbow Wave and Surfer Wave.
Style Guide: The sun's out and shining, making a trip to the beach a no-brainer. A dri-fit sleeveless shirt for men coupled with beach shorts and these shoes look totally relaxed and cool. Women, you can don these kicks with a pretty sheath dress in a solid hue for more emphasis on the shoes.
Native Cruz - The Native Cruz makes the heat bearable. With a breathable mesh upper, neoprene collars, and a laidback vibe, the summer season is definitely one to look forward to.
Colorways: Three breezy colorways are available for this model, namely, Bone White, Jiffy Black, and Victoria Blue.
Style Guide: Slip on those dark glasses, put on a comfy white long-sleeved shirt with the front tucked in, don a pair of ripped black jeans, and go out to greet the lovely sunny weather. Men can take these mesh Native shoes and match them with a polo shirt and chino shorts for a relaxed vibe.
Mid-Tops
Kicks with a mid-cut style reach the ankles and may go slightly above them. These offer more support with the advantage of still allowing lots of freedom of movement. Examples below:
Native AP Chukka - These mid-top Native sneakers add a bit of height to the brand classic, the AP Moc. While the AP Moc looks futuristic, the AP Chukka feels more like a modern take on a desert boot, with their very lite frames. The uppers are made of perforated microfiber and the shoes sit on a bed of SuperFoam insoles.
Colorways: These ruggedly handsome Native shoes are available in three dark shades which are Dublin Grey, Jiffy Black, and Regatta Blue. All three sit on Shell White-colored outsoles.
Style Guide: Who says Chukkas are only for rugged and casual wear? Kick your style up a notch by pairing these Native sneakers with a blue check suit and navy polo shirt. Women can go effortlessly chic by matching these shoes with skinny jeans, a tank top, and a black leather jacket.
Monaco Mid Non Perf - The Monaco Mid Non Perf is a taller silhouette based on the Monaco Low. It borrows many of the same features of the original version including no-sew accents on the eyelets and heels, single-piece EVA cupsoles, and fresh debossed microfiber uppers.
Colorways: There are four colorways available for this rocking silhouette—Rocky Brown, Regatta Blue, Pigeon Grey, and Jiffy Black. The shoes sit upon Shell White soles.
Style Guide: Your sporty mid-top Native sneakers can be worn with a low-key refined look. Stay away from loose-fitting denim and instead put on slim chinos/or trousers with elastic cuffs, a plain tee or ribbed sweater, and these babies.
AP Chukka Hydro - Rest easy during bad bed weather with these beauties. The AP Chukka Hydro sits on an Apollo platform and features heavy-duty three-ply assembly uppers that have been given a water-repellant treatment—Defender Repellent Systems with Scotchgard™. Walking in the rain has never felt so good.
Colorways: Fans of this model will have three colors to choose from: Howler Brown, Jiffy Black, and Regatta Blue.
Style Guide: Women, go slightly edgy with these babies. You can style these Native sneakers by matching them up with skinny jeans, a cute shirt, leather jacket, and an Infinity scarf. Meanwhile, men who prefer the preppy look can make these shoes work for them. Don blue slim jeans, a turtleneck in a dark color, an overcoat in an olive or camel hue, and these kicks and you're sure to wow the collegiate crowd.
Monaco Mid Canvas WX - The Monaco silhouette comes back with a vengeance. This time, these Native shoes get covered in waxed canvas with microfleece linings. Still as comfortable as ever with the Superfoam insoles and bearing that classic ultra-lite frame. Matte metal eyelets, single piece EVA cupsoles, and printed heel accents complete the look.
Colorways: Two waxed canvas colorways are available to satisfy your sneaker cravings. The shoes can be purchased in Shell White and Jiffy Black colors.
Style Guide: Who says mid-tops are hard to style? These Native kicks have a retro vibe that are just so effortlessly trendy. Pair these sneakers with a cute black mini skirt, a V-neck top, and a classic varsity bomber jacket for that All-American look. Men, take that vintage shirt, put on slim-fitting jeans, and don these kicks for a stylish, nostalgia-filled ensemble.
Native AP Proxima - The AP Proxima silhouette is a newcomer in the Native shoes stable and is destined to be a favorite. The shoes combine fashion and performance quite well. Just look at the Liteknit uppers that keep the feet breathing, the elasticated collars that keep feet secure yet easy to slip on and off, and the rugged soles that provide enhanced traction. Superfoam insoles bring excellent shock absorption while the one-piece construction keeps things ultra-lite.
Colorways: Monochromatic works with these kicks. The shoes are currently offered in a couple of colorways only—Utili Green and Jiffy Black—but these.two will work wonders with any outfit.
Style Guide: Turn the sidewalk into your own personal We recommend that women wear these rad shoes with skinny hipsters, a crop top, and a green coat. For men, black chinos and a black leather jacket paired with these kicks are the perfect current ensemble.
High-Tops
High-tops go well past the ankles and provide lots of support.
Native Jefferson 2.0 High Liteknit - These high-top kicks with a sock-like fit are the latest addition to Native's Jefferson collection, bringing the total number to three. The Jefferson 2.0 High Liteknit boasts of a 3D stretch fabrication, breathable knit construction, recycled Elastilite insoles, and a zero-waste production process.
Colorways: There's definitely something for everyone with the range of colorways available for this model. There are currently 7 shades offered, namely, Dublin Grey, Jiffy Black, Mist Grey, Regatta Blue, Root Red, Shell White, and Utili Green.
Style Guide: These stylish modern shoes are the perfect accompaniment to short black skirts and dresses. Accessorize with a brilliant-colored matching bag or belt for a pop of color. You could also match them with selvedge denim and a knitted sweater.
Native Chamonix - These eye-catching sneaker boots, named after the highest summit in the Alps, will amplify your style amid the cold, winter season. The Chamonix is a beautiful silhouette that provides ultimate warmth. The shoes' Glacierguard tech reflects heat back into the boots while Defender Repellent Systems with Scotchguard gives excellent water resistance. Microfleece linings keep the insides soft and snug.
Colorways: Three standout colors are offered for this model. Buy these Native sneakers in Cold Pink, Jiffy Black, or Utili Green.
Style Guide: Why sacrifice style for function when you can have both? Take these kicks with you wherever you go, even to the top of the mountains. For women, pair with tight-fitting jeans and a fleece sweater or a maxi dress and a long-sleeved top. Men can use these with chinos, a button-up shirt in the same hue as the shoes, and a fleece jacket in a darker shade.
Collaborations
Collaboration is the name of the game for lots of brands. It keeps the offerings exciting and new, and infuses classics with a new creative look. The Native brand is not a stranger to this. In fact, a few of their collaborations are cited in lists of some of the best recent collab sneakers.
COMME des GARCONS x Native Shoes
The co-collaborator: Comme des Garçons is a Japanese fashion label founded in 1973 by Rei Kawakubo. The company is based in Tokyo but maintains an office in Paris, in the Place Vendôme, and has boutiques scattered in Asia, Europe, and the U.S. The unconventional brand is often associated with "punk" and "distressed" styles as well as their signature dot prints.
The shoes:
COMME des GARCONS x Native Jefferson Polka Dot
The so-called "footwear of the future," the Jefferson, has been given a facelift with this COMME des GARCONS 2013 collab. Two versions of the silhouette came out, one in Jiffy Black and another in Regatta Blue. Both pairs featured white polka dots all throughout for a decidedly clean look.
PLEATS PLEASE Issey Miyake x Native Shoes
The co-collaborator: PLEATS PLEASE Issey Miyake is a clothing line under the Japanese fashion house, Issey Miyake. The collection is known for their signature "garment pleating" technique where materials are made from a single thread and pleats added after the clothes are sewn into shape. Clothes in the PLEATS PLEASE Issey Miyake line are also popular for their functionality—lightweight, wrinkle-free, compact, bold, and versatile are adjectives that come to mind, all of which they have in common with Native Shoes.
The shoes:
PLEATS PLEASE Issey Miyake x Native Jericho
One of Native's classics has been given a summery overhaul in these 2014 rendition of the Jericho slip-on. Available in eye-catching color-blocked hues of Cantaloupe Pink/Crayon Yellow, Jiffy Black/Galaxy Blue, and Fresco Green/Shell White, they are the perfect example of a PLEATS PLEASE product with their ability to fuse boldness and fluidity. These are the ideal footwear for playing frisbee in the park, walking the dog, or biking in the village.
PLEATS PLEASE Issey Miyake x Native Apollo Moc
After the brand's successful collaboration with the Issey Miyake line, they returned in the Spring of 2015 for an even more vibrant collection. This time, they chose to focus on the Apollo Moc and deck the silhouette in five brilliant colorways. The perforated Native sneakers were offered in Mustard Yellow, Dark Grey, Orange, Light Grey, and Royal Blue with a 3D printed glossy color at the heels.
A 2016 update of the collab, meanwhile, had three versions in Dublin Grey, Quail Purple, and Mustard Yellow with speckled insoles thrown in.
Hypebeast X Native Shoes Fitzsimmons
Nope, these are definitely not sneakers but hiking shoes. However, we thought they deserved a mention for being such a standout.
The co-collaborator: Hypebeast is a digital media company founded by sneaker culture blogger, Kevin Ma in 2005. They offer content on fashion (streetwear and contemporary clothing) and lifestyle. The company is famous for their sneaker culture editorials and have collaborated with brands such as Puma, Gucci, and The North Face in the past.
The shoes:
Hypebeast x Native Fitzsimmons
These limited-edition kicks are inspired by the classic looks of fall and winter boots. These are just as lightweight as your favorite Native sneakers but are built for tougher weather conditions. The Hypebeast collab shoes feature brown uppers and red soles and laces.
Collections
Native Shoes has churned out dozens of well-received models and this success has resulted in several released collections. Some of the more recent and popular ones include the following:
Citylite Collection - Native sneakers under this line are designed to withstand all kinds of weather. Their all-season shoes feature grippy rubber soles and uppers treated with the Defender Repellent System with Scotchguard.
Liteknit Collection - This collection features Native sneakers that are made with stretchy knit materials and have a sock-like fit.
Monaco Collection - This collection of Native sneakers is all about stripped back designs, minimal panellings, and comfort via the latest EVA sole technology. The collection includes low and mid-cut versions to please the most demanding customer.
Native Shoe Techs
Native Shoes' main draw is combining fun styles with innovative technology to bring you vibrant and quirky shoes that have a whole lot of personality. Here are some of their shoe techs:
Liteknit - This is Native's answer to other brands' woven upper technology. The Liteknit is a stretchy fabric that conforms to the shape of the feet yet can stand alone and hold its shape. Seen on the Native Jefferson 2.0 and other models.
Dynalite - Native's outsole technology provides the ultimate rebound and comfort to keep the spring in your steps. Can be found on the Native Apollo 2.0 among other Native sneakers.
Glacierguard - Cold is no barrier to fashion as Native's Glacierguard are designed to keep the heat in your shoes by reflecting it back inside. Featured in the Native Chamonix.
Elastilite - The Native brand has always been aware of the impact of waste on our Earth and have been providing numerous ways to leave as little footprint as possible. The Elastilite is one such way. Made from re-ground materials, Elastilite insoles cushions every step and absorbs the shock of each stride you make. Featured in the Native Jefferson 2.0.
Superfoam - This insole technology keeps Native sneakers incredibly lite yet incredibly comfortable. Can be found in the Native AP Mercury Liteknit - Mochi.
FAQs
We've rounded up some questions several people have asked about Native shoes and here are our answers to them.
Q: Where did the name Native come from? And why was it chosen as the brand name?
A: The name Native was taken from the Latin word nativus which means the place a person is born in. The name was chosen on the idea that all of us are native to somewhere. The shoes are designed for people of all places and for a broad range of climates.
Q: How do Native sneakers fit?
A: It really depends on the user as fit would be hard to estimate since several Native shoes don't have half sizes. Width also varies from style to style. We would recommend fitting a pair at the store to find out your Native sneaker size before buying one online.
Q: Are Native shoes unisex?
A: For the most part, yes. Unless otherwise specified.
Q: What can you say about their comfort?
A: Native sneakers are generally comfortable according to plenty of reviews. They are specifically built to be light to be the perfect accessory to any adventure you want to go on.
Q: What about these shoes' traction?
A: These kicks' traction depends on the model. Some silhouettes like the Native AP Chukka Hydro, which takes inspiration from hiking boots, are grippier than other models designed for casual city walks. However, Native sneakers generally have good traction.
Q: Can I wear my Native shoes under all weather conditions?
A: Again, this depends on the model. Some silhouettes with uppers made up of fabrics like the Liteknit or waxed canvas won't be ideal during wet weather—even if they are washable— if you need to keep your feet dry. A lot of models also feature perf details which would be perfect for walking by the pool or beach, but not, if you hate getting your feet wet. If you must go out during bad or wet weather conditions, try choosing Native sneakers treated with Defender Repellent Systems with Scotchguard such as the Chamonix or any from the Citylite collection.
Q: Can I use my Native sneakers for sports?
A: Sure. But please remember that sneakers are primarily for lifestyle use and are not specially designed for any athletic activity, although some of these cool sneakers would serve well when utilized for running, walking, or any sporty occasion. Native Shoes does have some really lovely hiking footwear if you need them.
Q: How do I take care of my shoes? How do I prolong their life?
A: Make sure you keep your shoes clean after every use. Also, let them breathe by interchanging the pairs you wear. And never, ever use a washing machine or dryer to clean your shoes. Native shoes made of EVA are heat-formed so exposing them to heat may deform them.
Q: How do I clean my Native sneakers?
A: Fortunately, Native shoes are quite easy to clean. EVA models are washable, and a wet cloth or brush should be enough to get the dirt or dust off. Non-EVA shoes, meanwhile, can be cleaned with a soft bristle brush to remove dirt. You may use mild dish soap to do this. Run warm water over the outer surface of the shoes to rinse them off and completely dry off. Don't forget to wash the insoles separately.
Q: How should I store my shoes?
A: Completely dry. Your shoes should not be damp or have any trace of moisture at all before you store them away. Also keep them away from direct sunlight or heat, even leaving them in hot cars is a no-no.
Q: Where are Native sneakers made?
A: Native Shoes currently has factories operating in Vietnam and China.
Why should you buy Native shoes?
To summarize and end this article, here are five reasons to buy Native sneakers, just in case you still need that little bit of push.
You can wear these kicks anywhere. The shoes are designed for any adventure you want to go on. From something as simple as playing skip on muddy puddles to running on trails, Native Shoes has something for everyone. Plus, they're all washable and odor-resistant. (This is really important for some.)
Native sneakers are BPA+phthalate-free. They are also REACH + CPSIA compliant, which means they're not only safe to wear for you but for your kids too.
They're green! The brand is conscious of leaving as little waste footprint as possible on this earth, and all Native sneakers are created with this in mind. They recycle all parts of the shoe and vegans can wear them with no guilt whatsoever. I mean, vegan leather? Yep.
They're comfy. They're lightweight, they mold to the feet, and they're shock-absorbent. The EVA shoes may be made from plastic, but they're very soft. What more can you ask for?
Last but not least, they're stylish. Native shoes come in solid and color-blocked colors, pastels and vivid shades, and even glitter.
2 best Native sneakers
Native AP Mercury Liteknit
Native Apollo Moc
This shoe has recently been added to RunRepeat. There are still not enough reviews for us to assign it a
CoreScore
.
CoreScore
A score from 1 to 100 that summarizes opinions from users and experts. The average CoreScore is 78.
More...