Overall ranking lists
Narrow ranking lists

Have you ever experienced that mind-blowing relief when you take off your shoes at the end of the day? If you have, there is a big chance that you were wearing the wrong pair. Shoes were never intended to serve as torture devices. They should feel more like a supportive friend who stays there for you throughout the entire day and only leaves pleasant memories when you two separate. That's why it is essential to choose your walking companion wisely.
A perfect walking shoe will support your foot securely while offering enough space in the forefoot to keep your toes relaxed and ready for action. But people's feet are so different! It is entirely possible that three people with the same US size 7 can feel different in the same shoe: it could be too tight for one, just perfect for another, and somewhat loose for the other. How can a shoe manufacturer create a model that would cater to all these various characteristics?
The answer lies in narrow, medium, and wide width profiles. In this article, we will take a closer look at the walking shoes designed for people with slim feet.
What is considered a narrow walking shoe?
"Narrow" and "Extra Narrow" profiles indicate that the shoe has a thinner construction than a standard "Medium"-width trainer. To give you a general idea, a Narrow width is typically 0.1 to 0.4 inches smaller in the forefoot than the Medium profile. It seems like a tiny difference but can reduce the extra space and make the fit that much snugger and more secure.
Unfortunately, there is no one standard of shoe widths among the manufacturers. As a result, each brand uses their own parameters for categorizing shoe widths. Nevertheless, certain consistency can still be found among the companies operating in North America:

Do I need a narrow width?
If your search has led you to "narrow walking shoes," we assume that the regular-width shoes have already frustrated you in terms of fit. But before going with narrow profiles, we suggest that you allocate a little time to take your foot measurements. These figures will come in especially handy in determining your size and width when you go shoe shopping online.
Here is a simple DIY method for measuring your feet:
Put on a pair of socks which you are planning to wear with your future walking shoes and step on a piece of paper that fits your entire foot.
Carefully outline your foot with a pen/marker, making sure that you hold it straight and don't draw under the foot. You may need to ask a friend for assistance.
Measure the distance from the longest toe to the most prominent part of the heel, then measure the widest part of your foot (which is usually in the ball area).
Repeat the process for the other foot and take down all the numbers.
It is quite common that one foot turns out to be bigger than the other. Use the numbers of the larger foot.
Note! The size and width charts below are designed only to give you a general idea of whether you should consider getting a Narrow width. The numbers are not 100% accurate because each shoe manufacturer follows their own sizing scheme. For a more accurate information, we suggest that you look for the size/width charts of the brand which you are planning to purchase from. You can also contact the brand's customer support to get their recommendation on the suitable type of width for you.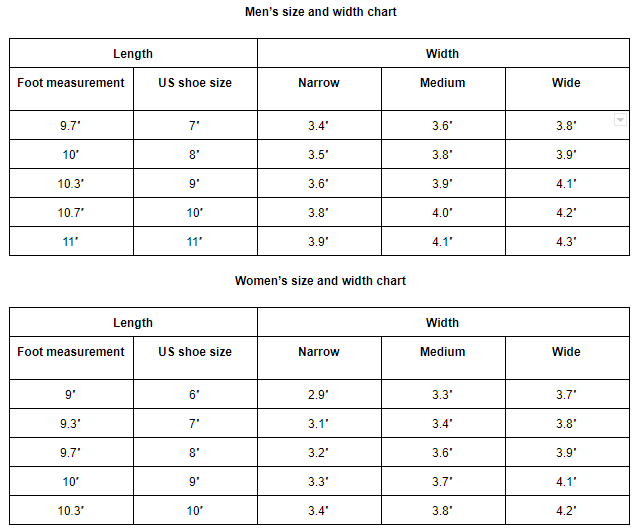 Important things to consider
Size and fit
Differentiating between the two is crucial. Size indicates the length of the shoe, while the fit deals with the width of the footwear and the way it braces the foot. So, when you try on a shoe and find that it is large on you, determine whether it's the length that's big or the width.
Lengthwise, the trainer must have a little space in the front, between your longest toe and the shoe wall. This space should be able to fit the width of your thumb. It allows your toes to rest and move naturally without getting cramped. Also, check if the heel and the ball of your foot are aligned with those of the shoe. It ensures that the foot receives arch support in the right area and that the shoe bends in the same place as your foot does. If a walking shoe you are trying on runs big according to any of these parameters, consider going half-a-size or a whole size down.
Widthwise, the footwear must be close-fitting in your heel and midfoot but a bit more free in the forefoot. Pay particular attention to the widest part of your foot. Make sure it aligns with that of the shoe and doesn't feel compressed. Also, the foot should not float inside the trainer or bump against the edges during side-to-side movements. If the shoe feels big in that respect, check if this model comes in a narrower width.
Neutral, Stability, or Motion control?
Getting the right size and fit already makes up a large part of a successful shoe purchase. But there might be cases when a person still experiences discomfort or pain even in a right-fitting shoe. The answer could be a lack of arch support. When we walk, our foot performs an action called pronation which is a slight inward rolling in the arch area between the heel strike and the toe-off. It helps in shifting our body weight in preparation for lift-off. People with this type of gait do not need any additional support and are comfortable with neutral walking shoes.
But some people experience a condition called overpronation when the foot rolls in way past the healthy norm. In cases like this, stability walkers are meant to correct a mild-to-moderate overpronation, while motion control shoes have add-ons which help severe inward rolling.
User reviews
Once you have a few pairs of narrow walking shoes on your mind, check out what other people say about them. Of course, not all of the comments should be taken seriously, but it could be helpful to see some of the main tendencies in people's opinions about the trainer.
Here at Runrepeat, we save your time by gathering all the reviews from both experts and buyers in a straightforward "Good/Bad/Bottom line" manner. You can check the summary of the reviews on the corresponding product pages of each shoe.
Price
A pair of new narrow walking shoes can be purchased within a wide price range of $40 to $140. Many factors contribute to the cost of these trainers, including the materials and technologies used, the popularity of the brand, etc. However, even the most expensive pairs can be obtained for a lower price if you keep an eye of the sales and discounts offered by the retailers.
Use our website to check if there are any discounts for a shoe you're aiming to buy. Our database includes thousands of offers from more than 200 online retailers. Just choose your gender and size in the filters to see the hottest deals for your particular shoe selection. Happy shopping!
Other frequently asked questions
Is it hard to find good narrow walking shoes?
Right now the footwear market is dominated by the shoes in a standard Medium width because it accommodates the majority of customers. Wide and Extra Wide widths also tend to be more popular than the Narrow ones. But don't despair if you have slim feet! There are several popular brands which care about various foot dimensions and double their walking shoe models in several width profiles.
Which popular brands offer narrow walking shoes?
One of the brands that have been known for making shoes in multiple widths is New Balance. Other brands include Reebok, Skechers, Saucony, and Brooks.
What if I am in between Narrow and Medium widths?
The rule of thumb is to go with the bigger option. Many people tend to get the smaller one in the hope that the break-in period would adjust the fit but it doesn't happen in most cases. Besides, it is easier to tighten up a shoe than to squeeze your foot into an overly-snug trainer. You can make use of several lacing techniques for narrow feet or add an orthotic insert to reduce the extra space in the upper.
8 best narrow walking shoes
Brooks Addiction Walker
New Balance 577
Brooks Addiction Walker V-Strap
Propet Village Walker
New Balance Postal 706 v2
New Balance 847 v3
New Balance Leather 928 v3
Propet Stability Walker
This shoe has recently been added to RunRepeat. There are still not enough reviews for us to assign it a
CoreScore
.
CoreScore
A score from 1 to 100 that summarizes opinions from users and experts. The average CoreScore is 78.
More...