Why choose mountaineering boots over other hiking footwear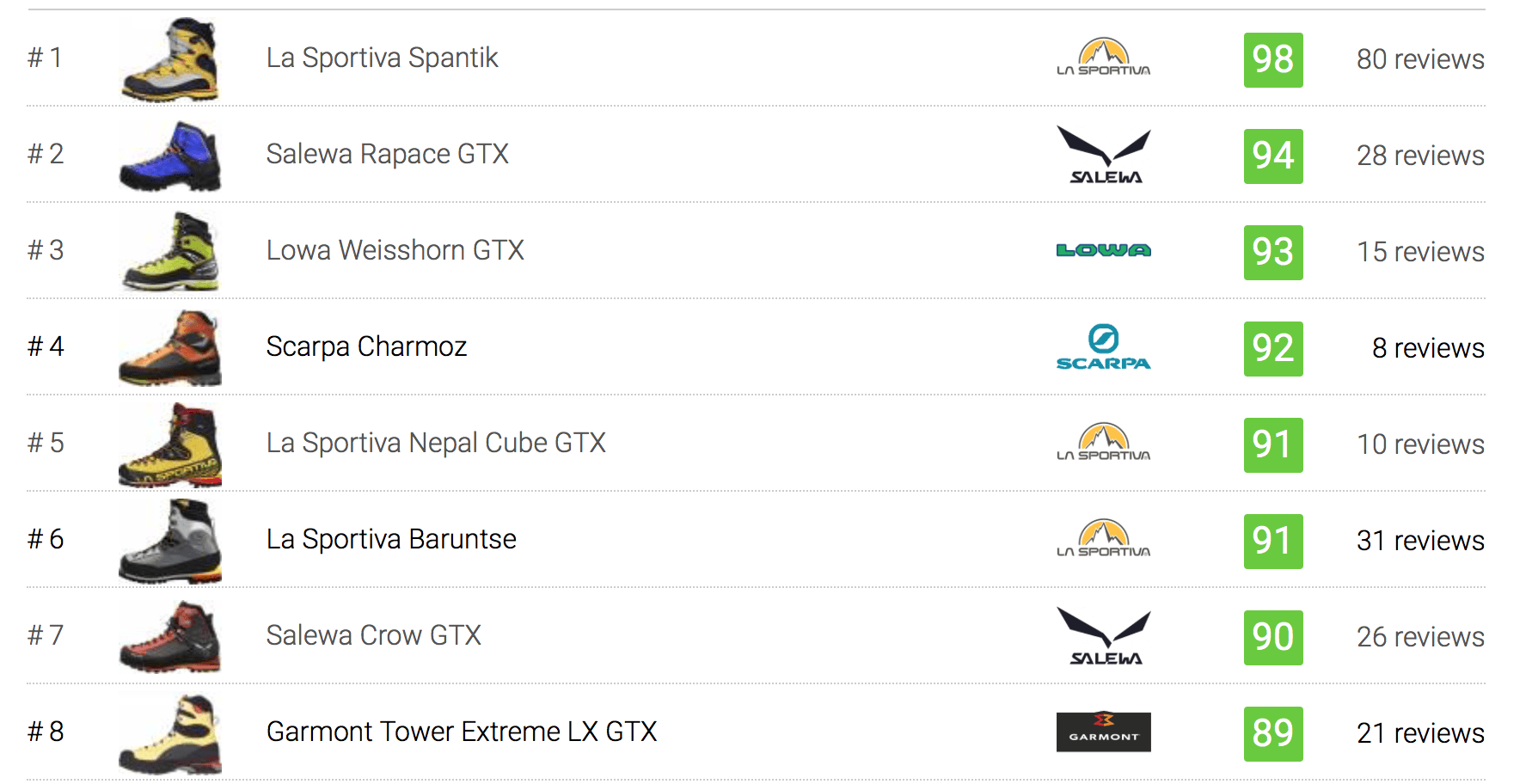 Best mountaineering boots - June 2018
Four categories. Here at RunRepeat, there are four hiking footwear categories: hiking sandals, hiking shoes, hiking boots, and mountaineering boots.
Built for mountain adventures. Mountaineering boots are packed with all the necessary features and technologies to aid wearers in their mountainous expeditions. They are specially designed to respond to the specific demands of every mountaineer.
Exceptionally tough. Boots made for mountain climbing are usually crafted with layers of sturdy coatings to withstand wear and tear and defy extreme conditions. Since mountaineering often involves rough terrain and step-kicking into rocky or icy surfaces, most pairs are engineered with full rubber rand covering the entirety of the upper's base. Some mountaineering boots also come equipped with overlays made of thermoplastic polyurethane (TPU), a kind of rubber-plastic characterized by toughness, elasticity, and resilience.
Debris protection. A debris-free boot interior is among the things users prefer in their technical climbing escapades. Fortunately, this preference is easily attainable with most mountaineering boots as they are usually built with bellows or gusseted tongues. For more full-on debris protection, gaiters are a consideration.
Waterproof. Most boots under this category provide a level of protection against water intrusion. This feature is especially useful in snowy regions and rainy environments.
Warm. Thermal insulation is something many mountaineering boots have for the wearer's benefit. This warming technology is often breathable, such as the Gore-Tex Insulated Comfort liner, and is built within the bootie of the footwear.
Reliably stable. Boots for mountaineering have midsoles that are extra stiff to keep the user's footing over unpredictable terrain steady. Shanks are also found in most boots. These sole stiffeners further improve ground stability.
Crampon compatible. This type of footwear works with an add-on called crampon which, when attached to the boot (whether through a set of straps, lever mechanisms, or a combination of both), enables climbers to better navigate through steep slopes and even around vertical or technical surfaces.
Unisex. Mountaineering boots are usually engineered to accommodate virtually all foot types. This sort of construction means both genders can find a snug cradle in most pairs. Climbing gears with moldable inner liners are especially customizable when it comes to fit, and many female wearers look out for such.
Things to look for in mountaineering boots
The outsole for traction. The first to make contact with the ground and the component that ensures mountaineers do not slip on tricky terrain is the boot's outsole. This component is usually made of sturdy rubber compounds to endure wear and tear effectively and engineered with tread patterns and lugs for traction.
What are boot lugs?
Part of the outsole, lugs are multi-shaped indentations or protrusions that bite into surfaces to give wearers grip. They have aggressive patterns and are positioned at opposing angles to help users get a steady footing on loose soil and steep slopes. Mountaineering boots mostly feature high-profile lugs—about 5 mm in height. The more prominent these protrusions are, the deeper they go, and thus more traction is given. The amount of space between lugs also shed terrain elements, such as loose stones, snow, and mud.
What are the common shapes of lugs?
Lugs come in a variety of shapes: from simple, circular kinds to those with multiple angles. Circular or elliptical lugs, especially hollow-centered ones, are effective against wet surfaces as they systematically disperse water away from the boot. Multi-angular lugs, on the other hand, can provide traction from almost every direction.
Why do mountaineering boots have seemingly identical lug patterns across brands?
Most mountaineering boots sport similar lug patterns—rectangular lugs horizontally outlining the outsole—to provide ample traction during ascents and descents. The similarities are a direct response to the kind of maneuverability required for going up or down a steep slope.
Midsole unit. This layer, which is sandwiched between the upper and outsole, serves as the boot's primary source of cushioning, shock absorption, and stability. It is commonly made of ethylene-vinyl acetate (EVA), polyurethane (PU), or a combination of both. Compared with backpacking boots and hiking shoes, a boot designed for mountaineering usually has a chunkier and stiffer midsole to allow for better stability, especially over extremely rugged terrain.
A must-have midsole component that doubles down on support and stability is called shank. It comes in different lengths of which the most common is the half-length kind. If you prefer an ultra-rigid midsole with end-to-end support, look for a pair of boots with a full-length steel shank.
What is ethylene-vinyl acetate?
Ethylene-vinyl acetate or EVA is a lightweight, rubber-like material known primarily for its high elasticity and toughness. It is a good material to use for making midsoles in mountaineering boots as it has excellent tolerance against cold temperatures.
What about polyurethane?
Polyurethane is a highly resilient and durable organic compound used for creating heavy-duty midsoles. It is heavier than other foam compounds. A midsole made of polyurethane can withstand stress and does not flatten.
Should I go with an EVA or PU midsole?
It will largely depend on the type of mountaineering boot you prefer. If you are after a pair that is lighter than most, go with EVA. Otherwise, and if you do not mind the added weight, get a boot with a PU midsole. Note that some footwear manufacturers fuse these two materials together in some of their mountaineering boots, so if you like to get the best of both worlds, scout for a pair with such a midsole.
Weight. Among other hiking footwear, boots made for mountaineering are the heaviest. A pair of men's mountaineering boots can weigh anywhere between 1200 g and 1900 g, with the latter as the usual weight of double boots. The weight range of the women's pair does not stray too far away from the men's either. In contrast, a pair of hiking sandals for men weighs about 700 g on average. This undeniable weightiness is a direct result of the combination of technologies most mountaineering boots have.
What are the components that primarily make mountaineering boots heavy?
The chief suspect in this heaviness is often the midsole. The level of stability a boot can provide is mainly dictated by how beefy and rigid the midsole is. The thicker and stiffer the midsole, the better stability it can offer, the heavier the boot. Other contributors include shanks (especially steel ones), the outsole and its lugs, and the upper's many layers—thermal insulation, inner boot or liner, waterproof liner, and protective overlay to cite a few.
Single or double boots. Typically, mountaineering boots are single boots. A single boot is your standard over-the-ankle mountaineering footwear with its singular yet multi-layered upper. This style is fairly straightforward to use and lightweight. Double boots, on the other hand, are bulkier but provide double the protection, support, and insulation. A double boot has an inner liner that can be removed and molded.
What are heat-moldable liners?
Heat-moldable inner liners have the ability to conform to the natural contours of the wearer's foot. Normally, these liners need to undergo a process that involves oven heat, and specialized shops with heating assemblies will be more than happy to help you and your inner liner go through this process. However, body heat is also an option; you can simply let your feet do the molding, especially if you will be wearing your boots for extended periods. Still, if you wish to expedite this heat-molding process greatly, let the specialists do it for you.
Will heat-moldable liners shrink or enlarge to my size?
Heat-moldable inner liners are only designed to take the shape of your feet for custom comfort fit and extra support. They may not shrink or enlarge to your size.
Support. Most mountaineering boots have excellent ankle support since their over-the-ankle shafts are reinforced with sturdy materials. You will have no trouble finding a boot with a supportive shaft as there are mid-cut mountaineering boots and high-cut mountaineering boots. They also provide heel support which is made possible by a component called heel counter, a cup-like unit embedded within the upper's heel zone.
What about arch support?
In mountaineering boots, arch support relies heavily on the insole, or in the case of a double boot, the inner liner. Some insoles or inner liners are heat moldable which can be formed according to the contours of your foot, thereby providing the right amount of arch support you need. If the default insoles do not cut it, you have the liberty to get custom orthotics, preferably thermo-moldable ones.
Insulation. Mountaineering is an activity that demands protection from harsh environments, especially the cold. With this in mind, footwear makers see to it that their mountaineering boots have proper insulation. Thermal insulation is, for the most part, seen imbued within the upper of a boot. A type of aluminum membrane or sheet is among the usual materials with which engineers use to infuse the upper. Gaiters and the inner liner of a double boot also offer a level of insulation.
Are there insulated footbeds?
Most definitely! Warming technologies are not exclusive to the upper; they are applied in footbeds as well. An insulated insole is thicker than a standard insert as it is layered with a warming pad which is usually located on the underside of the footbed.
What else can I do to ensure my feet stay nice and warm?
For additional protection against the cold, put on a pair of wool socks. Unlike cotton, socks made of wool will keep your feet warm even when wet. If you have sensitive skin and are prone to itch, opt for a pair of merino wool socks.
Gaiters. Had enough of snow, debris, and other terrain elements intruding your comfy feet? Do you wish to have a warmer mountaineering experience? Complete your gear and cover your mountaineering boots (and your lower legs) with a pair of gaiters. These coverings vary in size, but they usually wall off intrusive annoyances starting from the ankle all the way up to the calf. Detachable gaiters are common among footwear of this type, even when they are included in the package; however, some boots have them built-in, as in the case of super-gaiter boots.
Which between the two types of gaiters should I choose?
Detachable gaiters can be worn or removed depending on the situation. They can easily be replaced with aftermarket ones. That said, removable gaiters may come loose at the attachment and seal points during the adventure which would require reconfiguration, therefore causing inconvenience.
Built-in ones, on the other hand, are more convenient to use since wearers usually simply need to zip them up tight and secure. They are also persistently connected to the upper which offer a more seamless kind of protection against invasive elements and extremely cold temperatures. This kind of construction, however, is double edged as a complete replacement of the boots may be required when these gaiters get damaged beyond proper function.
If you prefer being versatile and do not mind the occasional gaiter adjustments, go detachable. Otherwise, go with built-in gaiters and experience seamless debris protection minus the hassle.
The closure system. Getting a secure lockdown in mountaineering boots can be as straightforward as configuring and tying down traditional laces through standard eyelets and open hooks. However, with the advancements in mountaineering footwear technology, some boots sport convenient closure systems which use lockdown mechanisms that allow for one-hand lockdown operations.
Why do I need to bother with a one-hand lockdown system?
When you are negotiating a challenging slope and almost every limb is trying to keep you steady, you will find this feature highly convenient, and maybe even life-saving, as you do not need to use both your hands just to retighten your laces.
Waterproofing. It is quite common for mountaineering boots to be waterproof. The multi-layered upper of these boots is imbued with a membrane that locks water out while still allowing moisture and perspiration to escape, leaving your feet nice and dry in your climbs. Although it is never too difficult to find a pair of waterproof mountaineering boots, it is not going to hurt to get one with a gusseted tongue. A gusseted tongue (also known as bellows tongue) prevents foreign elements from entering the boot, especially water if the material bridge connecting the upper to the tongue is also waterproof.
My current mountaineering boots are not waterproof. What are my options outside getting new ones?
Unfortunately not a lot. However, you may buy a pair of gaiters that provides complete boot coverage—from the soles all the way up to your legs.
Do I need waterproof mountaineering boots
if I climb non-snowy mountains and in dry conditions?

The answer is yes. Mountaineering boots need to have a level of water protection as elevated places, like, you guessed it, the mountains, have unpredictable local weather conditions. You need to be prepared for unexpected rains, so gearing up with waterproof mountaineering boots is your best option. Also, the elevation itself will produce moisture which will find a way inside your gear if it is not waterproof. That said, you can settle for a water-repellent pair and trade complete waterproofing for lightness if you so desire.

Crampon connections. Usually part of the boot's midsole, crampon connections—also known as welts—are shelf-like recesses to which crampon clip levers attach. The kind of crampon you need to have would depend on the grade of your mountaineering boots. Boot grades are B1, B2, and B3.
What are boot grades, and what kind of crampons are appropriate for each?
B1-graded mountaineering boots have moderately stiff uppers and soles which make them ideal for approaches and light mountaineering. They often do not have crampon connections. Because of the absence of such welts, B1 boots may be paired only with C1 – strap-on crampons.
Mountaineering boots graded B2 have a stiffer construction than B1s, but may still be used for mountain walks and approaches depending on their overall build. The crampon connection of a B2 boot is located at the base of its heel, and therefore is intended to go with a C2 – hybrid crampon which is secured with a lever clip at the heel and a toe strap at the forefoot. Note that you can also use strap-on crampons on B2 boots.
B3 mountaineering boots have ultra-stiff soles and uppers. The welts of B3 boots are located at both the heel and forefoot. These characteristics render them perfect for extreme mountain conditions, and with C3 – step-in crampons on, make them fit for highly technical mountain climbs. B3s are exclusively compatible with C3 crampons.
Choosing the best mountaineering boots that fit perfectly
Buy mountaineering boots sometime in the afternoon. It is advisable to purchase mountaineering boots towards the end of the day, like in the afternoon or early evening, as the human foot marginally swells due to hours of walking, performing laborious tasks, or both. You will be able to get a more consistent sizing this way.
Have ample room for toe splay. It is true that getting a snug fit is a top priority among many. However, having enough room for your toes to wiggle in will usher in comfort and prevent bruises and injuries. In mountaineering boots, having a roomy toe box is especially important as users often step-kick (or kick-step), a climbing technique that requires them to carve climb ledges by "kicking" into ice or snow.
I have moldable inner liners. How do I give them adequate toe box space?
Before putting on the heated inner liners, wear a pair of toe socks aside from your regular mountaineering socks. These toe socks will create a marginal amount of space around the toe area when the molding process is complete.
Factor in your favorite socks. Save yourself from going back to the retail store and getting a replacement or refund simply because you forgot to wear your socks while trying on mountaineering boots. Remember, you will never get the closest possible fit without your go-to socks on.
Bring your custom orthotics. Just like socks, you need your custom orthotics included in the mix while trying on mountaineering boots to get the right fit. Custom orthotics are thicker than default footbeds, so be sure to have them placed in every boot you will try on.
Get a half-size pair. If that pair of mountaineering boots in your ideal whole size seems to elude your fit, try it in half size. It is also wise to start big then work your way down to get that perfect size.
Put your boots to the test. First of all, ask for assistance before doing any of the following:
Wear your desired mountaineering boots and walk in them around the store; try ascending and descending steep inclines if available.
Climb up a ladder to simulate its climbing performance and check for heel lift. You should get minimal heel lift if not none at all.
Kick on hard surfaces (with considerable force) to see whether your toes will hit the front end of the boot or not.
How to find the best mountaineering boots
Know the difficulty level of the climb. As previously discussed, mountaineering boots are graded according to their overall build and their intended use. Will you cover more approaches and just do some light mountaineering? B1 boots are for you. Are you planning to climb more advanced terrain with a little bit of snow walking? Go with B2s. Eyeing to conquer an ultra-technical mountain? B3 mountaineering boots are your best bet.
Consider suggestions and recommendations. Have your preferred mountaineering boots got updated? Does your go-to store already have a revamped version of that pair you bought last year? Whether you are a veteran mountaineer or just starting out, it is never too embarrassing to ask such relevant questions from store owners and sales associates and take into account their suggestions and recommendations. That said, and at the end of the day, the choice is still yours. However, by allowing such valuable information to come in, you are expanding your knowledge and giving yourself better options when out shopping for your next mountaineering boots.
Scour the net and research. Before making your way to the nearest footwear store, research on the mountaineering boots you got your eyes on by:
Reading reviews and comments from critics and users
Watching video reviews and previews
Posting related questions on message boards
Emailing seasoned mountaineers
Contacting the customer service of preferred brands (whether through social media channels, live chat, email, or phone)
Do not hold back. If the pair of mountaineering boots you are trying seems to tick all the right boxes (from sizing and comfort to overall build and necessary features), go for it; regardless if it is a bit expensive. Keep in mind that mountaineering is an expensive activity to begin with, and mountaineering boots are pricey for a good reason—your safety.
Ignore the aesthetics. Do you dislike neon-colored mountaineering boots? Or perhaps you find that almost-perfect pair too dull in gray or brown? In the realm of mountaineering boots, substance comes before style. Prioritize features—especially those that preserve your safety—over look and design. Note that many boots for mountaineering have vibrant colors for visibility purposes, and therefore, work for your safety. The bottom line is: If you got all the needed technical features locked in, buy that pair.
Take advantage of online deals. Online retailers have a way of lowering the price of even the newest products out in the market, so if you do not mind the extra wait time and desire to save up on cash, purchase your next pair online. Tip: Try on mountaineering boots at a physical store, and once you find that perfect pair, look for it online at a sale price and buy it.
Learn about the return and exchange policy of your local store. As a consumer who spends hard-earned cash on undeniably expensive mountaineering boots, you should be aware of how favorable (or not) your local store's return and exchange policy is. Could you get a full refund if you return a bought pair due to a defect? Would the store happily replace your boots if for some reason you realized they just do not work for you? Look for a store with a pro-consumer return and exchange policy to give your purchase a level of assurance and security.
Frequently asked questions
Can I use mountaineering boots for hiking?
Mountaineering boots, especially those graded B2 and B3, may not be suitable for regular hiking activities as they, by design, have ultra-stiff soles and uppers. However, you can try boots graded B1 in your hiking expeditions, particularly if the terrain you frequent features rough and steep ground that requires scrambling. Do note, however, that a B1 boot, although it has some flex and is lightweight compared to its bulkier brothers, may still be too stiff and restrictive for hiking comfort.
Why are mountaineering boots so expensive?
Not all boots designed for mountaineering will cost you an arm and a leg; however, boots intended for higher altitudes and technical climbs—yes, almost all B3 boots—can be pricey as they come equipped with necessary yet expensive technologies which primarily include thermal insulation, ultra-sturdy upper layers, and specially engineered soles. If you wish to avoid mountaineering boots with sky-high price tags, avoid those with leathery uppers and opt for plastic or synthetic ones instead.
Can you ski in mountaineering boots?
Yes, you can as long as you have the appropriate mountaineering boots, ski gears, and advanced skill in skiing. Otherwise, just use the appropriate ski boots. Veteran skiers also do not encourage this practice for the risk of leg injury in this kind of setup is high, especially for the uninitiated. That and because there is little-to-no enjoyment to be had when skiing in mountaineering boots.
This shoe has recently been added to RunRepeat. There are still not enough reviews for us to assign it a
Corescore
.
Corescore
A score from 1 to 100 that summarizes opinions from users and experts. The average Corescore is 78.
More...