Pronation is the normal amount of inward rolling that the foot undergoes during the walking gait cycle. However, some people experience excessive inward rolling called overpronation. Thus, they may need specialized footwear for their strolls.
Motion control walking shoes are designed for people with severe overpronation. This type of footwear is crafted with a rigid sole unit and arch support that prevent the arch from collapsing. Motion control walking shoes correct overpronation to keep a foot steady while on the move.
How motion control walking shoes help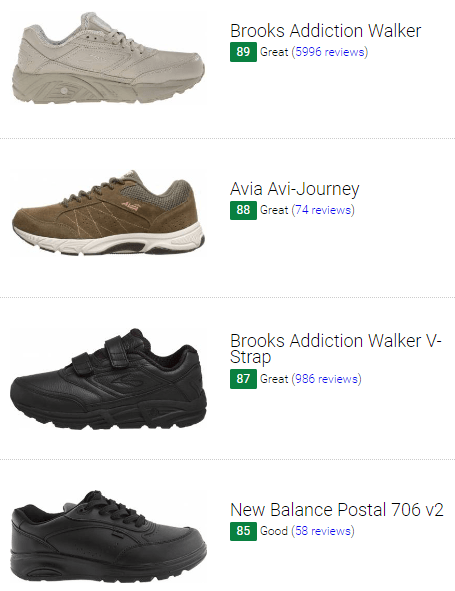 Typical walking shoes are equipped with a midsole that is soft and flexible to facilitate natural foot movements. The problem with this type of construction is that the soft platform does not offer support for the arch, thereby allowing it to collapse and the foot to roll inwards too much for people who have flat feet.
Motion control walking shoes employ technologies that reinforce the arch area, making them more rigid. This stiffness guides the foot into the correct position during the walking gait cycle.
Motion control technologies
New Balance
The Rollbar is a posting system made of a molded plate that goes under the heel and connects a medial and a lateral post. This structure aims to reduce rearfoot movement by making the heel rigid. It prevents overpronation and underpronation. Examples: New Balance 928 v3
Brooks
Progressive Diagonal Rollbar (PDRB)
This support system is positioned to strengthen the arch. By making the middle rigid, excessive inward movement of the foot is prevented. It is found in the Brooks Addiction Walker shoe.
Avia
Most Avia walking shoes are equipped with an Archrocker. This structure is a bump at the arch section which prevents it from collapsing. It ensures that the foot won't excessively roll inwards, so the foot smoothly transitions from the heel to the toes.
Things to consider when purchasing motion control walking shoes
Pronation
Pronation is the normal rolling of the foot, inwards and outwards, as the weight of the person shifts from the heel to the toes, during the walking gait cycle. Not everyone needs motion control walking shoes as these types of footwear have reinforcements that make the sole unit rigid, which, if you have normal pronation, could be uncomfortable to use. Visiting a podiatrist is the best way to determine whether you need motion control walking shoes or not.
Fit and sizing
Motion control walking shoes come in a wide range of sizes for both men and women. Depending on the brand, available sizes could range from US sizes 6 to 16 for men and 5 to 13 for women. As for the width, it is typically offered in medium, D for men and B for women. Some brands, like New Balance, offer other width options such as 2A - Extra Narrow, B - Narrow, 2E - Wide, 4E - Extra Wide, and 6E - Extra Wide for male consumers and 2A - Narrow, D - Wide, 2E - Extra Wide, and 4E - Extra Wide for the female population. The overall all fit of the shoe could be influenced by the material used in the upper. Those that use leather or nubuck tend to fit more snugly while those made of mesh or knitted fabric feel relaxed and allow for more foot movements.
Price
Some motion control walking shoes are pricier compared to regular walking shoes because they use technologies that prevent overpronation, but there are still models that are quite affordable. Depending on the brand, motion control walking shoes could cost somewhere between $40 to $145. Avia motion control walking shoes are more affordable compared to those offered by New Balance because they use fewer technologies in the sole unit. Here at RunRepeat, we ensure that you get the best price for the trainer of your choosing. Just click on any model you are interested in and you'll be presented with a list of offers from a number of online retailers.
Frequently asked questions
How do you know if you need motion control walking shoes?
The best way to determine the type of pronation you have is by visiting a podiatrist. The foot doctor will perform a series of tests that will analyze your walking gait cycle and determine if the amount of inward rolling falls into the normal range or not.
How to take care of motion control walking shoes?
A variety of brands offer motion control walking shoes and they come in various styles and upper materials. The general rule is to avoid machine washing and drying them as that could weaken the construction of the footgear. The safest way to clean motion control training shoes is to brush off the dirt. If there is staining, a clean brush or cloth dipped in a warm soapy solution could be used to remove stains or caked-in dirt. Then using a damp clean cloth, wipe off the soapy solution and let the shoe air dry for 10-12 hours.
If your shoes get drenched in water, the best way to dry it is by packing it with crumpled newspaper to absorb the excess water and allow it to air dry for 12 to 10 hours. If there is a removable insole, it is best to air dry it separately to ensure everything is completely dry before it is used.
13 best motion control walking shoes
Brooks Addiction Walker
Brooks Addiction Walker V-Strap
New Balance Hook and Loop 813
New Balance 813
New Balance 847 v3
Avia Avi-Volante
New Balance 928 v3
New Balance 1700
Avia Avi-Venture
New Balance Postal 706 v2
New Balance Leather 928 v3
New Balance 1300 TR
New Balance 1200
This shoe has recently been added to RunRepeat. There are still not enough reviews for us to assign it a
CoreScore
.
CoreScore
A score from 1 to 100 that summarizes opinions from users and experts. The average CoreScore is 78.
More...