The Italian brand, La Sportiva, started with products, such as clogs and boots for farmers, mountaineering boots for Italian soldiers and ski boots for the elite. Its colorful history in footwear led the company to become a popular performance brand that specializes in technical footwear for the trail. The running community has been aware of La Sportiva running shoes, but it was not until the brand featured its mountain running collection that runners actually took notice. Today, men/ women's La Sportiva running shoes remain to be top choices for adventurers tackling extreme trails, like steep inclines and rocky terrain. Their top-notch technologies have not failed anybody yet, and they are constantly incorporated in performance running collections to improve grip, traction, comfort and underfoot protection.
La Sportiva Running Shoes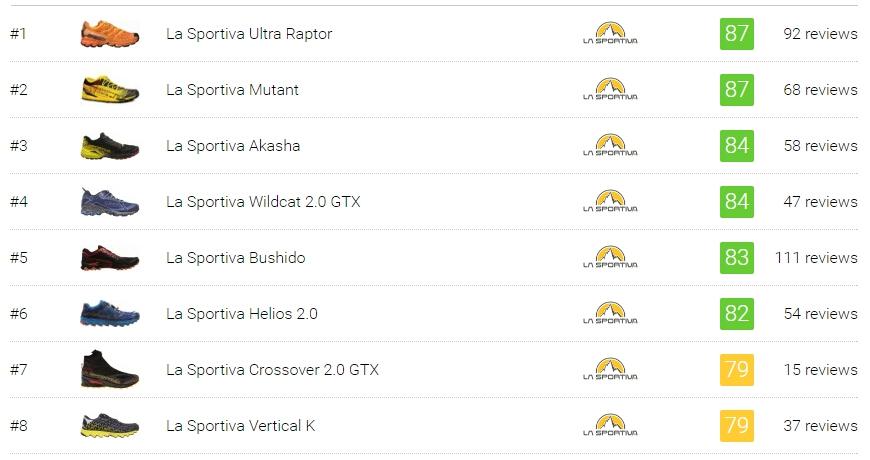 La Sportiva running shoes are constantly gaining attention, thanks to its high ratings and great reviews written by trail runners. Aside from mountain running, the brand also features running shoes for climbing and hiking. Some of the La Sportiva running shoes that are making waves on the market are the La Sportiva Bushido, La Sportiva Wildcat, La Sportiva Helios and La Sportiva Mutant. The La Sportiva running shoes are starting to be acknowledged by Runner's World, Outside Magazine and other running authorities. With top-rated reviews and customer satisfaction, it is not surprising that La Sportiva is a rising star in the trail category.
La Sportiva is a humble company that has its own factory located in a small mountain village in Italy. The spirit of mountaineering is alive in this company not only because of their location but also because they hire exceptional men and women who are accustomed to the mountaineering life on the slopes of Italy to handcraft their footwear. Athletes & outdoor sports enthusiasts hail La Sportiva Italy in over 100, 000 reviews online.
 What can the best La Sportiva shoes offer you?
The best La Sportiva shoes are handcrafted and manufactured independently in their own factory by trained crafters. This ensures buyers that the materials and overall excellence of their wares are made only through thorough quality control conducted internally.
La Sportiva uses very durable sole materials so that an optimum foot grip would be appreciated by any wearer. The shoes made by this company can withstand many environmental pressures and effects such as ground impact, friction, wearing and prolonged use.
La Sportiva uses a variety of high-quality leathers so that the durability of their shoes would be maximized. Synthetic leathers are also part of their features because they help in repelling water and reducing breakage of the shoe frame material.
Water impermeability is a very important factor in the making of the best La Sportiva shoes. The company doesn't use low-quality ingredients of cheap fabrics so that this important addition would be possible. Their own trademark of materials are all researched. So, in addition to the shoes being waterproof, they are also very strong.
The staying power of this brand is solidified by the trust given by many consumers, including popular celebrities who act as ambassadors of La Sportiva. Each of these individuals is featured on the brand's official website, along with their chosen sport and choice of shoes to exploit their performance and strengths.
What distinguishes the best La Sportiva running shoes?
Popularity. La Sportiva has been the choice of trail runners, mountaineers and cliff hikers alike. This brand is one of the leading examples of product strength and reasonable pricing. Admired for their expert use of traditional leathers and handcrafting techniques, they have garnered an immense following that lasted through the years of their hard work to provide only the best footwear around.
Shoe Technologies. The best La Sportiva shoes are made from cutting-edge technologies and materials that make their wares very sturdy. Their 3D Flex technology provides a hinge system to the ankle area to permit side flexibility while giving space for a sloping lockout for excellent support. They also pride themselves with a slew of authentic leathers and synthetic resources to heighten the durability of their shoes. These include Condura nylons, Dacromet coating, Dentex lining, the Dry-Best system and much more.
Price. The quality of their shoes and the longevity of each product prove that La Sportiva only give the best to their customers. The materials are all incredible and durable. Depending on the preferences of the consumer, their running shoes' prices range from 80$ to 200$, while their much stronger mountaineering and hiking shoes have 180$ to 380$ price mark.
This shoe has recently been added to RunRepeat. There are still not enough reviews for us to assign it a
Corescore
.
Corescore
A score from 1 to 100 that summarizes opinions from users and experts. The average Corescore is 78.
More...