Kate Spade New York Lifestyle Sneakers
Kate Spade New York has turned into a fashion and lifestyle empire, adored for its designer handbags, contemporary purses, totes, satchels, clothing, fashion accessories, home accents and décor, jewelry, and footwear products done in smart colors, graphic prints, and glitzy detailing with a touch of playful elegance.
Even though Kate Spade New York has been passed over from one proprietor to another, shoppers worldwide have not stopped from associating the brand with its creator, Kate Spade. This lady belongs to one of the early batches of contemporary women designers who emerged in the 1990s bringing in whimsical and cute accessory and clothing selections that made an instant connection to its buyers.
Not too long after its launch in 1993, Kate Spade became a much-sought label that the chances of seeing women without a Kate Spade handbag or purse in the SoHo district of New York we nearly impossible. Through the years, Kate Spade New York has effectively penetrated into the lives of women who are in the early stages of their careers and yearning for budget-friendly fashionable accessories. Purchasing a Kate Spade handbag or tote was somehow a coming-of-age practice for American ladies transitioning into adulthood.
Aside from its hip and clever-made bags, smart and classy clothing line, Kate Spade houses an assortment of casual and modern footwear, which includes stilettos, sandals, and even sporty yet chic sneakers.
Kate Spade New York Sneakers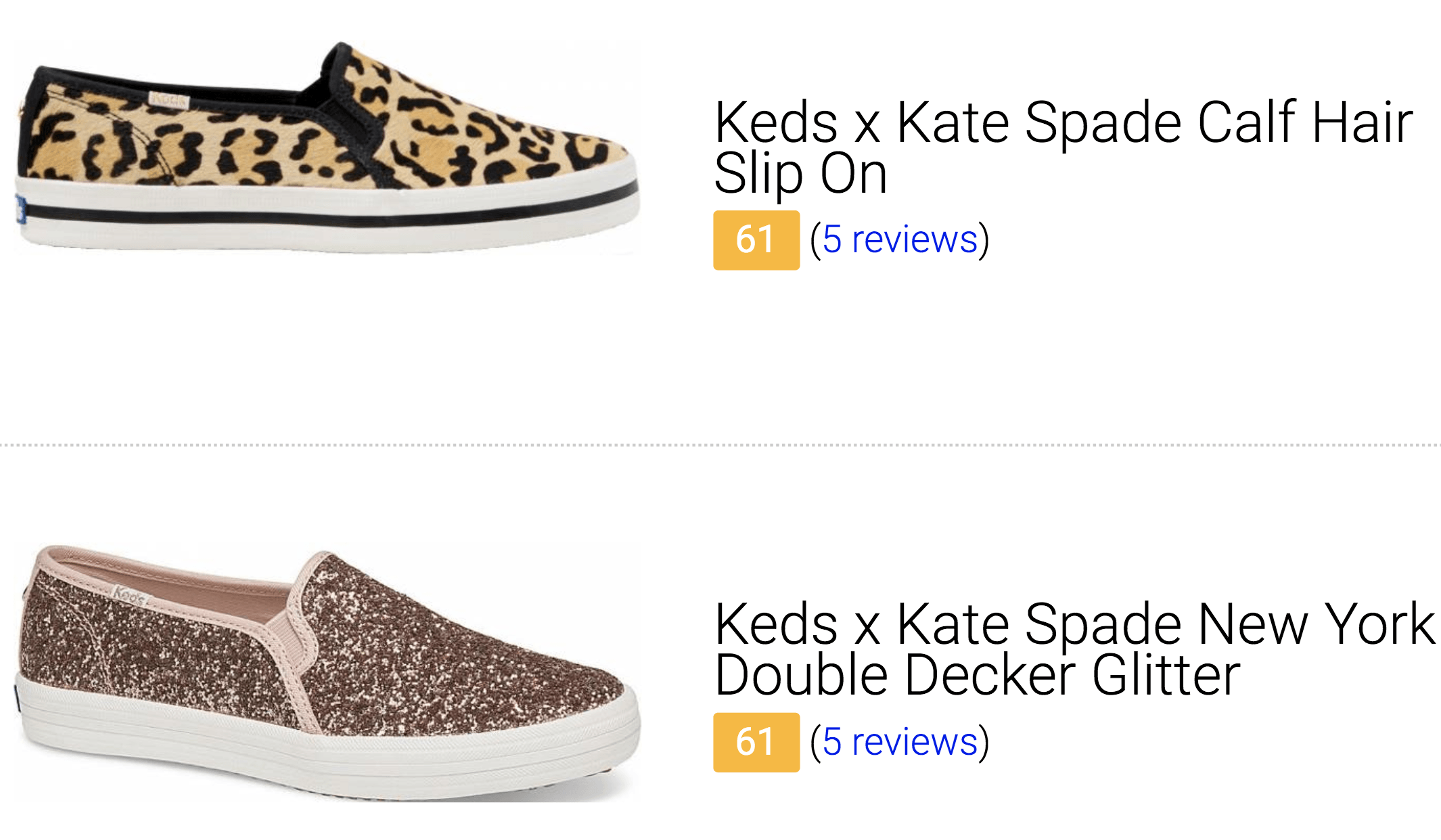 Designer sandals have filled up the racks of Kate Spade New York, from classic flats, slides, and boots to sassy heels, wedges, and gladiators. There seems to be a constant supply of accouterment with a spade emblem that suits any cocktail dress or office attire.
The brand further stretched its scope by addressing the sporty side of its consumers and introducing a lineup of Kate Spade New York sneakers that looked good from the pavement to the dancefloor. These footwear variations come in dressy slip-on and lace-up varieties.
Slip-on styles
Keeping the feet comfy and stylish round the clock is Kate Spade New York's objective when it created its line of uniquely designed, lace-less slip-ons, since these shoes are crafted with durable rubber soles. Some of the kicks are wrapped with curly wool, frilly ruffled trim, hounds tooth checkers, while others are embellished with glittery accents, beads, and sequins.
These colorful and quirky kicks give you the ticket to strut in style as if you're strolling around the top fashion district overseas, like London, Paris, Rome, Milan, Barcelona, Madrid, or Berlin. You may even opt to park your cutout and narrow kitten heels in place of these edgy slip-ons yet still look fab with dainty, ruffled, and even bohemian dresses. Its sporty façade smarten up your look when you blend these with tight capris, slim-fitting trousers or ankle length pants.
Some of the variations of slip-on Kate Spade New York sneakers are Kate Spade New York Gizelle Sneaker, Kate Spade New York Misty, and Kate Spade New York Louise Sneaker.
Lace-up designs
Kate Spade New York gave into the athleisure trend and filled up its roster with sporty yet ultra-feminine lace-up sneakers. The brand took the classic white tennis shoe as a reference to its strings of sneaker releases and outfitted it with fanciful and witty features that make them pop in the crowd. As always, the fabrics, patterns, and trims used in styling up Kate Spade New York sneakers adhere towards the brand's long recognized fun and creative reputation.
The shimmery accents used in Kate Spade New York sneakers make them appear all dressed up and ready to be the center of attention. These glammed up kicks play up any casual wear, from the most laidback cropped jeans to tone down poplin dresses. The styles allow you to stay fashionable as you comfortably fulfill your whole day's work. You can even head on to your evening affairs after work without the need to slip on another pair of classy footwear.
Some of the lace-up renditions of Kate Spade New York sneakers are Kate Spade New York Amy and Kate Spade New York Amber sneakers.
Keds x Kate Spade New York lifestyle kicks
Fashion powerhouse Kate Spade New York and sneaker brand Keds have been harmoniously whipping up stylish lifestyle sneakers garbed with modern frills and embellishments. The fantastic collaboration of these two brands brought forth an impressive lineup of low-top slip-ons and lace-ups that encourage women to embrace their femininity.
Slip-on varieties
The slip-on Keds x Kate Spade New York sneakers are made with a burst of creativity using eye-catching animal fur designs and glistening accents. The textured, velvety kicks come with twill lining that grants breathability. These shoes which are made comfortably fit with the use of side gussets, rest atop a hard wearing rubber sole.
The different designs on these lace-less slip-ons give its upper a tasteful character that allows you the freedom to dress up or down in style. These are wearable from casual office set up to off-work dinner meet-ups and even formal affairs. The calf-hair leather varieties with leopard designs add allure to solid colored capris, tapered pants, ad tea-length skirts, which you can blend with a blazer or coat.
The shiny and dazzling versions can be fused with miniskirts, jumpshorts, and even long gowns. Or you may want to look classy with these leopard kicks by layering them up with your button-up shirt, fitted sweater, denim jacket, and a pair of skinny bottom.
Samples of Keds x Kate Spade New York sneakers include Kickstart Calf Hair, Triple Decker Leopard, and Triple Decker Calf Hair Slip On.
Lace-up profiles
The over a century old Keds Champion looks younger than ever through bright and sparkly updates as it was chosen to be the central lace-up style of Keds x Kate Spade New York sneakers. The classic silhouette that has been loved by women from all walks of life gets it most shimmery look, as glittery as the stars that followed this style, such as the 1960s style icons Audrey Hepburn and Marilyn Monroe and today's luminaries like Taylor Swift, Rihanna, Katy Perry, Arianda Grande, and a whole lot more.
Keds Champion, which happened to be the very first rubber-soled kick that was coined as a sneaker, now receives its most fashion-forward makeover as its traditional canvas façade is reworked with sublimely girly accents like bows, embroideries, pearls, and heaping of sequins and glitters.
These attractive selections which are constructed in traditional midsole height, double or triple layers, give you the versatility to get all glammed up whether in jeans, leggings, maxi dress or even in high-tea dresses and gowns.
Among the classic styled collaborative kicks by Kate Spade New York and Keds are Champion Leather and Kickstart Perf Shimmer Leather. Glittery renditions include Triple Decker Glitter, Double Decker Glitter, Champion Sequin Stripe, Kickstart All Over Glitter, Kickstart Glitter, Triple Glitter, Triple Kick Suede, and Ace Leather Glitter.
Kate Spade New York Sneaker Collection
From humble beginnings, Kate Spade New York has expanded through the years through careful and calculated production of shoes that are inexpensive, but still quite fashionable. While the collection is not as heavily advertised as those from other brands, it is a collection that has already caught the attention of sneaker fans.
Keds x Kate Spade New York lifestyle kicks (2013 to --)
The matrimony between the classic sneaker brand Keds and red-carpet staple Kate Spade New York brought out chains of fabulously adorable sneakers that enhance the innate femininity of style-savvy women consumers.
Playful and Upbeat: 2013 Spring and Holiday collections
In celebration of its 20th anniversary, Kate Spade New York collaborated with Keds for a unique eight-style footwear collection. The lineup showcased the trademark timeless and versatile concepts of Keds plus the cheery, vibrant colors and patterns that Kate Spade New York has become famous for.
Blue polka dots combined with slim pink stripe, picnic-ready blue gingham, and nautical stripes paired with red interior are just a few of the designs showcased in the sneaker collection which were launched in February 2013.
These round and pointy toe kicks put a smile on the faces of buyers as these came in wallet-friendly price points of $75 to $85. Like the brand's partnership with Taylor Swift, Madewell, and Happy Socks, its team up with Keds was a hit.
Its success led to the release of the 2013 collaborative holiday pack. The bundle featured festive sneakers in a variety of bold patterns and bright materials, including gold glitter, multi pink glitter, gold dot, and disco animal print. Indeed these adorable kicks that practically matched any outfit left a little sparkle everywhere its wearer went.
Sunny and Sparkly: 2014 Spring and Holiday collections
In March 2014, these two brands produced a spring sneaker capsule that featured bright, lemon-yellow florals, polka dots with stripes, and mariner stripes. In time for the holiday season the same year, these feminine labels rolled out sparkly and fun Keds and Kate Spade New York sneakers using Keds' iconic Champion silhouette. The sparkly finish was an instant mood lifter that left a smile to lady buyers and to those who admire its attractive makeup.
Sweet and Summery: 2015 Spring/Summer collection
During the spring and summer transition months of 2015, the duo labels released a set of Keds x Kate Spade New York sneakers inspired by the charming spell of the ladybug or lady beetles. This dotted, domed insect, which is a popular representation of springtime, was reinterpreted using color blocking on the vamp, adding a dash of playfulness and humor to the ageless Keds sneaker profile.
Dainty and Chic: 2016 Spring collection
The 2016 eight-piece Keds x Kate Spade New York sneaker lineup came in fresh, elegant, and sparkly using playful textured surfaces. The timeless Champion silhouette was highlighted once again and garbed with floral prints, lace-like daisies, stripes, and glittery covers, matched with either the traditional Keds rubber sole or a triple-decker one.
Classy and Timeless: 2017 Leather collection
The original Champion silhouette is a favorite reference of the duo labels in shaping Keds x Kate Spade New York sneakers. For its 2017 sneaker capsule, the two lifestyle brands went for a clean and straightforward look by utilizing leather on the cover. Adding a touch of class to this set of kicks is the use of gold accents on the eyelets and shoelaces. These kicks came in cream, deep cherry, rose dew, and black.
Elegant and Glittery: 2018 Bridal collection
Kate Spade New York has been mesmerizing consumers and captivating their heart for years with tastefully chic sneaker offerings ranging from classic to sophisticated interpretations. Some of these Kate Spade New York sneakers are embellished with sparkly outer shells, while a chock-full of bows accentuate others.
After coming up with a fanciful line of Keds glitter sneakers back in 2013, Kate Spade New York paired off once again with the shoe brand in 2018 for the drop of 30 nuptial kicks. The two lifestyle brands teased its die-hard followers and lovers of cutesy, feminine kicks with exquisite and sparkly variations.
The lineup which was inspired by wedding gowns comprised of classic slip-ons and embellished reinterpretations which are kitted out with polka dots, satin laces, pearl accents, and glitter galore. Its superbly affordable price bracket that stretches from $80 to $120 made these Keds x Kate Spade New York sneakers suitable for any bride's budget.
PF Flyers x Kate Spade New York Sneakers (2013)
Kate Spade hooked up with PF Flyers in March 2013 for the release of the Saturday Sneaks. The upper was constructed with white lightweight canvas covered with a colorful print that calls to mind the image of washed acrylic painting on canvas. This kick comes with PF Posture Foundation insoles.
Early beginnings of Kate Spade
Katherine "Kate" Brosnahan and Andy Spade established Kate Spade New York in January 1993. The brand name is an amalgamation of Kate's name and Andy's surname. Kate's namesake brand was launched before she married her business partner Andy and legally became Kate Spade.
Kate's fascination with designer apparel and accessories was enriched during her stint as a style editor and later on as senior editor and head of accessories at the Mademoiselle magazine until 1991.
This young Kansas City-native drew inspiration from local flea markets and secondhand stores in crafting her useful masterpieces. Kate also studied different styles, fabrics, and the potential production costs in making her sleek handbags.
Kate and Andy established the Kate Spade New York using Andy's salary, savings, and retirement fund. Their first merchandise is the Sam handbag which was followed by a parade of other chic yet functional bags. Kate Spade's debut collection was composed of a mix of classic shapes, colors, and fabrics. The bags were identified by the black tag sewn on the exterior that displayed the brand's spade symbol.
In 1993, Kate and Andy Spade launched their first company out of a cramped N.Y.C. loft. Kate's soon-to-be-iconic nylon handbag was immediately patronized by retailers such as Barneys and Fred Segal.
Kate Spade's inaugural 400-square-foot shop on Madison Avenue, New York City was opened in 1996. Kate Spade eventually moved to a broader space on West 25th Street, with an area that's more than 10,000 square feet. On the same year, Kate won the CFDA's (Council of Fashion Designers of America) prestigious Perry Ellis Award for Accessory Design. The brand turned a profit as Neiman Marcus and Saks Fifth Avenue placed huge orders.
It was like a snowball effect as the brand became a much-sought label towards the late 1990s that it was almost impossible not to see women carrying the simple nylon bag on SoHo district.
This fashion boutique is one of the first fashion brands that went digital through the use of iPads, cell phones, and computers.
The brand started to expand in 1998 with sales reaching $27 million.
From handbags, the Spade's broadened their product line and included stationery, personal organizers, footwear including sneakers, beauty products, perfume, eyewear, and a full clothing collection for women.
Kate Spade's Transition of Ownership
In 1999, the Neiman Marcus Group, Kate Spade's biggest client, bought 56% stake of the company for $34 million that granted them Kate Spade's majority ownership. On the same year, the first Jack Spade store was opened which revealed Andy's quirky style and a collection of clothing and bags exclusively for the male shoppers.
By 2004, the brand has already established 13 stores in the US. It didn't have any overseas shipments at that time yet, but Kate Spade & Co's worth already skyrocketed to $70 million. This excludes the menswear and accessory brand, Jack
Revenues of the company increased to nearly $99 million in 2006.
At the height of Kate Spade's success, its co-founders Elyce Arons and Pamela Bell sold their minority stakes of 44% to Neiman Marcus. The group procured the remaining shares by paying $59.4 million in 2006. At this time, the company already valued at $134 million, and the couple who created the business no longer had anything to do with Kate's namesake brand.
Not too long later, in November 2006, apparel giant Liz Claiborne Inc acquired Kate Spade for about $124 million from Neiman Marcus Group.
In 2007, Kate Spade expanded their retail stores to include Kate Spade New York outlets totaling to 47 outlet locations across the US. The outlets offer Kate Spade New York handbags, clothing, jewelry, and accessories at a discounted price.
Also in 2007, the Kate Spade at Home was launched which houses bedding, bath items, china, and other home accessories.
On its 20th anniversary, in 2013, Kate Spade New York launched a new fragrance product called Live Colorfully.
Kate Spade is currently under the wings of Tapestry Inc, a New York-based multinational luxury fashion company, after it was acquired from Fifth & Pacific (formerly Liz Claiborne) for $2.4 billion. Tapestry Inc is the same company that owns Coach New York and Stuart Weitzman.
Frequently Asked Questions
What's the difference between Kate Spade and Kate Spade New York?
Kate Spade is the professional name of Katherine Noel Valentine Brosnahan, who is married to Andy Spade. The couple is the co-creators of the lifestyle brand Kate Spade New York before they wed in 1994. The brand's name is a fusion of the couple's names.
Kate, who passed away in June 2018, will forever be remembered by her namesake brand even as she and husband have already passed it over to its new parent and birthed a new offspring named Frances Valentine, a footwear, handbag, and accessories brand named after their daughter Frances.
What's the price range of Kate Spade New York lifestyle sneakers?
Sneakers are naturally versatile as it can be fused with almost any type of casual wear. Kate Spade New York upped the ante by dressing the classic tennis shoe and customary slip-ons with decorative features, making these kicks fitting even for dressy and formal affairs.
In spite of its ultra-chic façade, the Kate Spade New York sneakers are very economical. You can get stylish wearing these kicks without the need to break the bank.
$75 to $95 - Kate Spade New York sneakers under this budget-friendly price bracket are outfitted with traditional leather, metallic finishes, and glitters. Some of these are Keds x Kate Spade New York Champion Leather, Keds x Kate Spade New York Kickstart Perf Shimmer Leather, Keds x Kate Spade New York Kickstart Glitter, Keds x Kate Spade New York Triple Glitter, Keds x Kate Spade New York Triple Kick Suede, and Keds x Kate Spade New York Ace Leather Glitter.
$120 to $140 – Kate Spade New York sneakers within this reasonably-priced range are designed with calf-hair leather made from the hairy side of cow and goat hide. These silky and smooth textured leather are crafted to resemble the coat of animals. Considering that products of this type of finish are popular among luxury labels and regarded priced possessions in a woman's closet, Kate Spade New York managed to produce sneakers incorporating this element at a very affordable cost. Some of these kicks are made with leopard finish, specifically the Keds x Kate Spade New York Triple Decker Leopard and Keds x Kate Spade New York Triple Decker Calf Hair Slip On.
$150 and above - Kicks by Kate Spade New York embellished with a cluster of gems, decorated with intricate embroideries, or made with premium materials like Nappa leather are priced higher than other sneakers from its entire collection, but are deemed as a bang for the buck. Some of these Kate Spade New York sneakers are the Kate Spade New York Amy, Kate Spade New York Amber, Kate Spade New York Louise Sneaker, and Kate Spade New York Gizelle Sneaker.
What are the unique materials used in Kate Spade New York casual shoes?
The most eye-grabbing type of covering used in Kate Spade New York sneaker is the shimmery glitter. The iridescence on these kicks that come in white, cream, rose gold, platinum gold, crystal silver multi, deep cherry, pewter, and silver shades adds glamour to any wardrobe. The glittery details range from subtle to deliberate such as a hint of shimmer on the heel of the Kate Spade New York Amy sneaker; as well as bedazzled uppers of the best-selling Champion Glitter, Triple Decker Glitter, and Kickstart Glitter kicks. The extremely glistening type is the Keds x Kate Spade New York Kickstart All Over Glitter which is encrusted with shiny embellishments throughout the upper and down to the sole, either in silver or navy.
Textured fleece. One of the wool designs incorporated on the Kate Spade New York sneakers is the houndstooth which is a motif popularly used for jackets, suits, and pants. An example of Kate Spade New York sneaker that's been dressed with this ladylike check pattern is the Gizelle sneaker which further steals the spotlight with its jewel embellishment.
Curly wool is another material used to enhance the appearance of standard Kate Spade New York slip-ons. This feature is composed of sheep's covering that's been roughly washed to leave the original locks and waves in the wool. The pale pink Misty is one of the chic sneakers by Kate Spade New York that's been crafted with curly wool cover. From afar, it looks as if the façade is wrapped in light-colored cotton candy that looks fab with spring and summer clothes.
A couple of Kate Spade New York sneakers are blanketed with matt-finished and Nappa leather. The standard leather versions are priced lower than the softer and light-resistant Nappa leather. The added protective coating on sneakers wrapped with Nappa leather gives such shoes a true-to-form look even when used after a prolonged period. Some of the leather Keds Spade New York sneakers are Keds x Kate Spade New York Champion leather, Keds x Kate Spade New York Kickstart Perf Shimmer Leather, Keds x Kate Spade New York Kickstart Nubuck, and Kate Spade New York Amber.
How do Kate Spade New York slip-ons and lace-ups fit?
The trendy Kate Spade New York sneakers are available in women's sizes. Whether you are shopping for classic cuts or the fully elaborated variations for yourself or someone else, these shoes are structured in standard medium width.
The side gores on the slip-on kicks offer a secured fit, which at the same time grants an easy on and off. Its lace-up offerings appear in four or six pairs of eyelets with shoestrings made of cotton and bows. Regardless of the style and material, these Kate Spade New York sneakers with lace-up closure grant wearers a customized fit.
Can male consumers purchase Kate Spade New York lifestyle kicks?
Male shoppers are not restricted from wearing Kate Spade New York sneakers even if these are crafted exclusively for the women's feet. To obtain a suitable size for men, it is advisable to purchase two sizes bigger than their usual size.
Do Kate Spade New York sneakers have removable insoles?
These kicks don't have removable insoles but are built with sufficiently cushioned footbeds that relatively provide comfort and support against impact.
Where can I purchase these sneakers?
You may grab Kate Spade New York sneakers from more than 140 retail shops and outlet stores throughout the United States and 175 stores peppered overseas. Its wide assortment of products is traded in more than 450 doors globally including major department stores and online shops such as Macy's, Nordstrom, and Dillard's. You may also browse on some of the best Kate Spade New York sneaker collections from this site.
What are the different sole thicknesses of Kate Spade New York kicks?
Kate Spade New York sneakers are obtainable in traditional midsole height with .8 inch heel thickness. Its creeper-styled midsole is either structured with dual or triple layers of rubber, coined explicitly as Double Decker and Triple Kick.
How to clean and keep Kate Spade New York sneakers long lasting?
Leather-made cover - Generally, leather-covered Kate Spade New York sneakers require minimal care. One of the easiest ways to remove dirt is by wiping the exterior with a moist cloth. If the amount of dirt cannot be removed by directly rubbing it off with a damp cloth, use water with low-chemical liquid soap in cleaning it. Dab a soft brush into the soap solution and gently scrub it on the upper, rinse with water, and leave it to dry.
You may also use a leather cleaner such as the one offered by the brand in tidying up smooth and polished leather covered Kate Spade New York sneakers. However, this isn't appropriate for suede and nubuck covered kicks. Blotch a few drops on a clean cloth, apply on the surface of the sneakers, wipe off extra residue, and allow it to dry for about half an hour.
Calf-hair leather – Calf-hair leather is essentially water resistant and can be damaged through rough usage. Thus, Kate Spade New York sneakers made with this type of upper need to be treated with respect. It needs to be protected from extreme weather temperature to maintain the beauty of its soft and supple exterior.
If your Kate Spade New York sneakers with this type of cover get matted or dirty, it will help to give them some gentle strokes using a soft brush and damp cloth that's dipped in mild soap solution. It is recommended to work in the direction of the fur to prevent it from getting tattered. Give it some tender brushing now and then to avoid dirt from building up.
You may also apply a small amount of hair conditioner to free up stubborn matting. Or you may also put protective spray on your Kate Spade New York sneakers to safeguard it from typical wear and tear. Spray a few inches away so as not saturate the calf hair which can cause in patches of matting.
Textile-built upper - For textile-covered Kate Spade New York sneakers, it isn't advisable to place the sneaker in the washing machine or dryer. Instead, do spot cleaning by concentrating solely on cleaning specific sections of the shoe with the use of mild liquid soap. Lightly work the soap solution into the stain using a soft bristled brush. Rinse the area with cold water and allow it to air dry.
How to determine if a Kate Spade New York product isn't authentic?
It is advisable to purchase Kate Spade New York sneakers from the brand's website and legitimate online shops. Genuine Kate Spade merchandises are not obtainable in flea markets, mall kiosks, New York's Chinatown, neighborhood alleys in Los Angeles, or even on auction sites.
2 best Kate Spade New York sneakers
Keds x Kate Spade Calf Hair Slip On
Keds x Kate Spade New York Double Decker Glitter
This shoe has recently been added to RunRepeat. There are still not enough reviews for us to assign it a
CoreScore
.
CoreScore
A score from 1 to 100 that summarizes opinions from users and experts. The average CoreScore is 78.
More...