Overall ranking lists
Similar ranking lists
Football is played by many people all over the world. What makes it the king of sports is that it can be played on a variety of surfaces, including natural grass, artificial turf, and indoor courts. Indoor football is prevalent in countries with short seasons for outdoor football. In fact, it originated from the United States and Canada.
Indoor soccer is derived from association football but with its own set of rules. The sport is internationally known as mini football, indoor football, floorball, showball, and fast football. There are two types of indoor soccer - futsal and five-a-side.
Outdoor football vs. Indoor football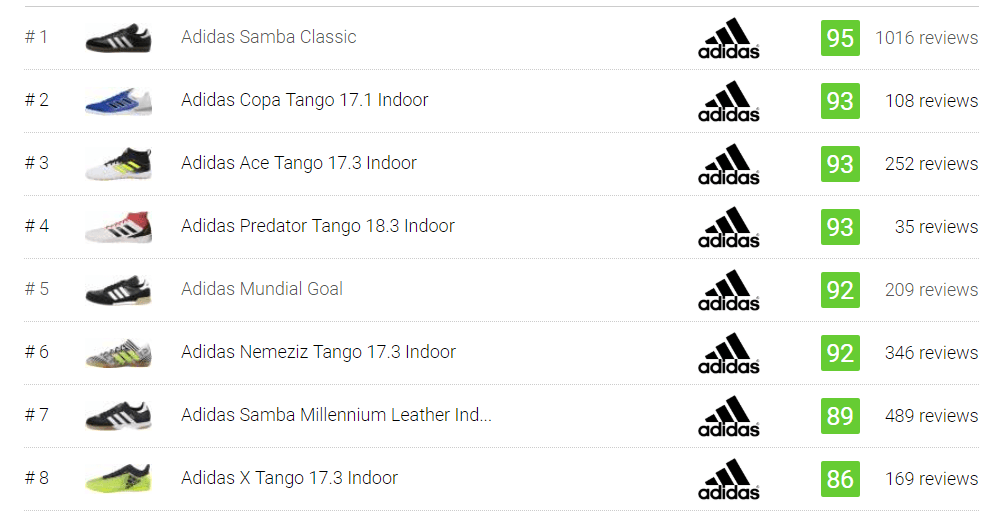 There are similarities and differences in playing the traditional outdoor football and indoor soccer. Players for both games use the same kind of jersey and shin guard. On the other hand, outdoor football requires a bigger playing field than indoor soccer.
One of the key differences between outdoor football and indoor football is the playing surface. Outdoor football is commonly played on natural grass, while indoor football is played on glossy hardwood floors. The flat surface of an indoor court allows the ball to move faster. Thus, wearing the proper football boot is extremely vital in order to perform your best.
Nowadays, there is a wide selection of indoor football boots on the market. Choosing the right pair can be a challenge especially for beginners. We at RunRepeat have gathered tons of information about a variety of indoor football boots from all over the web. This is so we can provide you with impartial reviews and in-depth football shoe descriptions that can help you determine which pair is the best for you and your needs.
What is an indoor football boot?
Indoor football shoes do not have cleats like that of a firm ground (FG) football boot. Instead, they come with durable rubber soles that are similar to tennis, basketball, or volleyball shoes. The outsole of an indoor football shoe has tread patterns that provide optimal traction on flat, glossy surfaces like indoor gymnasium floors.
The rubber sole of an indoor football boot is flat in order to keep your foot as close to the ground as possible. Thus, preventing the incidence of ankle injuries. They should be non-marking in order not to scratch the surface of the indoor court. Some even have intricate, suction-like patterns to lessen the incidence of slippage. There are a number of factors that you should consider when buying an indoor soccer shoe.
Choosing the right kind of indoor football boot
Football requires the players to use their feet more than any other sport in the world. They use their feet to run up and down the field. They also use their feet to kick and dribble the ball. They even use their feet to block the ball from entering their nets. Thus, choosing the right pair of shoes is of more importance than anything else when it comes to playing football.
When choosing the right pair of indoor football boots, you should always consider comfort, quality, and weight. Although your performance on the pitch significantly depends on your skills, having a good pair of indoor football shoe will definitely help you improve your game. Below is a list of factors that affect the shoe's overall performance.
Upper material
There are a variety of materials used to make the upper of a football shoe. Some players choose comfort over performance and vice versa.
Genuine Leather - There are mainly three types of genuine leather used in the upper of an indoor football shoe - kangaroo, calfskin, and full-grain leather.
Kangaroo leather - This premium material is also known as K-leather. It is the most expensive and most comfortable among the leather varieties. It is soft and provides superior touch and control of the ball. Because it stretches and molds to the shape of the foot over time, it is best for players with wide feet.
Natural leather - This soft material is made of calf and goatskin. It is lighter and thinner than the other leather varieties. Indoor football boots with this upper material does not need break-in time.
Full-grain leather - This is the most durable of all leather varieties. It is thicker and stronger. Thus, it is also heavier than calfskin and K-leather.
Synthetic Leather - This material has a similar touch and feel to genuine leather sans the animal rights issue. It is also very durable, lighter and more water-resistant than genuine leather.
Synthetic – Indoor football boots that use synthetic materials for the upper are durable, waterproof, and breathable. However, synthetic materials are stiffer than leather, so it requires a little bit more break-in period.
Mesh - Mesh is the newest trend in football boots. This material is lightweight and breathable, but it is not water-resistant. It also does not provide enough foot support.
Weight
Indoor football boot is more fast-paced compared to its outdoor counterpart. So, it is important for you to choose a football shoe that will not weigh you down. Take note that indoor football shoes weigh more than outdoor football cleats because of the gum sole rubber.
Fit
The rule of thumb for any football boot is that it should fit snugly both widthwise and lengthwise. The sides of the football shoe should meet the sides of your foot nicely that it does not move around when you are running. Keep in mind that genuine leather stretches more over time than synthetic materials. When it comes to length, there should also have enough room for your toes to wiggle inside the shoe. Also, make sure that there are no pressure points when you are walking to prevent blisters from forming.
Cushioning
Because indoor football courts are made of hardwood or concrete, the impact between the foot and the ground is greater compared to outdoor football. Look for an indoor soccer shoe that offers plenty of in-shoe cushioning to prevent strains. Removable insoles are also a plus. You can easily replace it with that you prefer more than the ones that come with the shoe.
Breathability
Indoor football can cause your foot to overheat quicker than outdoor football. Choosing an indoor football boot that has a mesh upper and interior lining is a wise choice.
Flexibility
The outsole of an indoor football boot is made of highly durable gum rubber. Look for a pair that has flex grooves for enhanced flexibility.
Design
Indoor football boots are designed based on how you want to perform on the pitch. Shoe manufacturers create high top, mid top, and low top collars.
High Top Indoor Football Boots - This type of indoor football boots provide optimum support from the base of the foot up to the ankle. The high top collar prevents the player from twisting an ankle.
High Top indoor football boots are best for Linemen because they spend most of their time doing lateral movements. Good examples of a high top indoor football are Nike MercurialX Victory Dynamic Fit IC and Nike HypervenomX Proximo II Dynamic Fit IC.
Mid Top Indoor Soccer Shoes - Like high top indoor football boots, mid top indoor soccer shoes also provide excellent lateral support to the ankle. This style is best for defensive backs, quarterbacks, running backs, and wide receivers.
Examples of high-quality mid top indoor soccer shoes are Adidas Ace Tango 17+ Purecontrol IN and Adidas Ace 17.3 Primemesh IN.
Low Top Indoor Football Shoes - Because there isn't anything that covers the ankle, low top indoor football shoes allow players to have a greater range of motion. However, since the ankle is exposed, it is more prone to injuries.
This type of football shoes is best for skill players. Some of the best low top indoor football shoes include Puma Momentta Vulcanized Sala IN and Puma Evospeed Sala IN.
Control
Football boots that are designed for maximum ball control have added elements on the specific areas. Shoe manufacturers developed certain technologies to enhance ball control. Examples of which include
Nikeskin - Nikeskin is a breathable, free-flowing mesh layer which is covered by a thin polyurethane (PU) film. This technology provides a barefoot feel on the ball.
It is also enhanced by All Conditions Control (ACC), which allows consistent ball control no matter the weather conditions.
Adidas Control Web - The Control Web is a revolutionary technology from Adidas made up of 3-layers of engineered Together with the Non Stop Grip (NSG), they provide the ultimate ball touch and control necessary to perform your best on the pitch.
Puma GripTex Print - The GripTex print technology allows the football boot to have pinpoint accuracy. It runs across the upper for a consistent ball control in both wet and dry conditions.
Speed
Football boots that are intended to enhance the player's speed should be lightweight. It has a minimal design and uses synthetic materials for the upper. Shoe manufacturers use high-end carbon fiber upper materials, sock liners, and EVA midsoles to achieve the lightest weight possible.
Some of the best indoor football boots that are designed for agile players include the Adidas Performance X15.4 and Puma Evospeed 4.4.
Power
The technologies used for power-designed indoor football boots are centered around the strike zones. Some indoor football shoes have an asymmetric lacing system to make way for a larger and uninhibited striking area.
Durability
An indoor soccer shoe's overall durability depends mostly on the materials used. However, there are also other factors that can affect its durability like the double and triple stitching in high-wear areas.
Playing position
The type of indoor football boot you buy should also perform in line with your focus on the pitch. Different playing positions require different kinds of play.
Goalkeeper - If you are a goalkeeper, the perfect indoor football boot for you should be one that provides optimum lateral support and traction.
Attacker - As an attacker, you need a lightweight indoor football shoe with a good strike zone in order to make more goals.
Defender - To effectively defend the ball and your teammates, you need an indoor soccer shoe that is durable and offers a lot of protection and lateral support.
Budget
Knowing your budget is probably the most important thing you should consider when choosing an indoor football boot. They are more affordable than cleated football boots. Keep in mind that premium materials come at a price. However, you can check out last season's football shoes as they are usually up on sale to make way for newer models.
Taking care of your indoor football boots
Caring for your indoor football boot is like caring for a loved one. When it is properly cared for, it can last longer. Here are some tips on how you can take good care of your indoor football shoe.
Remove dirt and mud after each game. Simply rub the soles of your shoe against each other, and the dirt will just come off.
Once you have removed most of the dirt, you can use a wet cloth to wipe away the remaining dirt.
You can use a soft-bristled brush to clean the upper and sole your indoor football boot. Also, you can use a soft-bristled toothbrush to clean hard-to-reach areas inside the shoe.
It is not advisable to frequently clean your indoor soccer shoe using water. In excess, water can significantly reduce the quality and durability of your shoe. When necessary, mix a small amount of hand wash with lukewarm water to remove stubborn dirt.
Pat dry your indoor football boot using a paper towel or a clean rag. You may also stuff your shoe with newspaper to absorb excess water inside.
Air dry your indoor football boot after washing. Keep it away from direct sunlight.
Frequently asked questions
Can I use running shoes when playing indoor football?
Although the outsole of an indoor football boot may look similar to that of a running shoe, you cannot use running shoes when playing indoor football. The thick soles of a running shoe are filled with air and gel to lessen the impact when running and moving forward. Indoor football requires players to not only move forward but side-to-side as well. Therefore, a durable, non-marking outsole made of rubber is ideal.
Can I use turf football boots on indoor courts?
The nubs on the outsole of a turf football boot are meant to provide maximum traction on the slippery artificial grass surfaces. Using it while playing indoor soccer will increase the incidence of slippage when you are making quick turns. The nubs will also damage the surface of the floor.
Is there a difference between an adult's and a kid's indoor football boot?
Kids' versions of indoor football boots often mimic the style of their adult version counterparts. The only difference between the two is the weight. Kids' football boots are lighter, so they can help develop the children's coordination skills.
What does low profile mean when it comes to indoor football boots?
A profile is the measurement of the shoe's stack height. It is the difference between the shoe's heel height and toe height. A low profile means the heights of the heel and the toe are even.
What are the best indoor football boots?
Adidas Samba Classic Indoor Football Shoe - The Adidas Samba Classic is undeniably the highest-selling indoor football boot of all time. The upper of the soccer shoe is made of full-grain leather with a timeless design. The durable gum rubber outsole performs well on all kinds of indoor football surfaces.
Puma Invicto Sala Soccer Shoe - The Astro Invicto Indoor is a comfortable soccer shoe from Puma that offers excellent grip on hard indoor playing surfaces. It is also fashionable enough to be worn casually.
Nike Mercurial Victory V - The Nike Mercurial Victory V Indoor football boot provides a soft touch on the ball and maximum traction on hard surfaces. This football boot also offers excellent comfort because of its contoured insole. It comes in 10 different colors.
Adidas Ace Tango 17+ PureControl Indoor Football Boot - If you are on the lookout for a laceless indoor football boot, then the Ace Tango 17+ Purecontrol Indoor soccer shoe from Adidas is your best bet. Even without the laces, its PrimeKnit upper molds to the shape of the foot for custom fit, support, and flexibility.
This shoe has recently been added to RunRepeat. There are still not enough reviews for us to assign it a
Corescore
.
Corescore
A score from 1 to 100 that summarizes opinions from users and experts. The average Corescore is 78.
More...