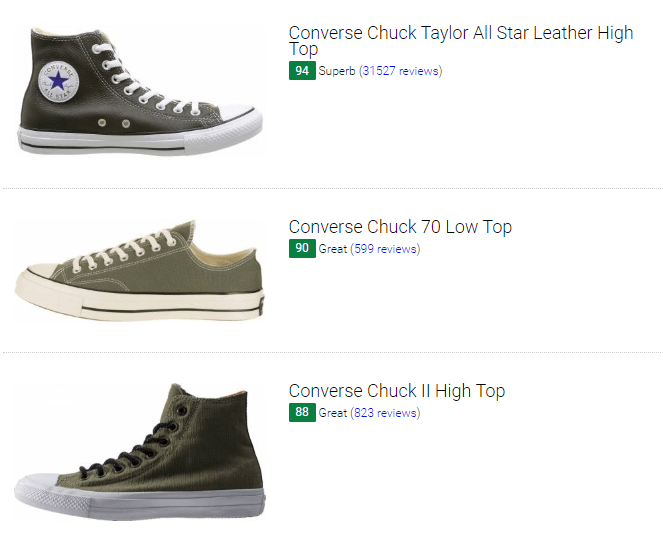 Best Green Converse Sneakers - September 2019
The color green offers a cool vibe. It is associated with life, nature, growth, renewal, freshness, and the environment. There are a number of green Converse shoes to choose from, all of which brings versatility and a smooth style to any look. Aside from that, the brand's shoes are available in a wide variety of colorways, such as black, white, red, and blue.
Converse is a staple brand when it comes to casual street fashion. Since its founding by Marquis Mills Converse in 1908, the brand has been a force to reckon with, first in the sports category and then in the lifestyle section. Virtually everyone wears the label's highly versatile kicks, especially when it comes to the Chuck Taylor All Star collection.
Best green Converse shoes
With Converse's diverse offerings, there are a lot of options for one to choose from. When it comes to green kicks, the brand has several models on offer. Here are just some of the most popular ones, with some additional info about pricing, fit and sizing, and background.
Converse Chuck 70 High Top
With a nod to the all-time classic Chuck Taylor shoe, the Chuck 70 High Top features a similar old school appeal just like its predecessor. Street and semi-formal looks would go well with the model, updated for a vintage yet modern vibe. The sneaker's thicker canvas material, as well as its thicker sole, also hooked buyers.
Among these kicks' green colorways are fir, light green, and a version of army green Converse shoes.
These have an easy-on-the-pocket price of $85.
It's a unisex shoe, with sizes ranging from men's 3/women's 5 up to men's 13/women's 15.
Most reviewers noted that the shoe runs large. A few others added that it had a narrow fit.
Converse Chuck II High Top
The Converse Chuck II High Top is another tribute to the timeless Chuck Taylor sneaker. For almost a century, the design of the Chuck Taylor was unaltered, proving how iconic and enduring the style was.
Converse then decided to release a new version of the classic in the Chuck II series, which made the original more comfortable and more luxurious than ever. Meanwhile, the design that has been loved by so many was retained, maintaining the shoe's legendary status.
Its colorways include an option for lime green Converse shoes.
The shoe is offered at a budget-friendly price of $80.
Sizes are offered in a unisex range, from men's 3/women's 5 to men's 13/women's 15.
Converse Chuck Taylor All Star High Top
First introduced in 1917, the Converse Chuck Taylor All Star High Top has found its way across the world of sports and into the casual scene of the streets. When Converse first produced the shoe, it was named the All Star, and it had a brown-colored canvas upper with black trim. Its construction was already high-class, leading to basketball players wearing it on the court.
However, the sneaker's real success came with the arrival of Chuck Taylor in 1923. He was a basketball athlete and salesman, and he helped bring the All Star into mainstream popularity. He had so much success that the company added an ankle patch to the shoe bearing his name. From then on, the model was known as the Chuck Taylor All Star.
This model has a lot of colorway options, including a blue-green variation.
At $55, these kicks are very affordable.
Unisex sizes were released for this sneaker, from men's 3/women's 5 up to men's 13/women's 15.
Many wearers revealed that it runs large, advising others that going down by at least one size is necessary.
Converse Chuck 70 Low Top
Paying homage to the heritage of the Converse Chuck Taylor All Star, the Chuck 70 Low Top is updated for modern individuals. Its low-cut profile comes in various fresh colorways, retaining a look that is as iconic and as versatile as ever. It also has an Ortholite cushioning in the sole along with thicker upper material for added durability.
Among its color options is an olive-green version.
It offers bang for the buck at a price point of $80.
Sizes are available in men's 3-16 and women's 5-18.
According to a lot of purchasers, this model runs large.
Converse Chuck Taylor All Star Seasonal High Top
The model Converse Chuck Taylor All Star Seasonal High Top is a modern version of the original Chuck Taylor shoe. However, it is updated with a seasonal touch, released in fresh color options that are perfect for springtime, with such options as lime green Converse shoes. Just like its predecessor, this model offers a unique and signature look with its canvas upper, rubber sole, and ankle patch.
These kicks are also sold in a variation for army green Converse shoes.
They are sold at a budget-friendly price of $60.
Sizes are unisex, ranging from 3-13 for men, with an equivalent range of 5-15 for the ladies.
Several buyers found that going a half size down than their usual size offered a better fit as the sneaker had large sizing.
Converse Chuck Taylor All Star Seasonal Ox
This low-top version of the Converse Chuck Taylor is offered in seasonal colors, adding just the right amount of brightness to an iconic model. The All Star Seasonal Ox comes in lively hues that can add a pop of color to any outfit. Its name comes from the shortened "Ox" for Oxford, an old term which referred to a shoe with a low cut.
The color variations include a vibrant version of lime green Converse sneakers.
At a price point of $55, these kicks are easy on the wallet.
Men's 3-13 and women's 5-12 are offered for the sizing. It fits true to size.
Converse Chuck Taylor All Star Seasonal Colors Low Top
Converse sought to offer a range of modern colorways that would best fit the seasons of change. Thus, the brand came up with the Converse Chuck Taylor All Star Seasonal Colors Low Top, along with its counterpart, the Seasonal Colors High Top. This model bears a resemblance to the original Chuck model, yet it is updated with hues that would best let the wearer shine during the fall season.
This model includes a variety of mint green Converse shoes.
The sneaker retails at a low price of $55.
Sizes 3-13 are available for men, while ladies can get their size by going two full sizes down.
According to quite a lot of commenters, this shoe runs a half size bigger than their usual size.
Frequently Asked Questions
What is the fit and sizing of green Converse kicks?
Green Converse footwear is usually available in unisex sizing. This means that the models are offered in men's sizes ranging from 3-13, with the equivalent size range of 5-15 for women's green Converse shoes. Some models may be provided in men's sizes, in which case ladies can go two full sizes down their usual for a good fit.
In the reviews of most of the shoes, it has been revealed that they run large. As such, wearers go at least a half size down. There are also a couple of kicks that have been found to have a narrow fit, so sizing up may be necessary for wide-footed wearers.
How much are green Converse shoes?
Converse offers sneakers for everyday casual use that is within the budget-friendly range. In the case of the green-colored kicks, the price ranges from $55 up to $85. These prices are considerably more affordable when compared to those of other footwear brands. Converse also regularly marks down their shoes, so it's best to check online to get the best prices.
Where to buy Converse footwear in green colorway?
Many places sell Converse greens shoes, from the brand's stores and outlets to other footwear retailers and department stores. Furthermore, the brand has an online store where one may find green shoes that are on sale. Online sneaker websites such as Amazon, Zappos, and Footlocker also carry many of the brand's models.
What colors would go well with Converse green sneakers?
Green is an eye-catching color that could add an exciting touch to any casual outfit. As complementary colors, red and green would look great together. However, such a combination may produce a Christmas-like effect, as it's a favorite pairing for the holiday season.
To avoid this vibe, go for orange hues instead. They are just as bright as red and offers a similar stylish effect when paired with green, minus the Christmas spirit. Get a piece of clothing in orange and keep the rest of the outfit in such neutral colors like black, navy or brown to keep the look balanced. Another color that would go well with green footwear is yellow, perfect for the adventurous type.
How could one style green-colored Converse kicks?
Converse shoes are very versatile and can be dressed up or down. They defy so many conventions and have been worn by different types of people: from supermodels and celebrities to rappers and rock stars, down to the average Joe. They are also suitable for different ages, whether kids, teenagers, adults, and even parents and grandparents.
As such, there are many ways to style green kicks, even with such bold hues like lime green Converse sneakers. Here are some pointers.
Everyday casual pieces such as jeans, pants, and shorts, will look great with these staple footwear models.
Women's green Converse shoes could be worn with a skirt, dress, shorts, joggers or skinny jeans.
A t-shirt or pullover will elevate the look to a laidback yet street-ready vibe.
For the office, the shoes could be paired with trousers or a skirt. The same ensemble could apply for any party or event.
In the end, styling green-colored footwear from Converse would boil down to one's style, as there are many possibilities. Green is also such an exciting color that one could experiment or change up one's look daily, especially when it's such an eye-catching shade such as mint green Converse shoes.
How to clean Converse green shoes?
Just like any other pair of kicks, it's essential to clean one's green Converse shoes, especially since they have a vibrant color. Since they are typically made up of canvas, it's best to clean them using a mixture of warm water and soap. Apply it using a bristle brush or an old toothbrush, gently brushing away the dirt or stains.
Once done, get a piece of cloth and dip in warm water, applying it on the shoe to wipe away the soap. Air dry them and soak the laces in a similar soap mixture, leaving them to set for a while. Afterward, the laces would also have to be air-dried. Soles should be knocked together to get rid of any dirt or pebbles.
What could the color green signify in Converse footwear?
Green is primarily associated with the natural environment, which is why they bring such a fresh vibe to any outfit. The importance and meaning of the color green would depend on the particular shade used. For example, olive or army green could be linked to military styles.
Dark green could be connected to the forest, while emerald could signify the sea. Meanwhile, lime, mint or neon green Converse sneakers offer a fresh appeal, while at the same time giving off a retro 1980s or '90s flair. Through it all, the color green is associated with freshness and rebirth.
Are there any eco-friendly green-colored Converse sneakers?
Green is the color of the eco-friendly movement, so it's natural for a brand to be drawn to it when it comes to making products that seek to contribute to the protection of the environment. However, green Converse kicks are not precisely manufactured with eco-friendly materials.
Despite that, Converse's parent company, Nike, is a member of the Sustainable Apparel Coalition. As such, the brand is known for using a small number of eco-friendly materials, including recycled and organic cotton as well as polyester. The company has also minimized its waste during the manufacturing process.
Where does Converse manufacture its green footwear?
Manufacturing operations for Converse footwear, including the famous Chuck Taylor All Star models and Converse greens shoes, have been moved from the United States to factories in such countries as Vietnam, India, Indonesia, and China. The shift was put in place following Nike's acquirement of the brand in 2003.
Are green Converse models washable?
Although many people have been known to put their Converse kicks in the washing machine, Converse highly discourages the practice. On their website, the brand has warned that shoes made up of canvas, suede or leather should not be machine washed or dried.
Instead, they need to be cleaned by hand and air dried. This is because the shoes could lose their color, especially with such bright variations as neon green Converse sneakers. They could also lose their shape.
7 best green Converse sneakers
Converse Chuck Taylor All Star Leather High Top
Converse Chuck Taylor All Star High Top
Converse Chuck 70 Low Top
Converse Chuck 70 High Top
Converse Chuck Taylor All Star Seasonal High Top
Converse Chuck Taylor All Star Seasonal Colors Low Top
Converse Bosey MC
This shoe has recently been added to RunRepeat. There are still not enough reviews for us to assign it a
CoreScore
.
CoreScore
A score from 1 to 100 that summarizes opinions from users and experts. The average CoreScore is 78.
More...