Gold Sneakers
The colorway of a sneaker, at times, plays a big role in one's style. The color of a shoe a person wears is one way of expression for the wearer's feelings, mood, or method of relaying a message or making a point.
Gold sneakers are one of the most attractive colorways as, in a way, it is unique and delivers an appeal that screams luxury and being prestigious. It adds more impact to one's style as it often attracts attention with its brilliance.
The element of the Gold in sneakers conveys definite self-expression, depending on the shade of the color is used on the silhouette, what other colors are combined or partnered with the color Gold, or how much part of the design is covered with the color.
Take a little trip below to know more about gold sneakers and about the color Gold itself.
Sneakers with Gold Colorways by Brand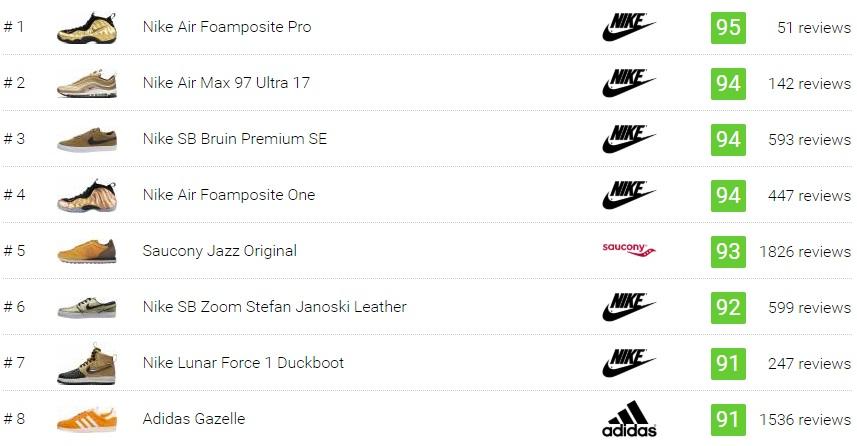 Nike
Nike is one of the leading brands in the footwear industry. It has released a massive number of silhouettes in many categories, where some of which have become iconic sneakers. Nike has also been successful in terms of designing new silhouettes, updating, and making variations of their classic and iconic ones.
The Swoosh has been releasing a wide variety of colorways for sneaker fans to enjoy themselves with. One of these colorways is gold. Below is a list of some of Nike's gold sneakers:
Adidas
Adidas is a brand that holds a rich heritage with the backstory of its origins and how it was established. The Adidas brand has taken over the athletic footwear industry, and as it expanded, it swiftly made its way into the sneaker category with its silhouettes that had gained titles of being one of the most iconic shoes in history. The success of the brand also includes having silhouettes that became one of the best-selling sneakers.
Colorways also played important parts in the popularity of the brand with how they give an identity on each silhouette. The color is among the colors that the brand picks to beautify its silhouettes. Here are some gold shoes from Adidas:
Puma
Embodied by its signature cat logo, the Puma brand also started off by offering high-quality athletic footwear until it made its way into the sneaker industry. The brand has created multiple iconic silhouettes that have taken their own spot in the sneaker history and has made a solid name for themselves for being a part of the iconic classics.
The brand has coated its sneakers with remarkable and unique colorways as well and among these are the Puma gold sneakers. Here are a few:
Puma Basket Classic Citi Metallic – this iteration of the Puma Basket Classic displays the traditional round-toe, perforated detailing, and finished off with the metallic colorways.
Puma Clyde Premium Core – a variation of Puma's iconic and classic sneaker, the Puma Clyde, which showcases a suede upper structure in a "classical core colors." The low-top shoe also offers a rather comfortable, snug fit with its lace-up closure system. The signature Puma Formstrips graces its sides along with the Walt Clyde Frazier's call-out on its lateral sides.
Puma x Careaux Basket Strap – a part of the Puma x Careaux collection which was given the feminine touch by the Netherland native graphic designer, Caroll Lynn. The round-toe, low-top gold sneakers display three adjustable straps that are being closed with the hook-and-loop, and its suede covered upper. It also features the gold foil Puma branding along with the Careaux logo on its perforated tongue. The signature Puma Formstrips on its side is also in perforated pattern.
Reebok
Founded in England, Reebok has produced a wide variety of sneakers that deliver style, quality, and performance. Reebok offers iconic silhouettes that carry a rich heritage behind its image and design. Among other brands, Reebok also features sneakers with remarkable colorways and here are some of its gold sneakers:
Reebok Classic Leather SHMR – another iteration of the Reebok Classic Leather in a gold colorway that its side and heel display a matte shimmer effect. This low-top shoe offers versatility and is great for both classic style and casual, everyday look.
Reebok Classic Leather Melted Metals - The Reebok Classic Leather Melted Metals features the timeless design of the Reebok Classic Leather in a metallic colorway that delivers a classy and sophisticated appeal. It also features the EVA midsole which offers great cushioning, and its leather-clad upper in metallic tone is a trendy tribute to its athletic heritage.
Reebok Club C 85 Melted Metals – a touch of the shiny, metallic appeal given to a classic silhouette, the Reebok Club C 85 Melted Metals displays a rather trendy look without failing to give respect to its heritage.
Vans
A brand birthed from skateboarding roots, Vans has established a concrete identity for itself as one of the highly sought-after sneakers with its iconic silhouettes and classic styles. The brand has maintained its stance and popularity among skateboarding enthusiast and fashion stylists with its versatile design on its sneakers. Colorways for its classic and stylish silhouettes has also played an important role in how they complement the image of each shoe. Below are some of the brand's gold shoes:
Vans Atwood – displays double-stitched canvas upper construction that offers durability. The Vans Atwood gold sneakers also feature the padded collar and tongue that gives off added comfort and the vulcanized sole and remarkable waffle rubber outsole for maximum traction.
Vans Kyle Walker Pro – this silhouette is an introductory signature model for skateboarding rookie, Kyle Walker. The sneaker displays a canvas upper structure and features the UltraCrush HD impact sockliners that offer a great boardfeel and maximum impact protection.
Jordan
A Nike shoe line that turned into a brand of its own, Jordan represents the iconic Air Jordan silhouettes that had made a solid reputation among sneakerheads. Highly sought-after by many and a household name in the sneaker market, the Jordan brand offers many of the most popular sneaker silhouettes in history. And with its massive popularity, it has constantly been updated and reinvented through upgrading of materials or dressing its shoes in trendy colorways. One of its silhouettes that falls in the line of the gold sneakers is listed below:
Jordan True Flight – inspired by the iconic Jordan Retro shoes, the Jordan True Flight gold shoes convey the Retro look that brings out an old-school vibe of Jordan classics. Leather and Durabuck cover the upper. The Polyurethane footbed and flexible full-length Nike Air Sole unit give off a more comfortable feel as the Neoprene Dynamic Fit inner sleeve and nylon web pull loop offer great fit.
Supra
This skateboarding brand has made a huge success in conquering the sneaker industry. It has garnered the favor of many skateboarding enthusiasts and sneakerheads. Supra continues its journey in the sneaker world with creating silhouettes that both provide quality performance and style.
Supra Vaider Cold Weather – a reinforced upper construction and a new sole system is given to the classic Vaider silhouette which conveys a rather durable sneaker. This high-top shoe offers maximum comfort and protection for the foot. The multilayer sole is being introduced by the Supra Vaider Cold Weather gold sneaker. It offers the directional grip and traction for excellent performance.
Saucony
A brand with a signature three-dot logo that, with its inception, aimed to provide the best shoes for runners. Saucony, throughout its existence, has successfully transitioned some of its iconic running shoes into lifestyle sneakers. With this transition, the brand managed to release various iterations of its silhouettes to provide fresh and on-trend versions of its iconic shoes. A gold sneaker from the brand is listed below:
Saucony Jazz Original – a classic silhouette from Saucony that displays a rather stylish design that offers both quality and performance. The Saucony Jazz Original also features a padded footbed, tongue, and collar that offers maximum shock absorption and which also provides a great fit.
Converse
Converse is a brand that within its century-old existence remains relevant in both the sneaker industry and the fashion industry. With its most iconic silhouette, the Converse Chuck Taylor All Star, the brand offers a rich history of how the Chucks became an icon not just in basketball but in different sub-cultures as well. The silhouette has also conquered the fashion industry as it is one of the essential footwear in a lot of people's wardrobe.
A variation of colorways for the brand's silhouettes are produced, and that includes the gold shoes. A few are listed below:
Converse Chuck Taylor All Star Metallic High Top – this iconic silhouette features the lightweight and comfortable canvas upper and a rubber outsole for great traction. These gold sneakers offer the stylish metallic gold colorway that shines up one's street-style look.
Converse Chuck Taylor All Star Metallic Low Top – the low-top version for the iconic Chuck Taylor All Star, these gold sneakers features a metallic canvas upper for lightweight comfort and durability.
What does the color gold mean and what does it symbolize?
Different colors express different meanings. One color can be defined through different meanings or interpretations in which sometimes depends on one's perception.
The color gold is being deciphered with a lot of expressions. It delivers different meanings on how it plays a role in a person's life.
Gold means different things depending on its shade as well. In general, Gold means:
Success – which correlates with accomplishments and victory
Wealth – indicate indulgence and material riches
Prestige and Luxury – aligns with elegance, refinement, significance, quality, and rank
The color Gold varies in meaning in different regions:
Northern America, Canada, and United States – designates fortune, luminosity, and money
Latin America and Mexico – the color gold is used in church ornamentation
Across the Caribbean, Cuba, Jamaica, Bahamas, Haiti – characterize pirates and their treasure
France – the interpretation of the color Gold includes luxury and adornment
Great Britain – symbolizes the Crown or Royalty
Japan – represents strength and riches
China – means the Earth element
European Flag – the flag displays 12 golden stars against the blue background in which the color gold implies balance and mysticism. It also conveys unity and cooperation amongst it countries.
What the color Gold symbolizes in religion:
Christianity
Mosaics and icons show their luminosity through the color gold as it also gives humans the means to value and believe in God's brilliance and magnificence
Signifies the Lord's divinity
Representation and usage of gold in Christian Liturgical Aspect Fact: the Pope only allowed five colors in religious symbolism until the 12th century, and they were Violet, Red, Black, White, ad Green. After the ecumenical Liturgical Movement, Blue and Gold were added. Each of these colors signifies different meanings, and Gold symbolizes brightness of the day together with the color White.
Hinduism
Symbolizes knowledge, education, mental development, and reflection
Hindi icons are represented to have radiant golden halos on their heads; they are also presented in golden clothing to express their radiance, making their loyal devotees in the know about their power and wisdom
Islam
It represents the color of paradise
The meaning of the color Gold according to its shade:
Bright Gold – an eye-catcher which also epitomizes the activation and ingenuity of one's spiritual energy
Dark Gold – displays a more intense, richer, and warmer tone of Gold which shows commonly represents exhaustion and stress
The color gold in culture
A color or shade of a color portrays different roles in people's daily lives. Each shade of a certain color gives different effect in one's state of mind and self-expression. It also affects our mood at certain times of the day. Sometimes one wears a certain color just because they simply like it and sometimes it has some personal connections to them.
Each color shows significance in different aspects of one's life. It wavers according to the influence of life circumstances and the impact of society. The color gold, as a prodigious version of the color Yellow, in psychology insinuates affluence and it also denotes "happiness versus bliss," "shrewdness versus learning," and "worth versus esteem," which links to triumph that leads to a brain analysis that conjectures grandeur and material luxuries.
The psychology of the color gold also demonstrates divergent interpretation in the different stages and facets of life, and expresses the following:
Childhood – showing respect for authority and following rules
Love – being loyal and prepared which has a powerful sense of right and wrong; accurate, consistent, well balanced, and methodical in giving values to important things such as family and tradition; affectionate, apprehensive, and genuine
Work – meticulous, rational, and prompt as it pays attention to every detail
Gender – gold expresses masculinity and the power of the sun as Silver represents femininity and the sensibility of the moon
With every positive manifestation of the color Gold, it also exhibits negative implementation such as:
Being the contrast between rich and poor
Incapability of giving trust effortlessly
Egotism
Maybe apprehended as lack of kindness ad over-ambitious
May show consternation of disappointment
How the color gold affects a person:
It heightens one's compassion and love
It helps motivate better understanding and gain more knowledge for one's self
It enhances benevolence that drives one to share their wealth and wisdom
Commonly Asked Questions
1. What does it say when people wear gold sneakers?
The color gold expresses self-confidence, personality, authority, charisma, and creativity. It basically applies on wearing gold sneakers as well as the color itself is something that not everyone is able to pull-off. Rocking gold sneakers display the unique and at the same time fun side of the wearer. The color also lets the wearer gain respect and attention.
2. Is it worth to buy gold shoes?
When buying a sneaker, one should always consider if the purchase they will do is one that they would actually use and need. When getting a pair of gold sneakers, one must make sure that it is the pair that they want and need.
3. Are gold-colored shoes a good choice as a finish for a casual, street-style look?
Yes, they are. The street-style look is a wide and versatile category when it comes to fashion. It gives the person the freedom to experiment with their outfits and explore more into the style. Wearing gold sneakers as a finish for a street-style outfit is a bold move yet an appealing one as it shows the creative side of the wearer. The bold, striking, and attractive appearance of the gold sneakers catches attention easily. Anyone can rock the shoe, matching it up with the appropriate ensemble, along with their confidence and brave style.
4. What kind of upper materials are best for gold lifestyle kicks to make these sneakers last long?
The longevity of the colorway of a shoe may vary with the material used for its upper or with the kind of material used for the colorway itself. The colorway of a shoe, not just the Gold sneakers last long depending on how the owner takes care of the shoe and maintains the vibrancy of its color. It also depends on whether the upper materials suit well with the elements of the colors and the kind of coloring material used for the shoe.
5. Do gold sneakers ever go out of style?
Every kind of trend always comes and goes. It applies to everything including shoes: its design and even its colorways. Gold sneakers display a bold and striking appeal that often only stays on trend at a particular span of time, but that doesn't seem to matter as long as the wearer is able to style up their pair of gold sneakers and match it up with an appropriate set of outfit that keeps the footwear stay trendy.
6. How to style up gold shoes?
Here are some tips on how to wear gold sneakers:
Shiny, metallic gold sneakers look exceptional when matched with a black and white combo look such as a white top and a black pants

(skinny

jeans, fitted jeans, etc.).
Gold sneakers stand out in an all-black outfit. For women, it brings out a rather chic appeal.
Wear bright or colorful socks with gold sneakers and let them peak out to capture attention.
For a more relaxed and fun vibe, pair up gold sneakers with a neutral look.
Gold sneakers look great with slightly cropped jeans as it also shows the beauty of the shoe.
Match up a basic look with gold sneakers to add more spice.
Rose gold sneakers look fantastic with light-colored wash-denim jeans.
A gold metallic sweater for the metallic gold sneakers for a rather trendy look.
Winter white ensembles go perfectly with gold sneakers.
An all-black attire with gold accents matches perfectly with a pair of metallic gold sneakers.
Rose Gold sneakers can be a perfect finish for a variation of gray ensemble.
A casual boho look such as the boyfriend jeans and an artistic, graphic tee can be complemented well by a pair of gold sneakers.
Gold sneakers with a black dress show a combination of fancy and casual style.
Pair up the gold sneakers with black tights for a casual winter look.
Rose Gold sneakers go well with a busy day or running errands attire.
15 best gold sneakers
Nike Air Foamposite One
Supra Vaider Cold Weather
Nike Lunar Force 1 Flyknit Workboot
Nike Air Force 1 07 High
Nike Lunar Force 1 Duckboot
Adidas Samoa
Jordan True Flight
Adidas Gazelle
Onitsuka Tiger Mexico 66
Supra Skytop
Pharrell Williams Tennis Hu
Adidas Swift Run
Nike Air Max Zero QS
Nike Blazer Low
Nike Air Max 90 Essential
This shoe has recently been added to RunRepeat. There are still not enough reviews for us to assign it a
CoreScore
.
CoreScore
A score from 1 to 100 that summarizes opinions from users and experts. The average CoreScore is 78.
More...