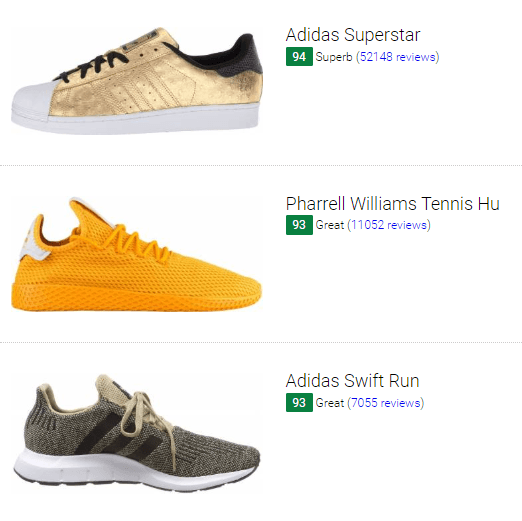 Best Gold Adidas Sneakers - September 2019
Gone are the days when sneakers are solely designed for running purposes. In the modern market, sneakers are created to be one's essential piece for the everyday wardrobe. Most brands recreated the rubber-soled footwear into sports-inspired sneakers in low-top, mid-top, and high-top, to make it more lifestyle appropriate.
In the past, sneakers are dressed only in white or black, but several brands set in motion their creativity to introduce more colorways in the market, such as red, blue, orange, green, silver, and even gold.
Wearing the dazzling gold shoes have been one of the most significant sneaker trends in recent years for its fun and glamorous nature. Gold hue is hard to ignore that can work as your statement piece to your overall ensemble.
As one of the foremost makers of stylish and high-performance footwear, Adidas released several iterations that flaunt the gold hue. If you are considering strutting a metallic kick on the city streets, RunRepeat team have collated some of the best Adidas gold sneakers available in the market.
Adidas Swift Run
The Adidas Swift Run has gained its popularity as one of the versatile silhouettes in the stash of Adidas lifestyle footwear. These black and gold running-inspired Adidas sneakers for women and men are made of stretchy knit upper with embroidery on the toe and back of heel for added contrast. Meanwhile, this pair also has sock-like construction made of spandex liner for added comfort.
This model is in men's and women's sizing.
Adidas offers this black and gold Adidas shoes at a pocket-friendly price point of $85.
Other colorways offered are Core Black, White, Scarlet, and Clear Orange.
Adidas Superstar Boost
The Boost-induced version of the renowned Adidas Superstar was upgraded with Boost technology, the most responsive cushioning of the Three Stripes. These Adidas metallic gold shoes kept the retro details, which was originally built for the basketball games in the 60s. This model was introduced in 2017 in various colorways.
Adidas presents this model is men's and women's sizing.
This model is found at the price range of $120.
Other colorways offered are Cloud White/Core Black/Cloud White, Core Black/Ftw White/Gold Metallic, Core Black/Core Black/Gold Metallic, DGH Solid Grey/Mid Grey/Mid Grey, Metallic Bronze/White, and Metallic Silver/White.
Adidas Court Vantage
These rose gold tennis-inspired Adidas shoes display minimalist style dressed in shiny exterior keeping one's outfit a higher level than the usual. The rubber outsole meanwhile gives a firm grip on various terrains allowing this to be useful for various grounds.
Both men and women's sizing are available in the market for the Court Vantage from Adidas.
Three Stripes presents this very budget-friendly kick at $60.
Other admired colors are White, Sun Glow, and Black.
Adidas by Stella McCartney Ultra Boost
Adidas and Stella Mccartney combined forces to create a sneaker with sophisticated look and quality performance. These white and gold Adidas shoes are made of adaptive knit upper, a material said to be softer than the Primeknit, added with gold glitter weave. The brand added a shiny metallic overlay on the heel for a plush feel in the Adidas Stella McCartney Ultra Boost.
Adidas presents this at an expensive price range of $220.
This sneaker is solely offered in women's sizing.
Other well-admired colorways are Cloud White/Fresh Lemon, Black White/Granite, Night Indigo/Granite, and Core White/Solar Red.
Adidas Superstar
Considered one of the iconic models of Adidas, this basketball-inspired silhouette has been loved for its classic and versatile appeal that can be paired for almost any attire. Added to the fact that these Adidas black and rose gold sneakers offer superb comfort that can last a day without straining your feet with a very affordable price point.
Offered at a budget-friendly range of $80.
Adidas presents this in men's and women's sizing.
Other well-liked colorways of Superstar are the Cloud White/Core Black, Cloud White/Red, Cloud White, Collegiate Green, and Collegiate Navy.
Pharrell Williams Tennis Hu
The team up with famous rapper Pharrell Williams created a minimalist, fuss-less sneaker with the unique lacing system called the Tennis Hu. Released in various colorways, the well-ventilated upper features cutting-edge appeal enhanced with a breathable cover. The EVA midsole of these Adidas gold shoes is also dressed in gold tone for a monochromatic look. This unisex pair offered in men's sizing.
Three Stripes provides this at a reasonable price tag of $130.
Women can enjoy this men-exclusive sneaker by purchase 1.5 sizes down their comfortable fit.
Other notable colorways are Blue, Dark Blue, and Scarlet Red.
Adidas Gazelle
These Adidas shoes with gold stripes display the vintage terrace footwear covered with a premium suede upper for luxurious vibe added with metallic accents for plush appeal. Meanwhile, the gum rubber outsole provides the vintage feel and added durability.
The affordable Gazelle at $80.
Adidas offers this in men's and women's sizing.
Other well-received colors available are Red, Blue, Black, and White.
Adidas Samoa
It was in August 2011 when Adidas reintroduced the iconic vintage silhouettes of the Three Stripes. Included is the training sneaker Adidas Samoa, which gained its popularity in the 80s. This model is made of leather or suede upper with suede overlay accent on the toe box. Over the years, several colorways were introduced in the market, and one of it is the version of Samoa in white and yellow gold Adidas shoes with white stripes and gum toe box.
This pocket-friendly sneaker is presented at $70.
This Adidas model is available in both men and women sizing.
Another favorite hue is the Core Black with metallic gold Samoa label on the side.
Adidas ZX Flux
These Adidas Originals sneakers feature a look similar to the ZX 8000 running footwear. Created to match the celebrated Nike Roshe Run, the brand removed the redundant elements to come up with a seamless upper with reflective details and create the ZX Flux sneaker.
These Adidas black and rose gold sneakers are offered at $90.
This model is available in men's sizing only.
Other colorways presented are White, Core Black, Blue, and Pink.
Adidas Falcon
These off-white and gold sneaker are accented with purple and blue details on various parts to maximize the retro vibe. Displaying the on-trend dad sneaker look, the Falcon was inspired by the 90s fashion and the electronic dance music. It highlights its chunky profile and lively hues to give life to the cheery attitude of the rave scenes dominated the 90s.
This highly popular sneaker is offered at $100.
Other remarkable shades are Grey, Crystal White, Core Black/Active Purple, Crystal White/Shock Red, Clear Pink/Legend Purple.
Adidas Climacool 1
Adidas launched the Climacool Precious Metal Pack in 2016 that gave a new look to the renowned Climacool silhouette. The mesh upper of these gold Adidas sneakers feature the ventilated holes that maximize the breathability while retaining the superb snug fit and durability. Lastly, the gold midsole and black outsole add style while keeping the excellent traction for various surfaces.
This model is at $120.
Sizes for men and women are offered in the market.
Adidas also offers this in other colorways, such as Red, Black, Retro Frost Green, and Tri-Color.
Frequently Asked Questions:
What can gold sneakers say about one's personality?
Some people say you can take a peek at one's personality by his or her choice of sneakers. In a study done by researchers of the University of Kansas, participants were shown pictures of strangers wearing shoes, and they were asked to guess their status in life. The results were astounding as 90% of them correctly guessed the wearer's characteristics.
Because of the flashy appeal of gold sneakers, wearing these can reflect the wearer's extrovert personality. This kind of people does not mind being the center of attention by showing off their gaudy way of dressing up.
Also, snazzy gold kicks can reflect that the wearer is emotionally stable, according to some studies. The wearers of these fashionable sneakers are less likely to have attachment anxiety, which is common in ambivalent and negative personality traits.
How to style my gold Adidas sneakers?
While some found it too risky to wear gold sneakers in the city streets, styling this pair is considered fun and exciting as it surely elevates your usual everyday casual look. Here are few suggestions on how to wear your gold Adidas sneakers, but one surefire advice is to wear this striking colorway with heaps of confidence:
It is advised to pair your gold shoes with ensembles with simple color and pattern to avoid looking too overboard.
Earth-toned attire looks great when paired with gold sneakers, such as beige, brown, black, white, and grey.
White ensemble such as white trousers and shirt contrasted with blue denim jacket work well with gold sneakers.
For more laidback getup, some would pair this flashy kick up with denim shorts or skinnies with a white top.
To highlight the shiny elements of gold sneakers, some pair this kick up with all black attire to balance out the entire getup.
Some formal attire can be attended wearing the gold sneakers. It will surely break the formality by inserting the fun, relaxed vibe of sneakers.
Avoid wearing bold patterns and works great when matched with red, emerald, blue, and burgundy.
What are the pros and cons of owning gold sneakers from Adidas?
One advantage of gold sneakers is its overall appeal that will surely function as your statement piece. This colorway is a perfect accessory to exalt your easy and straightforward attire; thus elevating your look, on the whole.
One negative side of owning gold sneakers is some found it inflexible to style and can only be matched with certain colors. Some also did not like the ostentatious appeal that will surely draw attention, which is a drawback for some who prefer staying outside the limelight.
What is the most expensive Adidas gold sneaker?
To date, the most expensive Adidas gold sneaker is the Adidas x Pharrell Hu NMD China Pack Gold. This limited edition model was presented initially at $250 but is being resold to as high as $8,599. It boasts its metallic gold lace stabilizer attached to its midsole adding elegant appeal.
What is the meaning of color gold?
Gold, that somehow shares features with the color yellow, is typically associated with extravagance, wealth, riches, love, courage, and wisdom. Gold also reflects warmth, cheerfulness, or melancholy.
Gold is considered the most valuable in the global market that can be easily traded. It denotes prestige in most countries. It also symbolizes energy and power just like the sun, as compared to the silver which is more linked to femininity and the moon.
Other shades that share the same value of gold are yellow gold, honey, bronze, and copper.
Where can I buy Adidas gold sneakers?
The remarkable gold sneakers of Adidas can be bought on their physical stores found on various locations and of course on the Adidas websites, and partner retailers, such as 6pm, Amazon, eBay, Finish Line, JD Sports, Footlocker, End, Zappos, and many other shops found online.
How to clean my Adidas gold sneakers?
In general, whatever the colorway may be, Adidas gave several tips on how to clean your Adidas pairs to lengthen its lifespan and serve its wearers in spic and span condition:
Shake all visible dirt, except the fabric material, by using a brush with soft bristles or wipe any excess dirt gently. As much as possible, spot clean your sneaker as not to make the dirt permanent.
Remove the laces and wash it with soap and gentle cleaning solution.
Take the removable insole off, and air dry it. Also, it is advised to dust it with baking soda to remove the intense smell and brush it off the next day.
Using a washcloth, dab stains found on the shoe using a cleaning solution made of gently detergent and warm water.
Wipe down the shoe after by using the warm water- rinsed washcloth.
Air dry your footwear at room temperature and avoid exposure to direct sunlight or using the heater as it can alter the shape of the rubber.
On the leather part of your sneaker, apply a small amount of shoe leather conditioner.
Store the sneakers in a cool area and as much as possible store it in its original box.
4 best gold Adidas sneakers
Pharrell Williams Tennis Hu
Adidas Samba ADV
Adidas Continental 80
Adidas Gazelle
This shoe has recently been added to RunRepeat. There are still not enough reviews for us to assign it a
CoreScore
.
CoreScore
A score from 1 to 100 that summarizes opinions from users and experts. The average CoreScore is 78.
More...