Football Sneakers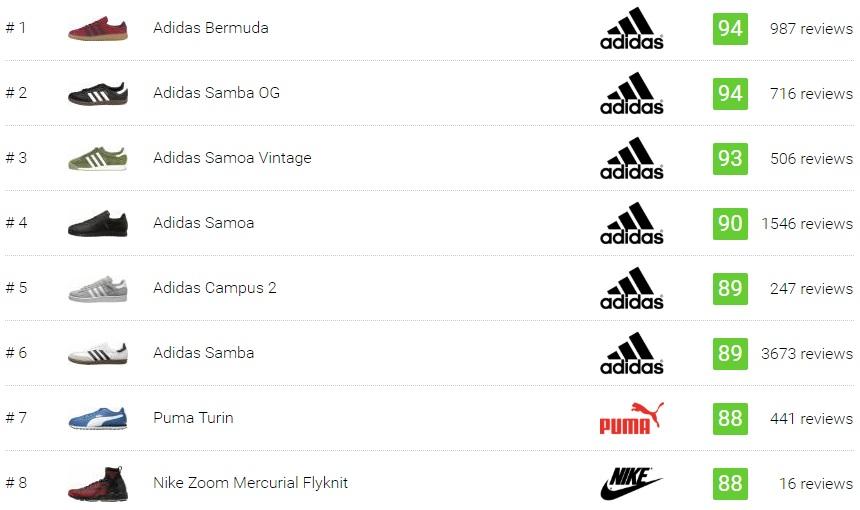 The game of football is by far the most popular sports in the world. By approximation, more than half of the total global population are categorized as association football or soccer fans. With over 4 billion followers, it has the lion's share of fans especially in the Commonwealth countries and the United Kingdom. Other popular sports such as cricket comes in second, with over 2 billion fans, while one of USA's premier sports, basketball has amassed 1 billion fans respectively.
All over the globe, the impact and dominance of football are overwhelming. The sport has been dubbed as "The Beautiful Game." While the game has widespread popularity in Asia such as Japan and Latin America, Europe refers to football as a way of life. The world's quintessential sporting event besides the Olympics, the FIFA World Cup is the single most watched tournament between countries, and it's not even close.
With the success of the game, the gears or equipment necessary to play the sport has always been on demand. Many sneaker brands have made football their milking cow due to its worldwide popularity. Dating back to the 1800s, people started to design the best footwear to perform greatly on the field. Puma, one of the most enduring and successful athletic brands in the world, got their start in the industry when the West German national team used its boots to compete in an international tournament.
As innovative and comfortable these football shoes are, they don't translate to off-field use. Wearing those performance footwear casually looks inappropriate and impractical, even for those hardcore fans of football. Thus, the introduction of football-inspired sneakers comes into existence. Like in other sports such as basketball, these off-court renditions of the favorite on-court shoes have got the fans and casuals excited.
There is a certain charm to proudly prance with football sneakers on one's feet, as it showcases a method to fully appreciate and identify football while doing non-football related activities, similar to the effect of other iconic shoes like the Stan Smith from Adidas and Air Jordan 1 from Nike. Football sneakers or soccer-inspired lifestyle shoes and other relative topics are going to be discussed in detail below.
Featured Football Lifestyle Sneakers by Brand
Nike
As one of the greatest athletic brands in the world, Nike's collection of casual kicks which are inspired by association football or soccer has steadily gained recognition. Here are some of the best–rated football sneakers and its features.
Nike Zoom Mercurial Flyknit
Inspired by the innovative Nike Free Mercurial Superfly which was adored by the football superstar Cristiano Ronaldo. This lifestyle version of the Mercurial exhibits a Flyknit construction and a high-cut collar. Some described the design of the Zoom Mercurial Flyknit as an "acquired taste" due to its unique color details and silhouette. Some thought that it is priced steeply, and the limited number of pairs released only made it more challenging for those who are interested in buying the shoe.
Nike SB Zoom FC
While this shoe is labeled as a skater shoe, it is recognized initially as indoor soccer footwear. FC means Football Club. It consists of a semi-stuffed tongue, Air Zoom insole, and extra padding. This shoe is referred to as the second most popular shoe of the SB line.
Nike Air Footscape Magista Flyknit FC
Inspired by two shoes, namely the Nike Air Footscape and Nike Magista. This sneaker delivers superior comfort and style. Many of its qualities like the Flyknit construction and high-cut collar are similar to the Nike Zoom Mercurial Flyknit. A myriad of color schemes has been released for this shoe.
Nike Air Footscape Desert Chukka
The unconventional Air Footscape Desert Chukka had contrasting opinions from reviewers about its overall style. However, its Phylon midsole and flexible outsole offer lightweight comfort, which has been well-received by the majority of its testers. One major drawback from this sneaker is the unusually high price tag, but some wearers attested that it is worth it, because of its support features.
Nike Free Hypervenom Low
Nike utilized the Free 3.0 sole and blended it with a Hypervenom-inspired upper. This footwear is one of those football sneakers that is a result of combining the aspects of two different sneakers. The result is a satisfactory product which can be genuinely considered as street-worthy.
Nike Kobe 11 Mambacurial
A hybrid sneaker that has basketball and football origins is definitely worth taking a look at. Nike and retired basketball superstar Kobe Bryant produced an eye-pleasing lifestyle kicks that will make fans of both sports clamor for more of this kind of footwear.
Nike Tiempo Vetta 17
It may be unusual for football sneakers to have a touch of elegance in its design. With the case of the of the Nike Tiempo Vetta 17, the deep black color scheme, supple leather, and embossed crosshatched pattern offer a distinct posh appeal on the streets.
Nike Air Max Mercurial R9
One of Nike's most famous shoes, the Air Max has been re-imagined with the signature features of the Nike Mercurial R9. This casual shoe is an example of football sneakers that garners a lot of attention because of its association with a famous and iconic shoe line. A little bit of trivia, this sneaker is inspired by the Brazilian wonder Ronaldo, not Cristiano Ronaldo.
Adidas
The three-striped brand has been a household name for several generations and will continue to do so, thanks to its vast array of products for just about any sport. Listed below are some of the soccer-inspired casual kicks or football sneakers that Adidas has released over the years.
Adidas Campus
It is one of the classic Adidas favorites, featuring a premium suede upper and plenty of colorways. Adidas Campus has a football heritage, but like its vastly famous sibling the Gazelle, it has been more associated with street-style fashion. Other Campus models are as follows:
Adidas Campus 2 + NBA
Adidas Campus CNY
Adidas Campus Hairy Suede
Adidas Campus Mesh
Adidas Campus Stitch and Turn
Adidas Bermuda
One of the newer football sneakers introduced by the brand, it exhibits a throwback silhouette yet fashion-forward look. It bears many similarities to the Adidas Samoa, as both have an upper made from suede with the trademark three-stripes. One distinction that the Bermuda from Adidas has is that the shoe's front doesn't have a bumper. This sneaker has been praised due to its durability, quality materials, and satisfying comfort. Despite its impressive features, some mentioned that it is not for wide-footed wearers.
Adidas Neighborhood Chop Shop
Adidas and Japanese street clothing brand Neighborhood collaborated for this shoe. It displays a striking shark tooth patterns on the heel that matches well with the overall minimalistic aesthetic of the sneaker. Adidas' trademark tech, the Primeknit offers comfort, breathability, and lightweight feel.
Adidas Samoa
It seems that there is an ongoing theme with Adidas football sneakers of bearing a vintage appearance. The Three Stripes' Samoa, like most of the soccer-inspired lifestyle kicks, exhibits a classic look, but it also offers durability, thanks to the presence of the rubber toe bumper. These are some of its reiterations:
Adidas Samoa Plus
Adidas Samoa Vintage
Adidas Samba
This iconic, soccer-inspired Samba made many fans delirious when it made the transition to lifestyle. More than fifty years after its introduction to the public, its demand has been steadily positive. Not only the consumers liked the classic factor of the shoe, but also for its versatility, durability, and a wallet-friendly price tag. Despite the overall features of the Adidas Samba, many also complained about it being squeaky on some surfaces. These are the other variations of this shoe:
Adidas Samba Classic OG MIG
Adidas Samba FB
Adidas Samba MC
Adidas Samba MC Leather
Adidas Samba Sock Primeknit
Adidas Samba SPZL
Adidas Samba Super Suede
Adidas Gazelle
One of the exceptional lifestyle shoes of all time. There aren't many football sneakers that have the impact and sought-after design of the Adidas Gazelle. Since its release, it has been a staple for many people, and still maintains to be so up to this date. With over a hundred color schemes and a multitude of collaborations under its name, the timeless Gazelle is, by all means, a definition of a household name shoe. Being one of Adidas' iconic sneakers, the Gazelle has various models under its name:
Adidas Gazelle Cutout
Adidas Gazelle Decon
Adidas Gazelle Foundation
Adidas Gazelle Sport Pack
Adidas Gazelle Stitch and Turn
Adidas Gazelle Super
Adidas Gazelle Super Essential
Adidas Gazelle Tonal Leather
Adidas Sobakov
The shoe is a recent addition to the football sneakers collection of Adidas. This footwear showcases a unique variation of the three-striped symbol. It bears inspiration from the Samba. This model though has a mesh upper and gum bottom outsole. The outsole of the Sobakov has a striking herringbone pattern embedded onto it, and most certainly, its defining feature.
Puma
Puma has been associated with association football more than any other sports. The brand has a long history with the game and will continue to be so. Below are few of the notable Jumping Cat football sneakers that the brand is more than proud to showcase.
Puma Turin
Considered as a vintage sneaker, the Puma Turin has a modest construction. This low-top has a synthetic material on its upper, and Puma brandings at the lateral sides and tongue. It has been reiterated in various color schemes. It can be worn with any casual or sporty attire. The Puma Turin's price is budget-friendly, much to the delight of the customers. These are other Puma Turin models:
Puma Turin Denim
Puma Turin Etch
Puma Turin Nubuck
Puma Turin Nylon
Puma Turin Suede
Puma Turin Woven Print
Puma Astro Sala
Fitting for a lifestyle sneaker, this footwear is a seamless match for a plethora of casual clothing. An excellent choice for casual workdays or weekend ensembles, the Puma Astro Sala is just that without the hefty price tag. There is also a suede upper variant of this low-top. Some wearers mentioned though that it may not have great arch support.
Puma Roma Citi Series
With its sleek leather upper and T-toe construction, the Puma Roma Citi Series looks elegantly stylish. The trademark Puma Formstrip are visible on the lateral and medial sides. Its black and brown color scheme adds to the refined appearance of the sneaker. The upper is made from leather and has an appealing design and pristine lines. By having a vintage sporty look, it is a natural match for denim shorts or any preferred casual outfits.
Collaborations
A fusion of concepts, branding, and design from two or more entities defines a sneaker collaboration. Below are some of the football sneakers that are made from collaborations.
Adidas Neighborhood Chop Shop
Japanese clothing brand Neighborhood has made some updates to the classic Adidas Campus. Adidas' trademark technologies such as Primeknit features an innovative knit upper while the Boost sole material delivers supreme cushioning and support. Also worth noting is the shark teeth pattern and the fabled Shinsengumi flag symbol on its heel. Shinsengumi is the name of the Shogunate's special police force during feudal Japan.
Adidas Padiham SPZL, Adidas Samba SPZL
Gary Aspden, one of the brand's consultant, has made his own input to reimagine these two football sneakers. SPZL means "Spezial," and these two are part of the Adidas Spezial collection.
Adidas Padiham SPZL
This sneaker's retro profile is inspired by the iconic Samba Silhouette. The single-piece rubber outsole not only contributes to the kick's throwback appeal but also provides reliable traction. Its tongue exhibits a contrasting color which allows it to be more noticeable.
Adidas Samba SPZL
Similar to the Padiham SPZL, it follows the vintage silhouette of the Adidas Samba. The upper of the Samba SPZL contains full grain leather. Suede overlays are distinctively visible on the middle. Like the other models from the Samba collection, the rubber outsole delivers excellent traction due to its football heritage.
Adidas White Mountaineering Campus 80s
Japanese retailer White Mountaineering team up with Adidas for a retake on the Adidas Campus. It exhibits the Adidas Three Stripes by adding undertoned diagonal lines on the side panels.
Naked x Adidas Samba Waves
With the help of the Danish retailer Naked, the vintage Adidas Samba has been updated with a premium ostrich leather upper. The shoe features a fresh colorway, while the white overlays compliment the three-stripe branding. It also features a consortium insole with a natural gum outsole. Its UltraBOOST midsole provides the necessary cushioning.
Kith x Adidas COPA Ace 16+ Purecontrol Ultra Boost
Los-Angeles based street-gear retailer Kith mas made some savvy alterations to the off-pitch edition of the Adidas Ace 16+ Ultraboost. Its upper features an innovative laceless PrimeKnit with an UltraBOOST sole. It also has a Continental rubber outsole which offers enhanced traction.
Off-White x Nike Zoom Fly Mercurial Flyknit
Italian luxury and streetwear label Off-White and Nike has a collection of collaborative products including the off-pitch edition of the Nike Zoom Fly Mercurial. This footwear is a combination of the Zoom Fly's innovative running midsole and the upper of the Mercurial Flyknit. To honor the football players' rigorous training regimen, the shoe features large dots on its upper.
NikeLab Footscape Magista x OR
French prominent fashion label Balmain's Olivier Rousteing made a reiteration of the Nike Air Footscape Magista with golden accents across its Flyknit upper. Elegance is the central theme of this sneaker. The metallic gold Flyknit and zipper gives the shoe its luxe and sophisticated appearance.
F.C. Real Bristol x Nike Tiempo 94
Japanese apparel label F.C. Real Bristol and Nike made an off-pitch limited edition of the Tiempo 94. All models under this collaboration have camo patterns across the upper. The colorways available for this collection are Khaki Camo, Blue Camo, Black Camo, and Multi Camo. Acquiring these pairs might be challenging, due to its limited release, and it was primarily sold in Japan.
SOPHNET. X Nike Roshe Tiempo VI
Japanese streetwear brand SOPHNET. has made a collection of lifestyle kicks from the hybrid performance shoe Nike Roshe Tiempo VI. The Nike Roshe Tiempo VI. The Roshe Tiempo VI was the result when Nike combined the features of its two popular models. Nike Roshe is built for running, while the Nike Tiempo is designed for playing football.
Technologies
The technologies applied to shoes, in general, have been an integral aspect for many consumers. Aside from the brand or visually pleasing design, more and more people are making the technologies used as a factor when choosing for their next shoe. It can be argued that some are drawn to the technologies more rather than design and popularity. Here are some of the trademark techs that is present in selected football sneakers.
Flyknit
Flyknit is the result of several years of research and development for the next significant innovation in the sneaker industry. It is a material that consists of sturdy yet lightweight yarn strands that have been made into a single-piece upper, securing the wearer's foot to the platform of the shoe. Flyknit offers a comfortable fit like a sock, while also features durability and support for strenuous movements.
This signature technology from Nike is featured on the following football sneakers:
Nike Zoom Mercurial Flyknit
Nike Air Footscape Magista Flyknit FC
Off-White x Nike Zoom Fly Mercurial Flyknit
NikeLab Footscape Magista x OR
Nike Kobe 11 Mambacurial
Zoom Air
The Zoom Air tech is one of Nike's most popular technologies. With over 20 years of existence, the Zoom Air has played a major role on the brand's success because of its reliable cushioning. With the help of compressing tensile fibers, cushioning the impact and generating a strong response off the ground is possible. The wearers have an easier time getting on and off the ground because of the Zoom Air.
The Zoom Air is featured on these football sneakers:
Nike Kobe 11 Mambacurial
Off-White x Nike Zoom Fly Mercurial Flyknit
EVA
A common choice for the midsole material among numerous sneaker brands. Due to its soft, flexible, lightweight properties, and the least expensive, it can be mostly seen in entry-level sneakers. Ethel Vynil Acetate, or EVA, is an artificial material that is classified as foam. EVA has also been utilized for protective suits and other non-footwear products.
These football sneakers have EVA on its midsoles:
Adidas Samoa
Adidas Samba SPZL
Phylon
The Phylon Sole unit consists of compressed EVA foam pellets which are expanded by the heat and cooled in a mold. Phylon midsole can be formed into a myriad of designs that can be identified by its fine wrinkles.
Nike's Phylon midsole is utilized for these football sneakers:
Nike Zoom Mercurial Flyknit
Nike Air Footscape Magista Flyknit FC
NikeLab Footscape Magista x OR
BOOST
The BOOST technology is the result of a combined effort between Adidas and BASF, one of the world's biggest chemical companies. They were able to produce a new type of thermoplastic polyurethane or TPU that possesses a particular block-copolymer construction. This material provides the appropriate amount of bounce and fine-tuned reaction. The BOOST technology is a foundation of many popular Adidas products. It has been implied that this tech is Adidas' answer to Nike's Air Zoom soles.
These football sneakers have the BOOST tech on its sole units:
Kith x Adidas COPA Ace 16+ Purecontrol Ultra Boost
Naked x Adidas Samba Waves
Primeknit
While there is a controversy about who did the innovative technology first, it does not change the fact that Adidas is more than proud of the features of this homegrown tech. Like the concept of Flyknit, the Primeknit also boasts its single piece of upper being digitally-knitted. The Primeknit provides lightweight comfort that covers the foot seamlessly. It is also environment-friendly as this technology produce less waste.
Primeknit is one of the prominent features on these football sneakers:
Adidas Neighborhood Chop Shop
Kith x Adidas COPA Ace 16+ Purecontrol Ultra Boost
How to clean casual football shoes
Similar to other shoes, football sneakers are very susceptible to dirt and other elements that may ruin the shoe's appearance, especially those white or light-colored ones. Many casual wearers lack enthusiasm and consistency when it comes to cleaning footwear. But, in order to prolong the pristine and sleek appeal of these pairs, regular and proper maintenance is the key. Below are a couple of tips and instructions on how to clean these football sneakers.
Before cleaning the shoes, make sure to remove the laces first as it makes the cleaning easier. Never try to wash and clean the laces using the washer as it may cause damage to it.
If the insole of the shoe is removable, it is recommended to wash them separately. While it is an option to have it cleaned via the washer, scrubbing the insoles with a toothbrush dipped in detergent is the better method. If there is a lingering uninviting smell on the insole, put it in a container with sodium bicarbonate for a couple of hours.
Before applying water to the shoes, try to remove the dirt while it is still dry by scrubbing it with a laundry brush. For those difficult to reach spots, use tweezers to remove the solid dirt from the sole.
After that, pour lukewarm water into a large basin and mix a little detergent onto it. Mix until the detergent is diluted. Soak the football sneakers in that basin and wait for an hour at least. Doing this will most likely soften any hardened dirt, which makes the cleaning so much easier.
Then, use a sponge or small brush to scrub the football sneakers gently. It may be not necessary to include the inside of the sneakers to the cleaning, as the water and detergent did their part to remove the dirt on that area.
Use clean water or damp cloth to rinse the football sneakers. It is suggested to use the water as to make sure that the detergent residues will get rid off as well. The residues may get the shoes stiff, if not properly remove.
When drying the football sneakers, store them in a shady and adequately ventilated room. Never use the dryer, as there is a possibility that its heat could distort the shoes. Drying it under the sun is not recommended too, because the sun's intense heat can also deform the fabric or fade the colors. Try to clean the shoes regularly, make a schedule for this chore, and it will be not as tedious as it seems.
History of Football
Association football or soccer has an extensive history. The modern football became popular in England around the middle of the 1900s. However, alternative versions of this game existed way earlier and are considered a part of its history.
Over 3000 years ago, historical records of Mesoamerican cultures had played a team game which involves a rock that serves as the ball. The game is barbaric, as the losing team's captain would be sacrificed to their deities.
During the third and second century BC, a team game which involves kicking the ball existed in China. It was called Cuju. This game was played with a round-shaped ball on a square area. The game eventually made its way to Japan but was mainly practiced during ceremonial gatherings.
The game of kicking balls was later developed in 12th century England. Back then, they are playing football-like games on roads and meadows. The difference is, aside from kicking, punching the ball is a legal move. Because of different rules, playing the game was significantly more violent and rough when compared to modern-day football. It was already a popular spectacle among citizens.
Many of the locals are watching the games because it is played on the most visible part of the towns. However, the destructive actions of the players and spectators caused damage to the towns itself, deaths included. Among other vital factors, the violent aspect of the game had led to its restriction. For centuries, the game was forbidden.
The football-like games resurfaced in the 17th century. Although the restrictions are still effective, the games are being consistently played in the schools. From that point to what we know today as football, it took a long time for the evolution to be completed. There are numerous variations, such as the number of players, ball size, and the duration of a match.
In 1848, an attempt to make official rules for the sport was discussed at a meeting in Cambridge. Because of some questions regarding the rules were not answered convincingly, a consensus was not achieved. Finally, in 1863, the first Football Association was established in London, England. The association decided to change the rules, such as carrying the ball will not be allowed anymore. The weight and size of the game ball have been standardized. Thanks to them, the game was separated into two types: rugby and association football.
The formation of football teams benefitted greatly from the industrialization. Because of the innovations in transportation such as trains, and other public places like pubs, the teams have an easier time competing in other cities. The Notts County is the first established professional football club, and it is based in England. Up to this date, the team still exists.
Football clubs before are mostly public school teams. Eventually, teams that are made up of workers were the majority. By this time, clubs are into paying big money to the best players available. This trend continues until today, and back then, it is one of the factors that evolved the game to a professional level.
Fast-forward to today, there are more than 200 national associations that are listed on FIFA(Federation Internationale de Football Association), the world's football governing body. This astonishing number of clubs shows the success of the globalization of the game, and its popularity is as steady as ever. The FIFA World Cup is undoubtedly the most followed sporting event, and it even surpasses the Olympic Games by a respectable margin.
Football or Soccer?
During the hype of the FIFA World Cup, more or less, one can find comments from social media about this topic. More often than not, most of the spectators find this topic slightly annoying, due to the fact that it brings unnecessary tension between the fans. The term soccer is assumed as a type of Americanism.
While the name soccer originated from Britain, it is prominently used more in North America. One of USA's top sports, the American Football, it is referred to as only football by its citizens. While some are more passionate than others when trying to defend their preference, it might be better to not think about it too much and just enjoy the game.
Frequently Asked Questions
How to match football sneakers with casual dresses?
For those sneakers like Adidas Campus, Gazelle, and Samba, it has been associated with lifestyle fashion for such a long time. The possibilities are endless when matching these classic sneakers with everyday clothes. In fact, the main reason for the enduring popularity of these vintage kicks is because of its simplistic yet stylish design.
However, for those newer models, that may not be the case. These newer models have a distinctive and unique style, which some may find it challenging to match with their clothing. Hopefully, this list might be able to help. Here are some suggested styling options for the following football sneakers.
Nike Zoom Mercurial Flyknit, Nike Air Footscape Magista Flyknit FC, and NikeLab Footscape Magista x OR
Match the kicks with black leather motorcycle jacket paired with skinny jeans.
Dark blue jeans and a grey crew-neck shirt. Wearing a dark-color beanie completes the ensemble.
Look elegant by pairing these football sneakers with a black waistcoat and grey jeans. Wearing black sunglasses could elevate the style further.
Blue chinos and a navy suede jacket gives a laidback but fashion-forward style.
Black denim jeans with a dark-colored shawl cardigan look just about right when paired with these sneakers.
Dark-colored chinos with a blue trenchcoat give off a semi-formal vibe.
Brown shorts and a plain white oxford shirt looks simple, but it complements the distinctive style of these kicks.
Nike Air Footscape Desert Chukka and Nike Tiempo Vetta 17
Black jeans with a khaki overcoat on a white shirt give a semi-formal look.
Be ready for the weekend by pairing these football sneakers with blue ripped skinny jeans and a black tank.
When feeling lazy, put on a plain-colored t-shirt and green cargo pants with these low-tops. Put on shades and a black cap if aiming for a bit of distinction.
Distressed jeans and a black leather jacket will do wonders when matched with these kicks.
For everyday activities, pair these shoes with a black sweater and black chinos for an unassuming yet stylish appearance.
Blue denim shorts and a button-down shirt is a natural choice for those summer strolls.
During chilly weather, it might be a great option to go for a black pea coat and dark-colored jeans. Wearing a dark-colored beanie is a great add-on to this outfit.
What is the price range of football sneakers?
Generally, the price tag for football sneakers is considered to be affordable. Even for those classic models, prices start from only $40 to $100. Collaborations, on the other hand, may cost more, as it can be valued at more than $200, especially for those sneakers that were designed by prestigious fashion houses. Nonetheless, any average joe can surely at least own a pair.
Are football sneakers popular?
It certainly is. Specifically for the brands Nike and Adidas, some of their football sneakers have a multitude of followers who are eager to acquire a pair as often as they can. Since the game of association football or soccer is the world's number 1 sport, it is safe to assume that plenty of fans or casuals treats any merchandise associated with the game as a must-have.
What is the most famous football sneaker of all time?
There are some football sneakers that has been part of the lifestyle culture for several decades now, but the most popular has to be the Adidas Gazelle. There are only a handful of sneakers that come close to the popularity of the Gazelle.
The Gazelle goes way back to the 60s. While this low-top may be viewed as seemingly unassuming, its clean and modest looking silhouette has captured the hearts of many fans ever since and has been in production since it was introduced until now.
Aside from its versatile looks, the Gazelle is also the first sneaker from Adidas that is made from suede. Back then, training shoes or performance shoes have a leather upper. Also, its original two color schemes, the red with white stripes and blue with white stripes have varying outsoles. The red variant has a transparent and non-slip sole, which is great for outdoor use. The blue variant, on the other hand, has a microcell ripple sole, which provides great cushioning, especially for indoor surfaces.
What are the materials used for the upper of football lifestyle kicks?
Leather
The leather is flexible yet sturdy. It also is known to be elastic, because it can be flexed while also resists abrasion and tearing. Additionally, the leather is a breathable material. These aspects of the material are the reasons why the leather is one of the most common choices for a shoe upper. But like other materials, leather also has its negatives. It is heavier than the other materials, more expensive, and are susceptible to water damage.
Textile
Textile offers different varieties such as different fivers, denier, knits, and weaves. The usual textiles that are utilized for making football sneakers are cotton, polyester, wool, and nylon. One advantage of textile is its versatility when it comes to designs and styles. No other material gives such freedom to the shoe designers than the textile.
Synthetic
This material can be merely defined as man-made textiles. Examples of synthetics are polyester, acetate, spandex, acrylic, and Kevlar. It possesses different characteristics when compared to other materials such as leather, some of those are not possible with natural fibers. For football sneakers, the synthetic upper offers lightweight feel and breathability.
Are casual football sneakers for men only?
The game of football itself is widely more associated with men. On the other hand, the football sneakers have some models that are very popular with women, like the Adidas Gazelle and Puma Turin. Similar to other athletic-inspired lifestyle shoes, numerous updates, colorways, and collaborations have continuously rejuvenated the appeal of the football sneakers to women.
Where to buy football casual shoes?
Football sneakers are available worldwide. Anyone can check out these football sneakers by simply going to its particular brand's website, the official stores and retailers, and online retailers. For those limited edition collaborative sneakers, there is a good chance that it can only be purchased from a reseller on popular auction sites such as eBay.
What it the size range of football sneakers?
Football sneakers are available for men, women, and children's sizes. For men, the sizes are offered mostly from 4 to 14, while women can get theirs from 5 to 15. Pairs that are categorized as unisex are also available.
15 best football sneakers
Adidas Samoa Vintage
Adidas Sobakov
Adidas Campus Stitch and Turn
Adidas Samba FB
Adidas Samoa
Adidas Samba OG
Puma Turin
Adidas Campus
Adidas Samba
Puma Astro Sala
Nike Zoom Mercurial Flyknit
Adidas Neighborhood Chop Shop
Nike Air Footscape Desert Chukka
Nike Air Footscape NM
Puma King Avanti Legends Pack
This shoe has recently been added to RunRepeat. There are still not enough reviews for us to assign it a
CoreScore
.
CoreScore
A score from 1 to 100 that summarizes opinions from users and experts. The average CoreScore is 78.
More...