Overall ranking lists
Similar ranking lists
For football enthusiasts, the term Firm Ground (FG) is not something new. Firm ground, along with other types of fields is one of the most important considerations when choosing the best football boot that matches a specific play. Given this, it is also essential to know the characteristics of this type of ground and how it differs from other surfaces such as artificial grass and hard ground. Here are some of the qualities of firm ground:
Firm or dry natural grass
Sometimes damp or slick
Well-maintained natural grass surface
Grass is kept short
It is important to note that each qualification or the combination of some are the main criteria when manufacturing firm ground football boots. Although it is commonly considered as a "universal shoes", it is best to wear it on appropriate surfaces to guarantee the best protection and performance.
What is a firm ground football boot?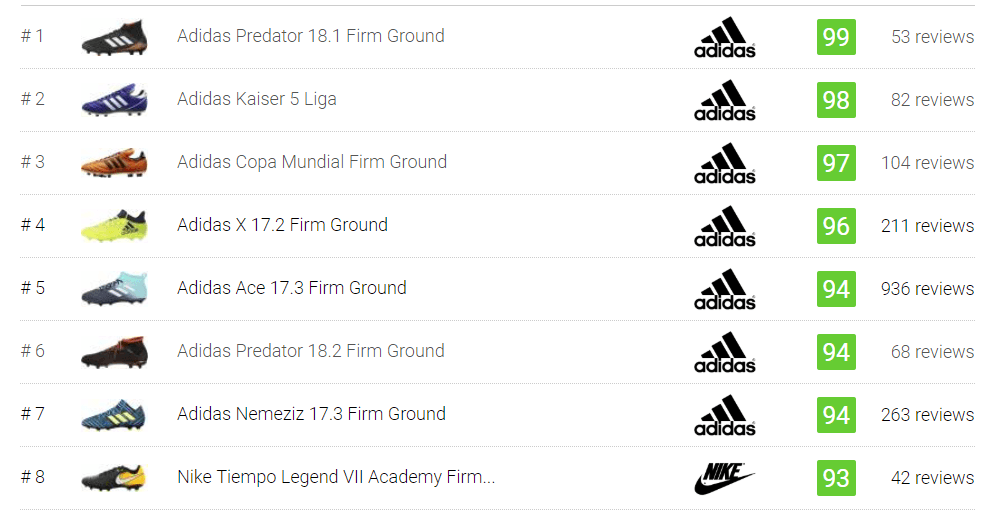 The prevailing notion that football boots will make someone a better player has long been debated. One can argue that this can be coming from the advertising schemes of shoe manufacturers to entice people especially the average consumers. On the flip side, it may also contain a grain of truth to a certain extent.
Picking a boot that matches a particular type of surface is like bringing the most appropriate weapon in a certain kind of war. In a football battle on a firm ground, what would be the most viable prerequisites?
Studs made of molded plastic or hard rubber
Combination of different types of studs
Non-removable bladed or conical studs
Medium Length studs
Plastic, typically Polyurethane Soleplate
10-14 studs on average
Mainly, the distinction for this type of boot is its outsole. Its upper and internal sole may be typically seen in other categories such as artificial grass football boots or indoor football boots.
Different types of firm ground studs
What sets firm ground football boots from others is the type of studs used in the soleplate. These studs are tested to work better on the said surface. Depending on one's needs, various studs can carry specific qualities that can enhance performance and even comfortability.
Conical studs - Half-Conical, Tear-drop shaped, Hexagonal, Triangular-conical; Examples: Mizuno Morelia, Adidas Eleven Pro
Advantages
Built for agility and rotational maneuverability
Smooth turns when changing directions
Provides lighter and comfortable sensation
Disadvantages
Less Traction
Not as responsive as Bladed Studs
Bladed studs - Rectangular Curve, Chevron Studs, Break-in studs, Multi-directional Blades; Examples: Mercurial Superfly V, Mercurial Victory VI Dynamic Fit
Advantages
Provides aggressive traction
More responsive due to the large surface area hitting the ground
Disadvantage
May badly affect joints and ligaments due to its strong ground grip
Stud combination - Combination of bladed and conical studs arranged functionally in the soleplate; Examples: Nike Hypervenom Phantom III DF
Advantage
Studs are purposely placed in areas where it can work better
Disadvantage
Unable to provide 100% of its function
Factors to consider in finding the best football boot for firm ground
Some may ask this question - How to find the best Firm Ground Football Boot? Interestingly, there is no definite answer to this question. For the most part, it all boils down to personal preference. However, factors such as comfortability, technology, durability and playing style will help in searching the best firm ground soccer boots for you.
Boot comfortability
The upper material of any football boots plays a key role when it comes to comfort. This basic boot part should allow freedom of movement for the foot. Consequently, injuries and pain-related issues such as blisters and tendonitis are prevented. That is why it is essential to look for an upper material that is suited to one's preference.
Here are some of the popular upper material and their corresponding feel to the feet:
Kangaroo Leather - K-leather is usually found in firm ground football boot provides an exceptionally soft feel and is famous for conforming to the foot's shape. It is also known to provide more durability compared to other materials
Synthetic Leather - It is constructed to mimic the feel of leather with the use of synthetic materials. An example of this is Nike's Kanga-Lite. The feel it provides is as close as the K-leather, but with ball touch, it is not as natural.
Synthetic - This type of material is known for its thin and barefoot sensation but does not feel as stretchable compared to leather.
Mesh - This kind of material is patterned with running shoe technology which is intended to create a lightweight sensation. It is usually paired with a wet-proof technology as it does not provide enough protection to the feet.
Knit - Adidas PrimeKnit is an example of this. As the word suggests, this textile material is derived from the process of knitting. In terms of comfort, it provides elasticity that hugs the foot snugly. Just like mesh, it also needs to be incorporated into wet-proof technology as it does not have any protection against moisture.
Almost all of this upper material is also seen with other types of boots fit for other types of surfaces. All materials are meant to offer comfort but the only variable when choosing is personal preference. It is always best to know about the kind of comfort that each material is intended for before purchasing your firm ground football boots.
Boot speed, power, and control
Firm ground football boots are often categorized based on the features it offers. Specific qualities call for a distinct purpose.
Speed - Some firm ground football boots are created for Speed. Most these are made of simple, minimalist design to maintain its lightness. Most of its construction is particularly targeted for agility.
Power - Some firm ground football boots are built for Power. It is mainly characterized by an upper material that can enhance ball control, especially in strike zones.
Control - Similarly, firm ground football boots for Control are also constructed to improve ball contact but is more focused on passes and ball manipulation.
Notable firm ground football boots features/ technologies
Football boot manufacturers have come up with various revolutionary technology to produce biodynamically sound soccer boots. Each feature targets several aspects but mostly are created for comfort and performance.
There can never be a perfect boot due to some contrasting functions. A soccer boot that is built for control may not be as comfortable. That is why manufacturers attempt to create hybrid models that are constructed for players to experience a balance of features.
Playing style may also play a significant role. Some roles may require more traction and ball control than others. On the other hand, some roles require speed and solid passes.
Below are some of the popular brand technology and their corresponding functions. Note that some of these innovations may serve more than one purpose can be seen in various parts of the cleats anatomy.
Firm ground football shoe durability
Boot durability is such a multi-faceted feature of a firm ground football boot. A shoe may malfunction due to several variables and more often than not, it is not necessarily a manufacturer flaw. Numerous factors can shorten a boot's lifespan that most consumers may not even be aware of.
Here are some tips and points to remember when dealing with football boot durability:
Football shoes expensive rate is not necessarily equivalent to durability.
A firm ground football boot becomes high-rated if it is constructed with a much more advanced technology. These innovations are not necessarily intended for durability but mostly for performance and comfort.
There are boots created with a thinner and lighter material as it improves speed and comfort. However, a more delicate upper that provides a pleasant sock-like sensation may easily be damaged even after a few matches. Contrastingly, not all expensive shoes are sturdy. Testing is done to guarantee the quality of these football boots.
To ensure you are getting the bang for your buck:
Be particular with the boot features before purchasing it.
Maintenance would also do the trick. For boots with leather upper, using a leather cream will help maintain its natural features.
Cleaning the shoes regularly and keeping it dry every after play will also help in extending its lifespan and prevent any damage.
Differentiate normal wear and tear from manufacturer's flaw.
It is undeniable that mass-produced football boots can have defects. However, in many cases, boots eventually become fragile after excessive use or even after just a few sessions. It does not mean that the boot is not durable.
Using your firm ground football boots in more than one match can already make it susceptible to damage. It is due to several factors such as your movement style, wrong sizing, and excessive use. Players may experience outsole separation from their boots due to their body pressure or ball contact.
To extend your boot lifespan:
Have more than one pair of firm ground football boots because it lessens the chances of premature wear out.
These defects are at times the responsibility of the manufacturers. If this is the case, one should be aware of the return policies of manufacturers and retailers, especially if these defects are seen straight out of the box.
Do not use firm ground football boots in other types of surfaces.
When firm ground football boots are used in other surfaces such as in soft ground or artificial grass, it can have damaging repercussions. Firm ground anatomy has been tested to perform on surfaces other than natural grass. To avoid this, always thoroughly check if the football boot you are purchasing is meant for a certain surface.
For firm ground boots, it is typically labeled with FG. To be accurate, it is always best to check the manufacturer's website.
Frequently asked questions
Can you wear a firm ground football boot for rugby?
Not all firm ground football boots qualify for a rugby match and vice-versa. However, manufacturers, nowadays are gradually transforming their technologies similar to that of a football boot. It is due to a high demand for a football boot construction in a rugby boot which has qualities such as lightness and stability needed for the latter sport.
With professional matches, specific boot guidelines are to be followed which limit players to stick with a boot that is constructed specifically for the sport. For one, Kitemark certification has to be present in a rugby boot in order to qualify in some countries.
The two sports call for different boot functions. FG Football boots are designed for excellent ball touch while rugby boots are made for power especially during rucking and mauling.
Another key difference is the width of the boot platform. For rugby boots, it has to be wider to improve traction when using force from the front of the foot.
For football, different patterns of smaller studs can be used so long as it can provide proper traction when running or kicking the ball. In contrary, rugby follows sets of rules for the stud configuration specific to a forward or a back. Forwards should wear eight-studded boots while the backs require six studs.
In conclusion, it would be more beneficial to use boots built for the sport. These are proven and tested to the dynamics of the sport to prevent any unwanted injuries. Ultimately, the optimal potential of a boot works best in its appropriate play
Can firm ground football boots be used in artificial grass (AG)?
The recommended type of firm ground foot boots that can be used in AG are the ones with rounded or conical studs. It promotes a rotational movement that reduces pressure on a synthetic surface. In this way, movement is not restricted and is more likely to be safe.
Although firm ground football boots are regarded to be the most versatile among boots, there are still cases when it becomes inappropriate and can potentially cause harm when used on a wrong surface. For example, firm ground soccer cleats with bladed and metal studs are not ideal for artificial grass surfaces. Wearing them on artificial grass can cause one to put in unnecessary body pressure that may lead to injuries.
Can firm ground football boots be used in soft ground?
Firm ground football boots are built to withstand slightly wet conditions. Spring and Autumn would be the ideal seasons to wear firm ground boots. It is especially true for wetter countries. For soft to extremely soft grounds, it is highly recommended to wear soft ground boots. It is engineered to produce the proper grip to avoid unwanted slippages in muddy surfaces.
How do I determine my size in a firm ground football boot?
If you feel constriction in any area of the boot, then it is definitely not the right fit. It will most likely cause blisters when in use. There should be enough space in the toe box to make your toes move. It should not press against the end of the forefoot. Uncomfortable sensation of pressure coming from the heels in your ankles is also a no-no.
A boot that fits like a glove especially in the heel and toe area can bring about a more natural feel when controlling the ball.
It is also important to identify the width of your foot. If you are wide-footed, choose the wide variation of the boot if it is available. Not all manufacturers produce wide versions of their FG boots.
The upper material is also a key factor when knowing the best fit. Some materials can overstretch, or some may take some time to conform to the shape of the foot.
What is the most efficient way of breaking in my firm ground football boots?
It is potentially unsafe and uncomfortable when you wear your boots in a game straight out of the box. Breaking in the boot is an essential process in ensuring comfort while playing. This will also help you determine if you have chosen the right size.
Before you bring your boot to the field, try to break in by using it during training sessions. In this way, you will prevent the formation of blisters.
This shoe has recently been added to RunRepeat. There are still not enough reviews for us to assign it a
Corescore
.
Corescore
A score from 1 to 100 that summarizes opinions from users and experts. The average Corescore is 78.
More...