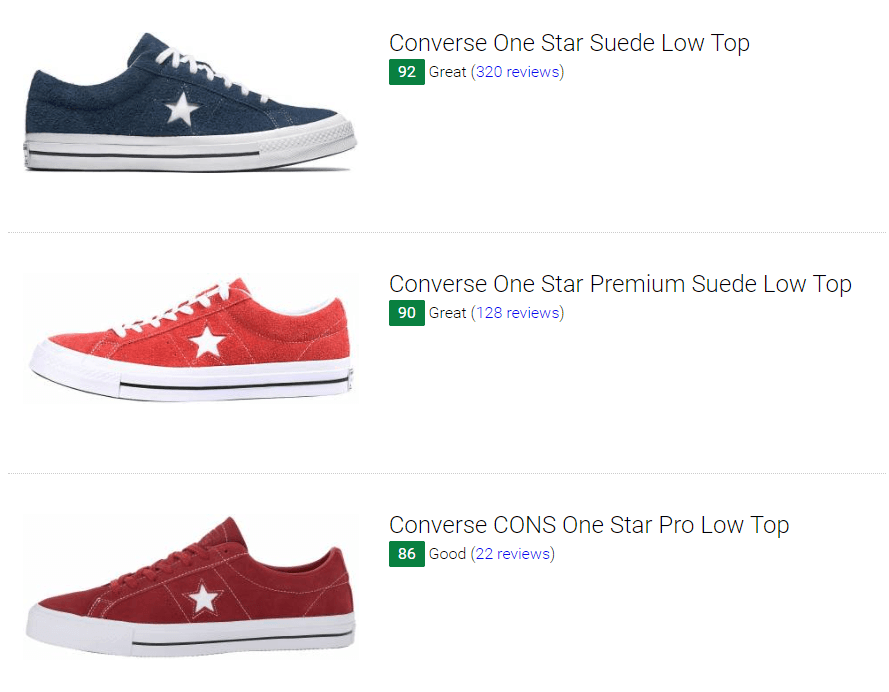 Best Converse Skate Sneakers - September 2019
Skateboarding and Converse have a long-standing partnership that materialized way back in the early 1990s. Their association kick-started when the Converse One Star glided into the underground skate scene and emerged as a crowd favorite among board riders who embraced the baggy pants, oversized shirts, and wind gear kind of fashion.
During such time, the vintage suede Converse One Star went out to become a regular item on the pages of Thrasher, the so-called skaters' "Bible." Such ubiquitous silhouette was marketed next to the more skate-specific profiles such as the Vans Era, Vans Old Skool, and Vans SK8-Hi and other skate-centric models from Etnies, Airwalk, DC Shoes, and Emerica. This was long before tech-specific skate footwear from the Adidas Skateboarding, Nike SB, and New Balance Numeric became prevalent.
To further sustain its relationship with board riders, Converse set up the CONS line by teaming up with professional skateboarders in 2009. Specifically called the CONS ambassadors, these men were designated to advocate the Converse skate sneakers through CONS global skate tours.
Today, a mix of CONS alumni and young blood continue to push the Converse skate sneakers at the forefront of such sport, while these profiles glide side by side with the more advanced versions coming from the market's bigger skate players.
Why skaters love Converse skate sneakers?
Affordability is the topmost reason why Converse skate sneakers are endeared by skaters then and now. The simple, no-nonsense, hard-wearing makeup, impressive boardfeel, and amazing flexibility of Converse skate shoes are some of the factors that continue to entice board riders. Loyalty to the brand is another reason that keeps skateboarders attached to their Converse skate shoes. Some have several back-up pairs in their closets waiting for their present beaters to get replaced.
How do Converse skate shoes fit?
The Converse One Star generally runs bigger than one's standard shoe size. It is advisable to go half a size down from your typical sneaker size when picking up this style.
The Cons One Star Pro runs large; thus it is ideal to reach for a size that's half times smaller than your standard size.
The sizing orientation of Converse Chuck Taylor All Star skate sneakers are the same as the One Stars. If you are a male shopper with a typical shoe length of 11.5, your feet will most likely be more comfortable in size 10.
The fit and sizing of Jack Purcell skate models are typically right to size.
Just like the Converse Jack Purcell silhouettes, the CONS skate shoes are said to be accurately sized to one's regular shoe length.
Popular Converse Skate Shoes
We have enlisted some of the popular Converse skate sneakers which are mostly re-tweaked versions of the brand's time-honored silhouettes. Each profile contains a brief overview that highlights the shoe's notable features.
Converse CONS One Star Pro Low Top
The Converse CONS One Star Low Top is a reinterpreted version of the flagship Converse skate model. Its simple design, comfy fit, and natural board feel are the reasons why it remains to be a favored style by skateboarders. Nike Lunarlon insole is added to enhance its ability to support the feet during impact.
Both edges of the tongue are attached to an inner mesh booty arrangement that prevents such flap from falling to the sides, thus offering a more secure fit. This unisex Converse skate sneaker tends to run big that it's ideal to size down when snagging a pair.
Converse One Star CC Pro Suede Low Top
The Converse One Star CC Pro Suede Low Top is ready to brighten up your day as it beams in a myriad of lively colors such as Deep Bordeaux (dark red), Desert Marigold (light orange), purple, and white, as well as neutrals like pale grey and black. This shoe is set to give you a low-to-the-ground stance for superb maneuverability since it is made with a vulcanized sole.
A sheet of rubber reinforces its suede upper which acts as a shield for your feet. The insole is treated with Zoom Air on the heel to keep the back of your feet cushioned as it hits your board. It possesses a molded OrthoLite sockliner that inhibits dampness. This style is available in men's and women's sizes.
Converse One Star Premium Suede Low Top
The One Star Premium Suede Low Top is a magnet for attention for skaters wanting the basic cut and form. It has a durable yet resilient outer layer made of hairy suede. This sneaker has a cushy sockliner that offers breathability and moisture-wicking properties. Just like other One Star variations, this too runs a half size longer than the standard fit with a bit of wiggle room in the toe box. This Converse skate shoe that's obtainable for both sexes is available in light-colored uppers.
Converse One Star Pro 3V
The iconic Converse skate sneaker gets a hook and loop Velcro treatment with the release of the low-top Converse One Star Pro 3V in light blue, black, and egret colors. Ready for the aggressive sport, this shoe is fortified by a rubber backed suede cover, high-density memory foam collar for enhanced skating experience, while a dual-density foam with Zoom Air cushioning takes up the inner sole. Underneath is a modified Converse Vulc rubber compound structured to boost the close-to-the-board feeling.
Converse Chuck Taylor All Star Pro High Top
The Chuck Taylor All Star Pro High Top is wrapped in canvas all the way above the ankle. As opposed to the unlined, non-pro CTAS, this skate version has an extra layer of suede inside for added ankle protection. Its lightweight and durable upper is breathable and flexible too, which prevents the feet from developing blisters.
It comes with a molded, moisture-wicking OrthoLite sockliner complemented by a Zoom Air Insole for a more responsive ride. Designed for the pros, this unisex Converse skate sneaker features the signature rubber toe cap and rubber underlay at the ollie area for enhanced protection.
Converse Chuck Taylor All Star Pro Suede Ox
The low-top Converse Chuck Taylor All Star Pro is a classic style with a pro treatment. This suede version is propped up by a rubber sheet which aids in extending the life of the upper. This tough silhouette is backed up by another layer of rubber in the ollie area, which shields the feet from the skateboard's recurrent thumps and whacks.
Inside, the feet get lots of love from the cushioned dual-density Zoom Air inlay sole. It is available in men's sizes, which shouldn't be an issue for women who like this style as they merely need to pick a full size and half lower to get the equivalent women's size.
Converse Jack Purcell Pro Canvas Low Top
The vulcanized sole construction of the Converse Jack Purcell Pro Canvas Low Top allows skaters to have a better feel of their boards. It bears the CONS Traction Rubber which has improved board traction, around 70% better than the traditional outsole. This Converse skate shoe is available in sizes for men and women with a fit that's quite bigger than the standard shoe length. You can grab this Converse skate sneaker in neutral and purple shades.
Converse Jack Purcell Pro Low Top
This classy-looking Jack Purcell Converse skateboarding sneaker is built with an extra durable suede upper that's bolstered by a layer of rubber underneath its exterior shell to keep the feet protected against repeated blows and impact.
Unlike the Jack Purcell Pro Canvas version, this suede-covered kick comes with the springy Nike Zoom Air tech for cushioning. Its OrthoLite sockliner helps in wicking out moisture and prevents the feet from getting overly sweaty. Everything on top is supported by a stable and traction-improved outsole that delivers excellent grip.
Converse Louie Lopez Pro Low
One of the young guns in Converse's group of team riders gets his signature pro shoe, the Converse Louie Lopez Pro. Like the guy who advocates this profile, the Louie Lopez Pro comes in upbeat and fresh colors that add a dose of pizazz to your usual garb.
Its premium suede exterior screams: "bring it on!" as a hard-wearing rubber underneath it is ready to catch the blows. It is complemented by a set of flat laces that don't fray easily. Inside, the feet get a comfy treatment from the OrthoLite sockliner and Zoom Air cushioning.
Converse CONS Breakpoint Pro Low Top
Converse dressed its timeless profile with a tough upper that's ready for some thrashing and grinding even beyond its breaking point. Aptly labeled as the Converse CONS Breakpoint Pro Low Top, this skateboarding sneaker that's easy to break in is bolstered by a rubber backed suede to keep the feet covered for a prolonged time.
The oversized tongue with perforations holds up well even if it doesn't have elastics. It is made with a flexible and easy to break-in sole supported by a tacky rubber underneath that's designed with a modified tread pattern. Users can get tons of support from the Nike Lunarlon insole, which is by the way replaceable. It delivers chic styling in neutral and vintage-inspired Breakpoint Pro colors: blue, green, egret, and black.
Converse Fastbreak 83 Mid
The basketball-turned-skateboarding legend gets reinvented to address the skaters' need for more collar support. Fittingly called the Converse Fastbreak 83 Mid, this sneaker rises to the ankle to keep the feet protected especially during sudden turns.
It is draped with suede, backed up by rubber in high-wear points. It is perhaps one of the few cupsoled variations offered by Converse fortified by a thin, molded sockliner with a Zoom Air bag on the heel. As a nod to its heritage, its colors resemble the '80s b-ball shoes in casino red, blue, and black and white.
Understanding Converse skate shoes
Majority of the Converse skate sneakers are from the brand's catalog of heritage styles such as the Chuck Taylor All Stars and Jack Purcells, which are reinforced to be more suitable for the action-packed street sport. Converse sneakers labeled with the word "Pro" are usually classified under the skateboarding or basketball divisions.
Unlike the more casual sneaker interpretations, the performance skate shoes by Converse are structured with reinforced uppers, especially in high-wear zones, or laden with added tech features. The Converse skate sneaker inventory continues to grow through seasonal drops of new styles and collaborations with style-forward riders.
We have broken down the different segments of a typical Converse skate sneaker to give you a better idea of their internal workings, mainly the upper composition, collar height, sole, and sockliner construction. By understanding the Converse skate sneakers based on their structure you can decide which style suits you best based on how hard you play the sport.
Primary Upper Materials
The primary upper material of your Converse skate sneaker is as important as the outer sole composition. This portion is meant to safeguard your feet from external elements so you can focus on your skate tricks.
Textile
Converse skate shoes made primarily of textiles such as hemp and canvas won't be able to stand much wear like those built with suede or premium leather. However, canvas-made Converse skate sneakers grant more breathability and are much lighter than suede versions. If you are practicing the different basic skateboarding techniques such as balancing on your board, slide stopping, pushing, steering, and tick tacking, you'll be fine with a canvas-covered Converse skate sneaker.
Suede
Suede-built Converse skate sneakers tend to withstand against the abuse of the abrasive grip tape that covers your skateboards as well as the rough surfaces of concrete grounds. If you're off for some technical street skating such as kickflips, ollies, heelflips, powerslide, and the more challenging ones like grinds, it would be best to pick a suede or leather-made Converse skate shoe.
Shoe Profile
Low-top
The low-top Converse skate shoes are the flat standard profiles which are usually lighter than the mid-top and high-top models. Unlike the thickly padded collars seen in most DC and Supra sneakers, a majority of the low-top Converse skate models has flimsy, unlined collars. Examples of Converse skate shoes with slightly padded collars are the One Star Pro Classic Suede Low Top, Louie Lopez Pro Low Top, and Breakpoint Pro Suede Low Top.
Mid-top
Mid-top Converse skate sneakers are considerably higher than the low-top ones but won't go beyond the height of your ankles. This type of cut is lower than the high-top edition and grants better stability, support, and fit than the low-tops. An example of this type of cut is seen in the Converse Fastbreak 83 Mid.
High-top
High-top Converse skate sneakers have collar height that ends just above the ankle. Converse skate shoes with this type of shoe profile provide stability during sudden turns and partly keep the feet warm through the cold season. Some examples of Converse skate shoes in high-top form are the Chuck Taylor All Star High Top Pro and Converse CONS Pro Leather x Hopps.
Sole Construction
Choosing the right type of sole construction for your skate shoe depends on how you play the game. If you're not the type of skater who loves flying with your boards, jumping down the stairs, and doing high-impact tricks, a vulcanized-soled Converse skate shoe would be best for you such as the Converse Chuck Taylor All Star Suede Pro or the Converse One Star Suede Low Top.
Converse skate sneakers with Vulc soles are made of different layers of rubber, fused and affixed to the upper using a rubber foxing tape. These have a close-to-the-ground thickness that allows you to have a better feel and control of your board. However, these are not inherently equipped with cushioning like the cup soled models that will protect the feet against blows, shock, and impact. Samples of cup-soled Converse skate sneakers are the Converse Barcelona Pro Skate and Converse Fastbreak 83 Mid.
Insole
Zoom Air
Converse skateboarding borrowed this Nike tech from the football, basketball, and running departments of Swoosh by integrating a bag of pressurized air into the heel of the insole for a low-profile cushioning. Inside this small packet of air are tiny tensile fibers that snap back for a better rebound as the foot touches down.
The rest of the sockliner is made of a dual-density foam which is thicker below the heel and thinner under the forefoot that grants flexibility, good board contact, and support. An example of a Converse skate sneaker that has Zoom Air is the Converse Chuck Taylor All Star Pro High.
Lunarlon
This full-length cushy, bouncy, and lightweight foam is borrowed from Nike's running, basketball, tennis, and training divisions. It provides optimum comfort and cushioning during heel-to-toe strides. Unlike the Zoom Air Insole, the Lunalon are partly thicker.
Samples of Converse skateboarding shoes with this type of removable insole are the Converse Jack Purcell Pro Low Top, Converse Louie Lopez Pro Low Top, and Converse One Star Premium Suede Low Top.
Molded Ortholite Sockliner
This dual-density insole is lightweight and made with heel and forefoot pads. Its open-cell feature has moisture-wicking properties that allow breathability and dispels heat away from the foot. This sockliner fights nasty bacteria and fungus from building inside the shoe. Converse skate sneakers with this type of sockliner are the Converse Jack Purcell Pro Low Top, Converse One Star CC Slip-On, and Converse One Star CC Pro Low Top.
Outsole
CONS Traction Rubber
Converse CONS skate shoes are equipped with an improved vulcanized rubber compound that helps in enhancing maneuverability while the bottom of the footwear delivers around 70 percent more grip tape traction than the non-pro versions. This hidden feature is useful if you like to perform challenging tricks such as tackling the stairs, ramps, handrails, planter boxes, drainage ditch pipes, walkway benches, and other street furniture.
Frequently Asked Questions
1. Is Converse a skate brand?
Converse produces sneakers fitted for skateboarding, but it isn't purely a skate-specific brand. Converse is a US-based label that manufactures lifestyle sneakers too.
2. What does Converse CONS mean?
Converse CONS is a sub-segment of Converse that's made up of a catalog of skate-specific shoes with street-styling elements. The functional profiles under the Converse CONS are crafted to address the essential needs of skateboarders while allowing them to look their best.
3. How come the Nike technologies are found in some Converse skate shoes?
Many have come to know Converse as a standalone brand which was formulated in 1908, specifically named the Converse Rubber Shoe Company under the Marquis Mills. The company landed in critical times at the flip of the century which led them to file for bankruptcy. In 2003, Converse was acquired by Nike.
As a subsidiary of the Swoosh label, Converse gets to possess some of the technologies produced by Nike that help in boosting cushioning and comfort. The Nike Zoom Air and Nike Lunarlon are some of the specific Nike technologies integrated into the modified Converse skate sneakers to give users a more comfortable experience.
4. Are classic Converse high-tops good for skateboarding?
Classic high-top Converse silhouettes are technically made as lifestyle sneakers. The brand has versions of its iconic high-tops which were buttressed to make them more suitable for skateboarding. An example of such reinforcement is the use of additional suede lining around the collar to give the feet an extra layer of protection as seen in the Converse Chuck Taylor All Star Pro.
5. Are Converse skate sneakers durable?
Generally, suede-covered Converse skate sneakers are durable. Below are some of the added features that aid in prolonging the life span of these kicks:
Rubber toe cap
Double seams
0.8mm die cut rubber underlay at ollie area
6. What to wear with Converse skate shoes?
Style Tips for Men
Whether you plan to get your Converse skate sneaker worn out and all beaten up in the streets and skate parks or merely want to sport them for your daily city grinds, its versatile cut allows you to be playful in styling up these bad boys.
The low-top Converse skate kicks go well with tapered, straight, and even baggy jeans and cargos as well as with board shorts. The mids and high-tops are more suitable with pants that taper at the hem such as track pants with zippers, joggers, and sweatpants with elastic bottoms.
Style Suggestions for Women
Skatewear has successfully permeated mainstream fashion. Whether intended for performance or street styling, the vintage appeal of Converse skate shoes has migrated into the sneaker rotations of female skaters and sneaker enthusiasts. If you want to add a bit of refinement to your usual casual office or school getup, you can try throwing on the neutral colored low-tops Converse skate shoes in a suede format with treggings, trousers, chinos, and capris.
You may also switch to some of those with retro-colored uppers if you're after a statement look. If you want the sporty, androgynous aesthetic, you can pair up your high-tops with mini denim skirts, body-hugging midi dresses, tea length skirts, and maxi dresses.
7. How to lace up the Converse skate sneakers?
The Classic Crisscross Method
Slip the shoelace into the first lace hole on the right then loop it through the hole across it.
Raise the tips of the shoelace making sure the aglets come together in the same height.
Slide the right end of the shoelace into the next hole on the left, and do the same on the opposite end.
Repeat this until you reach the last set of lace holes.
Pull the remaining length of your shoelace and tie them together and finish it off with a bow.
The Horizontal Straight Bar Method
Slide one end of the shoelace through the underside of the first lace hole, then loop it into the hole across it by slipping through from the top.
Pull both sides of the shoelaces until the aglets come together in the same length.
3.Slide the tip of the right shoelace through the next hole on the same line by moving from within going outward. Loop the same aglet into the hole across it going inward, creating a horizontal bar. Do this repeatedly until you reach the last lace hole.
Do steps 2 and 3 using the opposite end of the shoelace.
Pull the remaining portion of your shoelace and tie them together with a standard shoelace bow.
The Customized and Stylish Double-sided Pattern
Grab two flat laces in two colors or designs. Arrange the two shoelaces together so that both are evenly lined up, wherein one shoelace overlaps the other.
Follow the steps in creating a crisscross shoelace pattern.
8. What are the cheapest-priced Converse skate sneakers?
Below are some of the most affordable skate kicks by Converse that cost below $80:
Converse One Star CC Low Slip-On, $75
Converse All Star Pro Suede Low Top, $70
Converse CONS One Star Pro Low Top, $70
Converse Jack Purcell Pro Canvas Low Top, $70
Converse Louie Lopez Pro Low Top, $70
9. Who are the Converse skate ambassadors?
The list of Converse skate ambassadors includes veterans Kenny Anderson, Rune Glifberg, Don "Nuge" Nguyen, and true eccentric Jason Jessee; contemporaries Zered Bassett, Eli Reed, and Jake Johnson. Pacesetters Sammy Baca and Pontus Alv; innovators Mike Anderson, Tom Remillard, Ben Raemers; and the young guns and "cool dudes" Louie Lopez, Sage Elsesser, and Sean Pablo.
10. Where can I purchase skate kicks by Converse?
You can find your next pair of Converse skate sneaker by browsing through the catalog of featured profiles here in RunRepeat. This site provides you with the following:
Information about fit, sizing, and key features
Available colorways and sizes
Other skate shoes with similar composition
List of retailers that offer your preferred Converse skate shoe, including comparative prices
An overview of what experts and users think about a particular shoe
While you're on this site, you might want to check out the other Converse sneaker collections by using the filter tabs.
2 best Converse skate sneakers
Converse One Star CC Low Slip-On
Converse CONS One Star Pro Low Top
This shoe has recently been added to RunRepeat. There are still not enough reviews for us to assign it a
CoreScore
.
CoreScore
A score from 1 to 100 that summarizes opinions from users and experts. The average CoreScore is 78.
More...