Overall ranking lists
Similar ranking lists
The term "cheap" has had a bad reputation as people often correlate it to something with subpar qualities, but that's not always the case. When it comes to training footwear, you'd be surprised with the built of shoes priced below $100.
Buying a pair of cheap training shoes doesn't mean sacrificing comfort, quality, and style. It means you can get quality merchandise for a meager price. Having low-cost footwear to choose from is ideal, especially when you're new to working out and don't want to spend $100 or more on trainers that you might not use frequently.
What to expect from the best cheap training shoes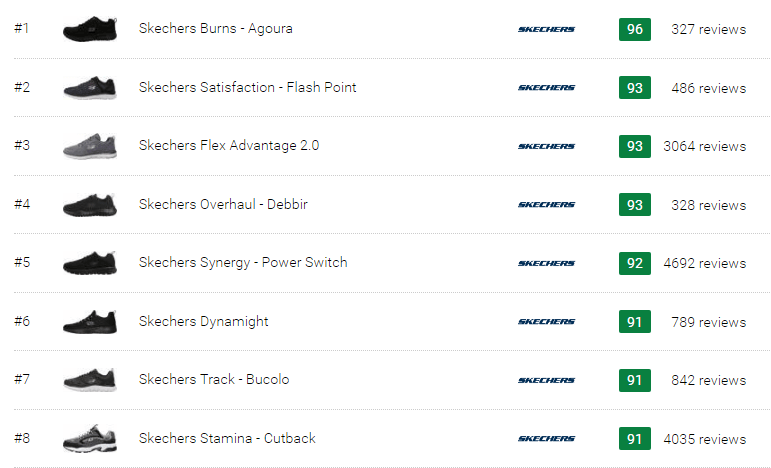 Best cheap training shoes - February 2019
Style
Cheap training shoes come in various styles, including ones with low, mid, and high collars, slip-on shoes and lace-up trainers, ones with bootie-like uppers and even awkward ones with five pockets for each toe. The availability of various silhouettes means there are more choices for consumers. It allows shoppers to purchase shoes of different styles without breaking the bank.
Upper
Depending on the brand, the upper can be made of jersey, knit, mesh, faux leather, and other lightweight fabrics. Most of these materials are breathable which permits air to cool the shoe interior. However, if faux leather is used, there are usually perforations that help with the ventilation. All of these materials are soft, allowing movement and expansion of the foot, but if more support is needed, then models with leather or fake leather upper may be more suitable for your needs.
Midsole
The most common type of compound used in the midsole of cheap training shoes is the ethylene-vinyl acetate (EVA) foam which is lightweight, flexible, and durable that allows it to withstand walking or working out on abrasive surfaces. It also attenuates shock to keep the foot and the rest of the lower extremities protected from impact. Some models have thick midsoles while others utilize a low-profile construction. The choice of shoe platform solely depends on the wearer's preference.
Outsole
Most cheap training shoes employ a single unit of foam for both the midsole and outsole which helps it keep the weight at a minimum. However, the bottom portion of the foam is usually made firmer to withstand abrasion. In some cases, there are rubber pods on hardwearing sections like the toe and heel to keep the midsole protected. Rubber pods also add traction to the underside without adding too much weight to the unit.
Frequently asked questions
What are cheap training shoes used for?
Cheap training shoes are usually crafted of lightweight materials which make them ideal for everyday walking, light workouts, and sometimes for jogging. Though some models appear to be sturdy, it is not ideal to use them for high-intensity workouts like CrossFit because they lack the supportive and protective elements which would prevent early deterioration of the footwear.
How much do cheap training shoes cost?
The term "cheap" could mean different things in reference to price. Some people consider a $100 pair of shoes as affordable, while others find anything above $70 as expensive. Here at RunRepeat, cheap training shoes are not hard to come by. Most of the trainers offered on the site are below the $100 price point because we make it our mission to deliver the best deals for shoes of your interest.
Can you use cheap training shoes for running?
For a quick run around the neighborhood, cheap training shoes would do the trick. However, if you are training for a marathon or into long distance runs, then investing in proper running shoes would be more beneficial for you in the long term.
Can you use cheap training shoes for weight training?
People who lift heavy weights prefer shoes with low-profile sole units because it helps keep them grounded. Also, the platform should not be easily compressible because that could cause unsteadiness during lifts. Most cheap training shoes are equipped with soft, flexible midsole foams which may not be ideal to wear when weight training. To prevent injuries, it would be wiser to invest in a pair of CrossFit shoes or weightlifting shoes, which have sturdy sole units.
Are cheap training shoes durable?
Skechers, Puma, Reebok - these are just some of the brands that offer cheap training shoes and coincidentally, these shoemakers are known for producing quality products. Though these trainers are usually constructed using lightweight materials, that doesn't automatically mean that they would break down quickly. The best way to know how good a footgear is is by reading user reviews. Don't worry, you won't have to go through numerous pages for that. Aside from prices, RunRepeat also curates and condenses expert and user reviews so that a quick read could get you all the information you need before clicking on that "buy" button.
15 best cheap training shoes
Skechers Burns - Agoura
Skechers Satisfaction - Flash Point
Skechers Flex Advantage 2.0
Skechers Overhaul - Debbir
Skechers Synergy - Power Switch
Puma Enzo
Skechers Dynamight
Skechers Track - Bucolo
Skechers Stamina - Cutback
Reebok Trainfusion Nine 3.0
Skechers Vigor 2.0 - Serpentine
Skechers Haniger
Skechers Sparta 2.0 TR
Skechers Vigor 2.0 - The Beard
Skechers GOwalk 4 - Incredible
This shoe has recently been added to RunRepeat. There are still not enough reviews for us to assign it a
CoreScore
.
CoreScore
A score from 1 to 100 that summarizes opinions from users and experts. The average CoreScore is 78.
More...