Overall ranking lists
Brooks categories
The American based running company, Brooks, is one of the sports shoe manufacturers that have made a name in high performance running. Featuring a wide selection of men's and women's running shoes, apparel and other sports accessories, the brand continues its promise to meet the specific needs of runners and other professional athletes. With over hundreds of branches in a total of 60 countries worldwide, Brooks maintains its competitive edge in the running industry. Despite the mixed feelings of love and hate on Brooks running shoes in running reviews, it is still a popular market driven company that focuses on design, performance and comfort in every pair.
Brooks Running Shoes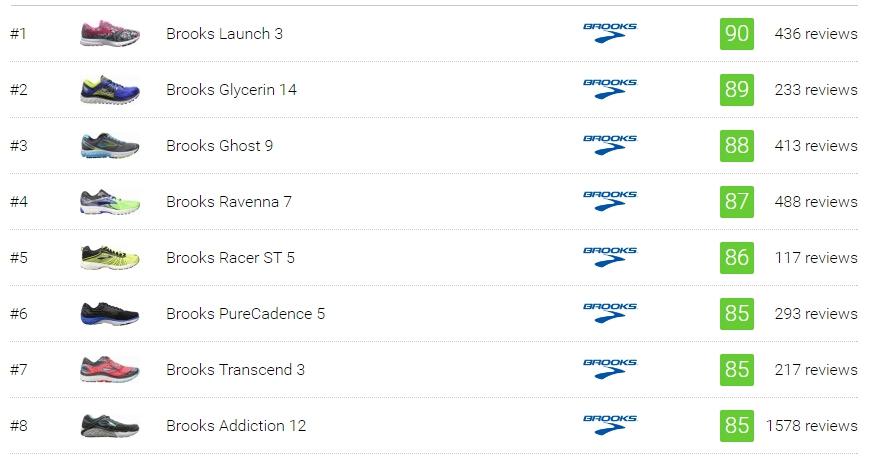 There are a lot of Brooks running shoes that have gained quite a reputation among casual runners and professional athletes. Based on the shoe ratings, the highest contenders in the brand's selection are the Brooks Cascadia and Brooks Beast. However, not all of their shoes are great for running, especially if you need more support as a flat footed or supinated runner. It is best to read reviews about Brooks running shoes, before purchasing a pair. Brooks is still keeping up with the popular sports brands, but its shoe technologies get better every year. Its competitive edge is not just in the running industry, as the brand is also an active manufacturer of football, hockey and rugby shoes.
In the sports industry, more than 100, 000 shoe reviews have featured Brooks' collection of performance running shoes. With performance and comfort in mind, the brand manufactures shoe models that have a competitive edge. Whether you are a beginner or a professional, running will be an enjoyable experience with the best Brooks shoes.
How can Brooks shoes improve your running?
Runners with medium to high arches can use Brooks neutral shoes to improve their flexibility and performance on the trail or track. However, low-arched runners would need proper stability and pronation control to facilitate an efficient gait cycle. There are Brooks stability shoes and Brooks motion control shoes that would suit them just fine.
Racing is a competitive activity for runners. They would need a light and minimal platform that would keep them light on their feet without sacrificing performance and protection for short sprints or full marathons. The Brooks race shoes are great investments for you to improve their speed record.
Trail runners need protection against debris and impact forces. The Brooks trail shoes will not just provide the said aspects, but also guarantee comfort, traction and support. As for road runners, the Brooks road shoes will improve their performance with a combination of comfort, shock attenuation, support and durability.
Why should you choose the best Brooks running shoes?
Shoe technologies. The best Brooks shoes perform well for a reason. The brand manufactures and develops technologies that are incorporated in the performance footwear collection to improve comfort, support and protection among others. Runners are likely to enhance their running performance with top-notch Brooks technologies, such as Brooks DNA cushioning technology, Bio MoGo midsole, Bios-257 midsole, S-257 Cushole, Pivot Posting, Diagonal Rollbar (DRB), DRB Accel, HydroFlow units, Progressive Diagonal Rollbar, HPR Plus outsole, Element upper technology, HPR Green outsole, Engineered Cush Pod Configuration and Ballistic Rock Shield among others. From the upper to the outsole, runners can rely on innovative technologies to keep them protected and supported from start to finish.
Pricing. When it comes to prices, the best Brooks shoes can be bought at reasonable rates. In fact, casual runners love their range of entry-level and mid-level shoes that range from $70 to $150. The affordable prices of Brooks shoes do not compensate on the quality and comfort provided by the shoes. Professional athletes also look forward to the brand's collection of advanced performance shoes that improve their running on the track or trail. The best Brooks shoes are considered to be great alternatives to popular running shoes that are not budget-friendly.
Popularity. Brooks is a well-known shoe brand that has been on the radar of the running community for years. In fact, some of the best Brooks shoes on the market have garnered recognitions from magazines, like Runner's World and Men's Health. In recent years, Brooks new releases have been awarded "Best Debut Shoe" awards and constantly included in lists of "Best Running Shoes".
This shoe has recently been added to RunRepeat. There are still not enough reviews for us to assign it a
Corescore
.
Corescore
A score from 1 to 100 that summarizes opinions from users and experts. The average Corescore is 78.
More...