Overall ranking lists
Under Armour ranking lists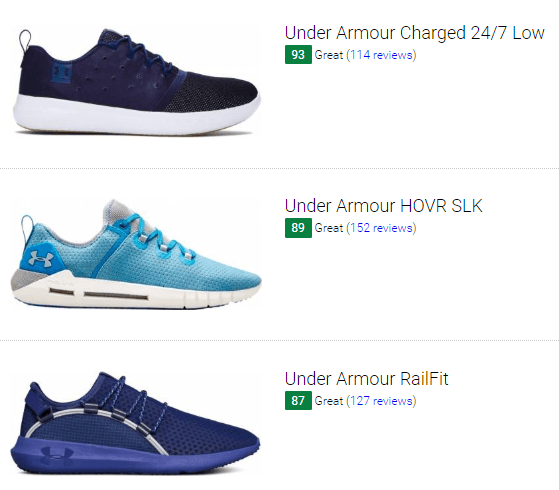 Best Blue Under Armour Sneakers - September 2019
Under Armour or UA, has come a long way from manufacturing sweat-resistant undershirt to being among the top athletic brands worldwide. Making its mark on the sporting industry in a relatively short span of time, the company is right there competing with Nike and Adidas. Like those two iconic brands, UA has managed to come up with a respectable catalog of shoes that gained notoriety due to its style and quality.
Like the design, color is among the prime factors that consumers are considering when shopping for sneakers. One of the most utilized colors by UA is the blue color. We come up with a list of outstanding Under Armour blue sneakers with various color combinations.
Under Armour shoes in blue with other hues
Below listed are the notable UA kicks that sport the color blue and others. Some of these shoes may not be necessarily made for casual use, but thanks to its design, it is worth considering to be utilized for lifestyle purposes.
Navy blue Under Armour shoes
The navy shade is one of the most popular shades of blue. Its popularity and usage have been abundant in the history of clothing and accessories. Here are some examples of navy blue Under Armour sneakers.
UA Slingride 2 – As the second iteration of the UA Slingride, this model features a striped pattern on its silhouette. It has a soft knit as its upper that sits on top of a Charged Cushioning sole that offers bouncy cushioning.
UA Street Encounter IV – Subtle design upgrades make the Street Encounter IV to have a smoother look when compared to its predecessors. It has a canvas upper that provides ample ventilation while the bungee lace enclosure offers an easy on and off wear.
UA Charged 24/7 Low – The blend of materials on its upper and the texture make this low-top version of the Charged 24/7 looked more distinct than others. As all the shoes in the collection, it features the Charged Foam that allows optimal responsiveness and shock absorption.
Blue and gold Under Armour shoes
These two hues give a nice blend of tranquillity and sophistication. Here are a few UA kicks that feature the colors blue and gold.
UA Commit – The Commit belongs to the long line of training shoes that features the brand's signature midsole, the Charged Cushioning. Adding further cushioning quality to the shoe is the 4D Foam sock liner that is also responsible for additional comfort.
UA Curry 2 Gold Rings – This special edition of Steph Curry's second signature sneaker is released in 2016 to "celebrate" the Golden State Warriors' second championship. Looking back, this shoe probably jinxed it as LeBron James and the Cavaliers came back from trailing 3 games to 1 all the way to upsetting the heavily-favored Warriors team.
Blue and yellow Under Armour shoes
There is a decent amount of UA shoes that sport these two colors, but none of them are as prominent as the UA Steph Curry sneaker line. The signature sneakers of back-to-back MVP Steph Curry has risen to popularity along with his legend. Widely regarded by fans as the greatest shooter in NBA history, very few could remotely do how Curry plays the game of basketball. For this section, we listed a few of Steph's Under Armour blue and yellow shoes that made its way into the streets.
Under Armour Curry 1 – As the name implies, it is the first of many UA Steph Curry shoes. It is released in mid and low cut versions and several colorways. The crater-like pattern and perforations across the upper and the stylish midsole are the footwear's most noticeable design details.
Under Armour Curry 2.5 – Linear patterns peppered the silhouette of the Curry 2.5, with an eye-catching multi-layered midsole. With over ten colorways released, sneakerheads have no issues incorporating the sneaker into their get-up.
Under Armour Curry 4 – Similar to its siblings, the 4th sneaker in the UA Curry line is designed for wearers that desire light and fast. Don't be fooled by its construction, as the foot entry and exit is made easy by the highly stretchable collar that adequately secures the ankle.
Blue and white Under Armour shoes
The soothing vibe of the blue and white have been used in many UA sneakers. The brand has numerous pairs featuring these colors, and below are a couple of examples.
Under Armour Charged Ultimate 2.0 – This low-top UA shoe may be built for training, but its design looks just right on the streets. The synthetic and mesh upper comes with a lateral rubber forefoot that offers optimal stability and traction.
Under Armour Charged All-Day – Among the distinctive aspects of this footwear is the heather detailing that makes up for an eye-pleasing alternating pattern on the upper. As it is included in the UA Charged collection, its midsole is made from Charged Cushioning that delivers impressive shock absorption and comfort.
Royal blue Under Armour shoes
The deep and vivid shade of blue, the royal blue is used in many UA products. Here is a couple of casual shoes that features this shade.
UA Threadborne Slingwrap – The threadborne knit material on this shoe allows the foot the stretch without much resistance, while also delivering ample ventilation. According to its wearers, the upper helps to regulate the humidity on its interior. Thus, the low-top is viable to be used even during high-temperature weather.
UA RailFit – Showcasing a modern type of lacing system, the Under Armour RailFit mixes style and innovation. Its slip-on entry, adjustable laces, and mesh upper with perforations allow the best possible fit one could get. While it is not recommended to be used for strenuous activities, its style and comfort more than make up for the lack of support.
Blue camo Under Armour shoes
Camouflage or camo, for short, is a pattern that is mostly associated with ground combat forces. Due to its eccentric appeal, it later found its way being used in lifestyle fashion. Here is a couple of blue UA shoes that sport the camo pattern.
Under Armour Clutchfit Drive 2 – This iteration of the Clutchfit that features a blue camo on the sides has been limitedly released. The basketball sneaker has high and low-top versions and thanks to its style, it looks great to be used on the streets.
UA Spine Disrupt Camo – Contrary to many sneakers mentioned here, the UA Spine Disrupt features a different type of midsole, called the Micro-G cushioning material. Its quality of impact protection and remarkable toe-off make this running sneaker an excellent choice for training or casual use.
Blue and black Under Armour shoes
Black pretty much blend with every color, and blue is no exception. Below is a couple of UA shoes that highlights these two colors.
Under Armour Ripple – The textured mesh upper of the UA Ripple allows for all-day comfort with a good amount of breathability. This casual sneaker's nondescript aesthetic worked to its advantage as it blends well with a plethora of casual to semi-formal attire.
Under Armour Micro G Pursuit – UA designed the Micro G Pursuit with the right amount of balance between cushioning and flexibility. Extended arch support is possible due to the die-cut EVA sock liner while the one-piece Micro G foam midsole guarantees an outstanding cushioning.
Light blue Under Armour shoes
Several shades of blue are acknowledged as light blue. Baby blue and sky blue, for instance, are both identified as such. Due to the friendly vibe of this color, countless people prefer light blue more than others.
Under Armour Charged All-Around Speedknit – This exclusively-made for women only sneaker exhibits a unique lacing system that provides an easily adjustable fit. Its knit upper, slip-on entry, and heel pull tab offers a hassle-free fit for all-day comfort.
Under Armour Speed Tire Ascent Low – Featuring an upper called Soft-Shell, it enhances the wearer's speed by giving less resistance. This upper also showcases UA's Storm Technology which offers a degree of water resistance to the sneaker. While it is mainly built for running, going casual with the shoe is also recommended due to its style.
Red and blue Under Armour shoes
These two colors are among the most distinguishable in the color wheel. While having a profound contrast, it has been prominently exhibited in many sneakers. Here is a couple of UA sneakers in blue and red.
Under Armour Rocket – This basketball sneaker features the Micro G tech in its midsole foam and sock liner. Due to these inclusions, enhanced responsiveness, comfort, and foot security are expected. Breathability is also guaranteed because of the engineered perforations situated in forefoot and heel.
Under Armour Steph Curry 3.5 – Released in 2017, this shoe is worn by Curry during the playoffs which ultimately led to the team's second championship in just three years. A pristine-looking upper and exciting colorways made it street-worthy, much to the delight of sneakerheads.
Frequently-Asked Questions
Which Under Armour blue sneakers are considered affordable?
Here are some blue UA sneakers that cost less than $100.
Under Armour Ripple - $65
Under Armour Charged All-Day - $80
Under Armour Street Encounter III Color Pack - $65
UA Threadborne Slingwrap - $ 95
UA Street Encounter IV - $60
Under Armour Street Encounter IV Mid - $70
Where to purchase UA lifestyle sneakers in blue?
UA's official site has a great selection of blue sneakers, for all categories. The RunRepeat website not only presents valuable information about shoes, but it also provides links of great offers from various online retailers.
What are some recommended women's navy blue Under Armour shoes?
The UA Charged 24/7 Low and UA Slingride 2, which is listed above, have sizes available in women's measurements. These sneakers have a unisexual design, to which women will surely appreciate.
How do Under Armour blue shoes fit?
On average, UA shoes run small and snug. Ordering a pair with a half size more than your usual measurements is advisable. Of course, not all shoes are created the same, so expect some sneakers that are exempted from this notion.
What are some examples of blue UA Curry lifestyle shoes?
The Under Armour Curry Lux has a suede version in blue. Aside from that, there isn't much variety for this collection as it only started in 2016. It is expected that as the sneaker line grows, so does the color options.
Which UA lifestyle kicks have an all-blue color scheme?
The Under Armour HOVR Phantom Connected and UA RailFit NM have an all-blue colorway, but the shades are different. Royal blue for the HOVR Phantom Connected and thunder blue for the Railfit NM.
What are some of the newest techs that are applied to these blue Under Armour sneakers?
The Under Armour HOVR is the brand's answer to Nike's React and Adidas' Boost cushioning technology. Debuted on the UA HOVR Sonic and Phantom, this innovation not only delivers a cushioned ride, but energy return as well. Among its prominent component is the Energy Web, which is a type of mesh fabric that embraces the cushioning core to give prime responsiveness and energy recovery.
Another example is the Anafoam, which is a type of foam that is situated at the lateral forefoot wall and on the heel. Optimal foot security and supportive feel are the benefits of this material's presence in sneakers.
Are there UA sneakers in blue and orange?
While this color combination is not among the most popular, UA still has a few models that have a blue and orange colorway. A couple of examples is the Under Armour Threadborne Velociti and Under Armour ClutchFit Drive Low.
Do Under Armour blue sneakers looked good on women?
UA labels their collection of casual shoes as "Sportstyle." As such, we can expect that more often than not, the design of Under Armour shoes will always be sports-inspired. Considering this concept, it depends on how it is paired with clothes.
While we cannot expect UA kicks have the same iconic versatility as the Gazelle or Chucks, there are still a good number of ways on how to incorporate them with women's attire. Under Armour's official site offer numerous clothing that matches with blue Under Armour sneakers.
Aside from Steph Curry, are there any other high-profile endorsers that have blue UA shoes?
Hollywood A-lister Dwayne Johnson has his Under Armour Project Rock 1, which is released in multiple colorways, including blue. The Cam Newton Highlight is a trainer that was issued in blue and red colorway.
3 best blue Under Armour sneakers
Under Armour Slingride 2
Under Armour Ripple
Under Armour Charged All-Day
This shoe has recently been added to RunRepeat. There are still not enough reviews for us to assign it a
CoreScore
.
CoreScore
A score from 1 to 100 that summarizes opinions from users and experts. The average CoreScore is 78.
More...