Blue low top sneakers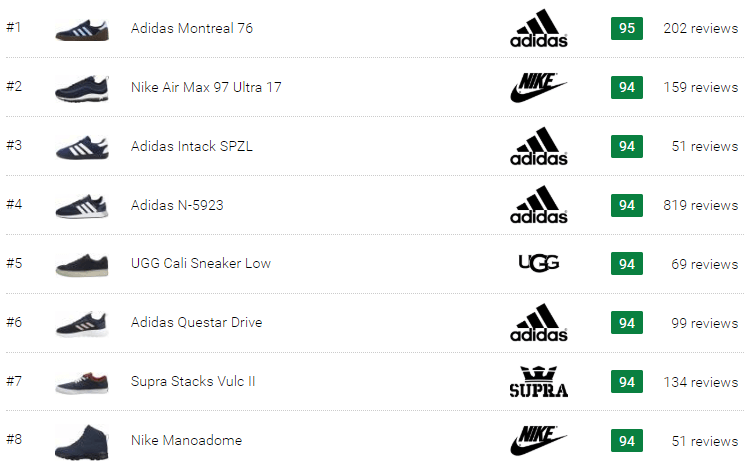 When it comes to shoes, blue as a colorway has always been at the top. It's just something that everyone seems to like, especially when different shades of blue come to play. It can't be denied, blue low top sneakers? They're just something that one has to have to complete the sneaker collection and to also keep handy in the closet.
Here, we focus on all things blue and low top.
Top women's low top blue shoes
Making things a little easier, here are some of top rated low top blue shoes of all time for women:
Nike Air Max 95
For a pair of blue low top sneakers, the revered Air Max 95 has been considered as one of Nike 's and the Air Max lines most innovative sneaker. The silhouette gives the sneaker its iconic status and has pushed it to be a top sneakerhead collector's item. Here's a little more info on it:
The Air Max 95 has an exposed heel as well as an air bubble found on the forefoot of the sneaker.
The PU midsole offers superior cushioning.
On the tongue, one can find the "Airmax logo" while on the heel, the "Nike Air" branding is visible.
Sizes available: 5.5 - 11 US
Nike Air Max Thea
New to the game, that doesn't stop these blue low top sneakers from being something of an icon in the sneaker industry. The women-exclusive AM Thea became such a hit with the female population and sneakerheads alike that Nike had to come out with an iteration geared just for men. Here are a few more facts to pique one's interest:
On the lateral and medial side, one can see the "Swoosh" logo.
The padded collar of the kicks has a heel pull tab.
Solarsoft sockliners offer plush comfort.
Height is boosted with the Thea and its an inch and a quarter high heel.
Sizes available: 5 - 12 US
Nike Air Huarache Ultra
Adding to the excellent line up of blue low top shoes, the Air Huarache Ultra from Nike is a favorite reinvention of the very popular Huarache. Comfort is a significant aspect of these sneakers, and the finest materials have been used to create perfection. See what else makes the Huarache Ultra such a joy to own:
It has a three-layer mesh and a perforated foam for breathability.
On the toe, the shoe has no-sew overlays accentuated with a slimmed down neoprene upper.
For better comfort and a more lightweight feel, and Air-Sole unit has been added.
Sizes available: 5 - 11.5 US
Adidas NMD_R1 Primeknit
Concerning price, this pair of blue low top sneakers is definitely on the indulgent side. Yet, this hasn't deterred people from grabbing the stylish NMD_R1 Primeknit. It's unique and a definite stand out. Here are a few more reasons why this sneaker is a significant investment:
The sneaker has a one-piece upper made of Adidas' infamous Primeknit.
On the midsole, Energy Boost is used for increased responsiveness when worn.
The stitching pattern of the upper takes inspiration from the traditional Sashiko way of stitching.
Sizes available: 5.5 - 10.5 US
Adidas Campus
An old school fave, the Adidas Campus, popular low top blue sneakers, has attracted a big following with its silhouette and design. It's versatile and can adapt to the trends of the time. The sneaker doesn't run out of style, and it's pretty much a shoe that goes with the flow. Read more about it below:
The sneaker is highly sought after and recognized for the suede cover it has.
For the lining, synthetic leather is used.
On the outsole, the herringbone pattern gives the sneaker a good grip.
Sizes available: 3 - 13 US
Adidas Iniki Runner
For these low top blue shoes, the Iniki Runner from the Three Stripes takes its origin from their 1970s running shoe archive. It has a mixture of old school style with a bit of modernity to it. Initially made for running, the retro vibe has given the Adidas Iniki Runner the versatility to become a lifestyle sneaker. Here are a few more points to have you interested:
The Boost sole adds to the overall comfort of the sneakers as well as the style.
It has a shiny tongue and webbed gum rubber sole.
There is an "INKI" branding on the sneaker.
Sizes available: 4 - 14.5 US
Puma Tsugi Shinsei
Since its release, the Tsugi Shinsei has been making heads turn in the sneaker industry. With this pair of blue low top sneakers, Puma has created a sneaker worthy of being in the limelight time and time again. Want to know more? Read about it below:
It is patterned after popular silhouettes and designs found in Japan.
The sneaker became very popular when celebrity performer The Weeknd endorsed it.
A side lacing system with a flexible heel wrap allows the kicks to have outstanding support.
Sizes available: 5.5 - 11 US
Vans Old Skool
Coming in many colorways, the Vans Old Skool also sell out as great blue low top shoes for men and women alike. Still a trendy pair of skate sneakers, it has also come a long way to have captured the hearts of many sneakerheads, skaters or not. Learn a little bit more about the kicks below:
The shoes upper is made of thick textile with double stitches further reinforcing it.
It's straightforward in style with the Sidestripe found on the lateral and medial panels of the Old Skool.
The waffle tread patterned outsole offers excellent traction.
Sizes available: 3.5 - 16 US
Puma Suede Classic
For those who love anything old-school, the Suede Classic from Puma is a pair of blue low top sneakers that delight time and time again. It's readily available almost anywhere, in-store and online, and has become a staple for almost any die-hard sneakerhead. Below, you can find more information about it:
The sneaker is easily identifiable because of the silhouette it has.
A foam padded tongue and collar allows the kicks to have a good fit.
The sockliner is cushioned while the textile lining on the sneaker gives added comfort.
Sizes available: 5.5 - 12 US
Asics Gel Lyte III
Designed to be a running sneaker, the Gel Lyte III has come a long way to evolve into a casual lifestyle sneaker as well, especially with its combination of style and performance. It also has the retro appeal mixed with a dash of classic style. An all year round favorite, get to know more about the shoe here:
A split tongue can be found on the sneaker, a classic trademark from Asics.
It also has a breathable upper paired with a durable outsole that has a reliable grip to it.
The Gel Lyte III has the three-density cushioning to it.
Available sizes: 5.5 - 12 US
Top men's low top blue sneakers
Not one to disappoint, the top blue low top sneakers for men also present a list with great choices and brands. Here's a quick look at it:
Nike Air Max 270
Hailed as the first lifestyle Air unit to come from the Nike brand, the Nike Air Max 270 is made to withstand long wear, especially for those who lead active lifestyles. The numerous colorways that it comes in also make it very attractive to sneakerheads and the blue version of these can be considered as one of the best blue low top shoes around. Here are some more enticing facts about these blue low top sneakers:
On this pair, one can observe a tall heel Air unit measuring at 32-mm.
There is a bootie construction made of neoprene material along with a knit and mesh upper that makes the sneaker breathable.
The kicks are also called as the AM 270.
The dual-density foam sole allows for responsive cushioning.
Sizes available: 6 - 15 US
Nike Air VaporMax Plus
For a sneaker that mimics the classic 98 Air Max Plus, the VaporMax Plus delights for a pair of blue low top sneakers. The modern Vapormax Plus brings a rero feel to the ensemble that has many clamoring to get a pair despite having a high price point. Here are a few highlights about these men's blue low top sneakers:
Instantly, one can notice the glossy TPU cage on the upper.
A neoprene upper gives the foot a snug and comfortable fit.
The same TPU cage is also a lace loop.
Sizes available: 4 - 14 US
Nike Air Force 1 Low
Following right after the release of its high top counterpart, the Nike Air Force 1 Low has gone on to be quite a famous pair of blue low top sneakers from Nike. It's got a lot of great features and design elements that one can read up on here:
The Air Technology being used in the midsole gives the shoes more cushioning without the added weight.
One can observe perforation in the upper of the sneakers for better ventilation.
The upper of these men's blue low top shoes are made of premium leather.
Sizes available: 6 - 18 US
Nike Air Huarache
A sneaker released more than a few decades ago, the Nike Air Huarache enjoys immense popularity even to this day. With that, it has been considered to be a part of the "best blue low top shoes" list, the blue version of these delighting sneakerheads all over. Here is some more information about the kicks that will surely entice anyone to get a pair:
The heel of these blue low top sneakers is a prominent feature.
It is also famous for the inner sock design that gives it a good fit.
Combining an EVA midsole and an Air Sole unit lets the shoe have good shock-absorbing qualities to it.
Sizes available: 6 - 15 US
Adidas Cloudfoam Race
The Adidas Cloudfoam Race is a pair of blue low top sneakers that are easy on the pocket but scores high on the fashion scoreboard. It takes on inspiration from running shoes but is, ultimately, made for the casual scene. See what else it takes inspiration from by reading more about it below:
Making it lightweight and plush to wear is the Cloudfoam midsole.
The sock liner of the sneaker also features Cloudfoam.
There is a mesh upper on the Cloudfoam Race.
Enhancing the durability of the sneaker is a seamless toe cap.
Sizes available: 6.5 - 14 US
Adidas Swift Run
Debuting in the year 2017, the sneaker took the industry in a storm. The pocket-friendly and stylish Swift Run is incredibly versatile and easy to cop. On top of that, the sneaker is very easy to style with which a lot of sneakerheads like. More information about the sneaker can be found below:
It has an injection-molded EVA midsole.
The overall design of the blue low top sneakers is very stylish and unique.
The Adidas branding is evident on the sneaker's tongue.
Adorning the forefoot of the kicks are embroidered lines.
Sizes available: 4 - 13.5 US
Adidas X_PLR
With the similarities to the NMD being uncanny, many have taken to calling the Adidas X_PLR as a more affordable version of the NMD. Quality is maintained, and it is a very well-crafted pair of blue low top sneakers. Read on to find out more:
The inner part of the Adidas X_PLR is lined with textile.
It has an EVA molded midsole.
Ortholite sockliners have also been incorporated into the sneaker for comfy wearing.
The rubber outsole makes for good traction.
Sizes available: 5 - 14 US
Pharrell Williams Tennis Hu
Mashing together the Adidas Stan Smith with the creative mind of Pharrell Williams', the Tennis Hu becomes something that everyone wants to get their hands on. Get to know the kicks a little better with these points below:
It has a one-piece upper made of ultra soft mesh textile.
Subsequently, the upper makes the blue low top sneakers very lightweight.
There is also a Primeknit version of the Tennis Hu.
Sizes available: 5 - 14 US
Onitsuka Tiger Mexico 66
An iconic pair of sneakers, the Onitsuka Tiger Mexico 66 is a reissue of the world's most recognizable pair of shoes. What makes these so coveted is the number of colorways that it comes in, from loud colors to amazing printed uppers, there's a style for everyone. Check it out below:
The upper of the Mexico 66 is made of full grain leather.
The T-toe construction and heel counter are made up of smooth suede.
On the heel, one can find a branded flap.
The signature Onitsuka Tiger stripes can be observed on the side of the sneaker.
Sizes available: 6 - 15 US
New Balance 247 Classic
With this pair of kicks, New Balance introduces something new and successful. Modern yet still having some of the original looks, the New Balance 247 Classic gets a nod of approval from many fashion-forward sneakerheads. Want to know more? Read on below:
It has a mesh toe with the midfoot being made of synthetic nubuck.
A neoprene collar and tongue provides adequate comfort.
There is a REVLite midsole.
The "N" logo is welded on the sneaker's quarter panel.
Sizes available: 4 - 14 US
The appeal of the color blue and low top shoes
Since the beginning of time, blue has always been somewhat of a favorite color in fashion. It was and is always seen in a number of clothing articles, and low top shoes are no different. Rendered in many different shades of blue, blue low top shoes have been a hit ever since; there's just something about the color blue the makes it all so appealing.
One reason why is because the color blue has always been associated with elegance. It's become a color that is perfect for any occasion and melds well with many outfits. Taking this into consideration, it suddenly comes as no surprise why blue low top sneakers are very much popular.
Frequently Asked Questions
Why is blue a popular color for sneakers?
Blue symbolizes elegance, harmony, balance, and peace. Because of that, it brings a lot to the table when applied to fashion and sneakers.
What would be the best look to go with for blue low top sneakers?
The beauty of these sneakers is versatility. With an active imagination, blue kicks can be paired with athleisure or casual outfits, and can even go as far as to be worn with the semi-casual outfit.
What shoe brands carry blue sneakers?
Many shoe brands! Adidas, Nike, Onitsuka, Vans, New Balance are just some of the top brands to carry the color, but the choices are endless.
How about buying them online?
Of course, they can be bought online, too. The official brand websites allow one to have in more choices when it comes to blue kicks by presenting sneakers done up in different shades of blue.
How does one keep blue low top shoes clean?
Keeping one's sneakers clean is essential. Here are a few tips:
Remove excess dirt with a soft bristled brush. Take note, it should be a dry brush.
Remove stubborn stains from the sneakers with mild soap mixed with water.
Spot clean the sneaker with the detergent mixture and brush.
Never submerge sneakers into the water.
Can we safely say that blue low top shoes are unisex?
It depends. Some of these blue low top sneakers were made to be unisex while others are exclusively made for men or women. Asking and researching on the shoe one wants to get is always advised.
How do these sneakers usually fit?
The fit of the sneaker depends on the brand, the sizing, as well as the material that makes up the upper of the kicks. After knowing all these can then one determine the fit of a shoe. We recommend researching the desired shoe in advance.
How long does a pair of blue sneakers usually last?
With proper handling, care, and cleaning, a pair of blue shoes can last up to 3 years or more.
15 best blue low top sneakers
Vans Canvas Old Skool Lite
UGG Cali Sneaker Low
Lacoste Court-Master
Adidas Munchen Super SPZL
Nike Manoadome
Nike Air Max 97 Ultra 17
Adidas Intack SPZL
Supra Stacks II
Adidas Stan Smith Recon
Adidas Gazelle Stitch and Turn
DC Syntax
Supra Stacks Vulc II
Adidas N-5923
Adidas Superstar Suede
Puma Ignite Limitless
This shoe has recently been added to RunRepeat. There are still not enough reviews for us to assign it a
CoreScore
.
CoreScore
A score from 1 to 100 that summarizes opinions from users and experts. The average CoreScore is 78.
More...