Blue high top sneakers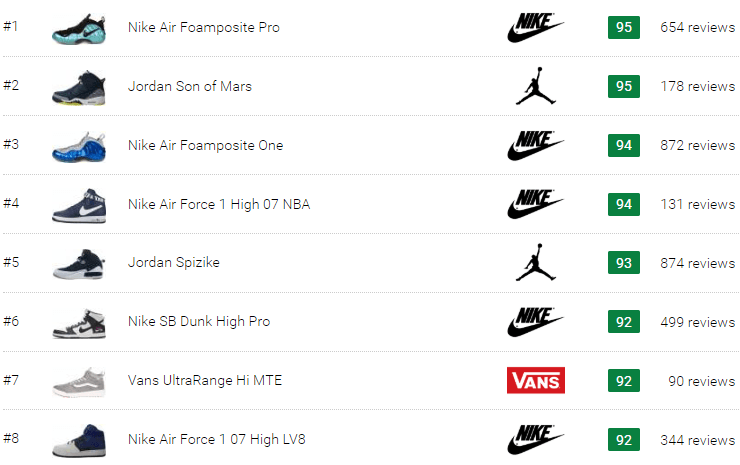 Now that sneakers have transitioned as a street staple piece, low tops, over any other construction, have become a more favored silhouette. High-top sneakers, however, remain to be as stylish despite being more well-known as performance footwear. Coming in all shades and styles, it can't be denied that one of the colorways that stands out is blue.
Blue high top shoes, whether for men and women, are generally versatile and can be fashioned in infinite ways. It doesn't matter if it's as pale as sky blue, as bright as cyan, or as dark as navy, there will certainly be a shade of high tops that fit your heart's desire. Here, we show you some of the most popular sneakers in the market and more.
Most notable blue high top shoes – men's
Nike Flight Bonafide
First one on the list may seem too out there but don't be intimidated. Seemingly what an alien would wear, the blue iteration of the Nike Flight Bonafide makes this futuristic shoe more wearable as it is combined with black. Moreover, dissecting each element of the sneaker makes you realize that these are not only about style.
Key features:
The Flyknit upper provides a breathable and comfortable feel.
There is a zipper on the heel for easy and quick on and off wear.
These high top shoes in blue for men are sported with Nike Air for a responsive cushioning system.
Nike Air Foamposite Pro
Though slightly muted compared to the previous model, the futuristic Foamposite Pro still offers a glamous molded upper. Inspired by the beetle, these sneakers make an impression despite paired with even most basic outfit. Two shades of blue are included in the collection. The Hyper Cobalt, a Ben Gordon-inspired shoe, is in a rich royal blue shade while the Electric Blue colorway is a metallic cyan hue.
Key Features:
These blue high top sneakers feature a Zoom Air technology for a responsive cushioning system.
The outsole sports a herringbone pattern to provide maximum traction.
Converse Chuck 70 High Top
Compared to the first two mentioned, the high top Chuck 70 in blue gives the ultimate meaning to classics. No one probably hasn't seen this silhouette, unless living under a rock. Because of its long history and different variations of the shoe, every shade probably has been clad in this upper.
Key features:
The outsole and canvas of these blue high top shoes are thicker to ensure durability.
Even though it seems like it has the same look as the Chuck Taylor All Star High Top, the '70s are much more similar to the vintage.
Vans SK8-Hi
If back in the day, Converse was synonymous to basketball, Vans is the epitome for skateboarding. Because of how iconic these men's blue high top sneakers are, it is hard to tell how many shades of blues these sneakers come in. One thing is for sure, that's a lot of blue.
Key features:
The quilted canvas collar of the Vans Sk8 Hi is padded for protection, comfort, and support.
As a skate-inspired sneaker, its outsole offers plenty of grip and carries the signature Vans waffle outsole.
Jordan Spizike
Jordan is an unmissable brand, especially for sneakerheads. One of the well-loved collections is the Spizike which is a hybrid of not just two, but six different Jordan shoes. The "Do the Right Thing" colorway of these men's blue high top sneakers, which is highly inspired by the film poster, features a white upper with speckles of blue on the outsole, midsole, and heel. The New York Knicks colorway, released on November 5, 2011, features a true blue upper.
Key Features:
The Spizike borrows the elephant print from the III, the wings of the IV, eyelets, and silhouette of the V, lace locks of the VI, heel tab of the IX, and the lace-engraved detailings and sockliner prints of the XX.
These blue high top shoes have a lightweight Phylon midsole and visible Air Sole unit for ultimate comfort.
The upper is composed of leather and synthetic to provide a supportive fit.
Vans UltraRange HI MTE
Who says that high top shoes in blue are only for style? These men's blue high top shoes prove that wrong. The navy upper is clad with black accents in the side's logo, collar, and laces. You can't really judge a cover with these kicks. Despite looking simple on the outside, the Mountain Edition of the UltraRange Hi just catches attention.
Key Features
The UltraRange is ideal for different and extreme weather conditions because of its water-resistant finishing and warm linings.
The interior of the UltraRange HI MTE has a technology called LuxLiner which aids in maximizing comfort and eliminating pain caused by rubbing on pressure points.
Most notable blue high top shoes – women's
Converse Chuck II High Top
From afar, it seems that the updated version of the Chucks doesn't fall far from the tree. However, looking at each detail will tell you that, indeed, there are innovations injected to it to make it better. For a century-old silhouette to be updated, it only shows that these are not your ordinary Chucks.
Key Features:
The Converse Chuck II High Top borrows the Lunarlon sole from Nike, a soft and responsive cushioning system.
The padded non-slip tongue is a useful feature that comes in handy for comfort and protection.
The poly-blend canvas upper is a much-welcomed feature that offers a more premium feel to the shoe.
Timberland Londyn 6-inch Sneaker Boots
The brand Timberland may connote to its iconic yellow boot, but it diversified not just for the hard laborers but for women who crave for function and style. These pastel blue high top shoes are versatile and great to style for winter but can also transition during cold summer nights when paired with dresses.
Key Features:
A hidden but excellent feature of these blue high top shoes is the sneaky wedge for a literal boost in height and style.
True to being an earthkeeper, the Londyn is made of 34% recycled rubber outsole.
Puma x FENTY Chelsea Sneaker Boot
Welcoming Rihanna as the Creative Director of the brand, Puma also introduced designs that push the boundaries. The blue iteration for this Puma Fenty sneakers come in a pastel blue colorway matched bright yellow midsole. The color combination is far from what we usually see but just like the famed-artist, it grows on you.
Key Features:
These blue high top sneakers sports the iconic platform sole of the Fenty Creeper.
It has a Puma and Fenty branding on the footbed, heel, and outsole.
A stretchable garter at the back hits two birds with one stone- an easy entry of the foot and a stylish accent to the shoe.
Supra Vaider
If there's a linear line that categorizes the Supra brand as a skateboarding or casual, it leans towards the former. The Supra Vaider is a mix of both. There are many shades of blue for this version from a midnight blue to royal blue.
Key Features:
The padded tongue and collar boosts the comfort and support of this blue high top sneakers.
The toecap has double stitches to ensure durability and for enhance support.
Reebok Freestyle Hi
Before there were female sneakerheads, one of the sneakers which saw a huge opportunity in catering to women is the Reebok Freestyle Hi. Released in 1980's, the style of these sneakers remain to be stylish. There are already countless shades of blue rendered for these.
Key Features:
These Jane Fonda-popularized Freestyle His are still in demand today.
These sneakers are clad with two Velcro straps on the ankles to guarantee a secure but adjustable fit.
Fans also call these the 5411, which is the kicks' price when it was first released plus tax.
Ecco Soft 8 High Top
If fusing sporty and luxurious styles seem like a snowball's chance in hell, take a look at the Ecco Soft 8 High Top. These sneakers in a rich powder blue upper and a sleek silhouette that sits atop a rubber outsole.
Key Features:
These women's blue high top shoes are infused with the ECCO Comfort Fibre System which helps it maintain freshness and dryness.
The leather upper is re-tanned and contrasted with a thick white sole to achieve that Scandinavian look.
Frequently Asked Questions
Should I wear socks with my blue high top sneakers?
It will always boil down to your own preference. However, socks can be utilized based on its purpose and for style. In a way, the main purpose of this simple piece of clothing is to keep your sneakers clean and to prevent your feet from smelling. Socks are also a functional and essential piece during the winter season to keep the tootsies warm and cozy.
Some like to use sneakers for style purposes too, as it comes with different designs and colors and can serve as a great compliment on your blue high top sneakers. If you are feeling a bit adventurous and would like to add a unique twist to your blue high top shoes, you can experiment with loud colors, patterns, and cuts of socks. However, if minimal and basic is more like your cup of tea, you can stick with the neutrals and let your shoes do all the talking.
Can I wear my blue high top sneakers with business casual outfits?
Absolutely. The great thing about them is that because of its color, it is versatile and can be paired with different outfits. However, it is essential to take note that choosing a pair that looks sleek and streamlined than performance-inspired will help you achieve this look effortlessly. To help you put a picture on everything that we have described, may we suggest you take a look at these:
Nike SFB 6 Leather
Ecco Soft 8 High Top
DC Evan Smith Hi Zero S
What are the most well-known collaborative blue high tops?
Low-top sneakers may have gained their rep, but high top sneakers also have their own flair. It's no wonder that collaborators like to use this silhouette. Because there is a more surface area to cover for high tops, it serves as a larger canvas and allows the design or the colorway to be seen. Additionally, it becomes an opportunity to put in more art and to play around with the overall look of the shoe. Here are some of the famous sneaker collaborations that we have seen:
Stash x Nike Air Max BW
DJ Khaled x Air Jordan 3 "We the Best" and "Father of Asahd"
Familia x Nike Dunk High Premium SB "Blue Ox"
Don C x Air Jordan Legacy 312 "Storm Blue"
Noah x Vans Sk8-Hi "Decon Navy"
Why should I buy blue high top sneakers?
There are many reasons one has to consider when buying a pair. Here we run down some of them:
Blue is a versatile colorway because it allows you to inject color in your wardrobe without the need to overly contemplate on what outfit to match with it.
Another thing to consider is the function. Compared to low-tops and mid-tops, high top sneakers offer more support and protection on the ankles, which are qualities that you can't simply shrug off.
There are many pairs to choose from so finding one in the market won't be hard.
Blue high top sneakers are stylish in itself already.
There is certainly a pair that will suit your budget.
Can I dress my women's blue high-top shoes in a feminine manner?
The thing this footwear is its style doesn't only match different outfits but it could be dressed up in various ways as well. It doesn't take the femininity out of you and will, in fact, boost it. Here are some ways to put a girly stamp on your blue high top sneakers:
Pairing your fresh kicks with a sundress is the best way to kick off summer.
If the combination of dresses and sneakers is not your cup of tea, a flowy or a bandage skirt should do the trick.
For chillier days, sweater and pants will work great to keep you stylish and warm.
An outfit paired with a denim jacket should be a fool-proof complement on your trusty sneaks.
If you are feeling a bit adventurous, pairing your high top sneakers with a midi dress will help you achieve this without putting too much effort.
Are high top sneakers great for your ankles?
High top sneakers are not a guarantee to prevent one from getting ankle sprains. However, compared to low-top sneakers, these deliver more support on the ankles, which, in a way, is related to the prevention of sprains. Generally, it boils down to how strong your leg muscles are. High top sneakers may help but the best way to avoid sprains is to strengthen your leg muscle strength.
Are blue high top shoes trendy?
While high top sneakers are highly connected to performance footwear, times have changed. High-tops, transitioning as street-style footwear, have adopted into a fashionable piece. In fact, some are favoring this silhouette because it can create a bold look without trying too much. Some of the trends that you can follow are:
Nike Air
Nike Air, aside from being a line from the brand, has become a trend in itself. Before the spurt of the ugly shoe trend, the Nike Air was an embraced silhouette that many welcomed.
Examples: Nike Air Force 1 High, Nike Air Pippen, Nike Flystepper 2K3 PRM
Dad sneakers
Love it or hate it, you can't deny that the ugly shoe trend exists and it's taking a bold impression in the fashion industry. Blue high top sneakers easily make an eye-catching piece especially if it comes in an oversized profile.
Examples: Reebok InstaPump Fury OG Ultraknit, Nike Air Max Speed Turf
Sock Boot Trainers
With the advent of Primeknits and Flyknits, it seems that sock uppers are not going away. More than its style, many are enjoying how lightweight and comfortable these blue high top shoes are.
Examples: Balenciaga Speed Trainer, Puma Clyde Sock, Balenciaga Lace-Up Speed
Can I wear my blue high top sneakers in winter?
Certainly. The great thing about this type of construction is that specific designs actually look like boots. You can choose sneakers that look like boots to help you be geared for winter in terms of style. Plus, there are also sneakers that are injected with technologies to make the blue high top shoes more apt for the colder season.
Are blue high top sneakers pricier than neutral colored high tops?
Not necessarily. A different colorway doesn't cause an increase in price. Usually what makes a shoe cost more are the technologies injected to it or the materials, but colorways are not a factor for a difference in price.
Can I clean my shoes with only household products?
Yes. Cleaning your shoes shouldn't be a tedious process. Moreover, the products used to clean it shouldn't be only available in specialty shops. A solution made from gentle laundry detergent and water should do the trick when cleaning the upper. Meanwhile, boosting this mixture with a baking soda can make your rubber midsole back to its original color.
15 best blue high top sneakers
Jordan Son of Mars
Jordan Reveal
Nike Air Foamposite One
Jordan Spizike
Nike SB Dunk High Pro
Vans UltraRange Hi MTE
UGG Cali Sneaker High
Timberland Killington Chukka Sneaker Boots
Adidas Matchcourt High RX2
Nike Air Pippen
Vans SK8-Hi Pro
Jordan True Flight
Ecco Soft 8 High Top
Vans SK8-Hi
Nike Dunk Retro QS
This shoe has recently been added to RunRepeat. There are still not enough reviews for us to assign it a
CoreScore
.
CoreScore
A score from 1 to 100 that summarizes opinions from users and experts. The average CoreScore is 78.
More...