Blue Adidas Sneakers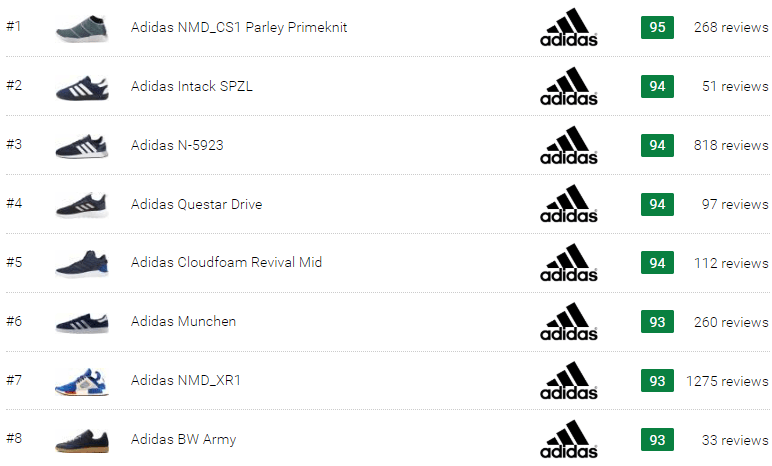 While neutral clad sneakers are your best bet when choosing versatile sneakers, those wanting a pop of color on an outfit may find it impossible with white, black, and grey. Blue-hued sneakers satisfy the insatiable thirst of the market as it is an excellent mix of neutrality and color. Just like how it is in fashion, the shade of Azure is an excellent choice given that it adapts on different occasions and it has the ability to look formal and casual without the need for too much attention.
Adidas, just like other footwear brands, houses different silhouettes carrying this distinct primary color. Whether its performance or casual kicks, the brand sure knows how to work the color to make it eye-catching and different. Below tackles more about Adidas' varying shades of blue sneakers.
Different Shades of Blue Adidas Shoes
Synonymous to being depressed and sad, blue, in the fashion world or more specifically in the sneaker business, doesn't necessarily signify melancholy. Looking at how the color seeped through our history, we can tell that it is a color that is celebrated.
As there are endless shades of blue existing, we've covered three of the most common colorways present on Adidas sneakers.
Royal Blue Adidas Shoes
This shade presented different iconic moments throughout history. Created for Queen Charlotte of the United Kingdom, hence its name, the royal blue is a great mix of dark and vibrant azure. Eventually, it represented team colors and became a staple shade of different sneaker brands.
Gazelle
Initially released in 1966, the Gazelle has become a time-proven low-top silhouette that is a classic to Adidas. As the first suede sneaker released by the brand, these became already a piece of history that is still a favorite up to this day.
Fun Facts about the Gazelle:
An Adidas blue shoe along with another that has a red colorway was released in 1966.
Gazelle Blau was the specific term for its colorway which in common lingo refers to royal blue Adidas sneakers.
The royal blue Adidas sneakers get infused with microcell technology which serves as an extra cushion for impact and creates a firm material on indoor areas.
Jeans City Series
Because coordination is an integral process in fashion, the brand created an Adidas blue sneakers that pair well with that trusty old Levis. These blue Adidas sneakers sport a signature T-toe box which serves as an extra layer for protection.
Fun Facts about the Jeans City Series:
Two blue Adidas sneakers named after two major cities in Switzerland and Spain, called Bern and Valencia are included in this collection.
The Bern colorway comes in a vibrant blue hue accented with a cyan Three Stripes.
On the other hand, Valencia is clad in a deeper shade with accents of green and light blue Three Stripes.
EQT Support ADV
Seeing it first in the 90s, the Equipment went on an overhaul from being a performance sneaker to being transformed as a modern and casual sneaker called the EQT ADV. Because of the continuous success of the EQT family, Adidas released another edition called the EQT Support ADV, a more innovative version of the classic.
Fun Facts about the EQT Support ADV:
The EQT Support ADV is available in a wide range of colors. Two royal blue Adidas shoes are in this collection- one in an all blue colorway and the other in a mix of royal blue and white.
These blue Adidas sneakers have reflective accents that come in handy at night.
It is also named as the EQT Support ADV 91/16 which connotes to the years when it was first released and the year that these shoes were launched.
Navy Blue Adidas Shoes
Because of the darkness of this shade, most people opt for this color when they want to go for black with a twist. Most of the benefits of black are also applicable to navy blue.
Iniki Runner
Even though the aesthetic of these sneakers spell mighty fine and fresh, the inspiration comes from a running shoe from the past. The Iniki Runner is a combination of retro and modern tech, making the on-trend footwear stay fashionable for years.
Fun Facts about the Iniki Runner
Adidas changed the name of this shoe to I-5923 which rumor has it, is due to some legal issues.
Iniki is a Hawaiian term of a piercing and robust hurricane.
The navy blue InikiRunner is accented with white Three Stripes.
Adidas Cloudfoam Race
One of the reasons why many like Adidas is because it provides stylish pieces without breaking your bank. The Adidas Cloudfoam Race an epitome of this.
As part of the brand's sub-brand NEO exudes, the Adidas Cloudfoam Race embodies the same qualities of being fresh and fun.
Even though these blue Adidas sneakers target the younger consumers, its style is versatile and is also suitable for adults.
Users can choose from the five different dark blue Adidas sneakers for this model.
Light Blue Adidas Shoes
Because simplified is the best, there were only two shades of blue that exist before—the dark and light blue. Currently, the spectrum of the light blue comes in a wide variety of shades, from pastel to sky blue and a whole lot in between.
Deerupt Runner – Chalk Blue
Even though Adidas is not necessarily a designer brand, it doesn't necessarily mean that it can't push boundaries on its designs. The Deerupt Runner is one of its pieces that portray the contrasting qualities of minimalism and boldness.
Fun Facts about the Deerupt Runner:
These blue Adidas sneakers come in a pale shade with white webbing and laces.
Its upper is made up of an ultra-stretchy knit material cloaked with a stretch grid webbing for subtle compression.
Arkyn
Adidas has always been known as a sports brand but what sets Arkyn apart from the others is that it is barely created for sports but the female creatives. It sports the traditional Three Stripes in a modern sock-like construction to make it fit perfectly.
Fun Facts about the Arkyn:
Adidas describes it as "a brand-new shoe for a brand new era of creativity."
Model Kendal Jenner promoted this model. On the ad, she was wearing the Steel colorway, which is a muted blue colorway.
Quite recently, Adidas released additional color options which includes "Dark Blue," and "Hi-Res Blue."
Color Pairings of Blue Adidas Sneakers
What is unique about blue is that it can stand on its own and pairs well with other hues—whether it is a neutral shade or something from the color wheel. Aside from pairing sneakers with outfits, Adidas is commendable for coupling blue with other tones on the sneaker itself. Looking at the blue Adidas sneakers, we've come to see some of the most tried-and-tested combinations that they have used.
Pure Blue Adidas Sneakers
Just like in alcoholic drinks, putting a twist on sneakers injects an exciting look on it. Pure blue, meaning the upper and the outsole is in the same color, is quite a rare find. Combining different materials put depth and breaks the monochromatic look and makes its overall more interesting.
Examples of Pure Blue Adidas sneakers:
Black and Blue Adidas Sneakers
Anything that is paired with a neutral color seems to just work. Blue and black Adidas shoes is a mix that will not fail you.
Examples of Black and Blue Adidas Sneakers:
Flashback Primeknit "Legend Ink"
Adidas Swift Run "Collegiate Navy"
NMD CS2 "Noble Indigo"
White and Blue Adidas Sneakers
White and blue is a much more common color combination than the previous. In fact, this may be the most customary pairings out of all the Adidas shoes. The thing is, every shade of blue, whether it's turquoise, cyan, or cerulean, suits white.
Examples of White and Blue Adidas Sneakers:
Red, White, and Blue Adidas Sneakers
Now let's put another color into the mix. Another classic combination is your no-fail red, white, and blue Adidas shoes. These colors, when you put it on Google search leads you to the flag of America. In the fashion scene, it has been a favorite among different designers, making it a design on different apparels. Your Adidas red, white, and blue sneakers will not only make you stylish but will also get you July 4th ready.
Examples of red, white, and blue Adidas sneakers:
Deerupt Runner "Bluebird"
Harden Vol. 2 "USA"
ZX 500 RM x size? "White/Navy/Red"
Frequently Asked Questions
What are the different looks I can do with my favorite blue Adidas shoes?
We're not kidding when we say that blue kicks are incredibly versatile. Other than being suited for different sex and age, they can also be styled in various ways and have different looks. Here are some to sport them:
Casual
Complement your casual-cool kicks with an equally laid-back outfit by pairing it with shorts.
Jeans, especially light washed ones are also an excellent match for your blue Adidas sneakers.
A button down left unbuttoned with a shirt underneath, exudes a relaxed look, that pairs exceptionally well with sneakers.
Sporty
Because the athleisure trend isn't going away anytime soon, pair your blue Adidas sneakers with a Three Stripes leggings and a basic tee.
Trousers and trainers also make a splendid pairing.
To amp your athletic vibe to a higher level, pair it with a tracksuit.
Smart
Pairing your classic blue Adidas sneakers with a button-down instantly levels your outfit to make it date-ready.
Navy trainers, on its own, generally looks more formal.
Dark-washed types of denim along with sneakers make a work-ready outfit.
What colors of clothing should I match with my vibrant kicks?
Having a bright colored pair isn't an excuse to limit your outfit choices. On a higher note, it is not also a reason to wear this pair only on certain occasions. Just like navy and light-colored sneakers, stark blues are also versatile. Here are ways to style them:
If you want to stay on the safe side, keep the rest of the outfit muted.
One way of wearing it is to match it with black pants and a black shirt to create sharp contrast on the look and put a highlight on your feet.
Make the rest of the ensemble eye-catching by wearing equally vibrant hues for your top and bottom.
Pairing it with pastels is also a good idea. The muted colors complement the overall look.
Are there collaborative sneakers that are in blue?
Because blue is such a universal color, many collaborators like to utilize these in coming up with their signature line. Here are some of the examples of some of the most recent pieces:
Parley x Ultra Boost 4.0 "Deep Ocean Blue"
Engineered Garments x Adidas Ultra Boost
Etudes x Adidas Ultra Boost Uncaged
Other than neutral colors, what shades pairs well with my blue Adidas sneakers?
Shying away from grayscale hues is still possible with your cobalt-hued kicks. To keep everything streamlined and cohesive, using other shades of blue will keep everything look put-together. However, those who are vying for a more adventurous journey on colors can pair it with pinks, yellows, and greens. Frankly, since it is also almost the adoptive brother of neutrals, all colors go well with it.
Can women also wear blue?
Although it is a color that is significantly associated with boys, the ladies can freely wear this hue without hesitation. In fact, they can enjoy all the benefits of a blue sneaker and style it in endless possible ways. If real boys can wear pink, it doesn't make less for women also to wear blue.
What are the ways to style blue Adidas shoes and still look girly?
Because blue Adidas sneakers are just utterly versatile, pairing it with almost any kind of clothing will work. There are ways to style it and still not lose your feminine side. Below are some of our suggestions:
Wear it with a loose blue dress and mimic Rita Ora's street style.
Complete your athleisure look by pairing these with your Three Stripes leggings.
Step out of the snow looking edgy-chic by wearing your sneakers with a leather jacket.
Adopt the shades of the ocean when it's summertime on your feet. Pair them with skirts and shorts and show off that legs.
Suits and sneakers on the ladies are also becoming a trendy look these days.
What are the do's and don'ts when cleaning my blue sneakers?
If you're planning to use and abuse your new kicks, then cleaning is an integral process on prolonging its life and maintaining its fresh look. While it shouldn't be a complicated process, it should be done from time to time especially when word aggressively. Here are some of the simple tips that we have:
Do remove the laces first before cleaning. It will help you reach every nook and cranny.
Don't use harsh chemicals and soaps when cleaning your shoes. An eco-friendly detergent diluted in warm water should do the trick.
Do air out and let your blue Adidas sneakers to dry.
Don't place your sneakers on a washing machine. It can deform and damage your shoes.
Do air out your insoles by removing them if they have an odor. For extreme cases, sprinkling a bit of baking soda should do the trick.
I want to get myself a pair of blue Adidas sneakers! Where can I score one?
Because Adidas is such a popular brand, finding a pair shouldn't take too much effort. Finding a retail brand store or Adidas carrying brands are widely available in the US but those who find going out a hassle can still avail of new shoes by purchasing on the comforts of their home.
Several sites offer a wide selection of blue Adidas sneakers. You can actually avail it here at RunRepeat. Just filter your search by clicking Adidas then blue.
Are there ways to make shoes last longer?
There's no need to purchase multiple pairs for your favorite pair of blue Adidas sneakers. There's no problem on hanging on to them. Just make sure to follow these steps to prolong its life:
Rotate them. Using the same piece over and over again every single day will suck the life out of it. Even shoes need a rest. Having a rotation will help your favorite pieces air out and take a breather.
Clean them using the right products. Soaps with harsh ingredients might damage the material and can ruin your kicks in an instant.
Using protective spray, which is widely available in shoe stores, goes a long way, especially if you have a more delicate upper like suede. It creates an invisible layer and acts as a barrier against dirt, stains, and water.
What is the price range of blue Adidas sneakers?
Because Adidas comes in a wide array of selection, its price range also comes in a wide range. The affordable range of Adidas goes as low as $40-$50. The priciest ones, however, are usually the limited edition ones. These blue Adidas sneakers are approximately $400.
15 best blue Adidas sneakers
Adidas Munchen
Adidas Munchen Super SPZL
Adidas Intack SPZL
Adidas Stan Smith Recon
Adidas Gazelle Stitch and Turn
Adidas Cloudfoam Revival Mid
Adidas N-5923
Adidas Superstar Suede
Adidas ZX 280 SPZL
Adidas NMD_XR1
Adidas Matchcourt
Adidas NMD_XR1 Primeknit
Adidas Questar Drive
Adidas Samba FB
Adidas Run 70s
This shoe has recently been added to RunRepeat. There are still not enough reviews for us to assign it a
CoreScore
.
CoreScore
A score from 1 to 100 that summarizes opinions from users and experts. The average CoreScore is 78.
More...