Black Vans sneakers
An American manufacturer of skateboarding shoes, Vans has released a myriad of footwear that is appreciated not only by athletes but also non-athletes alike. Different colors are available in the market such as grey, white, yellow, red, blue and black Vans sneakers, among others utilizing the brand's iconic silhouette like the Authentic, SK8-Hi, Era and Slip-on.
Some of the iconic black Vans shoes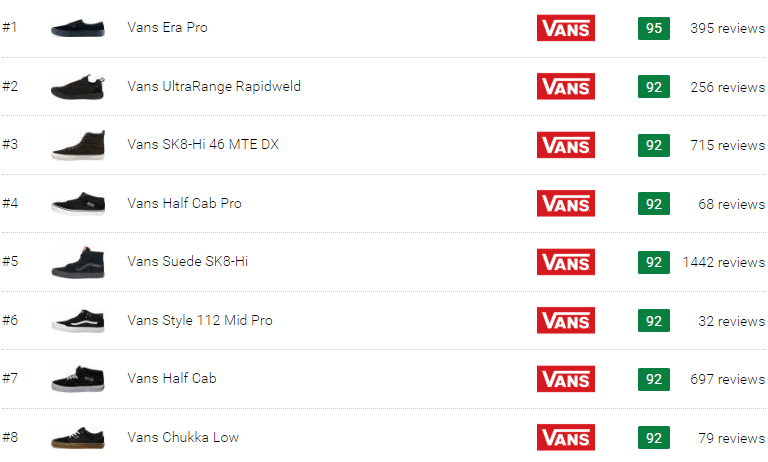 The popularity of Vans shoes spans across generations. People who were there when the brand first started selling shoes to those who are currently even unaware of Vans' humble beginnings are all fanatical followers of some of the shoes mentioned below. Among others, these are some of the most sought-after Vans sneakers:
SK8-Hi
Brief History: Debuted in 1978, it was launched with a higher silhouette to provide more ankle protection and avoid injuries. Known before as the Style 38, this footwear focuses on new performance functions. You can check out the sneakers below if you are searching for an excellent pair of black Vans shoes.
Vans SK8-Hi
Vans SK8-Hi Lite
Vans SK8-Hi Core Classics
Vans Checkerboard SK8-Hi Reissue
Half Cab
Brief History: The Half Cab is one of the most culturally significant and iconic shoes in the skateboarding history. It is the first signature skate shoe, the Vans Steve Caballero, that was introduced in 1988. Whether you want a pair of plain or printed black Vans shoes, you can check out the iterations below.
Era
Brief History: Known as the Style 95, the Era was launched in 1976. Designed by Tony Alva and Stacy Peralta, it was the shoe that was released with the "Off the Wall" logo. The Era has become among the shoe choices of skateboarders for generations. Check out the sneakers below.
Vans Era
Vans Classic Tumble Era
Vans Gold Mono Era
Authentic
Brief History: The Authentic or Style 44 deck shoe was initially launched in 1966. In 1974, Vans shoes with sticky soles were seen sporting by skateboarders all over Southern California.
Vans Authentic
Vans Authentic Platform 2.0
Vans Authentic Lo Pro
Old Skool
Brief History: It is the first silhouette that debuted the Vans' signature Jazz Stripe. Known before as the Style 36, the Old Skool was officially launched in 1977. Since then, it has become among the wardrobe staple of comfort and performance.
Vans Old Skool
Vans Cherry Checker Old Skool
Vans Checkerboard Old Skool Platform
Vans Mix Checker Old Skool
Vans Pop Camo Old Skool
Slip-On
Brief History: Previously known as the Style 98, the Vans Classic Slip-on was launched in 1977. The slip-on with a checkerboard pattern rose to fame after it was featured in the '80s movie "Fast Time at Ridgemont High." Some of the Black Slip-On shoes of Vans are:
Vans Classic Tumble Slip-On
Atwood
Some notable collaborative works
Vans Made for The Makers Old Skool UC
For people who are searching for a pair of all-black Vans shoes with a classic and straightforward design, Vans Made for the Makers Authentic UC is worthy of your attention. Released in January 2018, this iteration is among the black Vans shoes that feature tough shoes for tough jobs as well as the creative communities around them.
Whether you are a tattoo artist, surfboard shaper, barber or a chef, among others, this pair of black Vans shoes provides maximized comfort and durability. It has a combination of canvas and suede uppers that are treated with Vanguard to repel dirt and liquid elements. For long-lasting comfort, the contoured drop-in UltraCush Sockliner is utilized. It has vulcanized outsole for reliable traction.
Disney x Vans Authentic
For people who are searching for red and black Vans shoes, the Disney x Vans Authentic is among the right options. This collaborative work is to celebrate the 90th anniversary of the iconic Disney character. This iteration is among the vibrant red and black Vans sneakers that commemorate Mickey Mouse's evolution and spirit.
With a lace-up design, it has a sturdy canvas upper that provides sufficient foot ventilation. Like most of the black Vans shoes, it has a durable outsole with a waffle tread pattern that provides a sure-footed grip. It also has a canvas lining which offers a great next-to-skin feel.
Vans x Peanuts Half Cab
This collaborative version is made for the model's 25th anniversary. Snoopy, a character created by Charles M. Schulz, is adorned on a pair of Vans black and white sneakers, providing a beautiful and cool design. It has double stitching on the canvas and sturdy midsole that ensure durability while its insole offers cushioning and comfort.
Vans 25th Half Cab Pro
A Steve Caballero's signature style, the Vans 25th Half Cab Pro has a nod to vintage sensibility in celebration of the legendary skate style which was upgraded for enhanced performance. If you are looking for a pair of black Vans shoes, this iteration is worth a shot.
It has a durable suede upper with a double-stitched toe cap that provides adequate foot breathability and reinforcement on high wear areas. With a single-wrap foxing tape, it also features the UltraCush HD sockliners for foot support and superior impact cushioning. Like other black Vans sneakers, it got the waffle outsole for excellent control and grip.
Disney x Vans Slip-on
This iteration is among the red and black sneakers that part of the collection to commemorate and celebrate the 90th anniversary of the Disney character Mickey Mouse. It features the iconic checkerboard pattern as well as the flame graphic together with Mickey and Minnie Mouse on the upper.
The Disney x Vans Slip-on has a black canvas upper and padded collar that both offer foot comfort and breathability. It has accented elastic side goring not only provides an added style but also a flexible fit. Same with other black Vans sneakers, it got the signature rubber waffle outsole for excellent traction.
Noah x Vans FW18 Sk8-Hi
Vans teamed up with Noah to create another collaborative work using the Sk8-Hi silhouette which was released on October 4, 2018. You can grab Noah x Vans FW18 Sk8-Hi if you are looking for a pair of white and blue checkerboard shoes or Vans black and white skull sneakers. It has a sturdy canvas upper that sits atop of a rubber waffle outsole, offering sufficient foot air ventilation and excellent traction.
Marvel Avengers x Vans Sk8-Hi
If you are searching for a pair of an all-black Vans shoes, the Marvel x Vans Sk8-Hi was released in June 2018. It features and takes inspiration from the Blank Panther. It has a durable synthetic upper that sits atop of a vulcanized outsole. This pair of black Vans shoes also has a padded ankle collar for foot support and protection.
Union x Vans Collection
Searching for a nice pair of Vans black and white sneakers? You may want to check out the collaborative work of Vans with the LA-based Union that is released in November 2018. This collection utilizes Authentic and Slip-on silhouettes.
Both the Authentic and Slip-on have black canvas uppers with retro white polka dots, providing a dash of class on its design. To add a special flair, a yellow Union tag is accented on the side of the upper as well as the Vans branding on top of the white polka dots. It has the classic white midsole and rubber outsole with the waffle tread pattern. Two sets of shoelaces are included, one white and the other is black.
How women and men should wear their Vans black sneakers
There are zillion ways where men and women can stylishly wear their black Vans sneakers, whether you need them to pair with your casual or semi-casual outfits. For a thrifty spender, a pair of Vans sneakers is a good choice. It has a great price with a great look.
Slip-Ons
Vans Slip-Ons are celebrated for their versatility in styling. These are shoes that are renowned for their easy-to-match characteristics and are fantastic as such for just about anybody. Here's how these Vans shoes can be worn:
Looking elegant in a company party can be achieved by wearing a pair of black Vans sneakers like the slip-on and match it with a combination of black and white print crew neck shirt and charcoal suit and trousers.
Men can also wear a pair of black slip-on sneakers with blue denim shorts, a shirt, and a black cardigan. Another casual way to dress is to match a pair of men's black Vans shoes with a polo and shorts. Men can also rock a pair of black slip-on sneakers with an aqua print crew neck shirt and navy shorts.
Ladies, on the other hand, they also have different options and ways to rock their favorite black Vans sneakers. For instance, ladies can wear their Vans black slip-on shoes with a fancy dress or distressed denim shorts and a white shirt with a black blazer on a warm and casual day.
Women can also wear cuffed white distressed denim jeans and a gray shirt with a pair of black Vans sneakers for a chic look. Another way to stylishly wear a pair of black Vans sneakers is with a combination of a white graphic shirt and striped blazed with slim-fitted denim jeans.
SK8-Hi
Men and women can wear a pair of high-top black Vans shoes and match it with skinnies or straight leg jeans or loose-fitting trousers along with their favorite shirts. They can also pair it with shorts. Ladies can even match their high-top black Vans sneakers with skirts or mini-dresses. A pair of all black Vans Sk8-Hi shoes can also work well with semi-casual outfits.
Old Skool and Authentic
The Old Skool and the Authentic are very impressive when it comes to a number of ways fans can wear these shoes. There is almost no limit to the styling range that these classic shoes can be strutted on the street. Here are a few suggestions on how to look cool, hip, laidback, or sophisticated in these Vans shoes:
Men can wear casual cream trousers and nude blazer and pair it with a pair of black Vans sneakers to add a new dimension to its classic look. This getup is perfect on cold days. Another way to style your black Old Skool or Authentic shoes during cold weather is by wearing black chinos and a black crew-neck sweater for a cozy and stylish look.
Another unique style is by wearing black chinos with a brown pea coat and match it with a pair of black Vans sneakers, setting you apart from the crowd. You can also show off your styling smartly by wearing dark blue jeans and match it with a shirt and black jacket. Also, you can swing into a classic yet on-trend look with black shorts and a gray suit jacket and add a sportier twist by wearing a pair of black Vans sneakers.
On a summer day, women can wear their black Authentic or Old Skool sneakers with black slim fit jeans along with a white shirt and black jacket. Ladies can also style their Vans black and white sneakers by matching it with a black and white patterned loose sweater with white skin tight jeans.
College and high school girls can stylishly don their black Vans sneakers with a black shirt and distressed denim jeans with an optional denim jacket. For a more comfortable and sassier look, girls can wear their black Old Skool sneakers with a black sleeveless shirt and shorts.
Wear black Vans shoes like celebrities
Olivia Palermo
Like this celebrity, you can use one of the high-top black Vans sneakers with a two-toned leather style that goes well with menswear coat and liquid leggings.
Blake Lively
You can color-coordinate your black Vans sneakers with a cool leather jacket and slim fit jeans.
Miranda Kerr
Like Miranda, you can wear a pair of all black Vans shoes and match it with a navy blue turtleneck and a camel topper and slim-fitted jeans or leggings.
Kaia Gerber
Like the supermodel Cindy Crawford's daughter, ladies can wear their mini dresses with their high-top black Vans sneakers for a cook and sporty look
Olivia Wilde
Like Olivia, women can wear their high-top black Vans sneakers with a white shirt and an optional black leather jacket and a long skirt for a more feminine vibe.
Zendaya Coleman
Like Zendaya, wearers can use the Vans women's black sneakers with a high-top silhouette along with a long casual dress for an unexpected look.
Frequently Asked Questions
Where can I buy black Vans shoes?
Apart from its official website www.vans.com, you can also buy Vans sneakers through partners and retailers like:
Zappos
Lyst
com
Nordstrom
Macy's
com
Amazon
6pm
Tillys
Foot Locker
eBay
What are some of the technologies in Vans sneakers?
MTE 360™ - It improves the moisture management within the shoe as well as enhances heat retention around the foot.
Wafflecup– It provides excellent board feels and superior grip in the forefoot area.
Ultracush – it is a lightweight, flexible and resistant insole, providing a balance between damping and boardfeel. It ensures great cushioning.
Duracap – It strengthens and protects all the strained parts of the skate shoes. It has durable rubber layers, providing reinforcements that can withstand the toughest demands.
Luxliner – Found underneath the upper in the front area, it is the comfortable extension of the Vans shoe's tongue. It stabilizes the foot inside because the liner moves independently, providing responsive boardfeel and snug fit. It is also a breathable liner that offers proper foot ventilation.
How to clean black Vans casual sneakers?
Remove the shoelaces and soak them in a mixture of mild soap and warm water.
Use a toothbrush and gently scrub the dirt off the shoe.
Utilize a clean cloth and dip it in the soap solution and scrub footwear with the wet cloth.
Using a dry cloth to wipe clean Vans black sneakers against soapy residue.
What are the DON'Ts in cleaning the black Vans shoes?
Don't machine-dry or machine-wash the Black Vans sneakers because it will break down, resulting in greater wear and tear.
Don't use harmful detergent or soap.
Are Vans black sneakers unisex?
Yes, they are generally unisex in style and sizing.
What materials are often used on black Vans shoes?
Most of the black Vans sneakers are made with canvas, suede or leather upper that sits atop of a vulcanized rubber outsole. Some iterations are also made of vegan-friendly materials.
What is the price range of black Vans sneakers?
Black Vans sneakers vary based on the style like the Slip-on, Authentic, Old Skool and Sk8-Hi. Whether you are searching for Vans black and white sneakers or all black Vans shoes, the prices range from $50 to $120.
What are the usual patterns on the black Vans casual shoes?
Black Vans shoes can come in a plain, checkerboard, flame, mixture of checkerboard and flame patterns, a combination of cherry and checker graphics or a combination of black with another color.
How do black Vans shoes fit?
Vans sneakers generally fit true to size. Usually, Vans sneakers are available from 3.5 to 16 to 5 to 17.5 US for men and women respectively.
Where are black Vans sneakers manufactured?
Since the mid-1990s, Vans has been manufacturing sneakers primarily in South Korea and Mexico. Other factories are in China and Vietnam.
15 best black Vans sneakers
Vans Chukka Low
Vans UltraRange Rapidweld
Vans UltraRange Hi MTE
Vans Authentic
Vans Old Skool Lite
Vans SK8-Hi MTE
Vans UltraRange Pro
Vans SK8-Hi
Vans UltraRange 3D
Vans Old Skool Platform
Vans Old Skool
Vans Slip-On
Vans Kyle Walker Pro
Vans Chima Ferguson Pro
Vans Old Skool Pro
This shoe has recently been added to RunRepeat. There are still not enough reviews for us to assign it a
CoreScore
.
CoreScore
A score from 1 to 100 that summarizes opinions from users and experts. The average CoreScore is 78.
More...