Overall ranking lists
Under Armour ranking lists
Black Under Armour sneakers
Top shoe brand Under Armour has been making waves in the footwear and apparel market. Its products have been hailed to be of both quality make and performance make, while at the same time are street ready. With the world of sneakers and fashion changing every day, more and more people are getting into the habit of incorporating performance sneakers into their daily outfit. With the number of choices when it comes to style, Under Armour surely delivers. But are there other factors that might impact one's purchasing decision when it comes to shoes?
True, style plays a significant role in the sneaker industry but color, color truly reigns supreme. What's a nicely designed sneaker if the color it has is one that is tacky and gaudy? It definitely makes all the difference, and this can be further evidenced with how carefully Under Armour curates the colorways of its sneakers. Specifically, Under Armour's black sneakers.
Why black Under Armour shoes?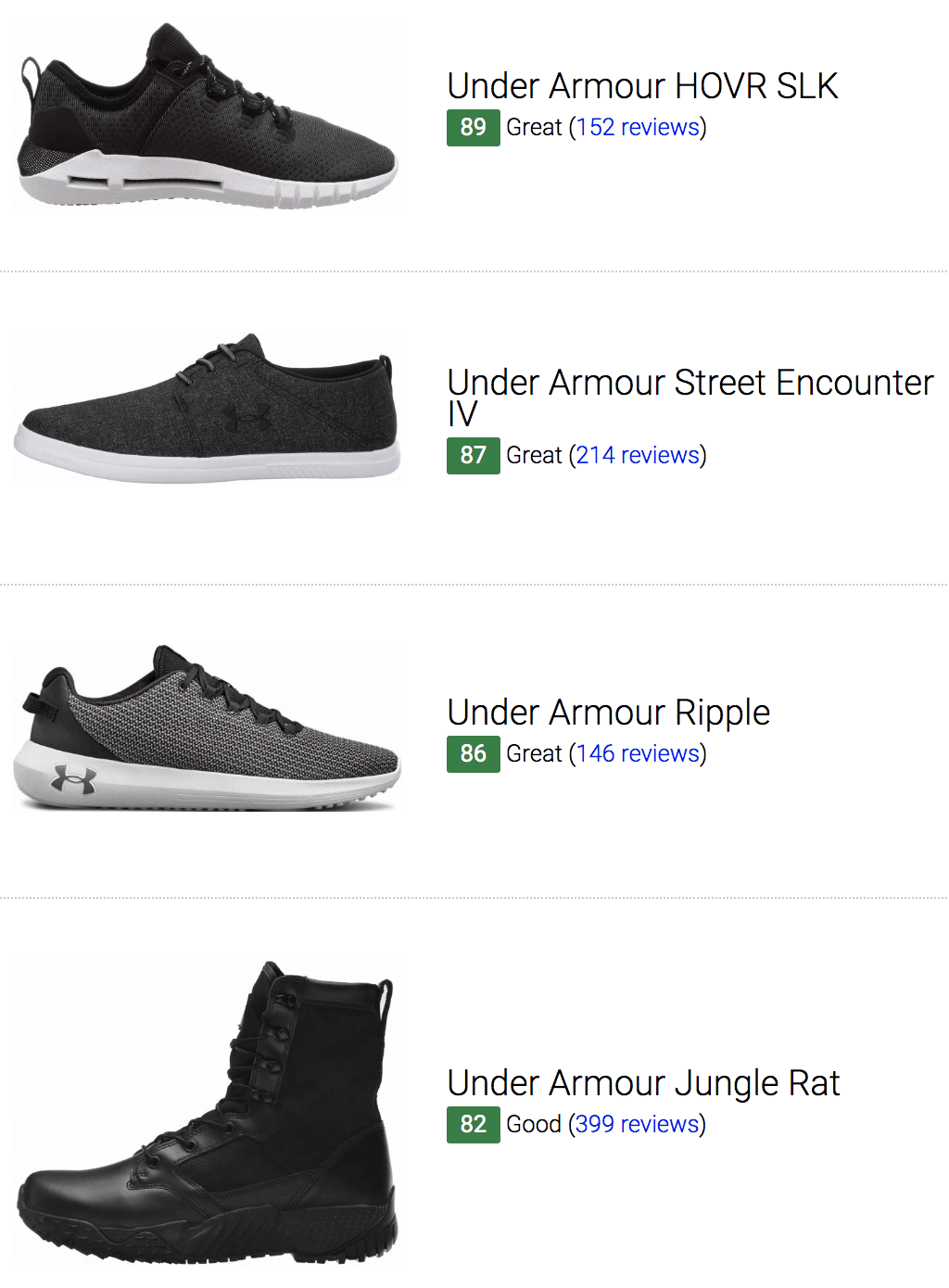 Since we already know that Under Armour banks highly on its quality kicks, the thing we have to understand now is why the color black and why go for black Under Armour shoes. The brand itself is well known, and with this, it comes as no surprise that many want a pair of Under Armour shoes in their closet and collection. On the other hand, we highly recommend actually considering getting a pair of black Under Armour shoes for the following reasons listed below:
Black Under Armour shoes are easy to style with and go with a lot of different colored garments.
Black has always been considered to be a fashionable color and a wardrobe staple.
Black Under Armour sneakers are very versatile in terms of dressing up or dressing down.
The sneakers can be worn all year long.
There are a lot of black Under Armour shoes to choose from.
It will never go out of style.
Top rated black Under Armour sneakers
Bringing together Under Armour sneakers and the color black, one has the almost perfect combination of a sneaker that will surely turn heads. What else does one need to be convinced to get a certain pair? More details and information, of course! Here are some of those black Under Armour sneakers that have gotten nods of approval from many sneakerheads:
Under Armour HOVR SLK
The HOVR SLK comes in two colorways that have black as the primary color. For the first option, it is presented as black and white Under Armour shoes. This has a black upper and white midsole. In the second choice, Under Armour turns it into all black sneakers with both upper and midsole holding the dark color. Here's more info on it:
This places at the top of the black Under Armour sneakers collection ranking.
It has the perfect balance between being stylish and sporty.
The design is said to be lightweight as well as comfortable.
It has HOVR tech, a cushioning innovation from the brand.
Under Armour Street Encounter IV
The Street Encounter IV is a sight to behold, especially as it has a black and grey color, a great addition to Under Armour shoes for sure. Know more about it below:
This is another shoe from the black Under Armour sneakers collection that has a sports-inspired look.
The Under Armour Street Encounter IV is part of the Street Encounter line.
It's got a sleek look to it that also makes it elegantly laidback.
On the side and the tongue, one can observe an embroidered logo that gives the sneaker a high-class appeal.
Under Armour Charged 24/7 Low
For black Under Armour shoes, the UA Charged 24/7 Low has a beautiful black and grey color that Under Armour calls Amalgam Grey. Get to know the shoe more:
The Charged is a tribute sneaker that pays its respect to the athletic heritage of Under Armour.
Meanwhile, the 24/7 in the name is a testament of the brand's commitment to everyday stylishness.
The upper of the black Under Armour sneakers are made of a mix of textile-and-synthetic.
The tonal black colorways make it easier for one to mix and match their outfit with this sneaker.
Under Armour RailFit
The Under Armour RailFit can come in either a black and white combo or the choice to have all black Under Armour RailFit shoes with this one for a more sleek look that blends in. Add the details below to the mix, and one can guarantee that they have a gem of a sneaker:
The UA RailFit has a lightweight silhouette that is very noticeable with one look.
One of the main point of these black Under Armour sneakers is the system of lacing it has.
The sneaker is versatile and can be worn for either extreme activities or those chill and laidback days.
It comes in both men's and women's sizes.
Under Armour Street Encounter II
Despite having a pure black color to it, the Street Encounter II still manages to delight as black Under Armour sneakers that pack a punch. Below are some more details on it:
The slip-on Street Encounter II from Under Armour is excellent for those on-the-go sneaker fans.
It has bungee straps that help the wearer take the sneaker on and off easily without the need to tie the laces.
A die-cut EVA sockliner on the shoe gives the wearer maximum cushioning and support.
It was primarily made to be a recovery phase shoe that athletes could wear after extreme activities, and relax in.
Under Armour Street Encounter III
A nice mix of black and Carolina blue is an option for this sneaker and gives it a nice touch that can be easily paired with many outfits. Get to know more details about the 3rd iteration of the Street Encounter here:
True to its predecessor, the Encounter III still has a slip-on feature to it.
Casual black Under Armour sneakers are all the rage, and this shoe embodies that well.
It is very soft and comfy, as well as light in weight.
The sneaker has a canvas material for the upper.
The midsole has a single horizontal stripe accent on it.
Under Armour Street Encounter IV Mid
Though the color options for the version IV in mid-top of the Street Encounter are many and varied, the black with the speckled sole is a popular choice in the black Under Armour sneakers collection. It's got flair and style, a little spunk and more. Check out more on the shoe below:
The sneaker has a slip-resistant sole to keep one safe.
It follows the same cut as the Street Encounter Mid with the main difference being the boomerang-like accent on it.
The upper is made of both stretch canvas and suede.
It also features a cushioned collar as well as tongue, and bungee laces along with soft textile lining.
Under Armour Charged Covert Knit
Adding even more to a boisterous array of choices, this black, and steel colored Charged Covert Knit from Under Armour is an excellent addition to any sneakerheads closet. These are some of the details one should know about it:
The two-tone knit upper makes this a unique addition to the black Under Armour sneakers collection.
It also has a unique asymmetrical lacing system to it.
Dyneema is also used for the lacing system, the world's strongest fiber.
The sneaker has that contemporary street style.
Color Combo-ed Under Armour sneakers
Of course, for some, the color black can get a little annoying, especially if one owns a lot of the same color on a bunch of different sneakers. It can get a bit monotonous. But that isn't really a problem since footwear brands such as Under Armour has adjusted to this notion. With that, UA has come up and is very open with mixing colors up with its collection of black Under Armour sneakers. Here are some color combos that it does with the color black:
Pink and black Under Armour shoes
Pink and black make for a lovely combo that appeals to a lot of women. It's chic and stylish while still remaining sleek looking. The black Under Armour sneakers listed below are all women's black Under Armour sneakers:
Under Armour Micro G Pursuit
Black and yellow Under Armour shoes
Like the famous song "Black and Yellow," black and yellow on shoes also make the design pop and shine. It's bright and makes for a nice pair to any outfit. The following shoes below are men's black Under Armour sneakers:
Orange and black Under Armour shoes
As the old saying goes, orange is the new black, but with a little inspiration, orange and black can still be two very different colors that go with one another just like in some Under Armour sneakers. Here are some shoes to check out:
UA Scorpio
Under Armour Gemini
Black and gold Under Armour shoes
Gold dazzles, and black shines. Together, the two colors create something of a wonder in black Under Armour sneaker. Check some great black and gold UA sneakers below:
Black and red Under Armour shoes
Mighty, impressive, and a force to be reckoned with, we're talking power colors with black and red together. When put onto a shoe, especially one from Under Armour, things can look pretty amazing. Here are some sneakers to check out for those who love this color combo:
Under Armour SpeedForm Velociti Graphic
Black and white Under Armour shoes
Considered royalties of colors, these two clashes, and complement one another both at the same time. Men's black Under Armour sneakers come in many designs in this color. Meanwhile, women's black and white Under Armour shoes are a joy to own, especially when a lot of these sneakers are great for a number of activities. Take a look at this list below:
Under Armour Micro G Pursuit
Under Armour Breathe Lace
Frequently Asked Questions
When was Under Armour founded and by who?
Under Armour was founded in September 25, 1996. Kevin Plank is the man behind the fiercely successful footwear and apparel brand.
Why is black such a common color for Under Armour sneakers?
There are a significant number of black Under Armour sneakers out there in the market today, and one of the main reasons why the color black is so commonly used, not only by Under Armour but by many footwear brands as well, is because of the versatility and appeal that it has. More so when plastered onto excellent shoe designs.
What would be the best look to go with for black Under Armour shoes?
With the right type of clothing and by matching it all correctly, Black Under Armour sneakers go well with the following looks:
Athleisure - Think joggers and leggings with sweatshirts, sports bras and loose tops.
Casual - Jeans that are cuffed at the bottom, ripped, or skinny in fit are a good bet for this one. Simple tops such as shirts and jackets round things off nicely with this look.
Semi-casual - Oxford pants or going with dark jeans are a good bet. Cardigans and nice looking jumpers can be a good outfit for both men and women.
Business casual - Think semi-casual bottoms like the Oxford pants or dark jeans and slacks but opting for a button down top instead. For some, putting on a nice suit jacket can also turn an outfit paired with black Under Armour sneakers into a nice business casual outfit.
Where can black Under Armour sneakers be bought?
Under Armour shoes can be bought in all significant sneaker retail shops in many major cities and countries. Official Under Armour shops can usually be found in malls and busy shopping streets. These are the best places to buy black Under Armour sneakers.
How about buying them online?
Buying Under Armour sneakers is just as easy as going to a shop. In fact, it might even be easier as one has the chance to narrow down searches to look for a specific sneaker such as black Under Armour sneakers. Many online retail sites have sneaker models that may not even be available on the market anymore.
How does one keep black sneakers from Under Armour clean?
To prevent damage, taking care of one's black Under Armour sneaker is essential. Here are steps to cleaning it properly:
Make sure to remove excess dirt by using a soft bristled dry brush.
To remove stubborn stains, mix mild soap with warm water.
Use the detergent mixture with a sponge or brush and spot clean the sneaker.
Don't:
Use any abrasive cleaners.
Submerge shoes into the water completely.
Are black sneakers from Under Armour unisex?
It's a good mix. Some black Under Armour sneakers are made for men, others for women. Fret not though as a good number of these sneakers are also made for both men and women, unisex in size and style.
How do these sneakers usually fit?
Black Under Armour sneakers fit true to size and fit very well, according to many sneakerheads who own a pair of Under Armour kicks. Men's black Under Armour shoes usually have a size range from 7 to 16 US. Meanwhile, women's black Under Armour shoes come in sizes from 5 to 12. Half sizes are both available for both men's and women's sneakers.
What are some of Under Armour's top-selling black shoes?
Well, it truly banks on the type of sneaker one is looking for, or what one needs from Under Armour. From performance sneakers to lifestyle sneakers, the brand churns out many great black Under Armour sneakers.
What should one watch out for when buying black sneakers from Under Armour?
Always check for quality. Quality is paramount, and sometimes, some shoes might have slight factory defects. Still, make sure you check every inch of the sneaker. Along with that, check if it is a counterfeit shoe or a legit one. This can usually be done by research and knowing what precisely Under Armour offers before buying a pair.
How long do a pair of black Under Armour shoes usually last?
Longevity can vary depending on how one wears their Under Armour shoes that are in black. Wearing them casually, the sneaker can last for about 2 to 3 years with the proper care. If one wears if for sports though, such as running, hiking or other activities, the years that it could last might decrease.
10 best black Under Armour sneakers
Under Armour HOVR SLK LN
Under Armour HOVR SLK
Under Armour Slingride 2
Under Armour RailFit
Under Armour Street Encounter IV
Under Armour Charged Covert Knit
Under Armour Ripple
Under Armour Jungle Rat
Under Armour Ripple Elevated
Under Armour Charged All-Day
This shoe has recently been added to RunRepeat. There are still not enough reviews for us to assign it a
CoreScore
.
CoreScore
A score from 1 to 100 that summarizes opinions from users and experts. The average CoreScore is 78.
More...