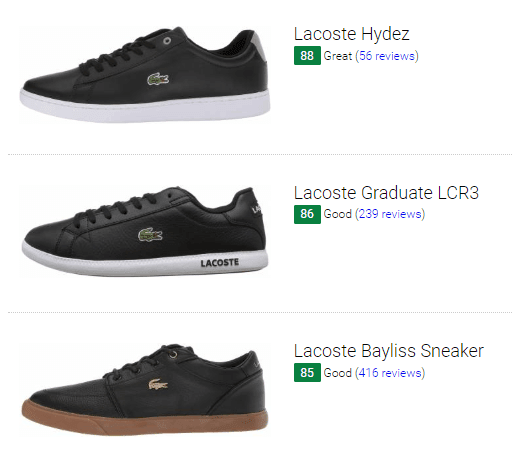 Best Black Lacoste Sneakers - Septembert 2019
Lacoste is known in the world of fashion and sports for its long heritage in tennis. It all began with French tennis champion Rene Lacoste, who was so innovative that he was able to come up with the polo shirt. He wore it on the court and soon established his own brand.
Since then, Lacoste has been associated with elegant and timeless styles, from its apparel to accessories, and especially with its footwear section. There are many models from the Lacoste collection for lifestyle use, offering a classic and preppy appeal. Lacoste black sneakers, in particular, are sought-after for their sophisticated look.
Best Lacoste shoes in black
Lacoste offers several shoes in a black colorway. Most of them are in the men's section, although women could also acquire their own pair by sizing down. The following are the most popular black kicks from the brand.
Men's black lacoste shoes
1. Lacoste Europa
The Lacoste Europa is a quintessential tennis-inspired kick. It stays true to its court heritage with its minimalistic upper and smooth silhouette. It's a preppy shoe that can be transitioned through one's day-to-day activities. Among its many monochrome colorways is a black option that offers a suave look for any occasion.
These black Lacoste sneakers are also available in different editions, such as a version with tricolor details and another with a textured upper.
At $89.95, this shoe is budget-friendly.
Sizes are in men's 7-15. Ladies who wish to cop these kicks should go a size down from their usual size. For the fit, several wearers found the model to be narrow.
2. Lacoste Court-Master
Featuring a leather upper detailed with refined accents, the Court-Master is part of the brand's tennis legacy. It retains the subtle elegance of the sport with its subdued accents, creating a shoe that's well-suited for the streets. With handcrafted stitching and soft leather on the upper, this sneaker is a tribute to Lacoste's long association with tennis.
This model utilizes Ortholite technology on its insole for premium comfort.
These black Lacoste shoes for men are within the budget-friendly range.
Men's sizes ranging from 7-13 are offered. Women can go 1.5 sizes down if they want to wear these shoes. It's true to size.
3. Lacoste Graduate LCR3
Pristine and classy is how the Lacoste Graduate LCR3 has been described. It has the trademark quality and minimalistic design that Lacoste has been known for throughout its history. This shoe has the characteristic branding of the brand's kicks, including the embroidered Crocodile logo and the Lacoste name on the midsole and heel.
A striking pattern is featured on the outsole for superior traction.
This shoe is offered at a reasonable price.
Men's 7-13 sizes in medium width are available. According to a few wearers, the sneaker runs small. They had to add at least one size up.
4. Lacoste Ampthill
The mid-top Lacoste Ampthill has a striking look balanced with the smooth and sharp design of its silhouette. Among its unique details are the frayed tongue, tonal stitching, and collar accent that offers subtle contrast. Otherwise simple and elegant, these black Lacoste shoes for men took inspiration from the brand's legacy of sophistication.
This model has a chukka-like structure along with a flexible rubber outsole that offers stability and cushioning.
At $150, these kicks are slightly expensive.
Sizes are offered in men's 7-13. Some reviewers thought that the shoe had a large fit, so they went half a size down. Ladies can also opt for this model by getting 1.5 sizes down.
5. Lacoste L.12.12 116 1
Beautiful leather fabric and premium details elevate the Lacoste L.12.12 116 1 to pure elegance. At first glance, these Lacoste black sneakers have a straightforward and seamless appeal, with subtle detailing that is simple and versatile. It's the kind of shoe that can be worn for many different activities, with an easy-to-style look that lets the wearer stay classy.
Some of this model's classic accents include its pique lining, perforated toe, molded insole, and contrast sole.
These shoes have an expensive price point.
Men's sizes from 7-13 were released. Some commenters felt that the shoe was narrow across the foot.
6. Lacoste LT Spirit 2.0
The Lacoste LT Spirit 2.0 is an outdoor-inspired model from the tennis brand. It is an upgraded take on the original LT Spirit. Other editions from the series include the 117, Elite, 217, and more. Among the improvements in this model are the cleaned-up look of the front and the circular knit design of the upper.
These Lacoste shoes for men in a black colorway have an engineered mesh upper with an interior made up of textile material, delivering a cozy fit.
It has an affordable $100 price point.
Sizes 7-13 for men are offered for these black Lacoste sneakers. It fits as expected.
7. Lacoste Menerva Leather
Lacoste routinely takes inspiration from different sports when it comes to the design of their lifestyle footwear. In the case of the Lacoste Menerva, the brand took inspiration from running shoes, as evidenced by the model's silhouette and sporty stripes. With its distinct athletic vibe, these Lacoste black shoes can complete any athleisure get-up.
The outsole is made up of dual-compound rubber, offering enhanced durability and traction.
This model is averagely priced.
Available sizes are in men's 7-13, delivering a true-to-size fit.
8. Lacoste Avantor
Just like many Lacoste models, the Avantor features a tennis-inspired silhouette. It has an unassuming yet elegant style offset by rope laces, giving it a distinct sporty appeal. Off-court comfort and a smooth street style are brought to the table by these Lacoste shoes for men in a black version.
Its contrasting tongue also offers plenty of padding for added comfort and protection.
These black Lacoste sneakers offer value for the money at their price.
The size range is from 7-13 for men. Women can also purchase a pair by going down by a size and a half than their usual. It generally fits as expected.
9. Lacoste LT Fit Textile Trainer
Showcasing the look of a traditional running shoe, the Lacoste LT Fit Textile Trainer is updated for modern comfort. It was created to suit the lifestyles of fashion-forward individuals who are always on the move. The athletic look of these Lacoste black shoes also makes them highly versatile for different outfits.
This model's wrap construction enhances durability.
This model belongs to Lacoste's affordable range of shoes.
Sizes ranging from 7-13 are available for men, featuring a true-to-size fit.
10. Lacoste Turnier 116 1
As a brand, Lacoste is known for having a sophisticated touch. This characteristic is evident in the Lacoste Turnier 116 1, another tennis-inspired model from the brand. It has a premium leather upper with simple yet stylish details, making it look smart and suitable for different daily endeavors.
These Lacoste black leather shoes also come in a variety of other color options such as navy, white, and dark grey.
This shoe is among Lacoste's budget-friendly options.
It was released in men's sizing from 7.5-16 and is reputed to have a narrow fit, as observed by some buyers.
11. Lacoste Bayliss Sneaker
The Lacoste Bayliss Sneaker owes its smooth appeal to its leather upper, giving it a luxurious vibe. These men's black Lacoste shoes are highly suitable for individuals who have to transition from work to casual activities. A neat appeal is featured on this model, making it appropriate for both work and play.
The available colorways include Black/Black, Navy/White, and White/Grey.
Its price tag is easy on the pocket.
Sizes 7-13 for men are offered for this kick.
Black Lacoste Kicks for Women
1. Lacoste Hydez
Paying tribute to the classic tennis shoes of the 1950s, the Hydez from Lacoste features a timeless appeal. This shoe has a leather-encrusted silhouette that brings to mind the sophistication of the sport of tennis. It's also updated with modern features to make it suitable for today's day-to-day activities.
It has double stitching on the heel and toe for added reinforcement.
These kicks could be bought at a reasonable price.
Women's sizes from 5-10 and men's sizes from 7-13 are available. Several commenters have attested that the sneaker runs big. They had to go one size down.
2. Lacoste L.12.12 Unlined Leather Trainers
Lacoste's L.12.12 collection was introduced as a tribute to the brand's iconic pique polo shirt. The name is derived from the twelve prototypes that were made before the polo shirt as the world knows it came into being. One of the shoes from the series is the Lacoste L.12.12 Unlined Leather Trainers, released in 2018. These kicks were inspired by the polo shirt, presented this time in a deconstructed design.
The footbed is made with molded PU foam that delivers plenty of cushioning and support.
At $125, these Lacoste black men's and women's shoes are averagely priced.
Women's sizes are available from 5-10.5, along with men's sizes from 7-14. It fits as expected.
Frequently Asked Questions
Where to buy black Lacoste sneakers?
Lacoste's products can be bought online or at retail stores. The brand has online stores in different countries, as well as physical shops in many locations around the world. Big footwear chains and department stores could also carry all black Lacoste shoes, whether at brick-and-mortar stores or online.
What goes with Lacoste black shoes?
Black is such a versatile color that it can dressed up or down, depending on the occasion. Here are some style pointers on what to pair with black kicks from Lacoste.
For any casual activity, the shoes can be worn with jeans or shorts along with t-shirts or pullovers. Ladies can also wear skirts or dresses with a pair of Lacoste black sneakers.
A sporty look can be achieved with black footwear from the brand by pairing it with joggers or leggings, along with a sweatshirt, tank top or a hoodie.
Black kicks can also be suitable for the office or a party. Straight pants and a button-down would look great with Lacoste black men's shoes. For women, a skirt and a shirt or blouse will match well with the sneakers.
What is the fit and sizing of black Lacoste footwear?
Lacoste shoes are typically available in sizes 7-13 for men and size 5-10 for women. Although most black-colored sneakers from the brand are only available in men's sizes, ladies can still get their pair by going 1.5 sizes down. They generally fit true to size, but some models may run big, small or narrow.
Are black-colored Lacoste kicks fit for formal or business casual events?
Although black itself is considered a neutral and formal color, the suitability of all black Lacoste shoes at formal events will depend upon the nature of the occasion. Some parties and functions are relaxed enough for people to wear sneakers while in attendance. However, for business or company events where the attire is formal, it may be best to stick to black leather dress shoes.
What are the materials used on Lacoste black kicks?
Lacoste commonly uses leather material in its black kicks. Some models could also incorporate mesh or canvas or other fabrics. The soles are made up of rubber, while the insoles are constructed with EVA material.
What is the style of black Lacoste shoes?
Due to their color, black shoes from Lacoste look more formal than their counterparts. The brand's footwear is noted for having a sports-inspired appeal, especially as Lacoste has a long legacy in tennis that began from founder and tennis champion Rene Lacoste. A vintage vibe along with simple yet sophisticated looks is associated with the brand, which can be seen in Lacoste black sneakers.
Can Lacoste black sneakers go with any color of clothes?
Black is noted for being an easy color to mix and match with. It's a neutral color that can go with almost any other palette, especially as it has a classic and timeless vibe. Black sneakers from Lacoste can be matched with different neutral colors, such as white, or with pastels and even bright hues. The colors that can complement them are red, green, purple, turquoise, and blue.
Is black Lacoste footwear popular among women?
Black Lacoste shoes appeal to a lot of men as they have a very masculine and classic flair. However, women also enjoy black shoes as they can be paired with a lot of clothes and can be dressed up or down. As such, black Lacoste kicks are also sought-after by women, even if they are in men's sizes.
Where does Lacoste manufacture their black shoes?
Lacoste licenses the manufacture of its products to various companies. Some could be made in China, Thailand or other countries in Asia, as is the trend among many footwear brands. There are also products that are made in North America, Latin America, and Europe.
How does one take proper care of Lacoste black kicks?
Taking care of one's kicks require patience and proper steps. Black footwear from Lacoste would need to be maintained just like any other pair of kicks. Here are some guidelines on how to take care of them.
Lacoste black leather shoes must be applied with proper leather polish to retain their sheen and smooth look.
Canvas kicks need to be brushed with a mixture of mild detergent and warm water. Afterward, soft cloth dipped in warm water should be used to get rid of excess soap and dirt. They should only be air dried.
Laces can be drenched in a detergent and water mix and then air dried.
Suede sneakers have to be brushed with a suede brush.
6 best black Lacoste sneakers
Lacoste Joggeur
Lacoste Court-Master
Lacoste Graduate LCR3
Lacoste Bayliss Sneaker
Lacoste Bayliss Vulc PRM
Lacoste Avantor
This shoe has recently been added to RunRepeat. There are still not enough reviews for us to assign it a
CoreScore
.
CoreScore
A score from 1 to 100 that summarizes opinions from users and experts. The average CoreScore is 78.
More...