Black casual sneakers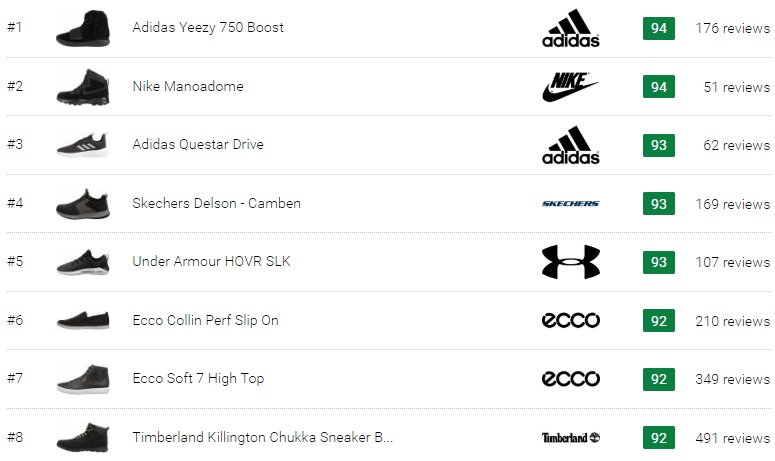 One could never go wrong with black casual sneakers. Nothing beats their versatility and on-point style, which is probably the primary reason as to why this kind of kicks is one of the top choices among sneakerheads, fashion enthusiasts, and casual sneaker wearers when picking out a stylish go-to pair. They flaunt this familiar yet unique aesthetic, typically with a minimalist design approach, that is easy to wear and pair with any wardrobe staple. These casual sneakers are the kind that could be dressed up or down without a hitch.
Because of such characteristics, combined with high market demands, black casual shoes make a massive share in the sneaker market. It is even safe to say that among an overabundance of colorways made for sneakers, the black ones continuously make it to the top list of highly-popular, hyped, and must-have pairs. Scroll down below for a rundown of some of the best casual black shoes today.
Most sought-after all-black casual shoes
Casual black shoes have already established a reputation of being a classic and staple footwear for many - sneakerhead or not. They are, in fact, versatile as they already are, but all-black casual shoes take versatility into a whole new level. The monochromatic façade, especially in black, gives out an instant flair that can be difficult to ignore. We list down some of the most popular all-black casual shoes that released recently. Note, however, that the list excludes casual sneakers inspired by sports such as skate, running, training, hiking, basketball, and football.
Adidas Yeezy Boost 350 "Pirate Black"
One of the most famous black casual sneakers is the "Pirate Black" colorway of the Yeezy Boost 350 from Adidas. It exhibits this minimal and sophisticated look with an all-black exterior all the way from the one-piece Primeknit upper down to the Boost sole unit. A heel tab is present that shows a bit of red stitching accent.
Facts about these men's black casual shoes:
The Yeezy Boost 350 Pirate Black's resell price grew exponentially due to its high demands, hype, and limited availability. Some pairs are being sold in the resell market for as high as $2,500 or 12.5 times their original retail price.
These all black casual sneakers were re-released on February 19, 2016. The original release date was in 2015.
The "Pirate Black" is said to be the most popular colorway of the Yeezy Boost 350 sneakers.
Adidas Yeezy Boost 750 "Triple Black"
Also adding to the list of best all-black casual sneakers is another brainchild of Kanye West and the Three Stripes brand. The "Triple Black" colorway of the high-top Adidas Yeezy Boost 750 is a sight to behold. These men's black casual shoes are recognized for their futuristic form, highlighting a full suede or nubuck upper, a Boost sole unit, a full-length side zip closure supporting the lace-up closure, and a prominent midfoot Velcro strap.
Facts about these all-black casual sneakers:
The Yeezy Boost 750 was Kanye's first ever shoes with Adidas in the highly acclaimed Yeezy line.
The "Triple Black" is the second colorway of the Adidas Yeezy Boost 750. It released in December 2015.
These men's black casual sneakers released in limited quantities for $350 a pair. Today, their resale value costs more or less $950 each pair.
Adidas Yeezy Boost 350 V2 "Core Black/ Red"
Although not entirely black like the other two Yeezys mentioned earlier, the "Core Black/ Red" Yeezy Boost 350 V2 still made it into this list of the most hyped all-black casual sneakers. The upper flaunts an all-black Primeknit material with a red "SPLY-350" branding on both sides and red stitching accents on the heel tab. The Boost sole unit also comes in black for a sleek appearance.
Facts about these black casual shoes from Adidas:
Like other Yeezy shoes, the "Core Black/ Red" Yeezy Boost 350 V2 is a limited release.
It dropped in February 2017 for $220 a pair.
Current resell price of these black casual sneakers goes as high as $835.
Balenciaga Arena Low
The Balenciaga Arena Low comes with a hefty price tag, but this does not limit consumers and sneaker collectors from getting a pair. As built with premium materials and excellent craftsmanship, these men's black leather casual shoes are surely worthy of their price. The Arena Low is the low-top version of a hiking-boot inspired sneaker from the brand, the Balenciaga Arena, that released in 2010.
Key features of these particular low-top sneakers from Balenciaga include the following:
Premium quality textured lambskin leather upper
Tonal sole unit
Affixed (gusseted) tongue for a secure fit
Waxed, tonal, and flat laces and metal-finished D-ring eyelets
Removable leather-lined insoles
Best men's black casual shoes based on upper material
Leather
Ecco Soft 7 Sneaker "Black"
The Ecco Soft 7 Sneaker, built with a supple black leather upper that sits atop a contrasting white sole unit, gives out a classic black and white look for casual shoes. These men's black leather casual shoes were released as part of the Ecco Soft Collection, along with other famed Ecco sneakers including Ecco Soft 7 High Top Tie, Ecco Soft 8 Tie, and Ecco Soft 7 Perf Tie among others.
These black Ecco casual sneakers are also available in women's sizing.
Merrell Parkway Emboss Lace "Black"
Although multiple colorways are made available for the Merrell Parkway Emboss Lace low-top shoe, the black ones surely stand out from the rest. From the full grain leather upper, flat laces, and down to the durable rubber outsole is an all-black visual that exemplifies versatility, sporty look, and casual vibe rolled into one
Other key features of these men's black casual shoes:
Breathable mesh liner
Integrated footbed equipped with M Select Fresh technology
EVA midsole for stability and improved comfort
Sturdy Vibram rubber outsole
Adidas Easy Vulc 2.0 "Core Black"
These men's black leather casual shoes from Adidas are fashion-forward wardrobe staples that complement a wide range of outfits. Boasting a minimalist façade, the Adidas Easy Vulc 2.0 in Core Black colorway offers wearers the option to pair it with almost anything for casual occasions or everyday functions. Some colorways for these low-top Adidas sneakers feature Mélange mesh upper material instead of leather.
Other key features of these men's black casual shoes:
Vulcanized rubber outsole (hence the "Vulc" in the name)
Die-cut EVA sock liner
Flat tonal laces
Contrasting Three Stripes reinforcements in white placed on the sides
Gucci Ace Kingsnake Print "Black"
Most black casual shoes are sporty-looking, but they can also look sophisticated just like the Gucci Ace Kingsnake Print shoes. This low-top sneaker flaunts an all-black leather upper with distinctive embossed Kingsnake print on the side walls, and red and green metallic leather accents on each heel.
Knit
New Balance 247 Mid
The mid-top remodel version of the iconic 247 silhouette from New Balance joins our list of best men's black casual sneakers. Its upper offers superb comfort thanks to its mid-cut knit bootie design, while its REVlite midsole provides cushioning and lightweight support. Indeed a lifestyle sneaker model, the NB 247 Mid exhibits a flexible style that complements anyone's always-on-the-go lifestyle.
These black casual shoes come in two versions – one features an entirely black tonal treatment, while the other, which is made in women's sizing, flaunts a monochromatic black upper that sits atop a white midsole with speckled detailing. Another black colorway in men's sizing was also released, but it featured plain white midsole instead.
Suede
Merrell Jungle Lace AC+ "Black"
Comfortable, low-maintenance, and durable are just some words that best describe the Merrell Jungle Lace AC+ sneakers. These low-top casual shoes from Merrell are available in black colorway along with several more other color options such as "Beluga," "Boulder," "Frost Grey," and "Espresso."
These casual black shoes are made of a premium pig suede upper material that gives an outdoorsy vibe to the shoe's overall laid-back style. The laces are rounded, and a pull tab is added at the heel for easy on and off wear.
Some facts about the Merrell Jungle Lace AC+:
This low-top sneaker is a lace-up version of a more popular Merrell slip-on shoe, the Merrell Jungle Moc.
Although designed for casual use, the Jungle Lace AC+ is infused with footwear technologies such as the FIT.ECO blended EVA contoured footbed and the Merrell Air Cushion+.
Sperry Striper II CVO Suede "Black"
Released recently is the suede rendition of the 2018 Sperry Striper II shoe model dubbed officially as the Sperry Striper II CVO Suede. It is a low-top casual sneaker model with a washable suede upper and flexible and lightweight soles. These black and white casual shoes also feature full-length molded PU insoles, molded Wave-Siping outsoles, and flat tonal laces.
Canvas
Skechers Arcade - Chat Memory "Black"
The Skechers Arcade – Chat Memory is a low-top casual sneaker with an available black monochromatic colorway. These all-black casual shoes feature a soft woven canvas upper with tonal stitching accents all throughout, tonal flat laces, and traditional lace-up closure.
More information about these men's black casual shoes:
It is also referred to as Skechers Arcade – Chat MF, in which the MF stands for Memory Foam.
Several more colorways are offered for this shoe.
It also features Gel-infused Memory Foam insoles for superb cushioning.
Popular black casual shoes in women's sizing
Keds Triple Kick Leather "Black/ Black"
The Keds Triple Kick Leather is a "best seller" sneaker model from the brand primarily for two reasons – comfort and style. Whether you are looking for a classic go-to kick or just inclined to getting a simple-yet-appealing pair, these women's casual black shoes won't disappoint in any way in the style department. It is equally chic and versatile as its white counterpart. Plus, it has an elevated platform that delivers not just an added height, but an extra flair as well.
Key features of these women's casual black shoes:
Sturdy leather upper
1-inch elevated rubber platform
Cushioned Ortholite insoles for added comfort
Tonal laces in cotton material
Durable textured rubber outsole
Skechers D'Lites – Biggest Fan
The ubiquitous presence of chunky sneakers in the sneaker culture can be attributed to the influx of athleisure trend in the fashion scene. These bulky kicks originated in the '90s and, just recently, made a remarkable comeback through fashion icons, influencers, and celebrities. Can't blame them, though, since these chunky kicks are not just instantly chic and edgy, they are also outstanding in the comfort department.
The Skechers D'Lites – Biggest Fan shoes belong in the chunky sneakers category and can be considered as one of today's most famous black casual sneakers available in women's sizing. Enumerated below are some of the features of these black casual shoes:
Smooth trubuck leather and fabric upper
Distinctive overlay and stitching accents
Cooled Memory Foam insoles
Athletic-inspired lace-up design
Puma Fenty Avid "Puma Black/Limepunch"
Released as part of Rihanna's Fenty line with Puma is the Puma Fenty Avid shoe. These black casual sneakers come in women's sizing and flaunt an out-of-ordinary silhouette fitter for athleisure trend. The upper is constructed with a combination of nylon and mesh that somehow appears like a fusion between a sandal and a sneaker. Each pair initially retailed for $130.
Frequently Asked Questions
Where can I buy stylish black casual sneakers?
Since casual sneakers are designed primarily for casual or lifestyle use, they are ubiquitous and easily obtainable. Almost all sneaker brands offer a lineup or collection allotted particularly for this type of footwear. Aside from flagship stores of sneaker brands, these shoes are also accessible online via the official websites of the brands, their official retail partners, and recognized online retailers.
Here at RunRepeat, we make things easier and more convenient for you. Just go to the "Sneakers" homepage here and select the filters "black" and "casual" found at the left side to view all black casual sneakers from our partner retailers. Pick out a pair, and we'll link you to available offers.
Which sneaker brands offer all-black casual sneakers for men and women?
Like mentioned earlier, casual sneakers are omnipresent, and these cover all-black casual shoes. Almost every well-known sneaker brand has its share of this particular sneaker trend. Enumerated below are some of these brands:
What are the best ways to wear black casual shoes?
Black casual sneakers are easy to wear – no questions asked. It is probably one of the reasons why this kind of sneakers is always a hit. With casual black shoes, versatility is the key. They are the kind that you can easily dress up or dress down, and wear with anything without having to worry about a fashion faux pas.
However, they, too, especially those combined with complex colors, can sometimes be tricky. Below are some quick guides to help you.
Nothing beats a classic black pair of kicks, right? Then a head-to-toe black ensemble is even better if you plan to pull off a streamlined and sleek look.
Black sneakers are often used to tone down a colorful outfit. Wear a loud ensemble and mute it down with a pair of black casual sneakers.
Black casual sneakers also look great with white. Opt for a black and white style for a trendy look.
Do not be afraid to try and experiment a little. By doing so, you will eventually see for yourself which kind of style suits you best.
Lastly, and an important one - be confident!
What is the current style trend for men's casual black shoes?
Fashion trends come and go, and this is also applicable for casual black sneakers. Below are just some of the current style trends for these shoes:
Black on black sneakers. Recent sneaker trends show the increasing popularity of black on black sneakers because they are practical, stylish, and easy to wear.
Minimalist black shoes. With the extensive presence of bulky footwear options, embellished or metallic ones, platform kicks, and everything in between, this sneaker trend is indeed a breath of fresh air.
Gum soles black sneakers. This trend is all for the retro look and function. Gum soles are easy to maintain, and their colors complement well any black upper.
Sock-like knitted black shoes. Comfort trumps style, indeed. But why choose between the two when you can have both? This trend allows wearers the much-needed comfort of casual sneakers without sacrificing style.
What is the standard price range of these sneakers?
Sneakers, generally, vary in pricing depending on the brand, design, material, and technologies. The same goes for casual sneakers in black colors. Most of them are affordable, with prices varying from around $50 or $60 to $120. Those that utilize top-notch sneaker technologies like Adidas Boost, Adidas Primeknit, Nike Flyknit, etc., but considered as general releases, are priced slightly higher ($150 to $200). Collaborative sneakers, or those that released in limited quantities, and high-fashion sneaker models are typically the most expensive of all. Their prices range from above $200 up to $400 or even much higher.
How should I clean my pairs of black kicks?
Like any other sneakers, black casual sneakers need some cleaning and caring, too. When cleaning, consider the materials and use appropriate cleaning tools and materials. Avoid using harsh chemicals like bleach to maintain their quality and color. Use a soft brush or a dampened cloth with mild soap if needed. Air drying is also advised.
Are lifestyle-based black shoes hard to cop?
Generally, no. Most black sneakers that are designed specifically for lifestyle use are ubiquitous and easily attainable since they are typically GRs (general releases). What can be challenging to acquire, though, are those that released in limited quantities, mostly collaborative shoe models such as the Yeezy Boost 350 "Pirate Black," Yeezy Boost 350 V2 "Core Black/ Red," and the Yeezy Boost 750 "Triple Black."
Can women also wear casual sneakers that are made exclusively in men's sizing?
Yes! Most sneakers, including casual black sneakers, are made available exclusively in men's sizing but considered as unisex models. Ladies who intend to get a hand on these shoes are advised to opt for 1.5 to 2 sizes down their usual sizes. For example, a size 9 woman should get a size 7 or 7.5 in men's sizing as an approximate equivalent of her actual shoe size.
Can I use my black casual sneakers for a more formal event?
It would actually depend on the style of your black casual shoes. Those that exhibit a streamlined and minimal aesthetic, preferably made of premium leather or suede material, are your best options for such kind of events. Avoid black casual sneakers that are too bulky or too sporty looking.
Any tips on how to maintain the excellent condition of my black casual sneakers?
One way to preserve the quality and the look of your black casual sneakers is by applying a shoe protector spray before you even start wearing them. That way, your much-loved kicks will be protected against damages, scuffs, dirt, or any liquid spillage. It is also important to always keep them clean after every use.
15 best black casual sneakers
Timberland Killington Hiker Chukka Boots
Jordan Express
Adidas Questar Drive
Adidas Yeezy 750 Boost
Adidas Yeezy 350 Boost v2
Ecco Soft 8 Slip On
UGG Cali Sneaker High
Ecco Soft 7 High Top
Timberland Killington Chukka Sneaker Boots
New Balance 247 Decon
Skechers Delson - Camben
Ecco Soft 7 Woven Tie
New Balance 247
Ecco Soft 7 Woven
Adidas Easy Vulc 2.0
This shoe has recently been added to RunRepeat. There are still not enough reviews for us to assign it a
CoreScore
.
CoreScore
A score from 1 to 100 that summarizes opinions from users and experts. The average CoreScore is 78.
More...