Overall ranking lists
Similar ranking lists
Beige sneakers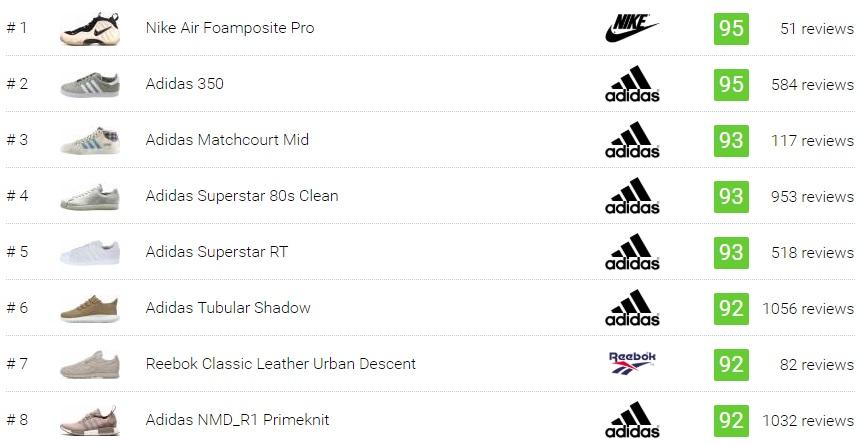 Choosing a specific color for a sneaker often reflects the emotion, mood, and fashion style of the wearer. Buyers of beige sneakers, for example, are often characterized as flexible, dependable, and conservative. The reason for this is that beige sneakers are neutral colors that are often associated with a relaxing vibe and a calming feeling that are more natural compared to the usually vibrant and bright colorways of sneakers that predominantly hog the footwear industry today.
The psychology behind
To further explain the psychology behind the color beige and why many people opt for beige sneakers; let us delve into the history of the color itself. Beige comes from the French word which means something that resembles the natural color of wool that is unbleached or dyed. The color beige is often seen in neutral tones comprised of a combination of the warmth of the color brown and the coolness of the color white. The beige colorway is also difficult to identify as a colorway as it can be expressed in higher or lower levels of saturation, from dark beige to light beige shades of the neutral color spectrum.
Beige sneakers are often categorized as neutral colorways like the popular ones like black, white, brown, and grey. These beige colorways often have the staying power and the flexibility to transition from one fashion generation to another without losing its appeal. These hues may not be the favorite color of sneaker lovers, but they are often bought because they don't steal the limelight away from the clothes or the face of the wearer and instead become hardly noticeable and subtle enough to be part of the entire fashion package. Beige sneakers as in black sneakers or white sneakers or grey sneakers are often transcendent from one fashion style to another. For example, beige sneakers like the Adidas Gazelle or Puma Creepers are best paired with usually vibrant pastel clothing or bright hues and palettes for accessories because they tend to tone down these striking colors.
Thus, many designers including those from the shoe industry do not set aside beige in the colorways offered in some of the world's most famous shoe silhouettes. Neutral tones like beige have flourished in the fashion world because they radiate balance and often diffuse strong emotions with their muted tones. While beige colors are often mixed as overlays in brightly hued shoes, they can also exist as standalone footwear.
Monochromatic beige sneakers, like the Reebok Classic Leather Urban Descent or the Saucony Shadow Original, allows for versatility in styling as its restrained tones tend to diffuse all the stresses of the world and allow a bolder use of colors in clothing and even in makeup.
Noteworthy beige lifestyle sneakers according to brand
The world's top footwear brands have come to realize the importance of neutrals in their colorways that paved the way for the surge in popularity of beige sneakers. Below are some examples of fashionable shoes that are available in beige sneaker colorways:
Nike Air Force 1 07 High LV8 – The high-top sneaker has a leather upper, perforated toe box, and the iconic Velcro ankle strap of the Air Force One. The shoe that was released in 2007 in time for the design's 25th year also has a grid top-stitching, circular outsole pattern, and distinguishable thick sole from the original version retained. The shoe came out in various colorways in neutral high-top versions like black, white, grey, and beige sneakers.
Nike Sock Dart – An easy-to-wear sneaker, the Sock Dart promises impressive fit with its visible plastic midfoot cage and a sock-like fit. Easy to put on and off, the midfoot cage of this slip-on sneaker with Phylon cushioning offers flexibility and support for comfortable walking or running experience.
Nike Roshe Two – While its beige sneaker colorway is not its most popular iteration, the Nike Roshe Two, much like its predecessor, came out in numerous colorways that it would be impossible to identify its most OG colorway. The running-inspired sneaker, a follow-up to the also famous Roshe Run, had a slight difference on the bootie-cut collar, a breathable upper, and updated midsole for superior cushioning.
Nike Air Max 90 Essential – The iconic silhouette of the Air Max 90 is stripped to the bare essentials in this modern iteration of the classic 1990s air-cushioned kick. Coming in monochromatic color treatments that result to red, white, blue, brown, and beige sneakers among other choices, the sneaker highlights the signature Air-Sole unit that helps in shock absorption and impact protection with a Duramesh foam that is known to be a durable and lightweight material for this retro sneaker.
Nike Air Presto - The Air Presto retains much of the aesthetics of the design that first came out in 2000. The model sports an incredibly comfortable fit with the stretch mesh neoprene upper and an Air-Sole unit at the heel. Nike also used a midfoot cage for a lockdown feel despite a lack of overlays in the top.
Nike SB Zoom Stefan Janoski - To achieve an often dirty or scuffed look, some skaters would often splatter dirt over their new shoes. Beige sneaker versions of the Nike SB Zoom Stefan Janoski, however, need no scuffing up to achieve this look as the low-top sneaker in a mix of brown, grey, yellow, and white tones in its beige colorways efficiently accomplish the dirty looking shoe wanted by many skaters. With its brown rubber gum outsole and often off-white to beige tones in one of its colorways, stylists would often achieve a dapper look by merely wearing these neutral-toned suede kicks to complete the look.
Nike Air Max Guile – A low-top performance shoe that can take you from casual wear to hiking without looking awkward, the Air Max Guile are available in various colorways including beige sneakers or black sneakers variations. Among its recognizable feature are the Air-Sole unit for plush cushioning and a foam midsole that keeps the sneaker lightweight.
Nike Juvenate – The lightweight, breathable, and minimalist design of the Nike Juvenate makes it a perfect summer month or everyday fitness companion. The low-top shoe has a no-tongue and slip-on design with a honeycomb finish on the upper. Its flexibility is also evident when it is stashed in luggage as its materials can effortlessly be packed in a travel bag.
Nike Air Max 90 Ultra 2.0 Essential - A minimalist and stripped down version of the iconic Air Max 90 silhouette, this particular model is stable and comfortable because of the updated midsole and embedded Air cushioning unit at the heel.
Nike Court Royal Suede – Laidback low-top footwear, the Court Royal Suede is a perfect everyday shoe for school or work because it would easily blend with any casual outfit. The timeless looks of this tennis-inspired sneaker with suede and leather finish aims for a classic vibe while the herringbone pattern at the sole provides decent traction.
Nike Air Huarache – An iconic sneaker silhouette designed by the legendary Tinker Hatfield, the Huarache stands out because of its external heel counter and interior sock. The mesh and neoprene materials used in the sock-like interior offers a snug fit while the flex grooves at the bottom give flexibility to the sneaker whose original colorway is the royal blue/green but soon other versions like beige sneakers were offered on this iconic kick.
Reebok Classic Leather Urban Descent - The most popular colorway iteration of this Reebok silhouette is the beige sneakers version aside from the red, brown, and white variations. The favorite Reebok Classic leather incorporates a hipster design that reflects an urban explorations theme.
Reebok Classic Leather – Since it first came out in 1983, the Classic Leather has had several variations from colorways to materials. The often underrated and straightforward design of the classic leather is its most notable feature only because it has surpassed other retro running sneakers and continues to be a bestselling design for the brand.
Reebok Royal Glide – As part of the Reebok Royal Collection, the running-inspired sneaker has an Ortholite sockliner and a die-cut EVA midsole that offers lightweight cushioning and dependable shock absorption.
Reebok Classic Leather SG - This is a high-quality sneaker in a strong colorway that is lightweight and comfortable. The retro silhouette of the Classic leather is retained by the suede and leather combination that serve black, grey, and beige sneakers as color options.
Reebok Club C 85 IT – A tribute sneaker to cassette tape and VHS generation of the 1980s. The shoe features plush materials proven for their durability and style that can work well with various kinds of casual outfit.
Beige shoes from other brands
Frequently asked questions
Why are customers choosing beige sneakers over white sneakers?
While white sneakers have been fashionable since 2015 with the resurgence in popularity of classic retro white kicks being released by one brand to another, the fashion trend for beige shoes has slowly moved from the crisp and clean white shoes to new neutral tones like grey, nude, tan, and beige sneakers. The reason behind this drift towards beige sneakers is practicality.
First, beige sneakers are easy to clean and do not quickly get dirty. Second, beige sneakers are not as sporty as the white sneakers. It gives a whole lot of character compared to white sneakers. Beige sneakers are also a dressier alternative to white sneakers that are often tagged as boring, industrial, and orthopedic with its squeaky clean street-style appeal compared to the chic, and usually more glamorous use of neutral tones in beige sneakers.
What colors are often mistaken for beige?
Beige is often confused with other neutral colors belonging to the white, brown, grey, yellow color spectrum. Defined as a pale sandy fawn color by the Oxford dictionary, the color beige melds a greyish tan or a light-grey yellowish brown tone. It is also often described as a mélange of light tints selected for their pale warm or neutral appearance. Variations of the color beige that differ depending on saturation from light to dark beige include cosmic latte, cream, unbleached silk, Tuscan, buff, desert sand and up until the 1950s, the color called ecru.
Often mistaken for beige are brown or white-based tones like khaki, off-white, ivory, tan, light grey, and light brown. Beige shoes are often specified as such color by footwear manufacturers in blending with other vibrant colors, or as a diffuser to bright hues in the upper shoe. A solid beige upper that includes overlay materials is done on monochromatic beige sneakers.
How do psychologists characterize people wearing beige shoes?
The color of one's shoe would also often reflect the personality, mood, and character of the person wearing them. People are wearing beige sneakers, for example, are often regarded as conservative, pure, and pious. As a neutral color and often called a warmer or softer version of white, the beige sneaker colorway is often dubbed as serene, necessary, unpretentious, and doesn't command attention. Such is true when a wearer of beige sneakers walks through a crowd as their footwear merely denote plainness, clean, subdued, and does not command any attention.
Compared to those wearing footwear with striking colors, beige sneaker fans shy away from the limelight, content with what they have, and prefer working backstage instead of being the show's lead. While some would say that fans of beige sneakers can get along with anyone just like in clothes, the beige sneakers are also being panned by critics as dull and boring as these people wearing them tend to be afraid of seeking second chances. While darker colorways are mostly preferred by men, the women would often opt for a casual sneaker colorway like beige sneaker classics like the Adidas Superstar 80s Clean or the Reebok Classic Leather.
What styles of clothes are best paired with beige sneakers?
Neutral tones like beige sneakers are versatile when it comes to blending with a variety of clothes. An excellent alternative to the now familiar and often dull white sneaker street style look, the beige and neutral tones in shoes allows for a dressier look. Some wearers of these shoes comprised mostly of women who tend to pair their beige sneakers with raw cropped hem denim, traditional stonewashed jeans, or wide-leg pants. Others opt to accessorize by wearing an anklet over shorts. Others, meanwhile, tend to be more conservative as their choice of color by choosing sweatpants or a Sunday dress at springtime to complete the look. Beige sneakers are a chameleon of sorts in blending with similarly toned colors like cream, white, olive green, grey or black. Some wearers would further match their beige sneakers with beige clothing in a lighter or darker shade to create that often beguiling monochromatic style.
Who are the celebrities spotted wearing beige shoes?
Spotting celebrities like Hollywood stars, reality show celebrities, music artists, and sports athletes wearing beige sneakers is not a rarity. The dressier alternative to the often ordinary white sneakers is slowly climbing the style ladder into being a chic and fashionable option for footwear. Jessica Alba, for example, prefers wearing low-top Vans Authentic beige sneakers while running errands around town.
Former One Direction star and now solo artist Liam Payne was seen on the red carpet wearing limited edition Fear of God beige sneaker military high-tops. Pop star Selena Gomez can be seen wearing Adidas Neo hang-out high-tops with beige overlays. Even Instagram star Gigi Hadid and Australian actress Naomi Watts have been spotted strutting a customized Nike Air Force 1 high-top in the beige colorway. Men and women have gained appreciation towards beige sneakers for its versatility, subtlety, and conservative looks.
15 best beige sneakers
Adidas Handball Top
Nike Air Max 97 Ultra 17
Supra Stacks II
Adidas NMD_XR1
PRO-Keds Royal Plus Suede
Nike Air Force 1 07 LV8 Suede
Saucony Shadow 5000
Vans SK8-Mid Pro
Adidas 350
Jordan Eclipse Chukka
Sperry Flex Deck CVO
Nike Air Max 1 Premium
Adidas Samba FB
Nike Air Force 1 07 Mid
Adidas Suciu ADV
This shoe has recently been added to RunRepeat. There are still not enough reviews for us to assign it a
CoreScore
.
CoreScore
A score from 1 to 100 that summarizes opinions from users and experts. The average CoreScore is 78.
More...