What You Should Consider When Buying Basketball Shoes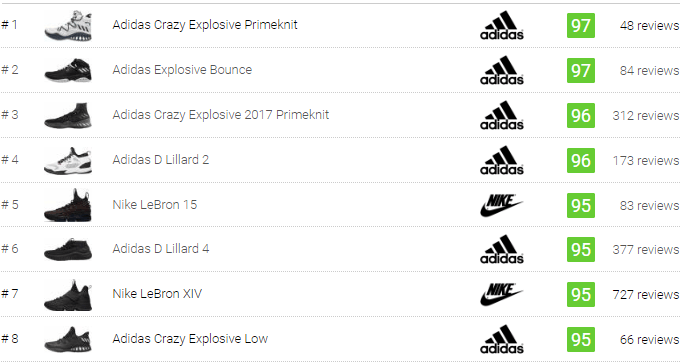 Basketball is a popular sport globally. In its February 2017 review, Forbes reports that the thirty teams of the National Basketball Association or the NBA raked in $5.9 billion in revenue during the league's 2015-2016 run.
This large sum is not only from ticket purchases during games, which by the way are made not only by Americans but also by foreigners from all over the globe. It is also from sponsorships of popular sports brands like US-based Nike and Jordan and Germany-based Adidas.
These brands bring the basketball fever closer to consumers through products such as basketball shoes, shirts, and other sports apparel; which sell like pancakes from the moment that they are strategically released.
Because of the high demand for them, it is not surprising that these products, most especially basketball sneakers, are a bit expensive. So, this part of RunRepeat helps you make the right decision when buying a pair of basketball sneakers. We shed light on the shoes' most important features and their intended utility. We also bring into the fore the general opinion of the buying public about the shoe. This is very important because sometimes, the manufacturer's intentions do not coincide with the consumer's experience.
This article, in particular, breaks down every important consideration when buying a pair of shoes for basketball players. We take time to explain what value each brings to the decision-making process.
We just want you to never buy another bad basketball shoe again. So what should you consider when buying a pair of basketball shoes? In a nutshell, you may just take note of the following:
Your playing position and its footwork requirements
The performance needs that the Basketball Shoes Support
How the shoes fit
The amount of comfort that the basketball shoes provide
The basketball sneakers' style
Read on for more thorough discussions of each point.
1.Your Playing Position and Its Footwork Requirements
In many ways, the five-member basketball team can be described as organic. It is composed of players who each should have a unique contribution to the team as a whole. They ideally minimize duplication or else they risk not maximizing the advantages of their skill diversity and number.
It is clear that each of the five roles will have its unique set of physical demands. In turn, such demands will need different types of support from the basketball shoes that the athlete is wearing. Hence, a thorough understanding of the positions is key to picking the right pair from the multitude of basketball sneakers on sale.
The following are brief discussions of each of the five basketball positions. We dwell more significantly on the roles' main objectives and the types of footwork that the athletes who assume such roles should master.
Point Guard. The point guard is said to be the leader of the team. They are responsible for the execution of the agreed gameplay. Their main goal is to strategically bring the ball to their side of the court. For this, they need to be agile and light to move past bigger defenders. They must be able to make quick cuts, twists, and abrupt changes in direction. Once on the favorable side, they are also expected to pass the ball to teammates who are in better positions to shoot, resulting in effective assists. Warrior Stephen Curry, Houston Rockets' Chris Paul, and former NBA-player Allen Iverson are among the NBA's finest point guards.
Shooting Guard. Together with the point guard, the shooting guard is tasked to bring the ball to their side of the court. They need the same agility and footwork mastery that the point guards must have. What sets them apart from the point guards is their added responsibility of shooting the ball from a distance. For this, they require such lightness that allows them to throw themselves high for their killer jump shots. Kobe Bryant, James Harden, and the great Michael Jordan are shooting guards.
Center. Usually the biggest player in the team, the center primarily spends most of their team in the low posts, clearing the way for other members of the team. Since they are expected to go head to head with the bigger players from the opposing teams, they must be able to stand their ground even with pressure. They are also expected to do some jumpshots and both offensive and defensive rebounds. Quite obviously, jumping is a necessary skill. Peak's big man Dwight Howard and Shaquille O'Neal are formidable centers.
Power Forward. The power forward is said to be the member that most closely resembles the physical dominance and playing style of the center, only that they are required to be a bit faster. Also expected to be in the low posts, this player does a lot of rebounding and defending. They also do jump shots. Tim Duncan and Dirk Nowitzki are highly skilled power forwards.
Small Forward. The small forward is the most versatile player. Basically, they are expected to do what everyone else does. They must be powerful enough to work it as the forwards do. They must also be agile enough to do some guarding. LeBron James is an effective small forward.
Given all this, getting the signature basketball shoes of athletes who are similar to you in build and style is a good move. This way, you can better ensure that the pair is designed in such a way that suits you.
2.The Performance Needs that the Basketball Shoes Support
Now that we are clear with what each basketball position requires, it's only logical to look at how a pair of shoes for basketball players can support such activity requirements. RunRepeat gauges the performance of each basketball shoe in our roster by looking at the technologies that contribute to on-court efficiency and stability. Performance, therefore, is hinged on each pair's cushioning and traction capacities. The following subsections briefly discuss some of the most well-received cushioning and traction technologies in the market today.
Cushioning
Athletes have always considered their shoes' cushioning system valuable regardless of the playing position that they hold. Companies are always innovating to satisfy the athletes' dynamic demands. Albeit in varying intensities, these innovations usually provide responsiveness, comfort, impact protection, support, lightness, and quickness among others. We present below some of the most well-received cushioning innovations from some of the most famous sports brands.
Nike

Zoom. Having been around since the 90s, Zoom is easily one of the oldest cushioning technologies from the Swoosh. It works pretty much like a trampoline, which bounces back after it receives pressure. It satisfactorily provides stability and a pronounced closer-to-the-ground feel. The Zoom Assersion of 2017 and the timeless classic Air Zoom Generation are among the most recent releases that make use of this innovation.
React. React is a cushioning innovation released in 2017. According to its lead designer Ernest Kim, it is the "most complete foam ever." Wearers describe it as light and durable. They also say that it provides amazing energy returns, making it such a perfect partner for basketball players regardless of their playing style and position. If you want the React experience, Hyperdunk 2017 Flyknit is a good shoe to cop.
Lunarlon. Originally made for running shoes, Lunarlon is made firmer by Nike so that it can absorb impact better and provide more comfort to the basketball player. The Nike Kobe 11 Low is one of the popular shoes that use Lunarlon.
Vapormax. Some of the Nike basketball shoes coming soon may have this new technology, which is invented to honor the 30th year of Air Max. To keep the design at its lightest form, the Vapormax is built in the form of airpods so that the air packets will be directly stably positioned underneath the foot without needing foam.

Adidas

Boost. This technology gives the most efficient energy return. It provides a good amount of impact protection and responsiveness. It also has a smooth heel-to-toe transition. Because of this, Boost is loved by plenty of wearers. A lot of Derrick Rose's signature shoes use Boost.
Bounce. A bit firmer than Boost, Bounce is still able to provide high levels of springiness when you hit the ground. You may experience the explosiveness of the Bounce technology by copping the Adidas Explosive Bounce.

Under Armour

Micro G. Under Armour's famed Micro G is a very lightweight foam. It promises a low-to-the-ground feel and efficient energy returns.
Charged. Because of its low-to-the-ground feel, Charged provides controlled and efficient mobility to small and quick players. This cushioning system is able to support quick lateral movements. The Under Armour Charged Controller has both Micro G and Charged in its midsole.
HOVR Foam. The HOVR foam is the latest from UA. Debuting in 2017, the foam has firm exteriors to ensure a much more contained and energized compression. According to Under Armour CEO Kevin Plank, this innovation provides both stability and responsiveness. Because of this, there surely is a good reason to look forward to the release of some of the UA basketball shoes coming soon.
While the quality of the foam or cushion itself is important, where it is placed also plays a crucial role in the overall effectiveness of any cushioning system. Usually, the more protective part of the midsole is right below the heel because it is the part that first comes into contact with the ground. The springier part is right below the forefoot for a more energized takeoff.
Traction
No matter what position they hold, players rely on their shoe's traction to make quick stops and changes in direction. In a game where the ball is aggressively passed around, the capacity for such movements is key to success. Because of this, brands are continuously on the lookout for traction patterns that provide the most effective grip on the court, be it hardwood or dusty pavement. The following are some of the most well-received traction patterns in the market today:
Herringbone. This pattern is a classic, having been in use by multiple brands for a time now. It looks like fish skeletons that are placed side by side, producing rhythmic angular waves that usually cover the entire rubber outsole. It gained popularity because of its capacity to support multidirectional movements.
Multidirectional. Although the classic herringbone is already supportive of multidirectional movements, other brands still innovate. Instead of having the same orientation of herringbone all over the sole, they sometimes have it segmented, and each segment will have a different orientation of the herringbone. Still, there are others that divide the outsole into parts; but instead of herringbone, they just make use of good old vertical, horizontal, and diagonal lines of varying orientations. The Adidas D Lillard 3 is a very good example of this.
Honeycomb. The honeycomb pattern takes cues from the amazingly uniform hexagons created by bees in their hives. The Nike KD 9 has this type of pattern; this shoe just has some of the hexagons stretched horizontally, especially those hexagons that are at the middle of the sole. We've also seen the honeycomb on the Harden Vol.1, though this time it is arranged in such a way that follows the naturally occurring Fibonacci pattern.
Power Coral. The power coral pattern may look like a maze or a fingerprint, but it actually draws inspiration from the surface of some coral species. It is said to be the best traction pattern because of the tacky grip it has on different types of court floors. One of the shoes that make use of this pattern is the Adidas Crazy Explosive.
Squares. This pattern looks like the good old checkerboard, only that its squares are oriented in such a way that they resemble diamonds. The tenth Nike LeBron Soldier shoes have this pattern. And like the honeycomb pattern on the KD 9, the squares in the middle are more stretched therefore bigger than those on the sides.
A mixture of creativity and the drive for innovation has pushed some manufacturers to take advantage of multiple patterns on a single outsole. We've seen outsoles that feature different patterns on the sides, the heel, and other areas.
On top of the pattern, how deep and wide the grooves are also matter to a number of wearers. We've seen reviews that talk about how narrow some grooves are, making it easy for dust and other dirt particles to get in between them. This smoothens out the outsole, causing it to lose traction and become slippery.
3.How the Shoes for Basketball Fit
No matter how well-crafted or technologically advanced your basketball shoes are, they will always be a wasted investment if they don't fit well. RunRepeat assesses fit by looking at two dimensions: length and width, and lockdown. The following subsections will discuss these dimensions in a bit more detail.
Length and Width
The numerical shoe sizes that we are familiar with largely pertain to the shoe's length. While logic says that longer shoes are automatically made wider, the adjustments in width sometimes do not suffice. It is always wise for wide-footers to read what other wearers are saying about the shoe's fit before purchasing. Such details are usually contained in our GBBL sections. The savings that you get online will never be enough to compensate for a bad purchase.
What should be done when a shoe is reported to be too big? The most immediate remedy for this is to go half a size or one full size smaller than your usual. The reverse will apply if the shoe is reportedly smaller.
There are also times when wide-footers are given a treat. Brands sometimes release shoes that have versions that are purposely made wider. This is explicitly stated in the descriptions, so these shoes shouldn't be that hard to find.
As mentioned, signature shoes take into account the uniqueness of the athlete. Because of this, shoes that are made for a wide-footed athlete may be generally more generous with their widths. The shoes in Damian Lillard's collection are described as wide by many. In fact, they suggest that wide-footers go true to their sizes when they buy a Dame shoe.
Lockdown
No two sets of feet are alike. Even if you are able to get the right size and width, you may still feel that there is something not right with your new shoe's fit. This experience is oftentimes normal. Some shoes just need time to break in, and the process for which may last from a few days to a few weeks.
Manufacturers also incorporate features that allow you to have some level of control over how the shoe grasps your foot. The following are the most common:
Laces. The use of shoelaces is ubiquitous. Basically, you see it in almost every shoe class, from trainers to sneakers to hiking footwear, even. It gained popularity maybe because of the fact that it gives the greatest amount of control to the wearer. The limit to the tightness that lace-up basketball shoes provide comes from how good the wearer is at tying, though the material that the lace is made of may also have some bearing.
Slip-On Construction. Slip-on constructions most readily provide quickness and ease. However, their effectiveness is largely dependent on getting the right size at the first place. It does provide some level of flexibility, but it is quite literally determined by the material that it is made of. Usually, slip-on basketball shoes are made of materials that can stretch and conform to the shape of the foot like the Adidas Primeknit and Nike Flyknit. Factoring in wear-and-tear considerations, slip-on constructions are oftentimes paired with lacing systems so they can be used for a longer period. Examples of basketball sneakers with dual lockdown systems are the PG1 and Lebron XIII Low Premium from Nike.
Strap. Straps are usually used in conjunction with other lockdown systems. This is understandable given the aggressiveness of the ball play and the vulnerability of the straps' velcro fasteners. They look so clean and aesthetically pleasing, though, that they are sometimes added to fashion sneakers for added appeal.
Another major consideration for foot containment is the heel counter (or lack thereof). This otherwise unassuming feature helps keep the foot in place during aggressive stunts, keeping the player's stance more stable. Some consider this feature very important that some shoes such as the Jordan Melo M13 get significant rating deductions because of their missing heel counters.
Another good contributor to the shoe's lockdown and support capacity is the length of its collar. Basketball shoes, or shoes in general, are sorted into three categories based on the length of their collars:
Low-Top. Low-top basketball shoes are designed for guards or smaller players who do a lot of court drives. The ankle should have enough area to move in with no restrictions. In addition to being flexible, low-top basketball sneakers need to be lightweight and low to the ground to perform well.
Mid-Top. Mid-tops provide the best of both worlds. They are long enough to provide adequate support, but short enough not to put so much restrictions on movement. It is perhaps because of this that many basketball shoes for men and women alike are mid-tops.
High-Top. High-top basketball shoes are designed for bigger players like centers. Their footwork and body movements demand a shoe that has good ankle support, cushioning and impact absorption. The design can protect their knees and tendons from stress and fatigue. Their jumps and rebounds require a shoe to have stability and durability. High-top hoop shoes are normally heavier than mid-top and low-top sneakers because of the sturdier materials being used.
Aside from the support that it gives, the cut of the shoe also has aesthetic value. There are buyers who opt for mid- or high-tops because of the slimming and elongating effect of their lengthy collar.
4.The Amount of Comfort that the Basketball Shoes Provide
Even the most technologically advanced of shoes gets ditched if they do not provide the necessary amount of comfort. While the experience of comfort is highly subjective, there are still various elements in a shoe that give away signs of the amount of comfort that it can provide.
The first consideration is the material that the upper is made of. Mesh has always been the go-to material of manufacturers if optimum breathability is to be offered. Manufacturers that make use of stiff leather for durability and structure put perforations in the material to improve the air flow inside the shoe.
Another element to look into is the amount of padding in the tongue and ankle collar. These come into contact with the most dynamic parts of the foot during movement. We've seen too many reports about the tongue and collar not having enough padding that they cause discomfort and even painful blisters.
Removable items such as insoles also contribute to the overall experience of cushioned comfort, especially if the shoe is designed to really have a more pronounced court feel. Under Armour's insole, referred to as Ortholite, also has anti-odor properties.
5.The Basketball Sneakers' Style
Basketball shoes are usually associated with famous athletes like Stephen Curry, Michael Jordan, and LeBron James. Because of these people's popularity, the relevance of their signature shoes extends far beyond the basketball court. In fact, Michael Jordan's line continues to be the industry's top grosser even if it has already been years since he retired in 2003.
With this, the trend becomes obvious: there is demand not only for shoes that perform well but also for those that look so well they can be worn off the court without being seen as a fashion faux pas. We've seen too many user reviews that focus only on how the shoes appear. Apparently, the packaging matters as much as the content now, and there are people who are willing to pay a premium for it. In fact, if we are to consider the number of looks-focused reviews, it can even be said that such people form a major force in this industry.
Even with its immense significance, we opt not to talk so much about style because it is a very subjective consideration that we oftentimes leave to the individual tastes of you our readers. The style sections of our articles just focus on colors and branding aesthetics, talking specifically where the logos are located and in what colorways the shoes are released in. They are relatively objective presentations that we hope will help the readers assess the overall appeal and impact of the shoe in question.
Frequently Asked Questions about Basketball Shoes for Men and Women
How do I break in my basketball shoes?
A lot of us get excited when we have a new pair of shoes. For sure, we are so eager to wear them and show them off to everyone as soon as possible. However, there are shoes that need break-in time so that they can be worn more comfortably. There are some ways on how to break in shoes. The following are just some:
Hold the shoe by the heel and then twist the toe area left and right using the other hand. Do this as many times as needed to soften the upper. Softening helps the material conform to the foot better. Do the same with the other shoe.
Wear the shoes daily with a thick pair of socks for at least ten minutes. After a week, try a different pair of socks while doing household chores. You may look funny wearing high-end kicks in your home, but doing so just saves you tremendous amounts of time.
Use the shoes outdoors for some light jog. Be careful to not expose the shoe directly to the pressures of hardcore outdoor running. Breaking shoes in takes time, and it must be done gently so it will not affect or destroy the material. Because of this, some wearers use them for indoor gym workouts instead of outdoor jogs.
Practice playing basketball in them. Basketball practices introduce the shoe to your unique movement patterns. After a few weeks, the basketball shoes should be ready to hit the court for some real action.
How to clean my shoes for basketball?
Many would ask for proper ways to clean basketball shoes. Listed below are some methods and products used by sneaker fanatics.
Wipes, such as Jason Mark and Armor All Cleaning Wipes, are conveniently handy. Some prefer these cleaning materials because they do not want their shoes to get wet at all.
There are also instant cleaners like the SofSole Instant Cleaner. It is a foam-based cleaner with a brush, but you can opt to wipe it off with a towel or wash it away with water afterwards.
Some use laundry detergents, toothpaste, shampoo, and hair products to clean their shoes.
For those who prefer to wash their shoes thoroughly, reviewers recommend RESHOEVN8R and the Crep Protect Cure Ultimate Shoe Cleaner. These come in sets for user convenience.
There are wearers who put their basketball shoes in a shoe wash bag and wash it in the washing machine using a mixture of cold water and laundry detergent.
Last but not the least, the good old brush-and-soap combo still works.
Take note that white shoes are handled quite differently from the colored ones. Also, be sure to read and follow instructions when using chemicals and other similar substances. Test whichever works. Make sure, though, not to dry wet shoes in direct heat or sunlight.
How to keep my basketball sneakers odor-free without washing?
There are ways on how to maintain the cleanliness of basketball shoes. But wearers are still trying to keep their shoes odor and bacteria-free without having to wash them, especially when they are too tired after the game. Listed below are some of the materials and methods that you can use to keep your pair of kicks smelling fresh and clean:
Sneaker Balls by Implus are deodorizers used to freshen up gym bags, athletic shoes, and lockers.
Some would carry white vinegar or essential oils in small spray containers and have them in their bags for a quick fix. Some would mix vodka, essential oils and water as an option.
Cedar Blocks can also be inserted to the shoe. They are affordable, chemical-free, and lightweight. They only need to be sanded a few times a year to restore their freshness.
One of the best deodorizers is baking soda. Sprinkle some baking soda inside the shoe to keep it fresh and bacteria-free.
There are also wearers who spray carpet cleaners on their shoes.
Insert fabric softener or dryer sheets, like Bounce, in your shoes overnight to deodorize and freshen them.
Some reviewers recommend aerosol sprays like Kiwi Fresh Force and Lysol because they are effective, affordable, and handy.
When all of the above are not available, let your basketball shoes breathe. Do not put them back in their boxes immediately after use. Instead, remove the shoelaces, pull open the uppers and let them sit in open air away from moisture and heat.
For sure, there are more ways on how to remove the stink from the shoes. You just have to try to find out which material and method work best for you.
Why are my basketball shoes slippery and what can I do about it?
Basketball shoes have different traction patterns that are designed for specific styles of play. However, some traction patterns and rubbers can become slippery on court. One of the major reasons for this is dust that gets in between the grooves, especially if they are narrow. Once the grooves are covered, they lose traction. Here are some ideas on how to address this issue:
As seen on tv, basketball players wet their fingers, and then use them to wipe their outsoles.
Clean the bottom of the shoe with a damp cloth before and after each game. If you have time during half-time breaks, wipe the outsole to remove the dust and dirt stuck in between the grooves.
If you have more time before the game, wash the shoe with mild soap and brush well to remove the dirt. Make sure to dry well afterwards. Leaving the outsoles wet can lessen the durability of the rubber.
Keep the court clean.
Several wearers recommend putting hair spray, sticky tape, and soda solution on the outsole to make it stickier.
There are sprays available such as Sneaker Grip and Mission Court Grip that temporarily provide more court grip.
There are sticky mats on the side of the court where you can wipe your shoes with, like Slipp Nott, StepNGrip and Stick Um Map.
If you want something more convenient and more hygienic than hand wiping, there are wipes available like Court Grabbers that can be tied with the shoelaces.
I'm a woman; how can I get the right pair of basketball sneakers for me?
Basketball is a male-dominated sport; so basketball sneakers on sale and for sale are usually for men. There are basketball shoes for women, but they are exemptions rather than the rule.
There is no doubt, though, that the technologies that we talk about will be as helpful to women as they are to men. Hence, getting a pair of men's basketball shoes for yourself isn't such a bad idea; you just have to learn to get the right size. As a rule of thumb, a woman's size is equivalent to one and a half to two numerical sizes down in the men's scale. For example, if you are a size 8, you should get a size 6.5 or 6 from the men's department.
I have flat feet; what kinds of basketball shoes should I purchase?
Flat feet are also called pronated feet. Pronation is when the foot rolls inwards and the arch becomes flat. Athletes with pronated feet need to have a certain support in their midsoles. Here are some choices:
Basketball Shoes with Adequate Arch Support. There are basketball shoes that are designed to specifically provide high levels of arch support. Such shoes have smooth heel-to-toe transitions, and they help keep the foot and leg muscles from getting stressed and fatigued.
Carbon Fiber Insoles. Carbon fiber insoles are lightweight and durable. They conform to the shape of the foot after being broken in. They help keep the forefoot and midfoot away from stress.
Torsional Support Bar. A torsional support bar is usually made of TPU. It is located on the outsole, and it usually forms an "X." It allows the foot to move freely.
Lunarlon Midsole. A shoe with Lunarlon in the midsole can provide comfort and strengthen the arch. It is 30% softer than Phylon and molds to the foot over time
Orthotic and Customizable Insoles. New buyers can choose basketball shoes with removable insoles and replace them with orthotic insoles. There are clinics or centers that customize insoles to conform to the shape of the foot.
There are more options available in the market. Regardless of how pronated the feet are, it is still best to have them checked by a professional first before purchasing anything.
How can I customize my basketball sneakers?
The top manufacturers of basketball shoes such as Nike (NIKEiD), Adidas (miadidas), and Under Armour (Icon) already have online platforms that allow buyers to choose which colors their shoes for basketball are going to have and also what materials the footwear is going to be made of. To get your own customized pair of basketball shoes, all you have to do is go to the brands' respective websites, look for the tabs for these platforms, and follow the instructions there.
Oftentimes, customizable items are also listed alongside their regular offers. Clicking them takes you to the customizations page where you can literally let your imagination play.
Which brand has the biggest basketball shoes market share?
Nike has been on top of the American basketball shoe industry for several years already. Germany-based Adidas and Nike subsidiary Jordan complete the industry's top 3. Expectedly, we get to see the fiercest of competition among these brands as they grapple to expand or maintain their hold on their respective basketball shoes market shares.
Where are my basketball shoes made?
Several business reports say that a big chunk of the manufacturing pies for Adidas and Nike is based in Asia, particularly in China and some Southeast Asian nations such as Thailand and Vietnam. These brands claim to have strict quality standards, so purchasers shouldn't be concerned over where the basketball sneakers on sale are assembled.
This shoe has recently been added to RunRepeat. There are still not enough reviews for us to assign it a
Corescore
.
Corescore
A score from 1 to 100 that summarizes opinions from users and experts. The average Corescore is 78.
More...