For most people, walking is an activity done at a high frequency. From the moment you get up from the bed, you walk to get to the shower or to the kitchen to have your coffee fix of the day. From there, more steps follow as you go from your house to your place of work and then back again. Some paths are smooth and easy to traverse while others are a bit more challenging and rough. Though our feet are pretty resilient, they still need protection against harsh elements to prevent injuries. And in some cases, the need for special shoe technologies arises.
Enter Avia walking shoes. This collection of footwear is created to make the walking experience more comfortable and supportive. They may not be as popular and established as their contemporaries, such as Skechers walking shoes, New Balance trainers, and Reebok walking footwear. However, what Avia walking shoes lack for in the popularity department, they make up for the advanced shoe technologies that other brands have taken inspiration from. These are not the only thing that makes Avia walking shoes stand out from the vast market of walking footwear. Read on to find out.
What sets Avia walking shoes apart from the competitors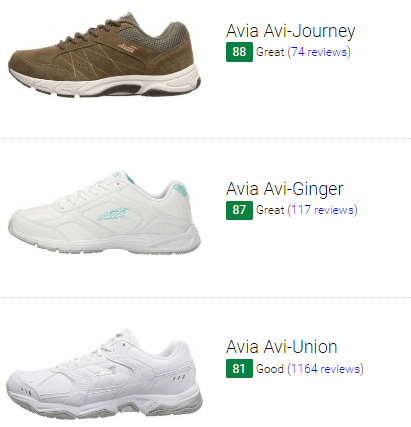 Best Avia walking shoes for men - May 2019
Budget-friendly prices
With their affordable price tags, Avia walking shoes make a palatable option for consumers. At just $35, you could already score yourself a brand new pair. The average price of this brand's walking shoes doesn't raise much higher either, hovering around $50 per pair.
Though the price of Avia walking shoes is already alluring compared to what other brands offer, at RunRepeat, we aspire to sweeten the deal even more. We scour the internet to deliver the best offers for the shoe of your liking. Just click on a model you are interested in and you will see a list of prices from various online retailers.
Special shoe technologies
Despite their affordability, Avia workout shoes are equipped with a significant number of shoe technologies that protect the foot and enhance the wearer's performance. Here is the breakdown of the shoe technologies that Avia walking trainers typically use.
Archrocker
The Archrocker is a raised midfoot area in the midsole. It supports the arch of the foot to promote a smooth and natural walking gait and helps to prevent foot fatigue during walking.
Cantilever
The Cantilever technology is installed on the heel part of the midsole. It works by holding the heel in place while buffering the impact and converting it into additional spring to propel the foot forward.
GELfom and GELfom Plus
Gelfom and Gelfom Plus are types of sockliners employed in Avia walking shoes. They have a gel-like structure that cradles the foot in plushness and support.
MEMORYfōm and MEMORYfōm Plus
Other types of sockliners are the MEMORYfōm and MEMORYfōm Plus. They have memory retention abilities that give an equal distribution of cushioning. They also reduce the impact on the ball of the foot of the wearer and absorbs heel shock.
Pronation control
Overpronation happens when the arch collapses downwardly or inwardly when the foot strikes the ground. Most people who are affected by this are born with flat feet, but it can also be caused by gaining weight, getting pregnant, or aging. People with overpronated feet have an increased risk of injuries due to the additional stress placed on the lower half of their body. Some Avia walking shoes employ the Archrocker technology, which serves as the arch support that corrects pronation to encourage a natural walking gait.
Inclusive sizing
Feet come in all shapes and sizes. Avia walking shoes are created to accommodate the variety of feet with its extensive range of sizing, running from 7 to 14 for men and 6 to 11 for women. They also have two width options for most models of Avia walking shoes, the standard D - Medium and Extra Wide for males and B - Medium and Wide for females.
How to choose the best Avia walking shoes for you
Choosing your first pair of Avia walking shoes requires a lot of considerable thought. You can't just grab the first one you see and declare that "it's the one." You have to mull over several factors first in order to get your "sole mate" for your daily walking routine. Here are a few factors to consider when shopping for your ideal Avia walking shoes.
Style Preference
Most consumers consider this as their top priority when shopping for footwear. As an article of clothing, it is crucial that their Avia walking shoes suit their style preferences and their existing outfits. Shoppers will be glad to know that Avia walking shoes come in a wide range of styles and colors to appeal to even the most discerning of tastes. One can find their walker match in the different styles of Avia walking shoes.
Budget
Budget is a factor that influences our purchases more than we would like to admit. Fortunately, it will never be a problem when browsing through Avia walking shoes. They are some of the most affordable collection of footwear in the market, with the cheapest model costing only $35 a pop. You can score an even better deal when you check out our partner referrals.
Fit and Sizing
Another important factor in determining if a pair of footwear is right for you is the fit and sizing. More than just superficial needs, fit and sizing influence the comfort and performance of the shoe. Ill-fitting shoes will increase the probability of soreness, foot deformities, and even injuries. Avia walking shoes are available in a wide spectrum of sizes, ranging from 7 to 14 for men and 6 to 11 for women. There are also multiple width profile choices, such as Medium, Wide, and Extra Wide.
If this is the first time that you're shopping for walking shoes, here are a few guidelines to help you determine your size:
Wearing socks on your foot, step on a piece of paper and trace the entire outline of your foot. Remember to place your entire weight on your foot as it expands when it is flattened on the ground.
Do this for both of your feet. Our feet do not have similar sizes. Follow the measurements of whichever foot is the largest.
To find out your foot length, measure the outline vertically. You can then measure horizontally to deduce your width measurements.
Check out the sizing conversion charts online to find out what shoe size your foot dimensions translate to.
Make sure to measure your feet when they are at their largest at the end of the day due to the swelling that naturally occurs when they are fatigued. If you are in between two sizes, always choose the bigger size since wearing too-small shoes can introduce you to a world of pain and potential injuries. Bigger shoes, on the other hand, can be remedied by wearing thick socks or ball of foot insoles or heel liners.
Special Needs
Feet can develop physical changes as people age. Changes such as the drop in arches can be controlled by Avia walking shoes that are equipped with the Archrocker technology. How do you know if you have overpronation? You can go to a medical professional to have your walking gait analyzed. However, if you don't have the resources to do so, you can also find out through the following ways:
Check the soles of your old shoes: If you find that the most worn out area is in the inside part of the sole near the ball of the foot and the big toe, then it's highly likely that you have overpronation. These scuffs may also cause your shoe to tilt inwards even if you're not wearing it.
Conduct the Wet Test: Dip your foot in a shallow pan of water. You can then step on a blank piece of paper bigger than your foot. If you see the arch of your footprint completely filled in, it means that your foot rolls inward excessively when walking.
Check your shin's reflection in the mirror: Look at your legs in the mirror. Seeing your knees too close together or having a "knock-kneed" appearance means that you have flat feet. The thick Achilles tendon that connects the calf muscles and heel will also be crooked if you are an overpronator.
Frequently asked questions
How often should I buy new Avia walking shoes?
Avia walking shoes can only withstand usage of up to 500 miles, which roughly translates to 3 to 6 months of moderate use. However, there are several factors that can shorten the lifespan of your Avia walking shoes. First is your weight. The heavier your weight, the faster your footwear gets worn down. If you are also a frequent walker who averages 60 minutes a day or 7 hours a week of walking, you may need to replace your pair after 3 months. Using your walker for other activities other than what it's intended for (such as working out, running, and sports) can also burn down the shoes fast.
However, you may see signs of wear and tear even before the prescribed period. It's time to replace your footgear if you notice that the cushioning has deflated, the outsole worn out to the point that it no longer affords traction, or the interiors have holes. If you also feel soreness and fatigue that weren't there before, it is also a sign that you need new kicks.
Can Avia walking shoes be used for other than their intended purpose?
These shoes are crafted specifically for the act of walking. They can be used for anything that involves walking, such as shopping, errand running, traveling, and work. However, they do not provide sufficient cushioning to absorb the heavy impact of running or the lateral support for training sessions. For the latter, it would be more beneficial to utilize a pair of specialized training shoes.
Are there waterproof Avia walking shoes?
There are no waterproof Avia walking shoes. However, some models have uppers that are coated in the Defender treatment by Scotchgard. It makes the shoe resistant to water and oil. It may not totally make the shoe impervious to moisture, but it can resist the penetration of water to a certain degree.
How are Avia walking shoes different from running shoes?
At first sight, Avia walking shoes may seem reminiscent of running shoes as they both support forward foot movements. The difference lies in the protection and support that they can offer. With walking, the foot makes a rocking-chair movement with most of the impact hitting the ball of the foot to the front part of the heel. Thus, Avia walking shoes have a more solid arch support to protect the high-impact areas of the foot. They are also made more flexible in the forefoot to accommodate the walking movements of the foot.
On the other hand, running shoes are more cushioned, especially in the heel, since it is the part that is hit with impact the most. This makes runners heavier due to the extra cushioning. The ball of the foot also has less protection.
Did you know...
...That the Cantilever technology was rumored to have influenced Nike's Air 180 and Air Force 180 basketball shoes? In 1991, the two athletic footwear brands were engaged in legal turmoil due to Avia's accusation that Nike's basketball models infringed on their patents for the Cantilever technology, a cushioning unit that has stability and shock absorption properties. Avia eventually won the lawsuit, which resulted in Nike pulling out the Air 180s from production and destroying them.
...That Avia used to be owned by Reebok in 1987? It was bought for a whopping $180 million. Alas, the partnership was short-lived as Reebok announced its plans to sell Avia in the mid-90s.
...That if you start walking nonstop this instant, it will take you 347 days to walk around the world? This is based on the average walking rate of 3 miles per hour on a distance of 25,000 miles in circumference. You would need around 50 pairs Avia walking shoes to finish the feat since a pair is only meant to last for 500 miles.
6 best Avia walking shoes
Avia Avi-Volante
Avia Avi-Union
Avia Avi-Venture
Avia Avi-Union II Strap
Avia Avi-Skill
Avia Avi-Union II
This shoe has recently been added to RunRepeat. There are still not enough reviews for us to assign it a
CoreScore
.
CoreScore
A score from 1 to 100 that summarizes opinions from users and experts. The average CoreScore is 78.
More...