55 best Asics running shoes
Updated August 2018
Based on 9,241 reviews
Loading please wait...
ASICS is a long-standing and globally acknowledged shoe brand that has made waves in the running industry. Founded in 1949, this Japanese athletic equipment company is still a favorite among sports enthusiasts and has earned many high ratings and amazing reviews from both casual and professional runners alike. True to its motto, "A healthy mind in a healthy body", ASICS manufactures a wide range of top quality men's and women's footwear and sports equipment. Combining the best of design, innovation and performance, ASICS running shoes will remain as one of the best go to shoe brands on the sports market.
Asics running shoes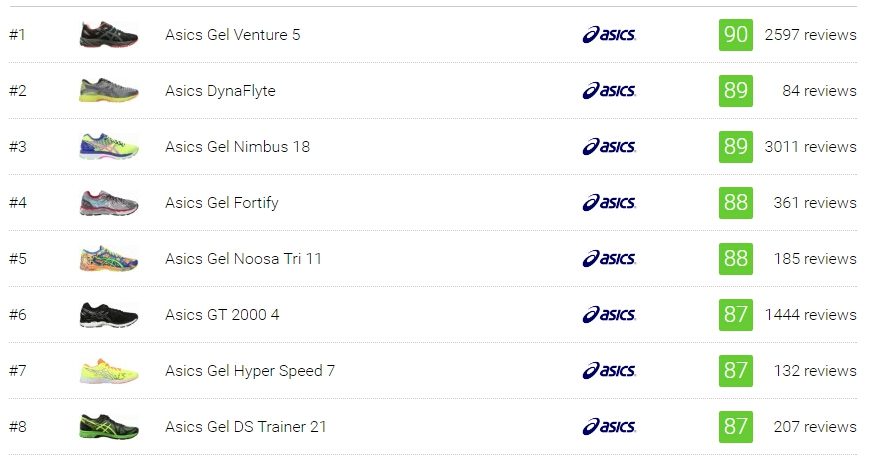 For years, ASICS has been considered to be a top choice for running enthusiasts and casual shoe lovers. Some of the popular models that are highly commended in reviews include the Asics Gel Kayano, Asics Gel Nimbus and the Asics GT 2000. From barefoot-like racing to supportive platforms, anyone can find the perfect pair of ASICS running shoes. Asics collections, such as the Asics GEL, also have high ratings in terms of performance, style, comfort and durability. Some of the models even receive awards from running magazines and sports media, such as the Runner's World and Women's Health, for their shoe technologies.
Asics' reputation as one of the best shoe brands around is strengthened by its numerous mentions in more or less 100, 000 shoe reviews written by runners and athletes. The brand's varied collections feature top- notch options for every runner. From support-specific profiles to race- focused platforms, Asics definitely starts trends in the running industry.
What to expect from Asics shoes?
If racing is a priority for you, then keep your speed up with Asics race shoes. The brand's race platform is minimal and lightweight. Its features are race- specific so you can guarantee comfort and support in the right places while improving your speed record on the track or trail.
The best Asics shoes are categorized into two types: road and trail. The Asics trail shoes can handle rugged terrain and off- roads because of their combination of comfort, protection and traction. On the other hand, Asics road shoes are suited for the pavement, gravel and technical tracks.
Every runner will find a perfect performance pair in Asics' footwear collection. Whether you are a neutral pronator, supinator or over pronator, the brand features a wide range of Asics stability shoes, Asics neutral shoes and Asics motion control shoes for your biomechanical issues.
Running naturally can be achieved with the right pair of shoes. To transition smoothly to barefoot running, invest in Asics low drop shoes or Asics minimalist shoes. These platforms will provide greater contact to the ground, but still have shock attenuation and debris protection to boot.
What distinguishes the best Asics running shoes?
Popularity. Runner's World and all the other running authorities always keep an eye on the latest releases from Asics. The brand's line of performance shoes constantly earns recognitions and high ratings from casual and professional runners alike, so it is not surprising that they are included in prestigious "Best of Running Shoes" lists. In fact, a few of the best Asics shoes on the market received "Best Debut Shoe" awards and honorable mentions. Asics is already a mainstay in the running shoe industry and its developments do not show signs of slowing down. Their shoe designs are also worth the investment.
Shoe technologies. The best Asics shoes are built from the best of the brand's shoe technologies. Developments are focused on performance and comfort; two aspects that are considered vital in running. Runners can expect more from their series of upper technologies (Biomorphic Fit technology, Personal Heel Fit/ PHF technology and the ComforDry Sockliner), cushioning technologies and midsole features (Impact Guidance System/ I.G.S., GEL cushioning system, Solyte midsole, SpEVA midsole, DuoMax technology, Trusstic System, Dynamic Cradle, Stability Cradle and the EVA foam midsole), and outsole technologies (AHAR outsole, Dousole technology, Multifunction Cleats and the DuraSponge technology)
Pricing. It is not surprising that the best Asics shoes have expensive price tags. Made from premium materials and performance- specific technologies, each pair will surely fall within the price range of $90 - $200. However, casual runners and running newbies should not be discouraged by this fact. You can still avail of entry- level Asics shoes through promotion deals and sale events. The monetary investment put into the best Asics shoes will surely improve your running performance on the track or trail. As for professional athletes, the pricing should not stop you from purchasing advanced running shoes for your performance needs.
This shoe has recently been added to RunRepeat. There are still not enough reviews for us to assign it a
Corescore
.
Corescore
A score from 1 to 100 that summarizes opinions from users and experts. The average Corescore is 78.
More...